GLOW is a comedy series based on women wrestling in the 80s. The series was created by Liz Flahive and Carly Mensch and has only been around for slightly over two years but has gained massive recognition and accolades already. The first season of the show premiered on June 23, 2017, containing 10 episodes that were boxed with laughter and good drama. The Glow TV series cast members delivered their characters aptly on the show and soon, it was renewed for a second season.
The second season of Netflix's Glow TV series was released on June 29, 2018 to massive positive reviews from fans and critics alike who score the season some well-deserved approval ratings. For instance, on Rotten Tomatoes, critics and audiences were so impressed they gave a rating of 97% and 90% respectively. The third season also came with a new layer of drama and silly humor that was irresistible. It premiered on August 9, 2019. The show was renewed for a fourth season on September 20, 2019.
What Is the Show all About?
The Glow TV series is wrapped around the Gorgeous Ladies of Wrestling (which is where the title GLOW is coined from). These are beautiful misfit actresses who couldn't secure a place in Hollywood but still wanted fame and so, went for female wrestling instead. The series is set in the 1980s.
The first season was majorly about the early days or the beginnings of the eponymous women's wrestling organization. As expected, a group of women coming together would invite friction and hostility. Hence, this season also examines the dètenté between the female wrestlers. The season introduced celebrities like Alison Brie (Ruth Wilder aka Zoya the Destroya), Betty Gilpin (Debbie Eagan aka Liberty Belle), Marc Maron (Sam Sylvia), Britney Young (Carmen Wade aka Machu Picchu), Sydelle Noel (Cherry Bang aka Junkchain/Black Magic) and more. These are the main characters of the Glow TV series.
Characters Of Glow TV Series Who We Expect To See In Season 4
The Glow TV series has run for three seasons so far and we have seen a few changes in the cast line-up. However, most of the cast members from season one reprised their previous roles up till the third season. Let's see who has stayed on and who we still to see.
Alison Brie as Ruth Wilder
Alison Brie plays one of the lead characters on GLOW. She is known for her role as Ruth Wilder, one of the wrestlers. Ruth's stage name is Zoya the Destroyer and she was inspired by one of the real Gorgeous Ladies of Wrestling, Colonel Ninotchka. Zoya is Russian and has a strong but cartoonish accent. She reprised her role as Zoya in all 3 seasons of the show.
Brie began her acting career in 2004 when she appeared in a short film. As she progressed, she became very popular in the comedy community and came to fame with roles in movies like Scream 4 (2011), The Five-Year Engagement (2012), The Lego Movie (2014), Get Hard (2015), among others.
Betty Gilpin as Debbie Eagan
Betty Gilpin joined the cast as one of the Glow TV series as one of the main characters playing Debbie Eagan – aka Liberty Belle who was Ruth's best friend until things went south when Debbie found out that Ruth had an affair with her husband Mark while she was pregnant. Throughout the seasons, the two friends fell out severally and made up as well. Like Alison, Betty has maintained her role as Debbie throughout the show so far. Her other acting credits include True Story (2015), Future '38 (2017), and Stuber (2019).
Britney Young as Carmen Wade
You might remember Britney Young from 2016 television shows like Better Things and Those Who Can't. She plays the role of Carmen Wade in the GLOW TV series and has been on all three seasons so far. Carmen is a professional wrestler who assisted Cherry Bang to train other upcoming wrestlers. She has a complicated relationship with Bash and Rhonda.
Sydelle Noel as Cherry Bang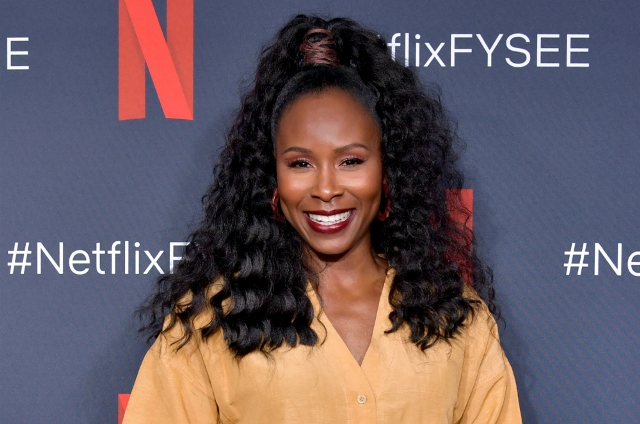 The role of Cherry Bang has so far been well-played by Sydelle Noel. Cherry is in charge of training the wrestlers in GLOW. She was also a former stunts woman who thought she had a career in acting but after a failed trial, she returns back to GLOW as the fetish Black Magic. She became Black Magic in season 2 and reprised the role in season 3 – she was Junkchain in the first season.
Sydney Noel's other acting credits include Everybody Hates Chris, Lincoln Heights and others. She is a former model and athlete.
Marc Maron as Sam Francis Sylvia
Marc plays Sam Francis Sylvia, the director of GLOW and former American exploitation film director. Sam has a chronic alcohol and drug problem. and is also a big-time womanizer. While he prefers the theme of GLOW to be a dystopian sci-fi, Bash, its producer wants to incorporate colorful stereotypes, which led to a conflict between them. Marc Maron reprised his director role in season 2 and 3.
Asides GLOW, Maron has been seen on screen in movies like Sword of Trust, Joker, and Wonderland. He is also a writer, podcaster, and comedian and has been nominated for a couple of awards.
Some recurring casts and characters in the first season of GLOW TV series who became main characters in the second season include Britt Baron (Justine "Scab" Biagi), Kate Nash (Rhonda "Britannica" Richardson), Gayle Rankin (Sheila "the She-Wolf"), Kia Stevens (Tammé "The Welfare Queen" Dawson), and others.  A couple of guest stars were introduced in season 3, they include Geena Davis, Kevin Cohoon, and Breeda Wool.
What Do We Know About Season 4?
GLOW TV series has been officially renewed for a fourth season and fans should definitely expect more top-notch drama and humor from the amazing female wrestlers. Although nothing about the plot has been made known to the public, we hope that season 4 will answer the questions raised by the finale of season 3. There is no specific date for its release yet but it is to be expected sometime in mid-2020.
Alison Brie and Betty Gilpin are expected to maintain their roles as Ruth and Debbie. Most of the cast members including the new additions in season 3 should also be returning in season 4. Characters like Greene Davis and Kevin Cohoon are expected to return if season 4 is still shot in Vegas.