Mention the name Gerard Butler and fans of epic war films will rightfully refer to him as King Leonidas – the character he played in the fictionalized retellings of the Battle of Thermopylae in the Persian Wars of the film 300. The actor made his debut in the mid-90s featuring in small roles but has gone on to distinguish himself as an actor with class who mainly plays larger than life roles. Some of his works include Tomorrow Never Dies, Lara Croft: Tomb Raider – The Cradle of Life, Olympus Has Fallen, Hunter Killer and many others. In the course of his career, the actor has seen many award nominations for his works just as he has equally won a couple others.
Beyond the heroic characters Gerrard Butler plays on screen, he has a life history and family which has not been scripted. That relatively unknown aspect of the star's life is what this article is dedicated to. Find out all there is to know about his background, career, and net worth without leaving out his love life.
Gerard Butler's Bio
Gerard Butler (Gerard James Butler) shares the same birthday with all those born on November 13, he was born on that day, in the year 1969 in Paisley, Renfrewshire, Scotland to Margaret and Edward Butler as the youngest of their three children. His brother goes by the name Brian Butler while his sister is named Lynn Butler. The Butlers are a Roman Catholic family. Barely a year after he was born, his family moved to Montreal, Quebec where the patriarch tried a few businesses which all failed. At this time, his parents divorced which forced his mom to return to Paisley, Scotland with her three kids. Gerard was therefore raised in Scotland but had a reunion with his father many years later before he died of cancer.
He attended St Mirin's & St Margaret's High School in Paisley where he played in the Scottish Youth Theatre and served as the head boy before graduating near the top of his class. After graduation, Gerard enrolled at the University of Glasgow School of Law where he trained to become a lawyer, sang in a rock band called Speed and in like manner was the President of the university law society. Prior to his college graduation, he took a year off to live in Venice, California. It was at this time that heavy drinking, partying and the pleasures of women took over his life. Nevertheless, the would-be screen star never lost his bearing as he returned to college and graduated.
Hoping to make things right in his life by jettisoning his earlier attitude of self-abandonment and wanton adventures, Gerard Butler took up a job as a trainee lawyer in an Edinburgh law firm. However, as time passed, he came to loathe the job more and more and soon fell back to drinking. This caused him to miss many work days so that ultimately, he was sacked just a week before his qualification as a lawyer.
With no job, no papers to practice as a lawyer and seemingly nothing to hold on to in Scotland, Gerard traveled to London to give another shot at making something out of life. Following his arrival, he took up jobs as a waiter, telemarketer, and toy use demonstrator at fairs before his lucky day came. He met a friend of his from the Scottish Youth Theatre who was then a casting director in London. Seeing his plight and knowing how good he was back in the days, his friend (whom he later became her boyfriend and assistant) took him to the audition Coriolanus – a Steven Berkoff's play. As you will have imagined, Butler impressed the director beyond measures.
See Also: James Badge Dale Bio, Wiki, Net Worth, Married, Wife, Family

Gerard Butler started off his career on theatre in Trainspotting which showed at the Edinburgh Festival. Gradually, he honed his skills the more before deciding to move to Los Angeles where his talents shone brighter. The Scottish actor was cast in Dracula 2000, Phantom of the Opera and other film projects. Some of his notable works since his debut include Beowulf & Grendel (2005), Coriolanus and Machine Gun Preacher both in 2011, Gods of Egypt (2016) and Angel Has Fallen (2019) which he is credited as the producer. He has earned awards like Best Male Performance (2007) from MTV Movie + TV Award for the film 300, and Golden Camera Award 2016 as Best International Actor.
Net Worth
Having portrayed the iconic roles of King Leonida, Attila, and Johnnie Donne, Gerard Burtler is certainly an actor who commands respect at the top. He has played roles that when we think of who else could play it as good as he did, no one comes to mind. For his talents, the Scottish actor has amassed a net worth of $30 million ever since he made his debut in 1996.
Is He Married, Who is The Wife or Girlfriend?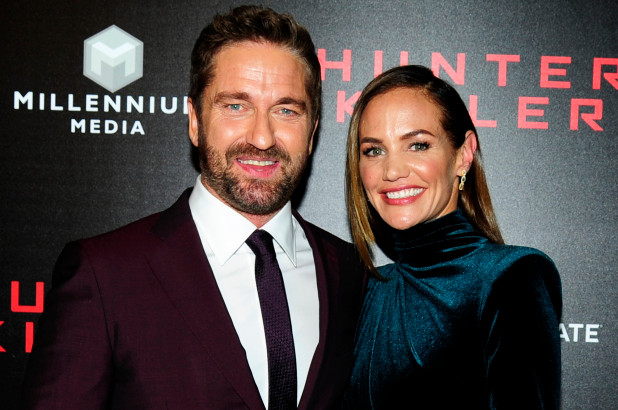 Seeing how successful his career is, the question that people won't fail to ask is that of the identity of his girlfriend. Luckily for us, Gerard Butler is not one of those that conceal their love life or the identity of his partner. The actor notably dated a couple of women in the past as well as was rumored to have dated some others.
Some of those he dated include Chiara Conti (briefly in 2004), Josie d'Arby, and Yuliya Mayarchuk (both briefly in 2005), Jasmine Burgess (2007 to 2008), Shanna Moakler (October 2008 – January 2009). While he hit it off with Brandi Glanville (2011), Madalina Ghenea (2012) then Morgan Brown became his next love interest. Those that made the list as his rumored love interest were Rosario Dawson, Naomi Campbell (both in 2007), Cameron Diaz (2008), Jennifer Aniston, Lindsay Lohan (both in 2009), Goga Ashkenazi, Beatriz Coelho, Martina Rajic (all in 2010) and lastly Lizzie Cundy in 2014.
Gerard Butler and Morgan Brown have been spotted together on several dates of late with some reports even stating that the two are planning to move in together. For now, they have not yet gotten married but when they do, it will be a delight to see his wife.