Freddie Highmore is an English actor known for his starring roles in several movies. He has a brother named Albert Samuel Highmore who is also an actor, but unlike what people think, they are not twins. Outside of his movies, Freddie Highmore prefers to keep things on the low, living a normal life like everyb6ody else. 
Much like the kind of roles he plays in movies, Freddie Highmore is one modest superstar. While many of his colleagues enjoy the glitz and glam that comes with being famous and welcome it with arms wide open, Highmore prefers to keep things on the low. His minimalist lifestyle has also seen him escape the plights that often plague child actors in Hollywood as they transition further in their careers. The English man started acting at 7 years old and soon got to share the screen with big names like Johnny Depp. He shined as a child star with roles in Arthur and the Invisibles, and its sequels, August Rush, and The Spiderwick Chronicles.
On TV, he has further established himself with acclaimed roles in Bates Motel and The Good Doctor. His performance as an autistic doctor in the latter was so good that many thought he was autistic in real life, but Highmore is not. His impeccable performance on the show is only a product of thorough research with autism consultant Melissa Reiner, as well as the observations he made about real-life autistic people he is close to. Highmore's achievements include at least two 2 Critics Choice Awards and 1 People Award, he has also earned SAG and Golden Globe nominations.
Is Freddie Highmore Twin?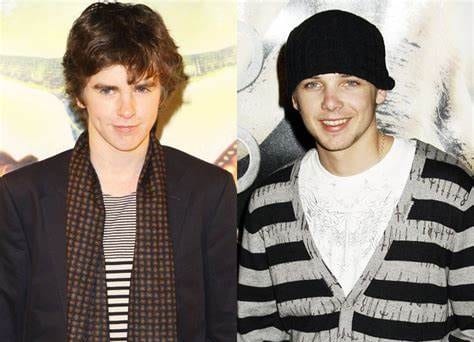 Freddie Highmore does not have a twin, instead, he has a younger brother named Albert Samuel Highmore who is mostly referred to as Bertie Highmore. Bertie, like his brother Freddie, inherited acting genes from their parents as evident in his role in the 1999 film, Women Talking Dirty. In the film, Bertie played Freddie's brother. Bertie was born in 1995, making Freddie 3 years older than his kid brother. However, unlike Freddie, Bertie would go on to pursue other interests in life asides from acting and has just one film credit to his name. Much like his brother, Bertie lives his life away from the spotlight.
A Look Back At Freddie Highmore's Upbringing
Most actors who began their career at a very young age were born into a show business family and Freddie Highmore counts among that lot. His parents welcomed him on the 14th of February 1992 in Camden Town, London. His mother Sue Latimer is a talent agent who boasts a clientele awash with big names like Harry Potter's Daniel Radcliffe with whom Freddie is close friends. Alfred Thomas Highmore's father Edward Highmore is an actor with credits including Leo Howard in the 1980s BBC drama Howards' Way and Malkon in the 1984 serial, Planet of Fire. Freddie acted alongside his father in the 2001 Hallmark TV film, Jack and the Beanstalk: The Real Story. The following year, 2002, his father retired from acting with Ali G Indahouse being his final film.
Despite being a child star, Freddie chose to attend a normal school. He schooled at a primary school in Hampstead Garden Suburb and then an independent school, Highgate School. One other thing that Freddie loves as much as acting is football. He once revealed that at the early stages of his career, he returned to London and nurtured the dream of playing for the North London Premier League side Arsenal which is also his favourite team. Freddie said he was able to return to London and live normally because he distanced himself from the spotlight.
In one of his interviews with Variety, Freddie Highmore stressed the importance of education, especially for actors; he advised that actors not only resort to focusing solely on their careers but continue to pursue education as it is a good source of gaining life experiences. Highmore, at some point in his career, slowed down on acting to further his education. He enrolled in Cambridge University's Emmanuel College where he studied French, Spanish, and Arabic. It was while rounding up at school that he landed his highly acclaimed role of Norman Bates in the A&E drama-thriller series, Bates Motel.
Who Is Freddie Highmore Dating?
As expected from someone as private as Freddie, the media is starved of details regarding his romantic life, thus, raising curiosities even more and leaving room for many speculations. Despite Freddie's effort to keep the topic of his love life away from the media, he has been romantically linked to his fellow stars, albeit without concrete evidence.
He was linked to Dakota Fanning in 2009. Pop Sugar reported at the time that the two were spotted out having dinner at Il Cielo in LA shortly after Freddie had attended Comic-Con. However, no further details emerged, putting to bed the possibility of a relationship between the young actors. Freddie was also linked to his The Spiderwick Chronicles co-star, Sarah Bolger and then his The Art of Getting By co-star, Emma Roberts both with no solid evidence.
Freddie Highmore was next linked to Abigal Breslin. Many sites stated that they were dating from around 2015 with no clear evidence. The fact that Breslin has had romantic relationships with other people since then and even documented them on social media goes a long way to prove that there is nothing going on between her and the English actor. Freddie has clearly stated that the reason he keeps away from social media is so he can maintain a clear difference between his career and personal life.
As a result of his highly private lifestyle, many have come to speculate that the young actor is gay, however, just like his rumoured relationships, there is no evidence whatsoever to prove that Freddie Highmore is homosexual.