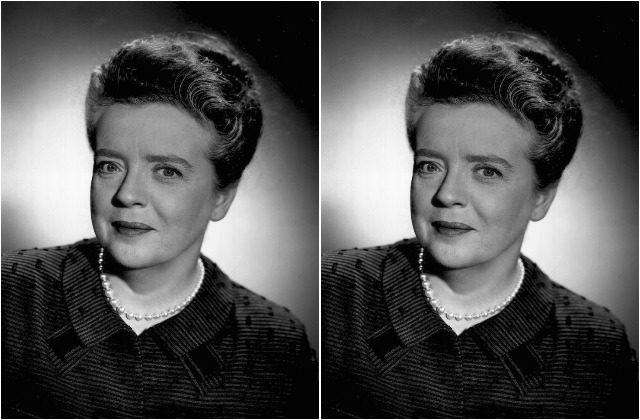 Frances Bavier is best known for her role in the television series The Andy Griffith Show where she portrayed Aunt Bee from 1960 to 1968. She was an actress who spent all her career either on stage, movies and on television series. She recorded huge success for her role as Aunt Bee in the show which earned her a Primetime Emmy Award for Outstanding Supporting Comedy Actress in 1967.
Her career spanned over two decades with a lot of stage plays and TV shows to her credit. Other series she starred in include Mayberry, Racket Squad, City Detective, Waterfront, Perry Mason, and Sugarfoot, among others. Frances was what one could call a comic actress, as she often featured in comic movies and is well known for such roles. Let's look into the life of the actress who brought laughter and happiness to the lives of many.
Frances Bavier Bio
Frances Bavier was born Frances Elizabeth Bavier to Charles and Mary Bavier on December 14, 1902. She was born in one of the popular brownstone buildings in Gramercy Park, New York City. At the time of her birth, her father was a stationary engineer while her mother's occupation is not known. It is not also revealed if the actress has siblings as there is no information with regards to that on the internet.
For her education, information about her elementary and high school is unknown but her college education was obtained at Columbia University. She had a passion for teaching and intended to become an academic instructor after graduation but life chose another path for her and she began acting in stage plays.
The life of a stage actress is progressive and so was that of Frances Bavier. She began stage acting in the Vaudeville comic entertainment theatre and later moved over to the big league of Broadway theatres. Frances enrolled at the American Academy of Dramatic Arts to boost her acting skills. After graduating in 1925, the actress featured in plays like Henry Fonda, Point of No Return, and The Poor Nut. She got her breakthrough while appearing on the Broadway play, On Borrowed Time. The play has been described as her most successful stage play throughout her career.
As a versatile and dexterous actress, she was also great in television and films. She had her debut film appearance with the uncredited role in the 1931 movie Girls About Town. The next couple of years saw more of Frances on the movie scene with films such as The Day The Earth Stood Still, The Stooge, Bend of the River, Man in the Attic, Horizon West and so on. Reports indicate that one of her most successful movie role was in the 1952 movie The Lady Says No, where she played the lead role as Aunt Alice Hatch.
She began featuring on television series by 1952 and was known for her roles in the following series: Racket Squad, City Detective, Letter to Loretta, It's A Great Life and Dragnet, among others. Like most actresses, she had her "rise to stardom" role in television sitcom series The Andy Griffith Show where she played the role of a cheerful and pleasant housekeeper by the name Aunt Bee.
While on set, Frances was described by her colleagues as being difficult to work with. In 1998, an actor on The Andy Griffith set lamented that he and Frances were at loggerheads throughout the 8 years they worked together; however, he revealed that Frances called him four months to her death to apologize for her attitude towards him in the past. The iconic American actress, Frances Bavier retired from acting in 1972 and died in 1989.
Her Husband and Family
In the latter years of Frances Bavier's life, specifically after her retirement, she lived a secluded life with no known friends or family members. There are no known records of her romantic relationships and it's not certain if she has a husband and children.
Frances Bavier's Net Worth Before Death
Frances Bavier lived in a large house with just her cats and she rarely went out. Residents of the town said she owned a 1966 green Studebaker and her Siler City home is estimated to worth $70,000 while her belongings were worth about $31,000. While alive, the actress' net worth was under review and unknown. The wealth she amassed from her acting career was shared mostly to charity upon her death as was her wish before death.
Read Also: Agnes Moorehead Biography, Son, Family, Net Worth, Cause Of Death
Cause of Death
American actress Frances Bavier before and after her death was described as a sparse person who obviously valued her privacy. After retirement in 1972, she moved to  North Carolina and acquired a two-storey house in Siler City.
Reports indicated that she was brought into the hospital on 22 November 1989 due to ill health but was discharged after a fortnight. A few days later she was found dead in her home. She was confirmed to have died of heart failure and heart-related issues such as myocardial infarction, coronary artery disease, and atherosclerosis. Other illnesses that contributed to her demise were breast cancer and arthritis. She was laid to rest at the Oakwood Cemetery, Siler City, North Carolina.