Lean Back, What's Luv?, Make It Rain, All the Way Up… are songs that would immediately remind any hip-hop lover of Fat Joe, the American rapper from New York who entered the rap scene in the early 1990s. Though not much of his music has been heard in recent years, he still manages to stay relevant in the entertainment scene. The four-time Grammy nominee is also an actor and a podcast host. Follow us as we reveal some details about his career as well as facts about his personal life.
Fat Joe's Ethnicity (Bio)
Fat Joe was born Joseph Antonio Cartagena on August 19, 1970, in The Bronx, New York City. His father is Cuban and moved to the US for a better life and to help his 10 brothers. He would eventually make enough money to move his entire family to the US. Joeseph's mom is from Puerto Rico.
After being introduced to rap music by his brother, Fat Joe began recording in the early 90s as part of the group D.I.T.C. His first record deal was with Relativity Records under which he released his first album Represent. Fat Joe rose to great prominence with his fourth album Jealous Ones Still Envy (J.O.S.E.) which featured big names like Ja Rule, Ashanti, R. Kelly, Busta Rhymz, and more.
Like most hip-hop rappers, he has had many run-ins with the law. In 2013 he served three years behind bars for owing the IRS over $3 million in back taxes. In addition to his music, Joe has acted in a number of films including Happy Feet (2006) and Night School (2018). From 2017 he began appearing in the TV series, She's Gotta Have It.
Family, Brother
He grew up in a family that managed to get by through the day. As a young boy, Joe was forced into stealing just to support his family. In his teens, his brother named Andre introduced him to rap music. Joe and his brother were influenced by the Zulu Nation culture. Andre would attend the events regularly and bring tapes of songs from the event to introduce to young Joe.
Though Andre did introduce his brother to music, Fat Joe would go on to become more popular. In addition to Andre, another man that Fat Joe often referred to as brother was fellow latina rapper Big Pun. Though they both share a striking resemblance, they are not related by blood.
Big Pun and Fat Joe met in 1995 and Pun made his debut on Joe's second album, Jealous Ones Still Envy. Big Pun struggled with weight for the most part of his life and in February 2000, at the age of 28, he lost his life as a result of a heart attack. Fat Joe frequently pays tribute to him.
Wife, Son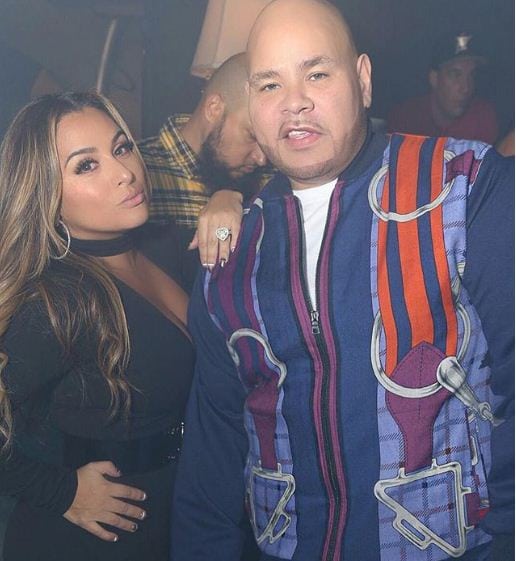 For two decades and counting, Fat Joe has called only one woman his wife and she is none other than Lorena Cartagena (nee Milan). She also goes by the name Lola.
Fat Joe has severally gushed about her on social media and while celebrating her on Valentine's day 2017, he referred to her as his backbone. Unlike Joe, his wife Lorena is not in the entertainment space and very little is known about her. We stalked her social media pages and discovered one thing she adores so much – her family.
The couple lives with their three kids including sons Joey and Ryan and daughter Azariah who was born in 2006. Ryan is an aspiring rapper. Out of Fat Joe's two son's, the one who has garnered much interest is his first son Joey who has autism.
Fat Joe is private with Joey but occasionally takes to his social media to post sweet words about him, something that has earned him praise from many. Joey was born in December 1992 while Ryan was born three years later in 1995. In a 2010 interview with UrbLife, Fat Joe revealed how he had Joey at a time when he was very young and not ready to have kids. The boy's mother was not there for him so Joe had to raise him with his parents.
Fat Joe's wife Lorena is sure the biological mother of Azariah but it is highly unlikely that she birthed Joe's two sons especially Joey.
Net Worth
With over 1.5 million albums sold worldwide, Fat Joe is without a doubt one of the most successful rappers of his age. He has released 10 studio albums and 22 singles. His most successful album till date is Jealous Ones Still Envy (J.O.S.E.) released in 2001 which was certified platinum by the RIAA. Though Fat Joe also earns as an actor, his music remains his biggest money maker. His net worth is estimated at $5 million.
Read Also: Eminem's Mom, Sister, Brothers, And Family
Height And Other Quick Facts
Date of Birth: August 19, 1970
Birth Place: The Bronx, New York
Parents: Marie and Ernesto Cartagena
Ethnicity: Cuban, Puerto Rican
Wife: Lorena Cartagena
Children: 3 (Joey, Ryan, and Azariah)
Weight: 200 pounds
Height: Fat Joe stands at 5 feet 11 inches tall
Net Worth: $5 million.