Joseph Antonio Cartagena, AKA Fat Joe is a New York-born rapper and producer who has an estimated net worth of $4 million
From Lean Back to What's Luv?, Make It Rain, and All The Way Up; these are just a few of the hit tracks that would immediately remind any hip-hop lover of Fat Joe. The American rapper held sway in the mid-90s and 2000s, releasing several critically-acclaimed albums. He also spearheaded Latino representation in the hip-hop industry and received several accolades. Fat Joe's influence and popularity may have waned with the passage of time but he continues to rake in the big bucks. So, how does the rapper make his money and what does he spend it on? All these and more questions are tackled below.
Fat Joe at a Glance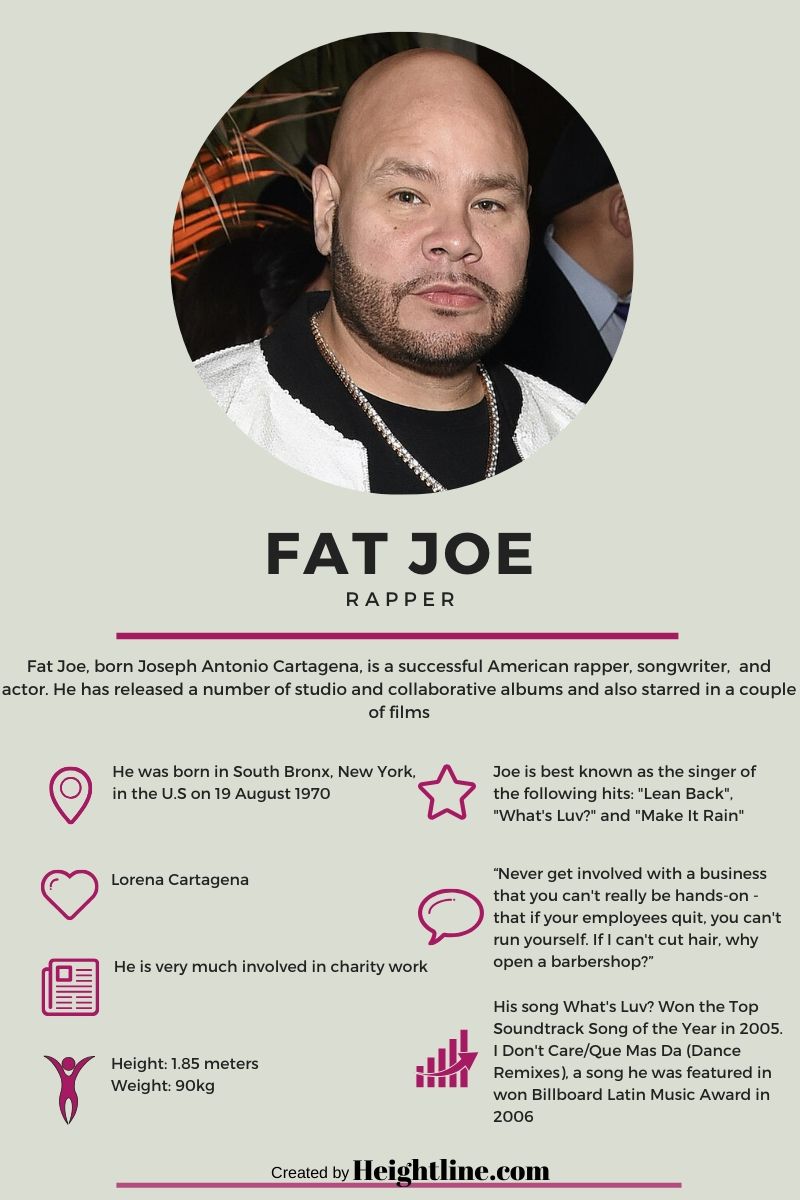 | Net Worth: | $4 Million |
| --- | --- |
| Age: | 53 years old |
| Born: | August 19, 1970 |
| Country of Origin: | United States of America |
| Source of Wealth: | Professional Rapper |
His Streams Of Income
Fat Joe presently has a net worth of $4 million and this fortune comes from several sources among which are;
Business Ventures
The rapper operates a clothing store (Fat Joe's Halftime), a barbershop (FJ Hip Hop's Barbershop), and a fashion line (FJ 560 Gear). All these businesses are located in his old neighborhood in the Bronx and even though it would have been more lucrative to run them elsewhere, the rapper decided to impact a community that he cherishes so much. Asides his Bronx stores, Fat Joe also has a chain of sneaker stores in New York known as UP NYC. The store has a standing partnership with Nike and as such, gets to carry their most prized items, including the Air Jordan.
Record Label
Another veritable source of Fat Joe's fortune is artist management. The Bronx native has his own record label known as Terror Squad which has become a force to be reckoned with in the music industry and this is thanks to Joe's hands-on management style. The label has produced several successful acts, including the likes of Big Pun, Remy Ma, Tony Sunshine, and DJ Khaled. These artists have generated millions of dollars in revenue and there is no gainsaying the fact that their boss will get a share of the pie.
Market America
Fat Joe also makes a regular income from his collaboration with Market America. This is a company which retails various categories of product through a network of participating sellers and buyers. Joe began his relationship with Market America in 2014 and has since founded its Urban and Latino Division. This is aimed at getting Latinos to utilize Market America's powerful tools in order to start their small businesses.
His Movie Career
Another lucrative source of Fat Joe's fortune is his acting career. The rapper has featured in several movies and TV series, including Thicker than Water, Prison Song, Empire, Scary Movie 3, Happy Feet, Supermodel, She's Gotta Have It and Night School. The latter is a 2018 comedic blockbuster that revolves around the adventures of Teddy Walker, a young man who is forced to attend night school after he accidentally blows up his place of work. The film featured the likes of Kevin Hart and Tiffany Haddish while Fat Joe portrayed one of the Walker's classmates, a prisoner named Bobby.
Musical Exploits
On a final note, the primary source of Fat Joe's wealth remains his music career. The rapper was first introduced to music at an early age by his elder brother. He grew up absorbing artists such as Theodore and The Furious Five, and before long, started spitting his own rhymes. He subsequently landed a recording contract and dropped his first album, Represent, in 1993. Since then, Joe has dropped no less than ten studio albums, including Jealous One's Envy, Don Cartagena, J.O.S.E., Loyalty, All or Nothing, Me, Myself and I, The Elephant in the Room, J.O.S.E 2, The Darkside Vol. I, and Family Ties. These albums have not only achieved critical acclaim but also commercial successes. Joe has thus generated millions from album sales as well as sold-out concerts.
Some of the best highlights of Fat Joe's career:
Represent (1993)
Jealous One's Envy (1995)
Don Cartagena (1998)
Loyalty (2002)
Teen Choice Awards, Choice Music: Collaboration, (2002) – nominee
MTV Video Music Awards, Best Hip-Hop Video, (2002) – nominee
Grammy Awards, Best Rap/Sung Collaboration, (2003) – nominee
All or Nothing (2005)
Me, Myself & I (2006)
The Elephant in the Room (2008)
Grammy Awards, Best Rap Performance by a Duo or Group, (2008) – nominee
The Darkside III (2013)
Grammy Awards, Best Rap Performance, (2017) – nominee
Plata O Plamo (2017)
Family Ties (2019)
What Would Big Do 2021 with DJ Drama (2021)
How Does The Rapper Spend His Millions?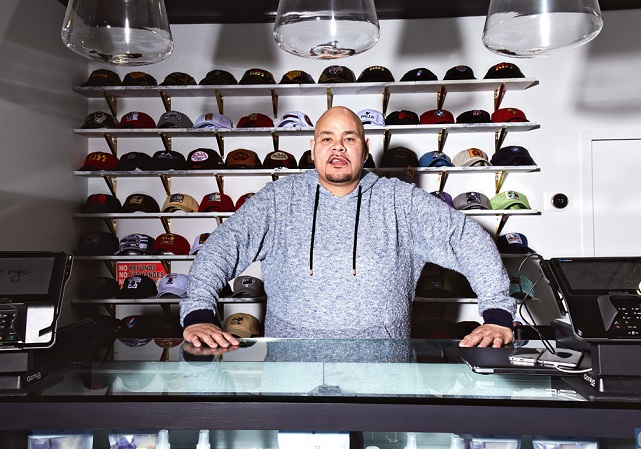 Following the overwhelming commercial success of his 2001 album, J.O.S.E, Fat Joe embarked on a lavish and ostentatious lifestyle. He splurged on expensive dinners with friends (costing as much as $30,000) as well as unnecessary private jet trips to nearby states (costing about $500,000 a month). He also splashed out juicy sums on his crew members and was withdrawing as much as $50,000 in cash each day. The rapper continued this unreasonable trend until one fateful day when the bank informed him that he had nothing in his account.
Joe spent the next several months broke and had to resort to collecting the debts that some friends owed him. All these experiences left an indelible mark on him and since bouncing back financially, he has avoided the mistakes of his past. The What's Luv rapper has confined his spending to the necessaries such as a multimillion-dollar plantation house in South Florida and a modest collection of cars, including a custom Rolls Royce. The rapper also spends his income on taking care of himself, as well as his family. Finally, Joe has also provided funds for several charitable initiatives, including the donation of computers to his alma mater in the Bronx.
Interesting Details About His Family Life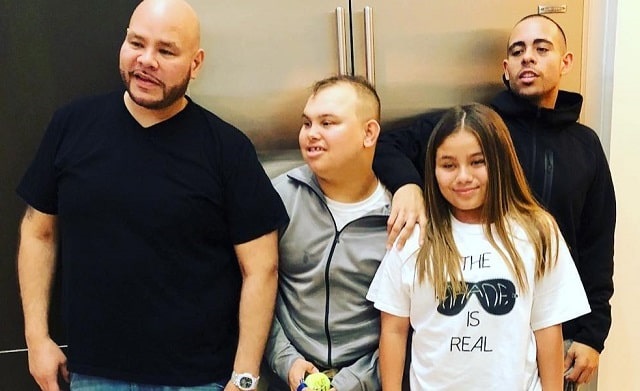 Fat Joe hails from a family of five. His father, Ernesto Delgado, is Cuban while his mother, Marie Cartagena, is Puerto Rican. The rapper also has two siblings – Andre and Lisa. Lisa, unfortunately, passed away in 2002 as a result of medical negligence and complications arising from childbirth. Joe and his family grew up in poor circumstances. They lived and depended on welfare sometimes. The young boy thus had to resort to stealing when things were particularly bad.
Fat Joe has since left those days behind and has started his own family. The rapper is married to the beautiful Lorena Cartagena, nee Milan. Joe and his wife have been together for nearly two decades and their love shows no signs of waning. The couple has one child together, a daughter named Azaria who was born in 2006. Rounding up their harmonious family unit are Joe's sons from previous relationships namely Joey (b. 1992) and Ryan (b. 1995). Joey has autism and his dad has described him as the source of all of his blessings.