Eugenie Boisfontaine was a Louisiana State University graduate student and a victim of an unsolved murder case. It was said that she lost her life because of a devastating trauma to her head. But while how she died has been figured out, the question that still begs for an answer revolves around who killed her and why. Over two decades since the heinous crime that claimed her life, no one has been held responsible for it.
Most people would agree that there is no dignity in wickedness yet humanity has long been engulfed in immense barbarity which often manifests in wanton murder. A study based on the FBI's Uniform Crime Report found that from 1980 to 2019, almost 185,000 cases of non-negligent manslaughter and homicide went unsolved in the United States and the murder of Eugenie Boisfontaine happens to be a part of the statistics.
She went missing sometime in 1997 in the capital city of the state of Louisiana, Baton Rouge. Efforts to find her yielded no positive result until three months later when the worst fear about her whereabouts was confirmed: her battered and decomposing body turned up in a Louisiana bayou.
When Killing Fields premiered in 2016 on Discovery Channel, the cold case television series resurrected hopes that Eugenie Boisfontaine's murderer would be brought to justice as it followed real-time investigations targeted at solving the crime. The efforts are yet to yield any meaningful result as no arrest was made for the death of Boisfontaine after two seasons dedicated to re-examining the 1997 murder. We explore 7 things you probably may not have known about her and "Killing Fields".
7. Eugenie Boisfontaine Was a 34-Year-Old Grad Student of Louisiana State University When She Was Murdered
Nothing was known to the public about Eugenie Boisfontaine until it emerged that she had been murdered. As such, it is only natural that much isn't known about who she was. The kind of upbringing she had, the family she hailed from, and other information of that sort are hard to come by. It is only known that she was 34 years old at the time of her death in 1997. She reportedly came from a wealthy family and was a graduate student at Louisiana State University.
Investigators assigned to her case had a hard time gathering significant information about her as she was described as a quiet person and quite a loner. According to some reports, she was an active walker who enjoyed exploring the surroundings around her home.
6. She Was Last Seen On The 13th of June 1997 and Was Planning a Trip to Europe When She Went Missing
After Eugenie Boisfontaine was reported missing and the police started investigating her whereabouts, it was uncovered that she was last seen alive on the 13th of June 1997 at her residence in Baton Rouge. An exterminator reportedly offered that he saw her on the aforementioned date in her home near Stanford Avenue.
It would later emerge that the police suspects she was kidnapped near the LSU lakes in Baton Rouge. From what we gathered, she was planning a trip to Europe around the time her life was brought to an abrupt end.
5. Her Belongings Were Found Within Three Days and Her Body Three Months After She Was Reported Missing
Three days after Eugenie Boisfontaine was reported missing, her family began to fear that the worst might have happened to her. This is so because her belongings were discovered. It was said that a jogger found her driver's license and credit card. After a visiting professor discovered more of her credit cards and personal effects arranged in a circle, a search party was launched but nothing came out of it apart from her keys which were found around the same area other belongings were discovered.
Three months after she went missing, whatever hope Eugenie's family had for finding her alive evaporated as her decomposing body turned up. Her remains were found about 10 miles from where she was last seen, at Bayou Manchac in Iberville Parish.
4. Forensic Pathology Revealed She Had a Skull Fracture and It Is Suspected That She Was Sexually Assaulted By Multiple People
Eugenie Boisfontaine's body was in an advanced stage of decomposition when it was found. As such, it was pretty hard for the investigators to find clues as to what happened to her from it. Nonetheless, forensic pathology was able to find that she suffered a fractured skull which lead to her death.
Almost two decades after her death when the case was reopened for the aforementioned Discovery Channel series, lab testing carried out on her underwear outlined DNA strains of no fewer than three different males. These were not picked up in the testing conducted earlier in the 1990s as the DNA technology wasn't as advanced as it is at the moment.
Because of this, investigators speculated that she was sexually assaulted by multiple men. Unfortunately, the DNA lead led to a dead end as they uncovered that their prime suspect died many years ago from cancer.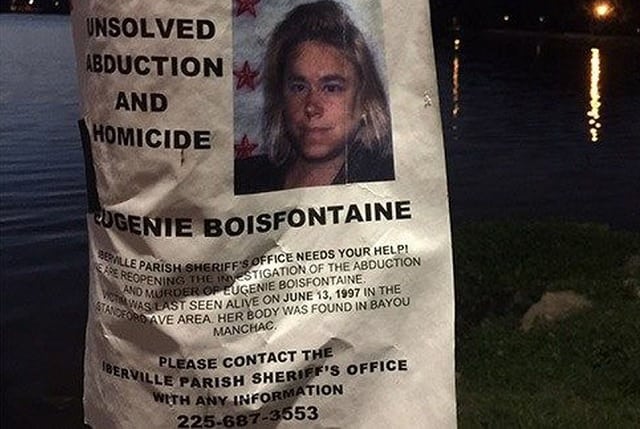 Backed by Discovery Channel, Detective Rodie Sanchez of the Iberville Parish Sheriff's office came out of retirement to lead the investigation aimed at finding who murdered Eugenie Boisfontaine. One of his prime suspects was Derrick Todd Lee, The Baton Rouge Serial Killer. The convicted serial killer was known to have murdered seven women around the Baton Rouge area. In fact, two of his victims lived only a few blocks away from Eugenie.
However, Lee's DNA wasn't found in the underwear that Sanchez and his team tested, thus he was removed from the list of suspects. He died in January 2016 from heart disease and had been awaiting execution at the Louisiana State Penitentiary.
2. Eugenie Boisfontaine's Ex-Husband Michael Schmidt Was Also a Suspect As He Refused To Provide His DNA Sample
In addition to an unidentified man named Robert whom the victim was romantically involved with around the time she was murdered, her ex-husband named Michael Schmidt was also one of the suspects of Detective Rodie Sanchez and his team. Schmidt became a suspect because he was unwilling to cooperate with the investigators and wouldn't provide a sample of his DNA.
Sanchez and his team trailed him and obtained a sample when he unknowingly left DNA in public. This made him take civil action against the investigators.
1. Killing Fields' Third Season Would Focus On Solving The Murder of Carrie Singer But Sanchez and His Team Would Continue Investigating The Eugenie Case
With two seasons that spewed a total of 14 episodes devoted to investigating the murder of Eugenie Boisfontaine, no one is yet to be arrested for the crime and the cold case television series would no longer revolve around the crime.
Carrie Singer was found dead in 2004 at a field near Morgart's Beach in Isle of Wight County, Virginia, and the Discovery Channel series would now revolve around solving this case. Be that as it may, it does not mean that the investigation of Eugenie Boisfontaine's death has yet again come to an end unresolved. It only means that viewers of the series would no longer get to watch Sanchez and his team investigate the case.