You only need a little time with Eric Thomas to fathom why the motivational speaker is nicknamed the Hip-Hop preacher. He is a renowned speaker, author of many inspirational books and also a minister. Eric Thomas is known for giving motivational speeches on several platforms and has even gone further to create a youtube channel where these speeches are aired.
Many have confessed to being inspired and touched in one way or the other by his talks, books, and tours. Thomas' outstanding works have not only made him famous but also an outstanding figure in the contemporary world. Here are interesting facts about the notable motivational speaker.
Eric Thomas – Biography
Eric Thomas was born on September 3, 1970, in Chicago, Illinois. His mother was a single parent who raised him with the help of her relatives in Detroit, Michigan. Eric did not have the best childhood while growing up; he had dropped out of school and dwelt on the streets surviving with various odd jobs. It was during this time that he came in contact with a preacher whose name is not known.
After learning inspirational life facts from this preacher, he was moved to go back to school and better his life. He soon got a better job in Detroit at an Olive Garden and enrolled at Oakwood University in Huntsville, Alabama, graduating in 2001. Thomas' preaching days began while he was still an undergraduate at Oakwood. He started by giving talks and organizing programs for the less privileged youth around. After earning his Bachelors degree from Oakwood he proceeded to Michigan State University in 2003 for his master's degree.
Taking a job at the University, he was able to cater for his basic needs while at the school. Eric Thomas left a tremendous impression at MSU; he had worked as an academic adviser helping disadvantaged students at the school. Through this avenue, he inspired a lot of youth and helped many in their unfortunate situations. He achieved this by creating 'Advantage', a retention program directed at minority students. This was to help keep them in school and make better decisions with their lives.
Eric Thomas got his master's degree in Educational Leadership in 2005 and continued on his motivational journey. He went on to give motivational talks on various platforms teaching people apt life facts. Eric, in 2008, decided it was time to reach out to more people as he was getting more popular. He created his own YouTube channel that year to reach out to people outside America and across the globe.
The following year, many videos from the speaker graced the channel garnering tons of subscribers, views, and likes. Eric Thomas also founded a consulting firm that encompasses all areas of education and life coaching. The company has collaborated with various Fortune 500 companies as well as professional sports organizations. As he grew more prominent, Eric headed back to MSU to further his education. He bagged a Ph.D. in Education Administration in 2015.
His Net Worth
For a man of his caliber, it is not surprising to find out that Eric Thomas counts his net worth in millions. The renowned motivational speaker and minister sits on a net worth estimated at $2 million by various sources. This is quite deserving for a man like Thomas who has spent his life building others up. From his YouTube channel alone, he makes a lot of money and makes much more from his talks, collaborations, and books.
Family – Wife & Kids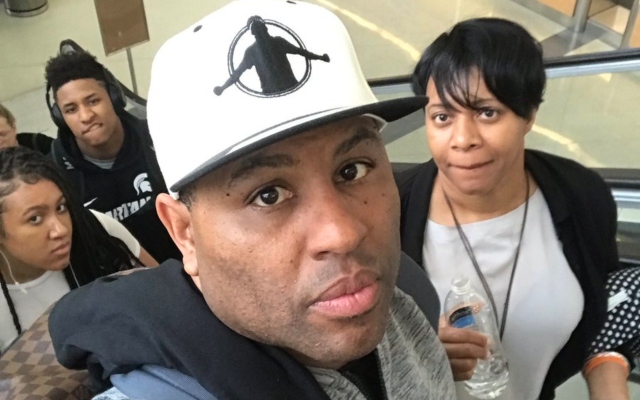 Eric Thomas is happily married to his wife De-De Mosley. Eric and De-De met when the minister was struggling in Detroit. It was in 1991 at the Detroit Center Seventh-day Adventist Church, that it all began; the two had felt a connection between them and stuck with each other all through the trying times.
Mosley moved alongside Eric to Alabama where they both attended Oakwood University. They were both undergraduates at the institution when they got married. The couple has been together since then and often use their story to motivate others. Together they have two children; a daughter – Jayda Thomas, and a son – Jalin Thomas.
See Also: Joel McHale Relationship With Wife Sarah Williams, Height, Body Stats
Other Facts to Know About Eric Thomas
• In a bid to reach out to all and sundry, Eric Thomas often incorporates hip hop music in his distributions. His talks were heard on the track, Settle released by music duo, Disclosure in 2013. They were also heard on rapper Meek Mill's song Wins and Losses.
• Eric Thomas has authored many books in the course of his career. Some of them include The Secret to Success which was published in 2012. He is the author of Greatness Is Upon You: Laying the Foundation published in 2014, and also Average Skill Phenomenal Will (2016).
• The exact figures for his weight are not known, but Eric stands at an average height of 5ft 11in (1.8m).