Enrica Cenzatti is the ex-wife of Andrea Bocelli, a famous musician and record producer admired for his polished skills as an operatic tenor. What they had has been the subject of many rumors and unsurprisingly, it is the reason Enrica receives so much public attention.
Enrica Cenzatti's Biography Summary
Full Name: Enrica Cenzatti
Gender: Female
Date of Birth: 1969
Enrica Cenzatti's Age: 54 years old
Ethnicity: Caucasian
Nationality: Italian
Zodiac Sign: Taurus
Sexual Orientation: Straight
Religion: Christianity
Marital Status: Divorced
Enrica Cenzatti Ex-Husband: Andrea Bocelli (m. 1992–2002)
Enrica Cenzatti Children: Amos Bocelli, Matteo Bocelli
Enrica Cenzatti's Height in Inches: 5 feet 5 inches
Enrica Cenzatti's Height in Centimetres: 165 cm
Enrica Cenzatti's Weight: 55 kg (121 lbs)
Enrica Cenzatti's Net Worth: $10 million
Famous for: Being the first wife of musician and operatic tenor Andrea Bocelli
Background Details of Enrica Cenzatti
Most folks are yet to agree on the year she was born. While some sources quote 1969, others insist it's 1970. From her surname, one does not have to think hard to guess that this blonde beauty has Italian blood running through her veins; she was born in Italy.
So far, this is as much as anyone can tell about her early life as not much is known about her childhood, where she had her early education, her siblings, parents' names or what they did for a living. Growing up as a teenager, Enrica Cenzatti lived in the Italian city of Pisa.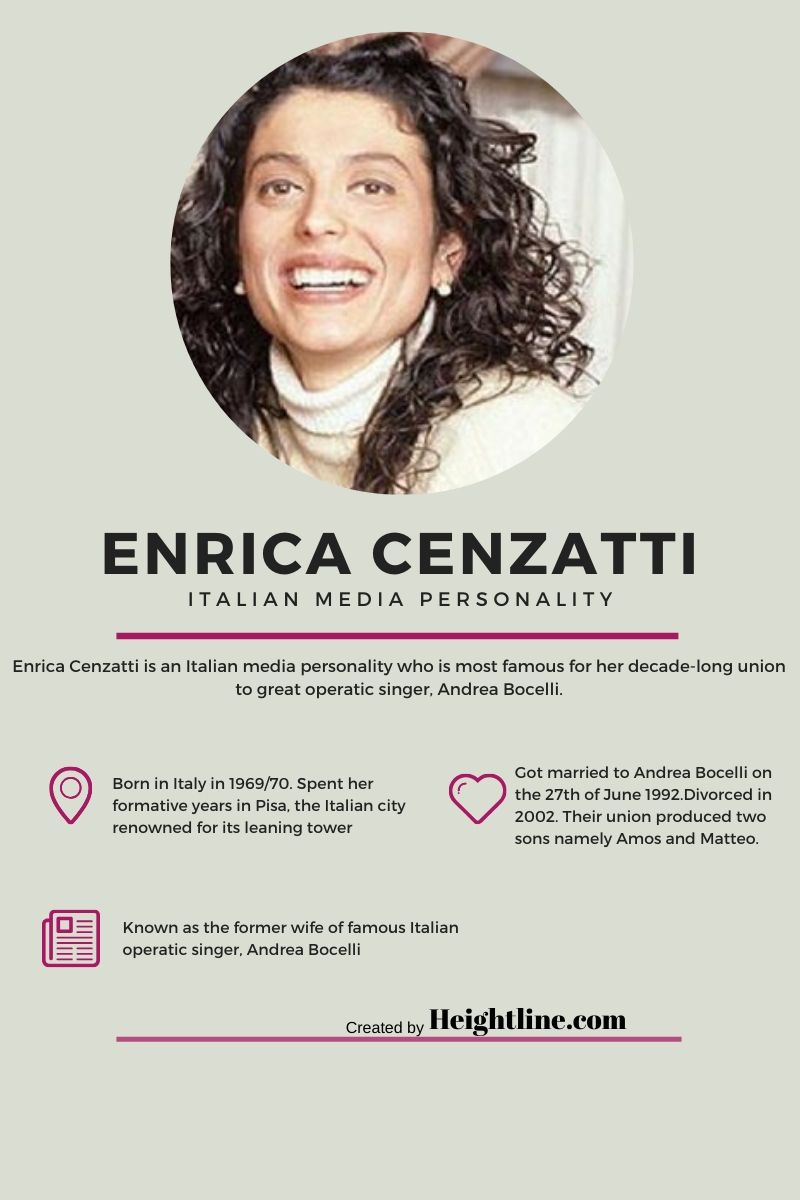 Asides that, not much is known about her life and occupation before marrying Andrea Bocelli. Much of what we know about her revolves around the love life she shared with Bocelli. Read on for details of their love history.
How Did She Meet Andrea Bocelli?

The two met each other in the late eighties when Cenzatti was only seventeen. At the time, she was attending high school while Bocelli had just bagged a law degree and was practicing as a court-appointed defense attorney.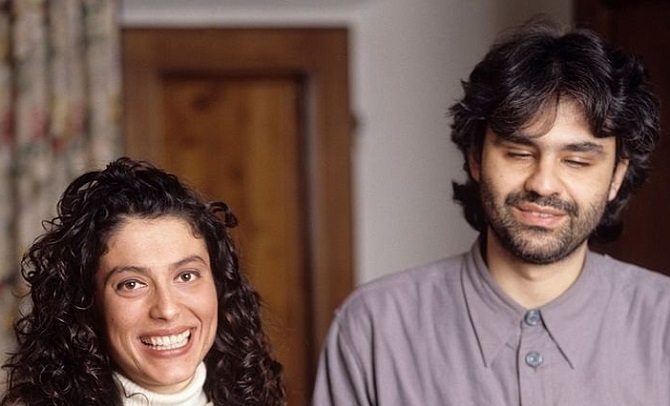 A year after they met, he left the legal profession to pursue his musical dream. Subsequently, he began attending music classes where he learned to play the piano. After perfecting his art, he began playing at various bars. Their relationship quickly blossomed into a tight bond and after a while, they walked down the aisle as husband and wife; that was on the 27th of June 1992.
Do They Have Children?

Enrica Cenzatti's union with Bocelli produced two children. The first was a son named Amos Bocelli, he was born in February 1995. The second, also a son was born in October 1997 and was christened Matteo Bocelli.
As fate would have it, Amos and Matteo did not grow up to see their parents together. At the turn of the new millennium, they witnessed a heart-breaking divorce of their parents.
What Led to Their Divorce?
Though their marriage lasted only a decade, fans had so much hope for the couple to remain together. The couple released the news of their heartbreaking split in 2002 after ten years of marriage.
They are yet to reveal why they split. However, it has been assumed in some quarters that the reason has something to do with Cenzatti's inability to cope with Bocelli's visually impaired state. Also, various reports claimed that the musician started having an affair with his manager Veronica Berti.
We can only guess that the marriage crashed due to irreconcilable differences. Enrica is currently single and seems quite comfortable. She and her boys currently live in the couple's previous residence in Forte Dei Marmi, Versilia, Italy.
Her ex-husband now lives with his wife and only daughter in a lush, spacious villa in the same neighborhood. Despite their divorce, Enrica and her ex-husband have managed to remain good friends for the sake of their children. Their proximity also allows the boys to visit their father regularly.
The Net Worth of Enrica Cenzatti
Though Enrica Cenzatti has attained popularity, she remains highly private about her life. To this day, it is still not known what she does for a living and how that accrues to her yearly income.
Nevertheless, we can tell that she amassed quite a fortune from her divorce from Andrea Bocelli whose net worth is $40 million at the time of this writing. It was reported that she was given between $5 to 10 million as settlement. In addition to that, she has been receiving a decent amount of money from her ex-husband as child support.