It's not new knowledge that Enrica Cenzatti is the ex-wife of the famous musician, songwriter, operatic tenor, and record producer, Andrea Bocelli. What they had has been the subject of many rumors and unsurprisingly, it is the reason Enrica receives so much public attention. But how much do you really know about Enrica apart from her being Andrea's ex-wife? If you are interested in finding out more about her, you are certainly at the right place; just stay with us and explore the tales surrounding her life.
Who Is Enrica Cenzatti – Andrea Bocelli's Ex-wife?
Enrica Cenzatti is not just Andrea Bocelli's ex-wife, she is his first wife. People are yet to agree on the year she was birthed. While you will find that she was born in 1969, you will equally come across some sources specify that her birth year is 1970. From her surname Cenzatti, one does not have to think hard to guess that this blonde beauty has Italian blood flowing in her veins. She was born in Italy. This is as much as anyone could tell about her early life. Not much is known about her upbringing, where she had her formal education, her parents' names, occupations, her siblings, and even her birth month.
While she was a teenager, she lived in the Italian city of Pisa. Apart from this, nothing is known about what she did and who she was before she married Andrea.
But then, the foregoing isn't all there is to know about Enrica Cenzatti; other details of her life are as presented below.
Facts To Know About Her
1. Her Love Life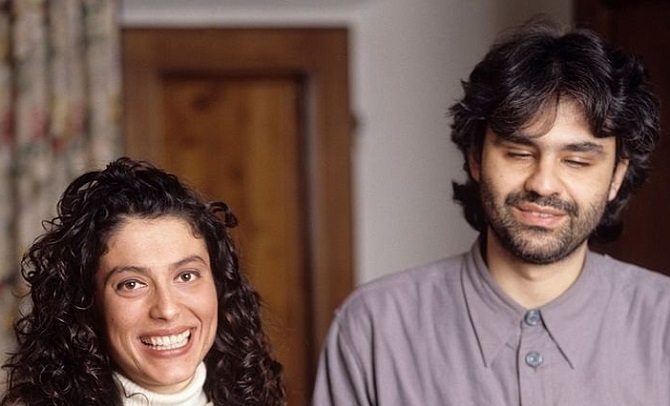 It has already been said that this part of Enrica Cenzatti's life is responsible for the massive media and public attention she has received and continues to enjoy. Her now-dissolved marriage to Andrea Bocelli has been described as a tragic one. The two met each other while Enrica was attending high school; she was just 17 years old. Andrea had just received his law degree and practiced as a court-appointed defense attorney before parting ways with the legal profession a year later.
Subsequently, he began attending music classes and it led him into playing pianos at various bars. It was at one of these bars that he and Enrica met each other. Their relationship blossomed into a romantic one and months later, it caused them to tie the knot; this was on June 27, 1992. The couple released the news of their heartbreaking split in 2002 after ten years of marriage. The former pair are yet to reveal what defeated their will to stay married. We can only guess that the marriage crashed due to irreconcilable differences. Enrica is currently single and seems quite comfortable with it.
2. Body Measurements and Features
This Italian beauty has brown eyes and her hair is black and curly. The specifics of her body measurements are not known to the public. Disregarding this, if you observe Enrica's body features closely, you will see that she is of average height.
3. Her Children
Enrica's union with Andrea produced two children. The first, called Amos Bocelli was born in February 1995. Their second child named Matteo Bocelli came into this world in October 1997. Despite their divorce, Enrica and her famous musician ex-husband have managed to remain good friends for the sake of their children. They both secured separate accommodations at Forte Dei Marmi, Italy, to ensure good parenting for the benefit of their kids. While the boys lived with Enrica, they visit their father regularly.
See Also: 5 Key Facts About Theresa Knorr – Her Spouse and Children
4. What's Her Net Worth 
Though Enrica Cenzatti has attained popularity, she remains highly private about her life. As what she does to earn money is still in the dark, her yearly income is best known to only her. Nevertheless, we can tell that she amassed quite a fortune from her divorce from Andrea Bocelli whose net worth is $40 million as at the time of this writing. It was reported that she gained between $5-10 million as divorce settlement. In addition to that, she has been receiving a decent amount of money from Andrea in the name of child support.
From all the details we have about Enrica Cenzatti, it is not hard to see how much of a private person she really is. She has refused to take advantage of the fame afforded to her by her ex-spouse to spew more than the personal info we have about her.