Emma Watson is a famous English actress and activist best known for playing the role of young wizard Hermione Granger in the Harry Potter films. She was trained at the Oxford branch of Stagecoach Theatre Arts and started acting professionally at age 11 in 2001. Watson split her time between acting and continuing her education. She got her bachelor's degree in English Literature from Brown University in May 2014. So far, she has received numerous accolades, including being named the highest-paid actress by Forbes and Vanity Fair in 2015.
Her performance in her debut movie, the 2001 Harry Potter movie, Harry Potter and the Philosopher's Stone received a great deal of critical acclaim, including the Leading Young Actress Award at the Young Artist Award and many other nominations. At this point, her future in the trade became exceedingly bright from the word go. But it also meant that her path through the conventional school system would be threatened from that point since her professional career was bound to interfere with her academic activities. So, how did she cope? Let's find out below.
Emma Watson's Factsheet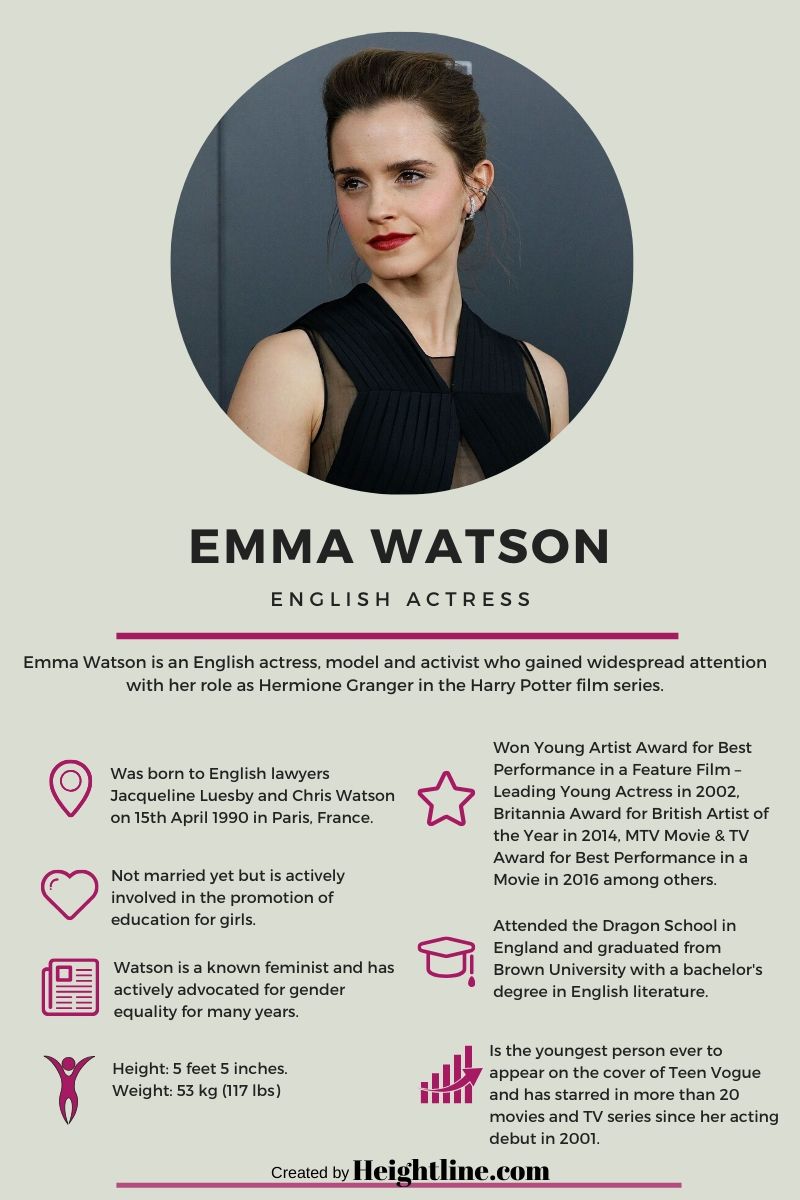 Unique Facts About Emma Watson's Educational Background And Early Career
Emma was born on April 15, 1990, to parents who are both successful English lawyers. Although her parents divorced when she was still young, she hardly felt the effect of the broken marriage: After the divorce, she lived with her mom in Oxfordshire and often visited her dad in London which is about 57 miles away.
So, given that both of her parents were comfortable on their own, Emma had early exposure to films and TV series which triggered her interest in acting at an early stage of her life. Also, as a result of her elite parental background, Emma Watson was enrolled in the high-brow Dragon School (both pre-prep and prep).
Dragon School is one of the feeder schools for such established independent schools as Eton College, St. Edward's School, and Radley College. Established way back in 1877, the school has among her alumni such notable people as the famous writer Poppy Adams, the colonial administrator Sir Gawain Bell who was the Governor of Northern Nigeria between 1957 and 1962, and countless others.
Notably, the school has an entrenched theatre culture. So, with her interest in acting already aroused through her exposure to movies, Emma was naturally interested in being a part of the school's theatre productions. She was good at it and was often featured in school productions.
She Started Professional Training At Age 6
Her participation in her elementary school's stage productions from her formative years was already great training to take her far enough in the field. But, at age 6 and still a pupil at Dragon School, she enrolled in Stagecoach Theater Arts Ltd, an international professional part-time theatre school.
Stagecoach has its presence in no less than seven countries and has produced such other great entertainers as Jamie Bell, Jonny Clarke, Lorna Fitzgerald, Elliot Francis, Shannon Saunders, and a host of others. At Stagecoach, Emma studied singing, dancing, and acting. She was also a prominent part of many stage productions at the school such as Arthur: The Young Years and the Happy Prince.
Emma Watson Was A Straight-A Student
Indeed, there is more to know about Emma Watson. After her days at Dragon School, she proceeded to an exclusive £30,000-a-year girls' high school – Headington School, in Oxford. At the time, her professional acting career was already in motion, following her debut professional role in Harry Potter and the Philosopher's Stone in 2001.
Her 'Hermione Granger's role continued in Harry Potter and the Chamber of Secrets (2002), Harry Potter and the Prisoner of Azkaban (2004), Harry Potter and the Goblet of Fire (2005), Harry Potter and the Order of the Phoenix (2007), until the last of the Harry Potter series in 2011.
Needless to say, these roles got Emma extremely busy all through her high school days at Headington. Yet, when she sat for the GSCE in 2006, out of 10 subjects, she pulled off 8 A* and 2 A grades. The following year, she enrolled for GCE Advanced Level Exams in three subjects and scored A in three of them.
How Did Emma Watson Manage Her Fame In High School?
Being that Emma Watson was already famous as a Harry Potter star all through her years in Headington, you might be wondering how she survived the attention that must have come with that. We don't know how it works out for famous students in other schools, but at Headington, we learned that there was a strict official ban on students talking to Emma, asking for her autograph, or bringing up any conversations about her professional job. While most of them were aware of who she was, they were not allowed to bother her unless they were already friends.
How Emma Watson Made It Through College
After high school, Emma Watson had to take a sabbatical before she proceeded to college. This was to enable her to participate in the filming of Harry Potter and the Deathly Hallows in 2009. She made it clear that she would be continuing her education, saying it helps her to stay connected with friends and reality. During that academic break, there were many speculations as to which college the star would be attending.
However, in September 2009, she finally confirmed that she would be attending the Ivy League college, Brown University, in Providence, Rhode Island, USA. To avoid breaking down, after a year and a half at Brown University, Emma took another year off. Surprisingly, she did not use that time entirely for her professional engagements.
Instead, she enrolled in the Visiting Student Programme at Worcester College Oxford. She eventually went back to Brown University and graduated with a Bachelor's degree in English Literature. As a result of the two-semester break she took, she had to spend 5 years, instead of 4, on her college education.
Ultimately, She Became A Serial Award Winner
After having read through the above paragraphs, one impression you are sure to have about Emma Watson is that she is really an exceedingly tough soul. This is in addition to her spotless beauty and powerful brain, as well as great skills on the screen. With all these, it is little surprise that the young lady already has a backlog of award nominations. She has been nominated for almost 70 awards so far, out of which she has won 24 and has been a runner-up as well. Here are some of the awards she has won:
Young Artist Award in the category 'Best Performance in a Feature Film – Leading Young Actress' for her role in Harry Potter and the Philosopher's Stone (2002).
National Movie Awards in the category 'Best Performance by a Female' for her role in Harry Potter and the Order of the Phoenix (2007).
Capri Art Film Festival Awards in the category 'Best Ensemble Cast' for her role in My Week with Marilyn (2011).
Three Teen Choice Awards for her role in Harry Potter and the Deathly Hallows parts 1 and 2 (2011)
People's Choice Award in the category 'Favorite Ensemble Movie Cast' for her role in Harry Potter and the Deathly Hallows – part 2 (2012)
MTV Movie Award as a member of the 'Best Cast' (2012)
Others are:
Capri Ensemble Cast Award (2012)
Best Supporting Actress and Best Ensemble Performance at the 2012 San Diego Film Critics Society Awards
People's Choice Awards in the category 'Favorite Drama Movie Actress (2013)
MTV Trailblazer Award (2013)
Choice Movie Actress (drama) at the 2013 Teen Choice Awards
2014 British Actress of the Year by Britannia Awards
2014 Best British Style by British Fashion Awards
2017 MTV Movie/TV Awards in the category 'best performance in a movie'. This was the first time this award was gender-neutral and Emma Watson won it.
4 Teen Choice Awards in 2017
2019 Best Ensemble Cast by Boston Society of Film Critics
2019 Best Ensemble Cast by Florida Film Critics Circle
2020 Best Ensemble Cast by Georgia Film Critics Association
Interesting Facts About Emma Watson
| | |
| --- | --- |
| Full Name | Emma Charlotte Duerre Watson |
| Date of Birth: | 15 April 1990  |
| Age: | 33 years old |
| Country of Birth: | France |
| Height: | 5 feet 5 inches |
| Popularly known as | Emma Watson |
| Father | Chris Watson |
| Mother | Jacqueline Luesby |
| Nationality | British |
| Birth Place/City | Paris |
| Ethnicity | Caucasian |
| Profession | Actress |
| Net Worth | $85 million |
| Eye Color | Dark-Brown |
| Hair Color | Dyed Brown |
| Face Color | Fair |
| Body Measurements | 34-23-34 |
| Weight in KG | 53 kg |
| Boyfriend | Leo Robinton |
| Married? | Not Yet |
| Education | Brown University, Worcester College, Dragon School, Headington School, Stagecoach Theatre Arts |
| Awards | 2014 British Fashion Awards, Teen Choice Awards, People's Choice Awards, MTV Movie Awards |
| Movies | Harry Potter franchise, Beauty and The Beast, Little Women, Noah |
| TV Show | Ballet Shoes, Red Nose Day |
| Sisters | Lucy Watson, Nina Watson |
| Siblings | Lucy Watson, Nina Watson, Alex Watson |