Elizabeth Blackwell is a British medical doctor who lived from 3 February 1821 to 31 May 1910. She is remembered as the first woman who received a degree in medicine in America and also as the first woman whose name was recorded on the Medical Register of the General Medical Council.
In January 1849, Elizabeth Blackwell made history as the first formally accredited female physician in the United States, thereby charting a new course for women in medicine all over the world.
Being the first of her kind, Blackwell encountered several challenges in the early years of her career as a physician. However, she soldiered on through it all and made a name for herself as a role model for aspiring female physicians in the US, her home country, England, and the world at large.
We take a look at everything worth learning about the trailblazer.
Summary of Elizabeth Blackwell's Biography
Full name: Elizabeth Blackwell
Gender: Female
Date of birth: 3 February 1821
Date of Death: 31 May 1910
Elizabeth Blackwell's Age at Death: 89
Place of Birth: Bristol, England
Ethnicity: White
Nationality: British
Zodiac Sign: Aquarius
Sexual Orientation: Straight
Marital Status: Single
Elizabeth Blackwell'sParents: Samuel Blackwell and Hannah (Lane) Blackwell
Siblings: 2 Older sisters, Anna and Marian, and 6 younger siblings: Samuel, Henry, Emily (second woman in the U.S. to get a medical degree), Sarah Ellen, John and George
Famous for: Being the first woman who received a degree in medicine in America and also as the first woman whose name was recorded on the Medical Register of the General Medical Council
Elizabeth Blackwell's Fact Card 
Elizabeth Blackwell's Early Life
On February 3, 1821, Hannah and Samuel Blackwell welcomed their child who would grow to become a legend, in Bristol, England. Her parents adopted a liberal disposition in her upbringing in terms of education, religion, and social ideologies.
Equal educational opportunities were given to both the male and female children of the family. She had private tutors and other requirements designed to grant her access to the unlimited development of her abilities.
However, she turned out to be slightly socially isolated from her peers. In 1832, the Blackwells immigrated to the United States, settling in New York City. Six years after, they changed their location again to Cincinnati, Ohio.
Elizabeth Blackwell was raised in a large household. She had two older siblings Anna and Marian and six younger ones Samuel, Henry, Emily, Sarah Ellen, John, and George.
Her family fell into financial difficulties during her early adulthood and in a bid to supplement the family's income, Blackwell and her older sisters Anna and Marian set up a school known as The Cincinnati English and French Academy for Young Ladies.
The Rocky Road To Making History
Elizabeth Blackwell's conversion to the Unitarian Church roused her desire for intellectual self-improvement. While working as a teacher to pay her bills, she embarked on an aggressive quest for knowledge through the study of art, attending lectures, and also taking part in the religious services of all sects.
Ultimately, her interest in medicine was kindled after she bore witness to her friend's illness. During the experience, her friend noted her sickness would have been more bearable if a female doctor treated her.
This incident lit a fire under Blackwell, and she began saving up for the cost of medical school while working as a teacher in Asheville, North Carolina, and later in Charleston, South Carolina.
Blackwell eventually moved to Philadelphia in 1847 with the desire to get admitted into one of the medical schools there. However, she was met with stiff resistance at every corner, with many of her rejection based on beliefs that she was intellectually inferior to men.
Those who supported her advised her to either camouflage as a man or move to Paris to study. Both of which she rejected.
After sending applications to twelve schools, she was eventually accepted into Geneva Medical College (now Hobart College) in October 1847 after her application received a unanimous vote by the 150 all-male student-body of the school.
However, Blackwell's challenges persisted even after gaining admission to medical school. Her attempts at gaining clinical experience during the summer holidays in Philadelphia were rebuffed as she was rejected in several institutions in the area.
After she was accepted at the Blockley Almshouse, she received some initial resistance from several young physicians who refused to assist her in attending to her patients. Despite the bottlenecks, she was able to complete her studies and graduate from medical school.
On January 23, 1849, Elizabeth Blackwell was conferred with her medical degree, making history as the first woman in the United States to receive a medical degree.
She moved to Europe in April 1849, where she obtained further studies in obstetrics and paediatrics. She first enrolled at La Maternité, a maternity clinic in Paris, France, on the premise that she would be regarded as a midwife in training and not a physician.
Her stint at the facility came to an end in November 1849 after she accidentally contracted an eye infection which eventually cost her the use of one eye.
After a long period of treatment and recovery, Blackwell enrolled in St Bartholomew's Hospital London in 1850, where she also met some degree of resistance. She eventually returned to New York City the following year with the hope of establishing her practice.
Lifetime Accomplishments
In 1858, Elizabeth Blackwell established a dispensary – the New York Infirmary for Indigent Women and Children alongside her sister Emily Blackwell, who had also obtained a medical degree and Marie Zakrzewska, a young female doctor from Poland.
The institution was the first of its kind as it had women serving on its administrative board and also as attending physicians.
On January 1, 1859, Blackwell became the first female physician to be listed on the UK Medical Register under a provision in the Medical Act of 1858, which acknowledged doctors with foreign degrees to practice in Britain before 1858.
The London School of Medicine for Women was established in 1874 by Elizabeth Blackwell and Sophia Jex-Blake. Elizabeth Blackwell later lost much of her influence in the institution to Jex-Blake and was elected as a lecturer in midwifery, a position she quit in 1877.
She also contributed to medical research, with a total of 17 medical journals and writings credited to her. Some of them include Scientific Method in Biology (1898) and Essays in Medical Sociology (1902).
In addition to her trail-blazing medical career, Blackwell was also an excellent author and a social reform activist. She took an interest in many reform movements, all of which were centred on the goal of "evangelical moral perfection." A staunch conservative, she was strongly opposed to licentiousness, prostitution, and the use of contraceptives.
The Cause Of Her Death
Elizabeth Blackwell remained active even as an octogenarian though her activities were greatly restricted by old age. She fell from a flight of stairs in 1907 while vacationing in Kilmun, Scotland, which left her incapacitated both mentally and physically.
Three years later, on May 31, 1910, at her home in Hastings, Sussex, she passed on after suffering a partial stroke. Her ashes were deposited at the cemetery of St Munn's Parish Church, Kilmun.
Other Interesting Facts About Elizabeth Blackwell
The Elizabeth Blackwell Medal is awarded annually by the American Medical Women's Association to a female doctor who has made giant strides in promoting the cause of women in the field of medicine. The award was instituted in 1949, a century after Blackwell received her medical degree.
Blackwell's younger sister Emily Blackwell equally toed her sister's footsteps into the field of medicine and was the third woman to earn a medical degree in the US.
Just like her older sister, Emily Blackwell was rejected at several medical schools before eventually getting accepted at the Medical College of Cleveland, Ohio (now Case Western Reserve School of Medicine). She graduated in 1854.
Among other collaborations, the Blackwell sisters established the Women's Medical College in New York City in 1868.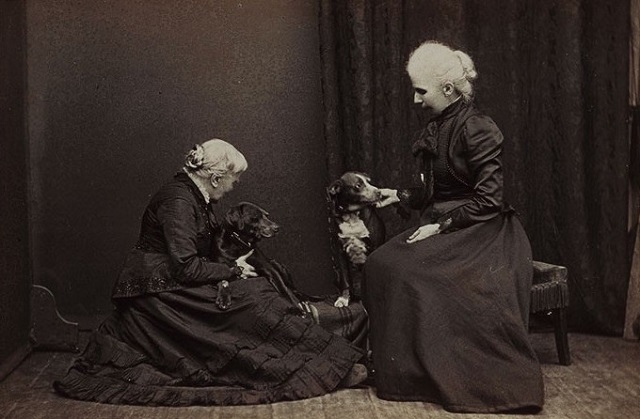 In 1856, Elizabeth Blackwell adopted an Irish orphan, Katherine "Kitty" Barry (born 1848) from the New York House of Refuge. Barry's education was well catered for though she did not have the freedom to pursue her interests.
She escorted Blackwell on her many travels and remained with her until her death. Barry moved to Kilmun in Argyllshire, Scotland, following Blackwell's death in 1910. She later moved in with the surviving Blackwells and also took up the 'Blackwell' last name.