Veteran basketball star Dwight Howard joined the Washington Wizards in July 2018. His highly illustrious professional basketball career dates back to 2004 when he joined the NBA straight out of high school. A standout high school athlete, Howard won the Mr. Georgia Basketball as well as the Naismith Prep Player of the Year awards in his senior year (2004). He joined the big league with the first overall pick in the 2004 NBA Draft by the Orlando Magic where he had the longest stint of his career.
Playing in the centre position, Dwight Howard has made a name for himself as one of the top defenders in the history of the NBA. The veteran baller has earned 8 NBA All-Star and 5 All-NBA First Team selections. He led the NBA in rebounds in 5 seasons, has also been the blocks leader in 2 seasons and remains the only player to have been named the NBA Defensive Player of the Year for 3 consecutive seasons.
Dwight Howard's Biography
Dwight David Howard was born on December 8, 1985, in Atlanta, Georgia. His mother Sheryl played college basketball at Morris Brown College in Georgia. His father Dwight Howard Sr. equally served as the sports director of Southwest Atlanta Christian Academy. Theirs is a devout Christian family and Howard remained true to the faith all through his teenage years.
Howard had his high school education at Southwest Atlanta Christian Academy. He played in the power forward position for the most part of his highly successful 4-year high school career. He averaged 25 points, 18 rebounds, 8.1 blocks and 3.5 assists per game in his senior year, leading the school to a 31-2 record and helping them clinch the 2004 Georgia State Class A title. He was largely considered the best basketball player of the class of 2004 and among other accolades, he was named the Naismith Prep Player of the Year, the Morgan Wootten High School Player of the Year, Gatorade National Player of the Year and the McDonald's National High School Player of the Year. He was also named co-MVP of the 2004 McDonald's All-American Game alongside J. R. Smith.
Dwight Howard declared for the 2004 NBA Draft forgoing the possibility of a college career. He was selected first overall by the Orlando Magic, marking the beginning of a highly-decorated professional basketball career.
Career Stats
Howard made an immediate impact on the Orlando Magic team right from his first season. He made history as the first NBA player directly out of high school to feature in all 82 games of his rookie season and with a scoring average of 12 points and 10 rebounds, he became the youngest NBA player to average a double-double in the regular season. He was converted into a full-fledged centre during his second season and finished with an average of 15.8 points and 12.5 rebounds, an improvement on his rookie season performance.
The NBA star averaged 17.6 points and 12.3 rebounds per game in the 2007-08 regular season, helping the Magic qualify for the 2007 NBA playoffs. He led the league in total rebounds and was also named for the 2007 NBA All-Star Game, the first of 8 consecutive selections (2007-2014). Howard's top-notch performance continued throughout his entire 8-year stint with the Orlando Magic. He won 3 consecutive NBA Defensive Player of the Year awards (2009-2011), earned 5 consecutive All-NBA First Team selections (2008–2012), led the league in average rebounds (2008, 2009, 2010, 2012) and also in average blocks (2009, 2010).
Howard's impressive run with the Orlando Magic came to an end in August 2012 when he was traded to the Los Angeles Lakers. The NBA star averaged 17.1 points, a league-leading 12.4 rebounds and 2.4 blocks per game during the 2012-13 season, his first and only season with the Lakers. His performance earned him NBA All-Star and All-NBA Third Team selections for 2013.
The NBA veteran began a 3-year stint with the Houston Rockets in July 2013. He put up a good show in his first season (2013-14) with the team, averaging 18.3 points and 12.2 rebounds per game. He was plagued by several injuries in the 2014-15 season which limited him to a mere 41 games and he finished with 15.8 points and 10.5 rebounds per game. His stats dipped further to 13.7 points and 11.8 rebounds during his last season with the Houston Rockets.
Howard spent the 2016-17 season with the Atlanta Hawks during which he averaged 13.5 points and 12.7 rebounds per game. In June 2017, he was traded to the Charlotte Hornets in a multi-player deal and in his only season with the team, he averaged 16.6 points and rebounds per game in 81 total appearances. Dwight Howard joined the Washington Wizards in July 2018.
Wife And Kids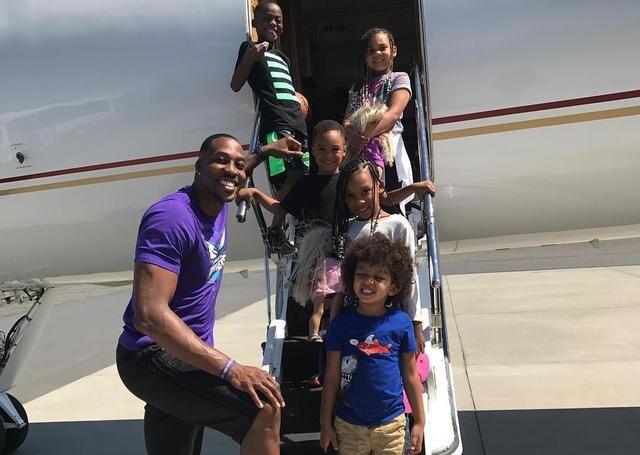 Dwight Howard has no wife as he has never been married in the past. He is known to have fathered 5 children from as many mothers though there are unverified claims that he has even more kids. Back in 2007, the NBA star welcomed his first child, a son named Braylon with his former girlfriend Royce Reed. Two of his sons Trey and David were both born in 2013. He also has 2 daughters Jade and Layla. Howard has had a rather rocky relationship with some of his baby mothers, however, he has managed to stay close to each of his children though they live in different parts of the country.
See Also: Lebron James Relationship Through The Years: Who Has Lebron James Dated?
Salary, Net Worth
In July 2018, Dwight Howard signed a 2-year contract with the Washington Wizards valued at $10,940,850 while his salary for the 2018-19 season is pegged at $5,337,000. The NBA vet has enjoyed a consistent and successful career which spans well over a decade. He netted a whopping $27 million between 2017 and 2018 which earned him the No. 58 spot on the Forbes list of Highest-paid Athletes for the period under review. Thanks to his career earnings and other lucrative endorsements, Howard has amassed a net worth of $140 million.