Dwayne Johnson's parents are Ata Johnson and Rocky Johnson. His mother, Ata, is Samoan and the adopted daughter of pro wrestler Peter Maivia, while his father Rocky, born Wayde Douglas Bowles was a Black Nova Scotian and a member of the first black tag team champions, with Tony Atlas, in WWE history. His father was born in 1944, and he passed away in 2020.
Dwayne Johnson is a third-generation wrestler as his father and grandfather were both wrestlers. He has been a Jack of many trades and yet a master of them all. He certainly has the proverbial Midas touch. With his movies racking up profits in excess of $10 billion so far, Dwayne is currently one of the highest-grossing actors Hollywood boasts of. Before he became an actor, he was a WWE (then known as WWF) pro wrestler with many laurels to his name.
Before that, he played college football where he got topmost recognition as a national champion in 1991. Here are interesting details about Dwayne's ancestral background that certainly hold a clue to his winning attitude and streak. It shows the extent to which family background and parental support can go into shaping a person's destiny.
Dwayne Johnson's Fact Card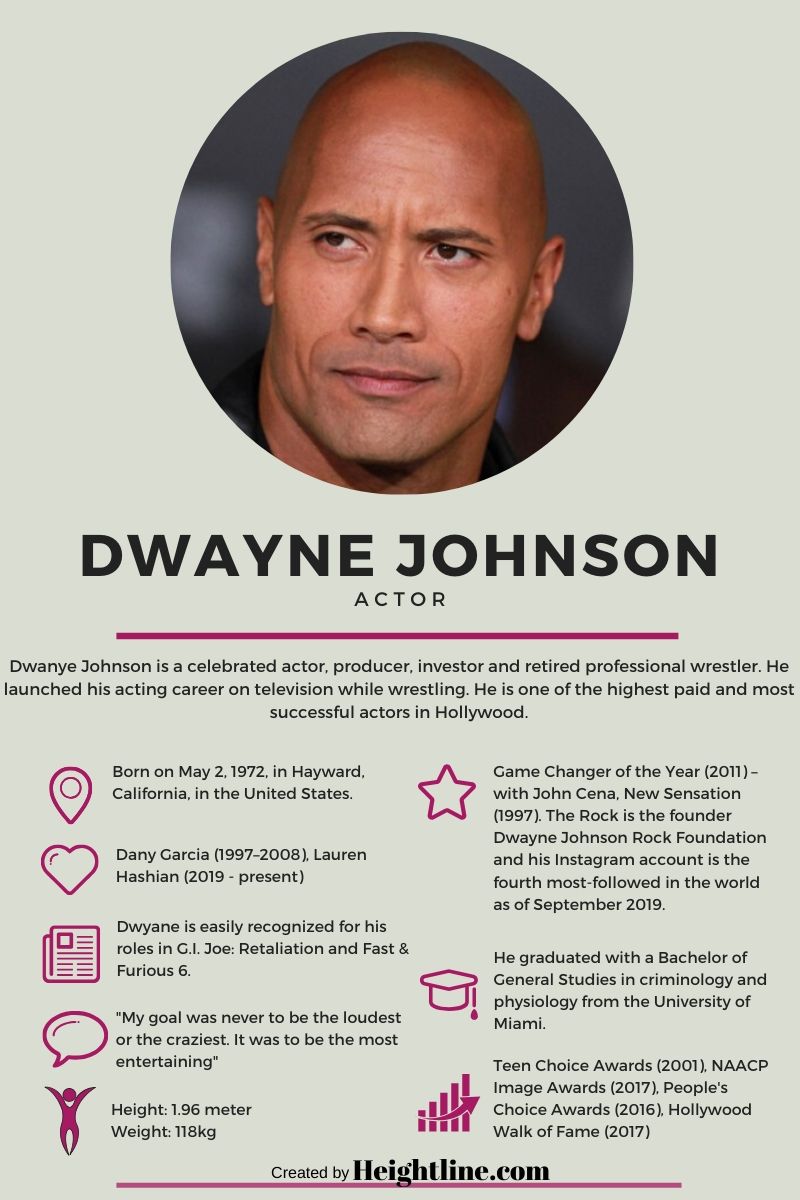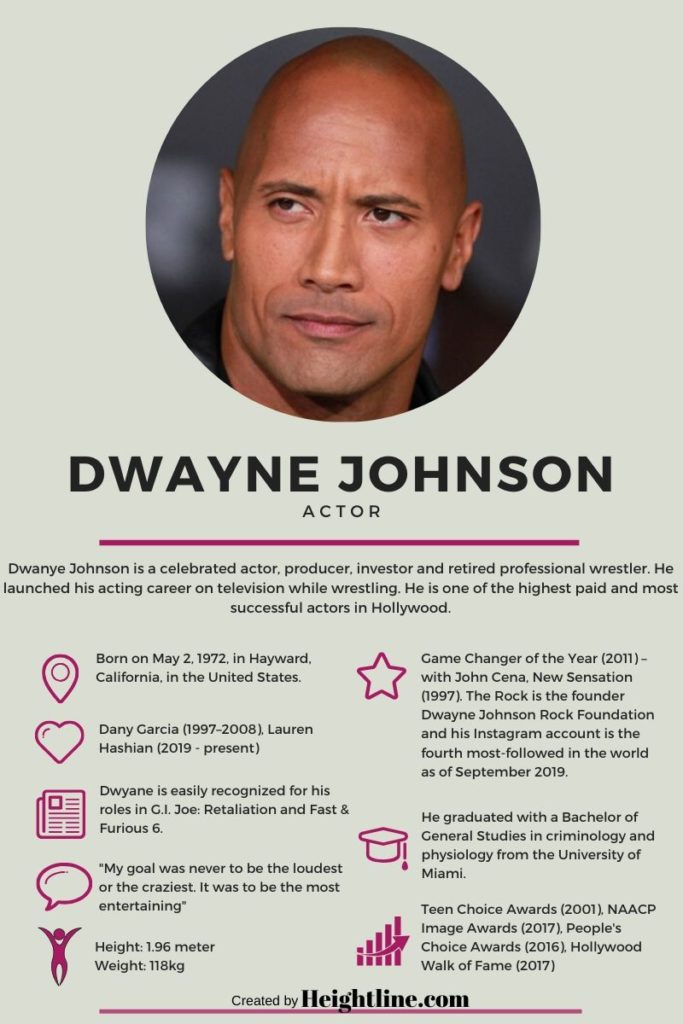 Exciting Details About Dwayne Johnson's Wrestling Background
The former wrestler was born and raised in a family with a rich heritage in the wrestling world, thus, it was more about keeping the family legacy. Below are some facts you probably didn't know about the Jackson family.
His Father and Grandfather Were Pro Wrestlers
Dwayne Johnson is a third-generation wrestler. The former wrestler turned actor was born on May 2, 1972, in Hayward, California. His father was the Canadian professional wrestler Wayde Douglas Bowles (Known professionally as Rocky Johnson). Rocky held sway as a wrestler from the early 1960s until the mid-1980s.
In 1983, he became the first black champion ever in the history of the World Wrestling Federation (now known as the World Wrestling Entertainment) after he won the World Tag Team Championship together with Anthony White (popular as Tony Atlas). Rocky lived for 75 years before he died on January 15, 2020.
Dwayne Johnson's mother, on the other hand, is Feagaimaleata Fitisemanu Maivia. To make it easy to pronounce, her first name is usually shortened to its last two syllables and rendered as 'Ata'. Thus, she is very much known in the media as 'Ata Maivia'. Ata is a daughter to the Samoan high chief Fanene Leifi Pita Maivia (popular as Peter Maivia).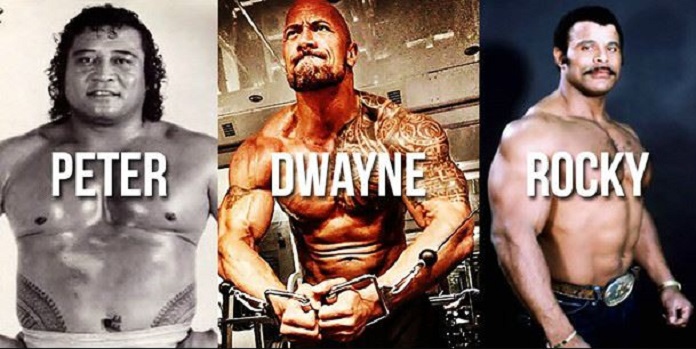 A member of the famous Samoan wrestling family of the Anoas, Peter's professional days ranged from the early 1960s through the 70s. After plying his trade in New Zealand and Australia, he became one of the well-known stars in the then-called WWWF (World Wide Wrestling Federation).
Against her father's wishes, Ata married Rocky and soon after that, Dwayne Johnson was born. As is typical of wrestling families, the new family moved around a lot. But that was no longer the case from 1986 when they relocated to Honolulu permanently while Rocky continued to travel for his profession.
But, despite Rocky's success in the ring, it didn't pull in enough funds for the family. Dwayne himself told a story about a childhood experience he was familiar with; coming home to see a padlock and an eviction notice on the door of their apartment and the family getting stranded as a result of that.
It Was Dwayne Johnson's Grandfather Who Trained His Father In Wrestling
Before Dwayne Johnson's father married Ata, he already had a relationship with Ata's father Peter Maivia. It was a professional relationship that led to other things. For instance, it led to Rocky Johnson getting a title in Samoa as a high chief even when he was not a native.
Maivia and Rocky were tag team partners in a match on the independent scene. They were friendly and being an older and more experienced wrestler at the time, Maivia was the one who trained Rocky. Of course, that was how Rocky ended up meeting and eventually marrying Ata.
His Maternal Family Had More Wrestlers Than Most People Know
Did you ever imagine that Yokozuna was Dwayne Johnson's maternal uncle? Indeed, he was just one of his famous wrestler uncles. The Anoa'i family of Samoa is notable for producing many famous wrestlers. Apart from Rodney Anoa'i (that is, Yokozuna) and Dwayne's grandfather Peter Maivia, other famous wrestlers from that family are Rosey, Rikishi, Roman Reigns, The USOs, Afa/Sika Anoa'i, Tamina Snuka, the Wild Samoans, Nia Jax, and Jamal.
Dwayne Johnson's Maternal Grandmom Was Also In The Wrestling Business
After playing college football with the Miami Hurricanes, Dwayne made serious attempts to play American football professionally. He even got drafted and played for a while before injuries forced him to stop and take up wrestling which he naturally excelled in. It seems almost certain that everything about him pointed to wrestling, possibly because it's a profession that is apparently in his gene.
Additionally, his maternal grandmom Ofelia Maivia had a career as a wrestling promoter. Dwayne Johnson's mother Ata was Ofelia's first child from her first marriage before she married Peter Maivia. However, Peter Mavia later adopted Ata.
Ofelia (more popular as Lia Maivia) took up the wrestling promotion job in the Hawaiian Polynesian Pro Wrestling (PPW) of the National Wrestling Alliance following the death of her husband in 1982. She managed PPW until 1988 when it shut down. She remains one of the pioneer female wrestling promoters worldwide.
How Dwayne Johnson's Family Background Helped His Career Success
Ever wondered how, as a black man, The Rock was able to overcome the color barrier in the US to achieve so much in various fields? We found a clue to answer this question in an Instagram post he shared with his over 170 million followers in January 2020 following his father's death.
The post was a video of Rocky Johnson fighting in the ring. It was accompanied by a lengthy textual tribute where Dwayne Johnson, among other things, revealed how his father trained him to be hard, proud of their culture and color, and have great work ethics. See the post for yourself:
A Brief On Dwayne Johnson's Personal Life
Dwayne Johnson has been married two times so far. His first marriage which started in May 1997, was with film producer Dany Garcia. Dany, who would later establish the production outfit Seven Bucks Production, had earlier produced films for Dwayne before they became romantically connected to each other.
After four years of marriage, they had a daughter named Simone together in August 2001. Ten years into their marriage, the couple went through a divorce which was generally reported to be amicable. Twelve years after his first marriage ended, Dwayne got married again, this time to his long-time girlfriend Lauren Hashian.
Dwayne and Lauren started dating almost as soon as his marriage to Dany ended in 2007. They already had two kids before they eventually legalized their union in August 2019. Lauren is the daughter of Sib Hashian who worked as a drummer for the rock band Boston.