How tall is Dwayne Johnson? Dwayne Johnson's height is 6 feet 5 inches which is the equivalent to 196 cm or 1.96m in the metric system. 
Time magazine named Dwayne Johnson in 2016 and 2019 as one of the 100 Most Influential People in the World. This is only natural as he is a versatile entertainer with millions of dedicated followers scattered across the globe.
Often counted among the greatest professional wrestlers of all time, Dwayne, who went by the moniker The Rock as a wrestler, has been breaking boundaries in the movie industry since he embraced acting. More than being one of the highest-paid actors in the world, his movies have thus far grossed over 12.2 billion at the box office, making him one of the highest-grossing actors as well.
Interestingly, neither wrestling nor acting was the first career choice for The Rock. Growing up, his dream was to play football and he received offers from several colleges but opted for the University of Miami where he played as a defensive tackle. Unfortunately, the athlete went undrafted in the 1995 NFL Draft but was signed by the Calgary Stampeders of the Canadian Football League.
As fate would have it, the Stampeders dismissed him in his first season which forced The Rock to turn to wrestling as a career. From football to wrestling and acting, it is believed that Dwayne Johnson's height has always been an asset to his career.
Dwayne Johnson's Height and How Much It Has Helped His Career 
Folk wisdom claims that taller people are more successful in life and Dwayne Johnson might just be the reason this sentiment persists. Standing at 6 feet 5 inches (196 cm), Dwayne is taller than the average man in the world. However, one cannot validate that his height has significantly helped his career. As stated earlier, the Hollywood star played football before he got into wrestling and subsequently became an actor.
As a footballer, The Rock played as a defensive tackle; players in this position are preferred to be tall and massive so that it would be easy for them to knock down opponents and stop passes when they stretch out.
Because of this, one might assert that Dwayne Johnson's height was an advantage for him when he played football. But then, considering that he was practically kicked out of the sport, would it be out of place to uphold that his height was inconsequential to his career as a footballer?
After he moved on to wrestling, Dwayne Johnson became famous across the globe. His exploits in wrestling and details of his accomplishments thereof are stories for another day, but did his height help his wrestling career in any way? Well, in terms of the massive appeal he commanded, one would have to agree it's a combined outcome of the charisma his WWE character carried and his physique.
His catchphrase: "Can you smell what The Rock is cooking?!" might not have been as potent as it was if he didn't have the stature and electrifying posture to back it up. Technically, it is difficult to decide if his height facilitated the in-ring success he enjoyed as the height of a wrestler can be both detrimental and advantageous.
In terms of acting, it is widely held that the height of a performer doesn't really matter as lifts like elevator shoes and camera angles can be utilized when an actor must be taller than he is. Nonetheless, some roles might require a performer to have certain physical features with casting directors conditioned to look for actors that are most suitable for the roles.
Looking at most of the characters The Rock has portrayed, one would agree that the roles were written with someone that physically looks like him in mind. But above all things, it is believed that his charisma, talent, and work ethic are the factors driving his acting career.
How Tall Is He Compared To The Average Actor?
Dwayne Johnson is not only taller than most actors; he is one of the tallest actors in Hollywood. Based on what has been reported on various platforms, the average height for Hollywood actors is 5 feet 10 inches (178 cm).
In essence, he is taller than most of the actors in Hollywood by 18 cm. In fact, apart from Brad Garrett and James Cromwell, it is hard to think of any other actor taller than The Rock.
Brad Garrett is widely considered to be the tallest actor in the industry. More than acting, he is a stand-up comedian and as well a professional poker player. As an actor, Garrett is mostly known for his portrayal of Robert Barone in the popular sitcom created by Philip Rosenthal, Everybody Loves Raymond. Brad's height is one of the things that has set him apart in the competitive industry. He stands at an intimidating 6 feet 8 inches (203 cm).
Cromwell, on the other hand, is one of the most accomplished American actors. He is known for numerous popular productions like Star Trek: First Contact, The Artist, Spider-Man 3, The Young Pope, Big Hero, Jurassic World: Fallen Kingdom, Babe, and much more. He has won an Academy Award for Best Supporting Actor amongst other prestigious gongs. James Cromwell is 2 inches (5 cm) taller than Dwayne Johnson as his height is listed at 6 feet 7 inches (201 cm).
Dwayne Johnson Height or Vin Diesel: Who Is Taller Between The Actors?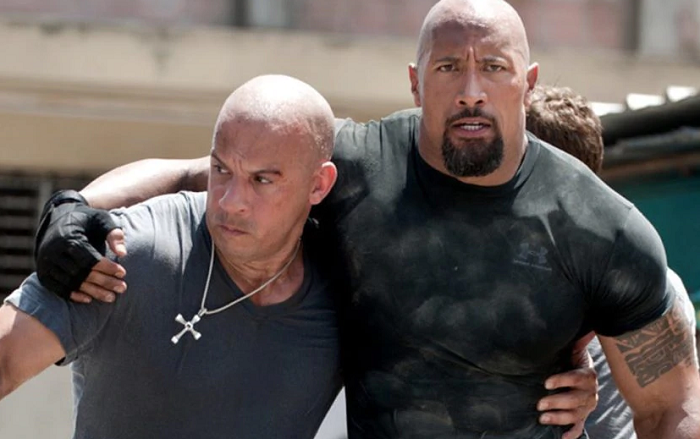 Like The Rock, Vin Diesel is one of the highest-grossing actors in the world. His movies have grossed over $11.3 billion at the box office and he is mostly known for playing Dominic Toretto in the Fast & Furious franchise. Vin, who is significantly shorter than Dwayne Johnson as he stands at 5 feet 11½ inches (182 cm), had been an actor for almost a decade before the former wrestler joined the profession.
Apart from Dominic Toretto, he has portrayed many characters in popular productions like Saving Private Ryan, The Iron Giant, XXX, The Chronicles of Riddick franchise, and many more. Diesel is now regarded as one of the reputable action stars in Hollywood and has starred opposite Dwayne Johnson in several installations of the Fast & Furious franchise. People were thrilled to see the two action stars work together but it emerged in 2016 that they clashed while on the set of The Fate of the Furious. It is said that Dwayne and Vin have been reluctant about working together ever since albeit they are believed to be on good terms.
What Is The Height Difference Between The Rock and Kevin Hart?
Kevin Hart is mostly a stand-up comedian but he has done well for himself as an actor. Regarded as one of the shortest men in Hollywood, Hart has played several characters in movies and TV shows like Undeclared, Think Like a Man, Grudge Match, Ride Along, and much more. Like Dwayne Johnson, Time magazine has also named him one of the 100 most influential people in the world, this was in 2015.
Over the years, moviegoers have come to admire Kevin and Dwayne for their friendship and the movies they have featured in together. The pair has been seen in movies like Central Intelligence, Jumanji: Welcome to the Jungle, Jumanji: The Next Level, and Fast & Furious Presents: Hobbs & Shaw.
Kevin Hart's height is between 5 feet 2 inches (157.5 cm) and 5 feet 4 inches (163 cm). At 6 feet 5 inches, The Rock is at least a foot taller than Kevin. Even though the difference in their height makes them an odd pair, the two are considered to be one of the most entertaining and interesting double-acts in the movie industry.
Dwayne Johnson's Height Compared To Other Wrestlers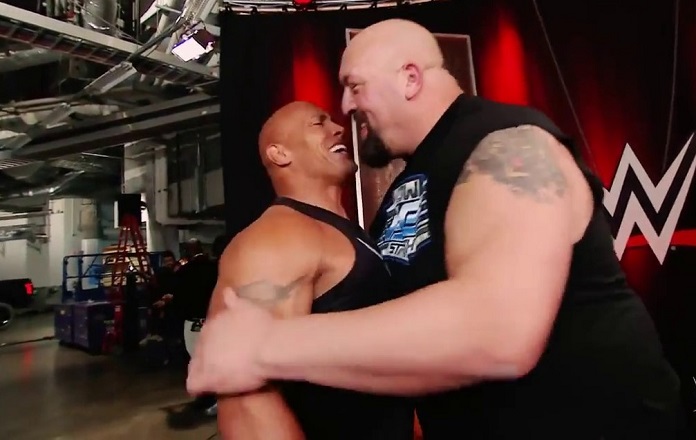 The Rock is often described as WWE's biggest star and counted amongst the greatest professional wrestlers of all time; his WWF/WWE legacy is as tall as he is. Even as we are yet to determine the average height for wrestlers, it is pretty obvious that The Rock wouldn't be ignored when counting tall wrestlers.
He is significantly taller than WWE wrestlers like Hornswoggle (4 feet 5 inches; 135 cm), Kalisto (5 feet 6 inches; 168 cm), Rey Mysterio (5 feet 6 inches; 168 cm), Sin Cara (5 feet 7 inches; 170 cm), late Eddie Guerrero (5 feet 8 inches; 173 cm), Daniel Bryan (5 feet 10 inches; 178 cm), and several others.
Although The Rock is taller than most wrestlers, the WWF/WWE has seen several wrestlers that towers above him. At the top of that list is the Argentine basketball player cum professional wrestler, Jorge Gonzalez, who passed in September 2010. Jorge had a massive and intimidating physique, he stood at 8 feet (244 cm). Apart from Jorge, a handful of other wrestlers are also taller than The Rock. They include:
André the Giant (7 feet 4 inches; 224 cm)
Giant Silva (7 feet 2 inches; 218 cm)
The Great Khali (7 feet 1 inch; 216 cm)
Big Show (7 feet; 213 cm)
Kane (7 feet; 213 cm)
Big Cass (7 feet; 213 cm)
Robert Maillet (7 feet; 213 cm)
Kevin Nash (6 feet 10 inches; 208 cm)
The Undertaker (6 feet 10 inches; 208 cm)
Between Dwayne Johnson and John Cena, Who Is Taller?
Dwayne Johnson, who is a few inches (4 inches; 11 cm) taller than John Cena who stands at 6 feet 1 inch (185 cm), are among the few WWE superstars who have been able to penetrate the movie industry.
But while Cena is an elite wrestler like The Rock, he hasn't been as successful as Dwayne in acting but his movies have grossed over $2.1 billion at the box office and he is admired for the characters he has portrayed in movies like Daddy's Home, Ferdinand, Bumblebee, Dolittle, F9: The Fast Saga, and much more.
The Rock's feud with John Cena between 2011 and 2013 was one of the most significant moments of his wrestling career. They traded an epic litany of trash talking which culminated in two matches that saw them win Slammy Award's Game Changer of the Year 2011 and Match of the Year in 2013.
Is Dwayne Johnson Taller Than Dave Bautista?
Dave Bautista is a retired professional wrestler and former mixed martial artist. He rose to fame as a wrestler but is now mostly known as an actor. Bautista has starred in multiple popular movies like House of the Rising Sun, Guardians of the Galaxy, Spectre, Marauders, Guardians of the Galaxy Vol. 2, Avengers: Infinity War, Avengers: Endgame, Army of the Dead, and others. His movies have grossed over $7.8 billion at the box office as of this writing. The former wrestler has also been seen in television productions like Smallville, Chuck, What We Do in the Shadows, See, and more.
Given that Dave and Dwayne are both former wrestlers who have popularized their names in the movie industry, it is not difficult to see why people often compare their career achievements, net worth, and what have you. In terms of their heights,
The Rock is slightly taller than Dave Bautista. Again, Dwayne Johnson's height is 6 feet 5 inches (196 cm) whereas Dave Bautista is 6 feet 4 inches (193 cm) tall.
The Rock Is Taller Than The Average American Man
The average height of adult males varies across the nations of the world and is largely influenced by environmental factors and other elements like the accessibility of good medical care, nutrition, and poverty rate. While the average height of Americans has declined from what it used to be in the 19th century, citizens of the country are still counted among the tallest people in the world. At the moment, the average American man stands at 5 feet 9.3 inches (176 cm).
In essence, Dwayne Johnson is 20 cm taller than most men in the United States of America. He is also taller than most men in the world. Records have it that the tallest of men are found in the Netherlands. In the European country, the average height for men is 5 feet 11 1/2 inches. Men from South Asian countries would be literally looking up to The Rock as the average height for men in these countries is 5 feet 4 inches (165 cm).
The Difference In Height Between Dwayne Johnson and His Spouses
It's no secret The Rock has been married twice. His first marriage was to Dany Garcia whom he met in college. They got married on the 3rd of May 1997 and welcomed their only child together, a daughter named Simone on the 14th of August 2001. Several years later, Dany and Dwayne announced they had decided to part ways and their divorce was finalized in May 2008.
Dany and Dwayne remain business partners and are on good terms. It is also obvious that The Rock is taller than his first wife, the businesswoman currently married to Dave Rienzi reportedly has a height of 5 feet 8 inches (173 cm).
Many years after the end of his first marriage, precisely on the 18th of August 2019, Dwayne Johnson got married to Lauren Hashian with whom he now has two daughters. From the pictures they have shared, it is clear that Dwayne is also taller than his current wife. Interestingly, The Rock's second wife is as tall as his first. Yes, Lauren Hashian stands at 5 feet 8 inches (173 cm).