Dr. Terry Dubrow is an American celebrity plastic surgeon and television personality known for co-hosting Botched. Together with Dr. Paul Nassif, he has 'cut' many individuals and celebrities to give them better looks, fix damages done by other surgeons, or for other reasons. Although he is constantly a face seen on TV, thanks to Botched, his personal life including details about his wife and sibling.
Who is Dr. Terry Dubrow?
The plastic surgeon was born on September 14, 1958, to Laura and Alvin Dubrow. He was brought up in Los Angeles and attended the University of California, Los Angeles School of Medicine from where he got a medical degree. Terry obtained his medical degree from David Geffen School of Medicine at UCLA and has been practicing for more than 20 years.
Before gaining prominence nationally through his television appearances, Dr. Terry Dubrow had received glowing testimonials and doctor referrals that have firmly established his practice as the perfect destination for plastic surgery procedures. His talented work is carried out based on his philosophy as a plastic surgeon, which requires that each member of his staff treats the patient's concerns in the highest regard.
Dr. Terry Dubrow's first appearance as a TV personality was in 2004 when he appeared in The Swan. From 2010 to 2011, he appeared in the reality television series, Bridalplasty which was heavily criticized. He started appearing in Botched in 2014 as a co-host and co-executive producer. This became the show that has made him more famous. Since then, he has worked on many people including celebrities.
Terry Dubrow's Fact Card
Who Is Terry Dubrow's Wife, Heather Paige?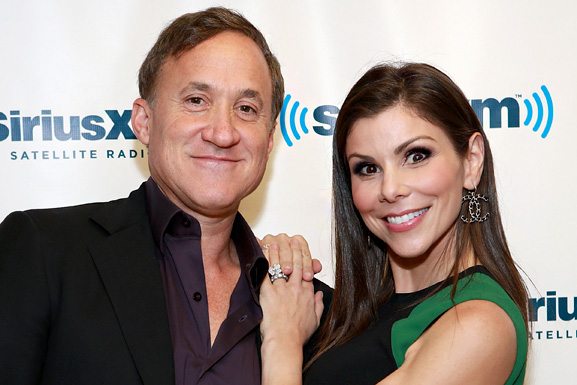 Just as the celebrity surgeon has been successful in his professional life, so also, he seems to have everything on the success lane in his personal life. He has been married to Heather Paige for more than two decades now.
Heather Paige Dubrow is quite famous on her own. She is an actress and TV personality who was born on the 5th of January 1969 in the Bronx, New York City, USA.  Her ancestry is Jewish (from Germany, Hungary, and Poland) and she is a fifth-generation American who grew up in Chappaqua, New York.
Terry Dubrow and Heather Paige became man and wife on the 5th of January 1999. They met on a blind date after she asked the boyfriend of her friend to introduce her to a Jewish doctor. She eventually confessed to not feeling him as she did not consider him her type when they first met.
It was when Heather saw Terry at the airport after he had invited her for a weekend getaway to San Francisco and Napa Valley that she knew she was going to marry him. In 2012, she legally changed her name to Heather Dubrow.
The couple has four children namely Nicholas, Maximillia, Katarina, and Collette, and they lived in what can best be described as a castle; famously dubbed the Dubrow Chateau in Newport Coast's Crystal Cove.
As an actress, Heather Paige portrayed Lydia DeLucca in the 2000 television series That's Life till it ended in 2002. She further performed the theme song "Learning As I Go" used for the show's second season. Also, she joined The Real Housewives Of Orange County in 2006 for its 7th season and left the series after season 11. She is also known for her work on Stark Raving Mad (1999) and Hawaii Five-O (2010). Paige was selected as Miss Greater Syracuse (New York) in 1989 and named Miss Congeniality at the 1989 Miss New York State Pageant.
As a plastic surgeon, it is easy for one to assume that Terry might get caught in a scandal relating to an affair. However, there have never been any such issues or even speculation or rumor to that effect.
Meet Terry Dubrow's Brother
The celebrity surgeon was not brought up as an only child; he has a brother named Kevin Mark Dubrow who was the older of the two. Kevin was born on the 29th of October 1955 in Hollywood, California. Just as his younger brother, he also grew up in Los Angeles but by the time he was 13, BUTCH as he was nicknamed, settled in the Los Angeles neighborhood of Van Nuys.
He was an American heavy metal singer also known as the lead vocalist of the heavy metal band Quiet Riot from 1975 until 1987, and then from 1990 until he died in 2007.
Sadly, Kevin Dubrow was found dead at his home in Las Vegas on November 25, 2007. He was unable to be reached by his friends for a week, and he did not show up for the Thanksgiving arrangements he had made.
It was later established that the rockstar died of an accidental cocaine overdose. It was also estimated that he had died around the 19th of November which was six days before his decomposing body was found on the 25th.
Kevin was buried at Pacific View Cemetery in Corona del Mar, California next to his stepfather, Harold Mandell. His funeral service was presided over by a Rabbi on November 30, 2007. It was a traditional burial ceremony.