Donald Trump has a rich relationship history that has had him married thrice and linked to several women. The businessman turned politician has a huge appetite for women and as a result, as many as 25 women have accused him of sexual offenses that range from harassment to assault and rape.
That notwithstanding, Donald has never lacked the company of women. Before marrying his current wife Melania Trump in 2005, he was married to Marla Maples from 1993 to 1999 and Ivana Marie Trump from 1977 to 1992. In between these marriages, Trump was reported to have had relationships with people like Gabriela Sabatini (1989), Rowanne Brewer Lane (1990 – 1993), Kylie Bax (1995), Allison Giannini (1997), and Kara Young (1997 – 1999).
​Donald Trump is Currently Married to Melania Trump 
Birth Name: Melanija Knavs
Place of Birth: Novo Mesto, Slovenia
Date of Birth: April 26, 1970
Age: 53 Years Old
Parents: Viktor Knavs and Amalija Ulčnik
Duration of Marriage to Trump: 2005 – Present
No. of Children: One son (Barron Trump)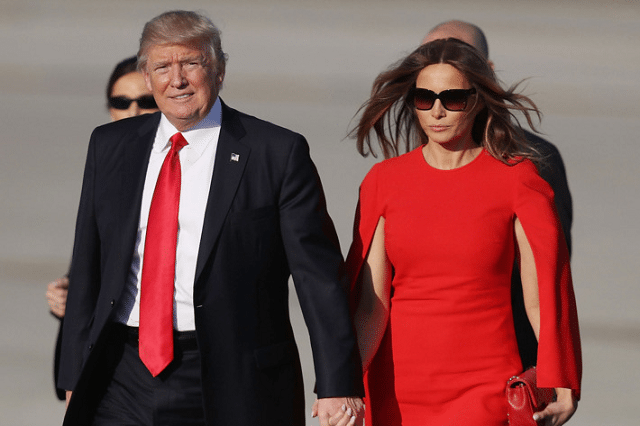 ​Donald Trump's marriage to his third wife, the former first lady of the United States Melania Trump is his longest thus far. They reportedly met at a party in September 1998 and began dating while Trump was processing his divorce from his second wife. The relationship went on and they got engaged sometime in 2004.
The following year, on the 22nd of January, they got married in Palm Beach, Florida. The wedding was held at the Episcopal Church of Bethesda-by-the-Sea and was witnessed by prominent politicians and celebrities like Bill and Hillary Clinton, P. Diddy, Heidi Klum, and Shaquille O'Neal. On the 20th of March 2006, Donald and Melania Trump welcomed their only child together, a son named Barron William Trump.
Meet The Ex-Wives of The Former President – Ivana Trump and Marla Maples
Before his marriage to Melania, Donald Trump was married twice and had been romantically linked to other women like Kara Young, Kylie Bax, Rowanne Brewer Lane, and Allison Giannini.
Ivana Trump
Full Name: Ivana Marie Trump (

née

Zelníčková)
Place of Birth: Zlín, Czech Republic
Date of Birth: February 20, 1949
Age: 74 Years Old
Occupation: Businesswoman, Designer, Author, Model
Duration of Marriage: 1977 – 1992
No. of Children With Trump: 3 Donald Trump Jr., Ivana Marie Trump (Ivanka), and Eric Trump
A former model from Zin, Czech Republic, Ivana Marie Trump is known to many as the first wife of Donald Trump but she is an astute businesswoman and media personality better known in some quarters as a fashion designer. Also an author, Ivan lived in Canada before moving to the United States of America where she met and subsequently got married to Donald Trump.
Even as she has come to be known for her marriage to the American billionaire businessman who would later become the president of the United States, he isn't her first husband. Before Donald, Ivana was married to Alfred Winklmayr from 1971 to 1973. Ivana was a skier and reportedly married the Austrian ski instructor to obtain Austrian citizenship.
Things happened quickly between Ivana and Donald. Reports have it that she met the American businessman in New York City sometime in 1976 and they began dating. A few months later, they got engaged and then officially became life partners on the 7th of April 1977. As you would easily find, their wedding was officiated by Norman Vincent Peale at the Marble Collegiate Church. They became one of the most popular couples and Ivan got actively involved in several activities of The Trump Organization.
It was in the same year they got married that they welcomed their first child, Donald Trump Jr., who was born on the 31st of December 1977. Nearly four years later, they had their second child, a daughter named Ivanka Trump; she was born on the 30th of October 1981. In 1984, precisely on the 6th of January, they welcomed their third child and second son, Eric Trump.
Donald and Ivana started having problems in their marriage which was largely attributed to Trump's relationship with other women, particularly Marla Maples. The couple made headlines in December 1989 when they were seen fighting after Ivana came in contact with Marla Maples. They had a publicized contention over the prenuptial agreements they had signed and their divorce proceedings were dutifully followed and covered by the media.
Among other things, Ivana accused Trump of rape and physical abuse. Their divorce was finalized in 1992 after she signed a non-disclosure agreement. This was done as a condition for divorce settlement, as such what she received was mostly left to speculations. Nonetheless, credible platforms reported that she received $14 million, an apartment in the Trump Plaza, and a 45-room mansion.
Since the end of the marriage, she has been married to Riccardo Mazzucchelli from 1995 to 1997 and Rossano Rubicondi from 2008 to 2009. She also had a long relationship with Roffredo Gaetani from 1997 to the time he passed in 2005.
Marla Maples
Full Name: Marla Ann Maples
Place of Birth: Cohutta, Georgia, U.S.
Date of Birth: October 27, 1963
Age: 59 Years Old
Occupation: Actress, Model, and TV Personality
Duration of Marriage: 1993 – 1991
No. of Children With Trump: One Daughter (Tiffany Trump)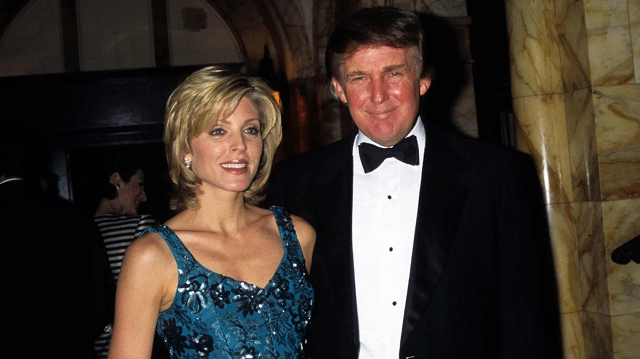 Marla Maples is an actress born to Ann Locklear Maples and Stanley Edwards Maples. Her mother is a homemaker and model while her father is a singer-songwriter and real estate developer. She apparently caught the showbiz bug from her parents and has been active in the business since 1981, almost as soon as she graduated from high school. She competed in several pageants and finished as runner-up to Miss Georgia USA in 1984 and Miss Hawaiian Tropic in 1985. Since then, she has been involved in other facets of the industry, including appearances in multiple movies and TV shows.
Maples and Donald Trump met sometime in 1989 and started having an affair while he was still married to his first wife. It was a highly publicized relationship that picked up pace as soon as Donald parted ways with Ivana. On the 13th of October 1993 they welcomed their only child together, a daughter named Tiffany Trump.
The birth of Tiffany and the December 7, 1993 shooting on Long Island Rail Road reportedly made Trump think about what's important, thus he proposed to Maples. They got married on the 20th of December that same year at New York City's Plaza Hotel. It was an elegant wedding attended by 1,000 guests that consists mostly of prominent personalities.
Roughly three years into the Maples-Trump union, it circulated that Maples was caught having an affair with one of Trump's bodyguards. It was said that a police officer found the actress and the bodyguard on a deserted beach under a lifeguard stand at 4:00 a.m.
Despite multiple reports that claimed she cheated on Trump with the bodyguard, both Trump and Maples denied this. The following year, in May 1997, Trump and Maples parted ways and on the 8th of June 1999, their divorce was finalized. Marla Maples relocated to California with their daughter after the divorce and has kept her subsequent relationships away from the public since then.
Other Women The Former President Has Dated
Gabriela Sabatini (1989)
The Argentine former professional tennis player is also one of the women Donald Trump has loved, but it is said that their relationship only lasted for about a month. The International Tennis Hall of Famer has never been married but has been romantically linked to several prominent figures including Leo Montero, Prince Albert of Monaco, Michael Bolton, and Ricky Martin.
It is said that Trump is one of the earliest popular figures she dated, they reportedly dated for about a month in 1989 when Sabatini was only 19 years old. Donald was still married to his first wife at this point but was known to be seeing Marla Maples whom he took a break from to be with Gabriela. They soon parted ways and he reunited with Maples who became his second wife while he processed his divorce from Ivana Trump.
Rowanne Brewer Lane (1990 – 1993)
Rowanne Brewer Lane is one of the several models that have been romantically linked with the American businessman. Reports have it that Rowanne and Donald Trump met for the first time at a pool party he hosted in 1990. Thereafter, they dated intermittently but nothing serious came out of it as they soon went their separate ways. Around the same time she was hanging with Trump, she was also linked to other prominent figures, including the billionaire real estate developer, Mohamed Hadid.
A few years later, sometime in 1996, she got married to the lead vocalist of the glam metal band, Warrant. Before their marriage packed up in 2005, they had a daughter named Madison. During Trump's presidential election campaign, Rowanne condemned a The New York Times report about what she had with Trump. According to her, a negative connotation was attached to what she said about the billionaire. "I did not have a negative experience with Donald Trump…," she added.
Kylie Bax (1995)
Born on the 5th of January 1975, Kylie Bax is one of the women romantically linked with the billionaire after the end of his second marriage. She is a model and actress from New Zealand known for her appearances on the covers of several international magazines including Marie Claire, Vanity Fair, Maxim, and Vogue. At her prime, she was seen in multiple movies like Storm Catcher, The Big Tease, We Married Margo, Jill Rips, Get Over It, and more. Kylie was featured in the Sports Illustrated Swimsuit Issue in 2002 and has cat-walked for first-rate fashion houses like Gucci, Christian Dior, Ralph Lauren, Oscar de la Renta, and much more.
What she had with Donald Trump began and ended in 1995, it was a brief romance that fizzled out almost as soon as it started but they remained friends. The divorced mother of three supported Trump during his presidential campaign and defended him when he was embroiled in sexual assault allegations. She was once married to a fellow named Spiros Poros for nine years.
Allison Giannini (1997)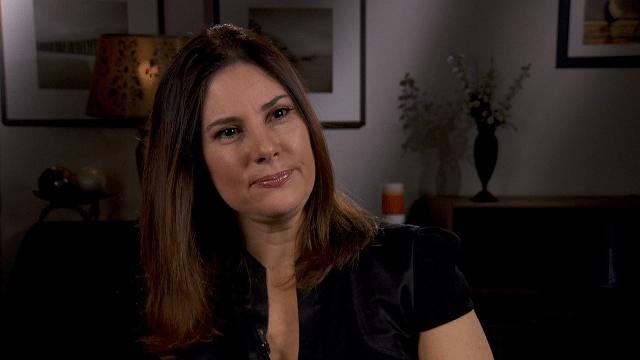 An actress born in California on the 20th of July 1970, Allison is known for her roles in TV series like Days of Our Lives, Bert D'Angelo/Superstar, and The Young and the Restless. She went out with Donald Trump in 1997 when he was separated from his second wife. They reportedly met through a mutual friend and went on three dates in Aspen Colorado. Allison thinks highly of Trump; based on what she has divulged, he was nice to her and even inspired her to become a real estate agent. She supported him during his presidential campaign.
Kara Young (1997 – 1999)
Before the former President of the United States settled for marriage the third time, he also dated Kara Young for at least two years. An American model and entrepreneur, Kara Young is a native of San Francisco, California, and the cover girl for Vogue in 1988 and 1989. She has featured in several ad campaigns and represented multiple cosmetics companies. A member of the Board of Directors for Action Against Hunger, Kara reportedly met Donald Trump in the late 1990s at a party in the Hamptons. Then, she had just parted ways with her photographer husband Sante D'Orazio.
Sometime in 1997, Kara Young and Donald Trump began dating and the relationship would come to last for about two years. They parted ways for reasons best known to them and in 2005, the same year that Trump got married to his current wife Melania, Kara got married to her current husband and former billionaire Peter Georgiopoulous with whom she has at least two children.
Apart from the women listed above, it has been claimed in some quarters that Trump had something with Dayana Mendoza, Karen McDougal, Ingrid Seynhaeve, Anna Nicole Smith, Carla Bruni, La Toya Jackson, Candice Bergen, Kim Richards, and of course Stormy Daniels.