No list of the richest country music artists (male and female) in the world would be complete without the inclusion of one of the most-honored female country performers of all time – Dolly Parton. She is a Guinness World Records holder for the Most Decades with a Top 20 hit on Billboard's Hot Country Songs Chart and Most Hits on Billboard's Hot Country Songs Chart by a Female Artist. The country music Hall of Famer has had a tied-record of 25 songs reach the number 1 on the Billboard country music charts.
Thanks to this and her exploits as an actress, seeing as she is one of the few to have received at least one nomination from the Academy Awards, Grammy Awards, Tony Awards, and Emmy Awards, it is no surprise to find that the multi-talented musician has been duly rewarded for her talent, which history will be very kind to remember.
Dolly Parton's Age and Early Life
On the 19th of January, 1946, Dolly Rebecca Parton was welcomed into the world by her parents; Avie Lee Caroline (nee Owen) and Robert Lee Parton Sr. Her beginnings are a huge contrast to her life today as she was born in a one-room cabin on the banks of the Little Pigeon River in Pittman Center, Tennessee, and is the fourth child of twelve children.
To support his family, Parton's father, who was an illiterate, worked numerous side jobs but was mostly known for being a farmer. He first began by being a sharecropper before he was able to get his own small farm. Her mother, on the other hand, was a homemaker who had all her twelve children by the time she turned 35. She is described as often being in poor health when her kids were younger, but that did not stop her from caring for them.
Dolly Parton's maternal grandfather, Jake Robert Owens, was a Pentecostal preacher. Due to this, she and her siblings attended church regularly. It was in church that the young girl was able to discover her ability to sing as she began performing with the choir at around the age of six. By the time she turned eight, Parton, who had taught herself how to play the guitar, was gifted one by her uncle. This went a long way in defining her career path as she soon began performing on local radio and television programs in the East Tennessee area.
By the time Parton reached her teens, she started recording music and was also appearing at a country music stage concert in Nashville called the Grand Ole Opry. She was able to balance her budding music career and school requirements as she was enrolled in Sevier County High School. However, when she graduated in 1964, Parton was quick to pack up her bags and move to Nashville the following day in order to fully concentrate on her country music singing career.
Her Career Breakthrough and Massive Earnings
Dolly Parton's journey to becoming one of the richest country music stars began when she moved to Nashville and put pen to paper on a deal with Combine Publishing as a songwriter. The young girl and her uncle, Bill Owens, formed a formidable partnership as they wrote several chart-topping songs that were sung by some of the most famous musicians of that era.
In 1965, Parton signed her first record deal with Monument Records who pushed her as a pop singer. The 19-year-old went on to release a number of songs that were not successful as only one made the chart, although it was unable to break into the Billboard Hot 100. In the following year, after the young singer made an uncredited appearance on a song that reached the number six spot on the country music chart, her record label gave in to her demands of singing country music. As things would pan out, her first country single, "Dumb Blonde", which she did not write, reached number 24 on the country chart. Her second effort, "Something Fishy", went to number 17, signaling her arrival as a country music star.
In February 1967, Dolly Parton released her first full-length album, Hello, I'm Dolly, which caught the attention of musician and country music entertainer, Porter Wagoner. Wagoner took Parton under his wings as he helped her land a deal with his label, RCA Records, and also offered her a regular spot on his weekly syndicated television program, The Porter Wagoner Show. The pair went on to form a partnership that produced an uninterrupted six-year streak of top-10 singles, earning themselves the 1968 Vocal Group of the Year Award from the Country Music Association.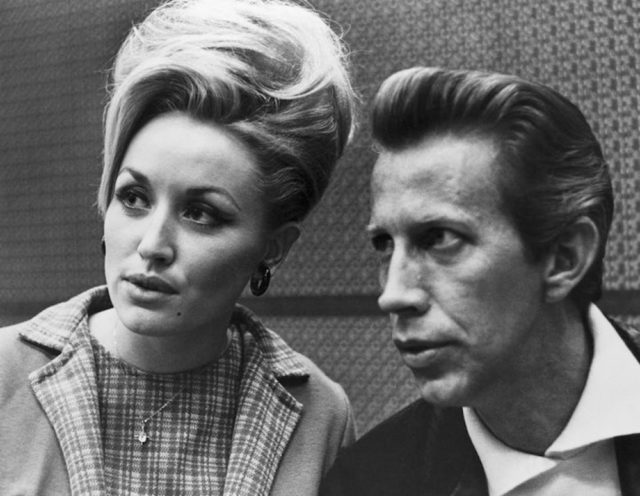 Having stayed under Wagoner's wings for a while, Parton found it hard to attain success as a solo artist. Thanks to her famous collaborator, however, she was guided and pushed hard, leading to her making some of her best ever songs at the time, most notably "Joshua", "Coat of Many Colors", "My Tennessee Mountain Home", "Travelin Man", and "Jolene" particularly, which topped the charts in both the US and UK. By 1974, Wagoner and Parton parted ways as she began to focus on her solo career. Her very famous song, "I Will Always Love You", which had caught the interest of Elvis Presley who wanted to record it himself, was written about her professional break from Wagoner.
Dolly Parton continued to enjoy massive success all through the 1970s, 1980s, and 1990s, a time in which she managed to crossover to pop music as she joined the coveted list of female country singers who boast a number-one single on the country and pop charts at the same time. She further managed to launch her acting career, all of which translated to her now having a net worth of $500 million.