Yuzuru Hanyu is not married at the moment and has not been with any girlfriend known to the public. The multiple award-winning figure skater has never dated anyone known to the public. This has often led to speculations about him being gay.
There is no confirmation on this claim. The skater has never confirmed or hinted on the claim that he is gay. According to several reports, he has mentioned getting infatuated to some women in the past, and they are all actresses. However, he never approached any of them to make his feelings known.
Who Is Yuzuru Hanyu's Girlfriend?
Yuzuru Hanyu has no girlfriend at the moment, at least to the best of public knowledge. The record-breaking skater does not talk much about that part of his life much, making it hard to get any vital information about who he is dating. Yuzuru is also not very active on social media as he only has a few posts on Instagram where he has thousands of followers.
His family and the sports he is so good at take top priority in his life. He seems to be pretty close to his mother and is often seen with her. His mother and his personal doctor, Kikuchi-san are the people closest to him. He spends most of his time with them. No girlfriend has entered the picture so far.
Who Has Yuzuru Dated In the Past?
According to available records on his dating history, Yuzuru Hanyu has never dated anyone known to the public, and he has made this fact very clear. The skater reportedly confessed that he had been infatuated with some actresses in the past, but even though he liked them, he never summoned the courage to take the next step by making advances.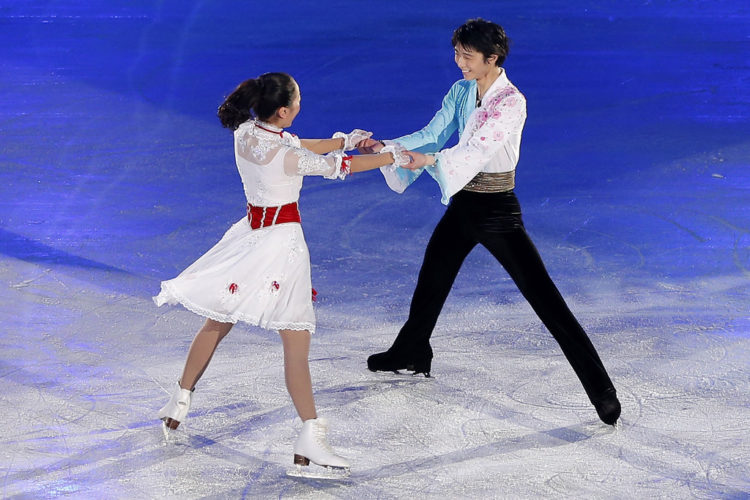 As such, Yuzuru remained single throughout his career as a competitive figure skater. Even with the spotlight that came with his career achievements, he continued to keep his focus on attaining greater heights in his career. Having made the list of the greatest figure skaters in history by many sports writers and critics, Yuzuru's concentration on his career apparently paid off.
Why Fans Think Yazuru Hanyu is Gay
When you are famous and seem to have it all except a woman in your life, there is every possibility that gay claims will find you, and Yuzuru has fallen victim to this countless times. The two-time Olympic champion and two-time World Champion is currently 28 years old and has never been linked to any woman romantically, thus, the claims that he might be gay. This is just one of the reasons fans suggest he is in the closet.
Another reason fans think Yuzuru might be gay is his outfits. It is important to note that figure skaters wear tight-fitting wears for the sport. This is required for easy movement but has unfortunately led to assumptions about the sexuality of some of the men, especially those who leave fans guessing about who they are dating.
These assumptions have affected Yuzuru over the years as he grows in his popularity. Nevertheless, they hold no water as the figure skater has not hinted that he is gay in any way. He might not be dating anyone now but he has shown reasonable interest in some beautiful women.
The 12-year senior announced his retirement from competitive figure skating on July 19, 2022. He took the bow at the peak of his career highlights but will remain in the sport as a professional figure skater. The announcement of his retirement was followed by the news that the skater would turn professional. So, fans will not miss him that much, though injuries have kept him away for a while.