Tracee Ellis Ross does not have a husband and has never been married. She is rumored to be in a relationship with Kenya Barris, creator of the ABC show, Black-ish.
Talk about a perfect combination of pure elegance and raw talent, and Tracee Ellis Ross would surely come to mind. A truly beautiful woman, Tracee has proven her worth as an actress of note over the years, stunning fans with incredible displays in front of the camera.
Since she kick-started her career in 1996, she has gone on to star in several hit TV series and feature films, winning widespread accolades for her work. As a matter of fact, in 2017, the actress made history by being the first black woman in over 30 years to win the prestigious Golden Globe Award for best actress in a comedy sitcom.
For the record, Tracee was born into a showbiz family. Her mother is the legendary Diana Ross, the American singer, and actress who is considered to be one of the most successful artists of all time. Her father is Robert Ellis Silberstein, an American music executive who is responsible for the career growth of many important artists.
Even her siblings, including Evan Ross, Chudney Ross, and Rhonda Ross Kendrick, are all into the entertainment business. Having been in the spotlight for many years and having enjoyed a successful career so far as an actress, Tracee's private life has become a topic of public discussion and one of the many questions being asked about her revolves around her marital status.
Is Tracee Ellis Ross Married?
Tracee is not a married woman. She has never been married before and according to her, she is enjoying her life the way it is. In a place like Hollywood where your life is out there for everyone, Ross's marital status has sent lots of tongues wagging, she has felt the societal pressure, and being a very outspoken person, Ross has not kept mum on the subject but has spoken out.
Tracee Ross did reveal for the first time at the 2017 Glamour Women of the Year Summit, the award-winning actress revealed how interesting it was to be in her 40s, unmarried, and childless. The actress explained that she finds it quite appalling that in spite of all her achievements, some people do not consider her wins as being fulfilling enough as they keep taunting her about her relationship status.
As if to clearly state her achievements, she went on to point out that she was a good friend, solid daughter, and hard worker… And just so you're not in the know about her other achievements, Ross is also a director, producer, businesswoman, and fashionista with her own fashion brand. She received E!'s People's Choice Award For Fashion Icon in 2020.
Tracee made it clear that society is judging her for her unmarried status, making it look like all she has achieved doesn't matter because she is a woman that is single and has no kids. However, she makes it clear that she has built a wonderful life for herself nonetheless and that she is bent on enjoying every facet of her life no matter what.
Growing up, Tracee Ellis Ross had always been known to keep her relationship status very private. According to her, this is because she was born into a public family and grew up under the spotlight.
So, she wants to, at least, keep her relationship out of the public eye and enjoy some private time with her lover. Interestingly, Tracee has often revealed that while she was a child, she dreamed of being a wife and settling down with her family as a successful entertainer.
The actress revealed more about her single status in her interview with Porter in May 2020 for their cover story. She said that she was raised to dream of her wedding day and not her life and that she wished she had known from when she was much younger that there were other choices for women apart from getting married and having children.
Ross also pointed out how people misinterpret the phrase "happily single," dismissing it to mean that the person is never interested in a relationship. She confessed to the magazine that she is indeed interested in a relationship but would not spend all of her time moping around when she is not in one but would invest time in ensuring her happiness.
When Glamour asked her in an interview in 2018, how she felt playing a mother on "Black-ish," Ross replied that though she has never been pregnant nor had any kids, playing a mother came very naturally to her and that she is very "mothering."
Who Is Tracee Ellis Ross' Rumored Boyfriend?
Word got out in 2020 that the actress could be in a romantic relationship with Kenya Barris, the creator of the hit show, Black-ish. Sources from LoveBScott told the publication of the possible romance.
Tracee Ross made it clear in the past that she would not speak publicly about her love interests. In her 2012 interview with Uptown Magazine, she said that speaking publicly about whom she was romantically involved would invite other people's opinions and issues on the person before she gets to discover the person for herself.
Ross clarified in a 2017 interview with ABC that it was not like this was a decision she'd made intentionally that she would deliberately never speak of her relationships but that there are things that are just personal to her and not for public consumption.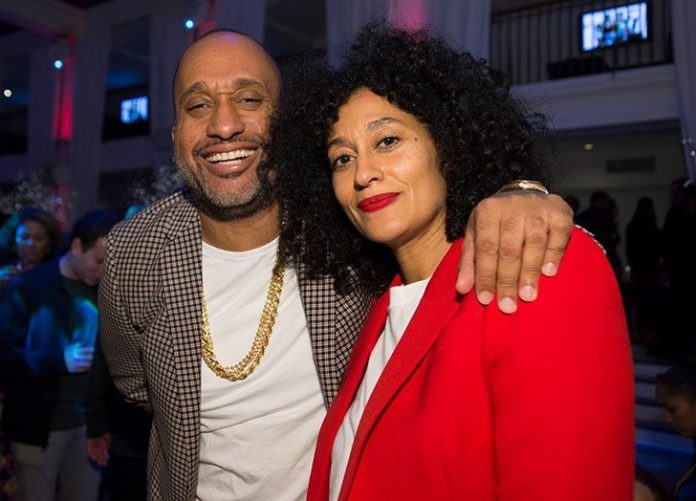 The news of Ross's possible romance with Barris came after the latter had just split from his wife Rainbow Barris. Interestingly, the series creator has in the past revealed that Ross's character on the show was inspired by his wife Rainbow, they even share the same name. Since the news broke, neither Ross nor Barris have confirmed it. Barris and his now ex-wife were married for 20 years and shared 6 children.
In addition to Black-ish, his other notable works include 2017's Girls Trip where he served as one of the writers. He is also responsible for producing other spin-offs of Black-ish including Grown-ish.
Tracee Ellis Ross' Ex-Boyfriends
Even though Tracee Ellis Ross has held back on the details of her romantic relationships over the years, we do have the record of one man she has dated before. Tracee has once dated a man called Abou 'Bu' Thiam. Thiam is a music executive who happens to be the younger brother of the world-famous singer, Akon.
Tracee Ellis Ross & Bu Thiam are a Couple – Did you know? pic.twitter.com/PxP6wYbtVD

— T.K.H.D's World (@TKHD_) June 22, 2014
The exact timeline of their relationship remains quite vague, however, Tracee and Thiam are reported to have dated between 2011 and 2013. During this time, photos of the couple took over the internet as they were often seen together sharing beautiful moments.
However, when she was asked to talk about her romance with Thiam, Tracee declined to offer any insight, insisting that while she was not hiding her relationship, she was not going to talk about it so as not to invite other people's opinions.
But when Thiam was asked about his relationship with Tracee sometime after their breakup, he explained that they really had a genuine, unconditional relationship and will always love each other even though they are no more together.
The duo has since remained good friends and follow each other on social. Bu has been seen flirting in her comment section a couple of times. On his birthday in 2020, he took to the gram to post a heartfelt message to her where he revealed that Ross is always the first person to wish him a happy birthday.
FAQs 
How Old is Tracee Ellis Ross?
Tracee Ellis Ross is 51 years old. She was born Tracee Joy Silberstein on 29 October 1972, in Los Angeles, California, United States. 
Is Kenya Barris Tracee Ellis Ross' Husband?
Tracee is not a married woman and has never been married before. It was reported in January 2020 that she could be in a romantic relationship with Kenya Barris, the creator of the hit show, Black-ish. However, the duo chose to stay silent about the news.
Does Tracee Ellis Ross Have Kids?
The Black-ish star has no children of her own and does not seem bothered about it. She is an aunt to her siblings' children, who she proudly shares her love for on social media.