While it is public knowledge that Seth MacFarlane is not married and has never been, we cannot say for sure if he currently has a girlfriend or not. He is rumored to be in a relationship with actress Anne Winters but that is yet to be confirmed by either of the duo.
Having achieved so much in his professional life, many have wondered why Seth MacFarlane, a celebrated animator/filmmaker, is yet to start a family of his own. This has given rise to speculation that he might be gay even though he has been with a few high-profile ladies in Hollywood.
MacFarlane's journey to stardom started when he was a kid. He had started scrambling drawings and painting many of his favorite cartoon characters from the tender age of two. With the help of his parents who found him a book on how to create flipbooks, Seth was able to create his own flipbooks at the age of five.
By the time he turned nine, he began publishing a weekly comic strip titled "Walter Crouton" for his local newspaper, The Kent Good Times Dispatch. Years later, Seth bagged a Diploma from Kent School before earning a Bachelor of Fine Arts degree in film, video, and animation at the Rhode Island School of Design.
The artist, who had also performed stand-up comedy during his time in college, went on to launch a career in animation and has become a household name, thanks particularly to the success of the long-running multiple Emmy Award-winning TV series, Family Guy. So, is the Family Guy creator a family man; if not, why is this so?
Seth MacFarlane Doesn't Have a Wife and Has Never Been Married 
As far as we can tell, the Family Guy creator is not a family man. He has never been married and has no kids. The only family he has is the one he was born into. The American entertainer was born on the 26th of October 1973 in Kent, Connecticut to parents who were originally from Newburyport, Massachusetts.
It is said that his father, Ronald Milton MacFarlane, and his mother, Ann Perry (née Sager) met sometime in 1970. They were both living and working in Boston, Massachusetts. Ronald and Ann got married the following year and moved to Kent in 1972 where they had and raised their kids.
While Seth's father was a teacher, his mother also worked in the education sector, mostly under the Admissions Office. The comic genius lost his mom to cancer on the 16th of July 2010, she passed away at the age of 63.
Is Rachael MacFarlane Seth MacFarlane's Wife?
Given that the popular actor is 49 years old, it is not hard to see why many of his fans has been curious about his marital status. This curiosity has made some wonder if the Family Guy creator is the husband of Rachael MacFarlane who is also an entertainer; an American voice actress and singer.
Well, Rachael does have a husband, she has been married to Spencer Laudiero since 2008 and they have two kids (daughters) who are Seth MacFarlane's nieces. Yeah, Seth MacFarlane and Rachael MacFarlane are siblings and Rachael is the younger sibling, she was born on March 21, 1976.
Seth has a good relationship with his younger sister. His family life revolves around her, his father Ron MacFarlane, his brother-in-law Spencer Laudiero, and of course his nieces.
Many questions have been asked regarding Seth MacFarlane being a possible member of the gay community due to the fact that he is outspoken about his support for gay rights. The Family Guy creator has been fearless in his calling out of those who like to make life difficult for gay and transgender people.
His work in this regard has earned him a few recognitions, including the 2011 Harvard Humanist of the Year award. Another possible reason why his sexuality has been a topic of discussion is that he has been rarely seen or captured showing affection to a member of the opposite sex in public unlike other good-looking heavy hitters in the entertainment industry.
This conversation has carried on even though he is known to have dated quite a good number of women. Seth has never been romantically linked to any man; to the best of our knowledge, he's straight.
Fact Check: Is The Actor Really Dating Anne Winters At The Moment?
Seth MacFarlane has always been known to keep his love life private. Because of this, there have always been some speculations surrounding his relationships. The common opinion is that the actor is currently single, but it has been claimed in some quarters that he is dating Anne Winters.
Winters is also a member of the movie industry; she is an American actress admired for the characters she has played in movies and television shows like Tyrant, 13 Reasons Why, Night School, and The Orville.
Seth MacFarlane created The Orville, he stars in the science fiction comedy-drama series alongside Anne Winters who portrays a major character named Charly Burke. As claimed, Seth and Anne connected at some point while working together and subsequently began dating.
Some reports have even gone as far as stating that the two confirmed they are dating, this was after they were seen together in a picture. Regardless, there has not been any serious evidence that they two are lovers, neither of them has confirmed or refuted the claims made about them.
Moreso, it is widely believed that Anne Winters is still dating Taylor Beau, even though much of them have not been seen in public in recent times. Anne and Taylor began dating in 2018 and were last seen together in 2020. In all, it is not certain if Seth MacFarlane is in a relationship or not.
Were Seth MacFarlane and Charlize Theron In a Relationship?
Charlize Theron is a South African-American actress and one of the most accomplished in the competitive industry. She has won most of the coveted awards in the business and was named among the 100 most influential people in the world by Time in 2016.
It was sometime in April 2013 that it was first rumored that Seth MacFarlane and Charlize Theron were an item. The two were spotted together in Beverly Hills where they dinned together at Matsuhisa. However, sources close to the two reportedly offered that they were not dating but working on a project together.
Seth and Charlize were indeed working together then, they were shooting the Western comedy film, A Million Ways to Die in the West, which was directed by Seth MacFarlane. He played a sheepherder in the film who fell in love with Charlize Theron's character, Anna Barnes-Leatherwood, and eventually made her his wife.
The storyline of the film fueled the rumors of a relationship between the two, with some reports asserting that they had been secretly dating. This was never confirmed in any meaningful way.
Charlize was known to be in a relationship with Sean Penn from December 2013 to June 2015. Before Sean, she dated Stuart Townsend (2001 – 2009), Stephan Jenkins (1999 – 2001), and Craig Bierko (1995 – 1997).
Emilia Clarke and Seth MacFarlane Dated From 2011 to 2013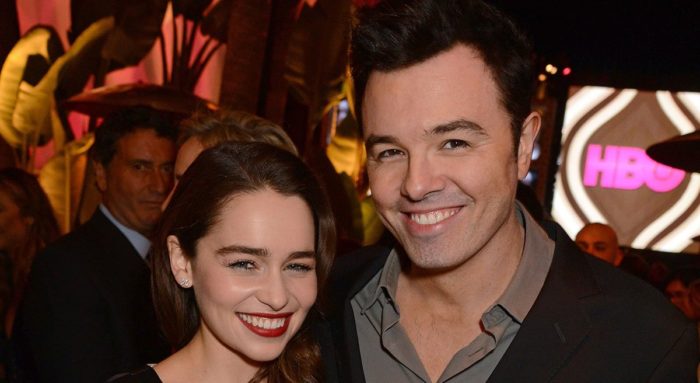 Over the course of his career, the Family Guy creator has been romantically linked to other high-profile women, including the Gossip Girl actress Kaylee DeFer, Katie Sah who worked with him on Family Guy, actress and singer Kate Todd, television personality Audrina Patridge, and actress Trisha Cummings.
After a while in the early 2010s when nothing was reported about his relationships, news broke in late 2012 that Seth MacFarlane had begun a relationship with English actress Emilia Clark, who was famous for her role as Daenerys Targaryen in the HBO TV series, Game of Thrones.
The relationship, even though it was short-lived, remains one of the most notable relationships of the actor. This is so because of the media attention the relationship received, not only because they were popular figures, but because it was widely expressed that Emilia is out of the actor's league.
In an interview with Glamour magazine, the Game of Thrones actress disclosed that strangers took to advising her about her love life while she was dating Seth. A fan even went as far as telling her "I'm not sure what you're doing with that guy". Nonetheless, the sentiment had nothing to do with why they parted ways.
When it emerged that they ended the relationship in March 2013, it was said that the breakup was a mutual decision inspired by the fact that they were worlds apart. Seth was based in California whereas Emilia was in Europe shooting Game of Thrones. The distance between them made it difficult for the relationship to work.
List of Other Seth MacFarlane's Girlfriends 
Seth MacFarlane is one of those popular figures that prefer to keep their private life private. But given his popularity, it has been quite a difficult task for him. He has largely kept things discreet but the prying eyes of the media have always fished him out and exposed his relationships. Over the years, he has been romantically linked to multiple famous women as listed below.
Seth MacFarlane and Halston Sage (2017 – 2018) 
Sage is an American actress famed for her roles in television series like How to Rock, Crisis, The Orville, and Prodigal Son. In the years that followed Seth MacFarlane's breakup with Emilia Clark, there was not any news or rumor about his involvement with any other woman until he fell in love with Halston Sage who was his co-star on the sci-fi comedy-drama series, The Orville.
The duo, who have an age difference of 20 years between them, had begun dating in September 2017 after spending so much time together on set. In February of the following year, they were seen having a romantic dinner at the Sushi Park in West Hollywood.
Halton's' grandmother, Helen Schrage, was met for comments and she gave her blessings to the new couple. She confirmed the rumors that they were an item and that she was okay with their age gap.
Thereafter, it was speculated that the two would be getting married but this never happened as many imagined as the pair ended the relationship in 2018.
Neither of the two has been forthcoming with information regarding why the relationship packed up, but it is obvious that they have moved on as it is believed that a romance is brewing between the How to Rock actress and Zac Efron.
Seth MacFarlane and Jessica Szohr (Rumored; 2014)
Jessica Szohr has been making a living as an actress since 2003 and is celebrated for the many characters she has portrayed across the small and big screen. Some of her most notable works include My Wife and Kids, Gossip Girl, Piranha 3D, The Internship, Ted 2, Shameless, and much more.
It was while she was working on Ted 2, a 2015 comedy film that Seth MacFarlane co-wrote and co-directed, that it started circulating that the two were dating. The highlight of the relationship, if they truly dated, was in November 2014 when they visited a piano bar in Milwaukee where MacFarlane performed a few songs to celebrate Szohr's mother's birthday.
The actress is currently in a relationship with Brad Richardson, a professional ice hockey player with whom she welcomed a daughter in January 2021.
It has never been confirmed if Seth and Jessica were ever an item. But if they were, then they had an amicable separation as she is a series regular (Talla Keyali) in the actor's science fiction comedy-drama series, The Orville.
Seth MacFarlane and Alexis Knapp (Rumored; 2012 – 2013)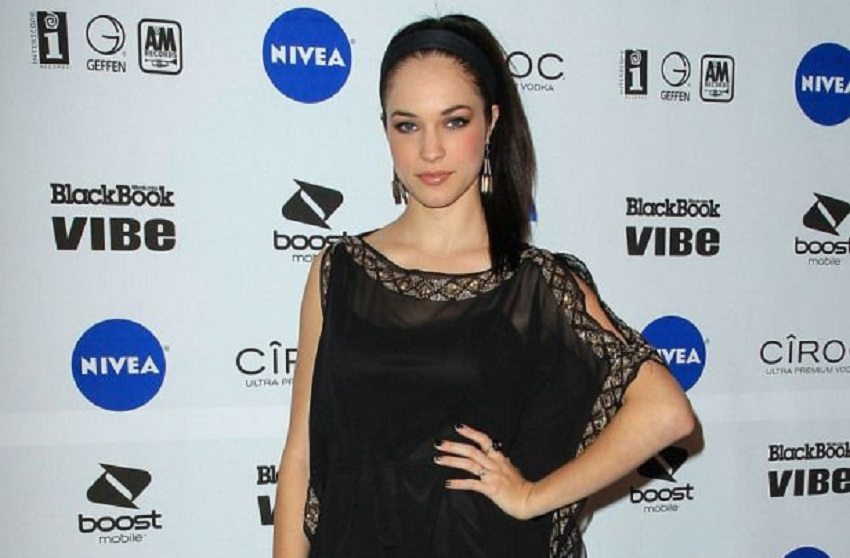 Born in Avonmore, Pennsylvania to Marjorie and Bradford Elwood Knapp, Alexi Knapp is an American actress known for playing Stacie Conrad in Pitch Perfect film series. Apart from that, she played Alexis in the 2012 teen comedy film, Project X, among other popular projects.
Sometime in June 2012, it circulated that the Pitch Perfect actress had been quietly hooking up with Seth MacFarlane. Us Weekly reported that they started dating while Alexi was pregnant with Ryan Phillippe's daughter.
In 2013, Knapp had a voice role in an episode of Seth's animated sitcom, Family Guy, and it probably fanned the rumors that they were an item as E! News reported that year that they had started seeing each other more frequently.
Addressing the reports, a representative of the actress told JustJared that the two have been friends for years and nothing more.
Seth MacFarlane and Trisha Cummings (2010 – 2012)
Trisha Cummings is also counted among the exes of the Family Guy creator. She is an actress known for her appearances in television series like The Real World, Reality Obsessed, and Welcome to My World. You will also find her in the 2009 documentary film titled Love Cures Cancer: Take a Chance on Love.
For reasons that are not clear, Trisha has not been very active in the industry. This is probably why much is not known about what she had with Seth MacFarlane.
Reports have it that the two dated from 2010 to 2012. How they met and the circumstances surrounding the relationship have remained unknown, just as it's hard for anyone to tell why they parted ways.
If anything is certain about their relationship, it's the fact that Seth moved on with Emilia Clarke the same year they separated. Also, their breakup seems to be a mutual one as they are still friends. In a May 2019 post on her Instagram page, Trisha described the actor as "one of the humans (she) care about most…".
Seth MacFarlane and Katie Sah (Rumored; 2009)
Also an actress, Katie Sah has been active in the entertainment industry since 2006 when she played Sam in a short comedy titled Bizness as Usual. Since then, she has appeared in several projects, mostly TV series and short films. Her most popular works thus far include Couch Surfer, Deadly Affairs, and Seth MacFarlane's Family Guy.
It was through a college friend of Seth that the two met. As the story goes, the college friend was a fan of Katies' YouTube page, KatiesOpinion, where she talks about a wide range of issues as she deems fit.
The fan introduced Seth to Sah's YouTube page, he liked what he saw, and offered her some voice roles in Family Guy. Thereafter, they made a public appearance together at the Emmys after Seth invited her to the event as his date. According to reports, Katie said they were just friends.
Seth MacFarlane and Kaylee DeFer (Rumored; 2009)
The same year he was seen with Katie Sah, Seth was also rumored to be dating Kaylee DeFer, a former actress celebrated for playing Ivy Dickens in Gossip Girl, and Hillary Gold in The War at Home. She is also known for other popular projects like CSI: Miami, How I Met Your Mother, Red State, Family Guy, and much more.
It was in 2008 that she voiced Dakota in an episode of Family Guy titled "Tales of a Third Grade Nothing". A friendship morphed between her and Seth after that and it led to the rumors of a romance between the two which was never confirmed or refuted.
The former actress has been married to Michael Fitzpatrick, the lead vocalist of Fitz and the Tantrums since July 2015. They began dating after she called off her engagement with a jewelry designer named Michael Raymond Pereira in January 2012. Kaylee and Michael are now parents to three sons.
Seth MacFarlane and Kate Todd (2008 – 2009)
Found this photo of my friend @SethMacFarlane and I at my parents house! #WayBackWednesday pic.twitter.com/YgKImGbepc

— KATE TODD (@KateTodd) May 11, 2016
More than being an actress, Kate Todd is a singer-songwriter. She had dropped at least three albums thus far and has been a part of multiple projects in the movie industry. Nonetheless, her most notable works had her play Katee in The L.A. Complex, Erica in My Babysitter's a Vampire, Sally in Life with Derek, and Lily Randall in Radio Free Roscoe.
In 2009, the Canadian actress voiced Heidi Montag in the "We Love Yoy, Conrad" episode of Family Guy's seventh season. However, how she and Seth met has remained unknown to the public and much isn't known about the nature of their relationship. Yet, it has been upheld in several quarters that they dated sometime between 2008 and 2009.
Amanda Bynes and Seth MacFarlane (2008)
Hey guys! I'm on instagram now !
Check me out https://t.co/GdFFtezSmC pic.twitter.com/N1lA6NhJLb

— amanda bynes (@amandabynes) September 10, 2019
Like the rest of Seth MacFarlane's exes listed thus far, Amanda Bynes is an American actress. She began acting for a living when she was seven years old and has won multiple awards for her efforts, including Nickelodeon Kids' Choice Awards, Young Artist Awards, Critics' Choice Awards, and much more.
She played Penny Pingleton in the 2007 musical romantic comedy film, Hairspray, and her popular TV roles are in What I Like About You, The Amanda Show, Figure It Out, and All That.
Disregarding those, she has had other minor roles which include voicing a character named Anna in the "Long John Peter" episode of Family Guy's sixth season. It was after this that she dated Seth but the relationship lasted for only a few months.
The highlight of their brief relationship was when they attended Fox's summer press tour party together. MacFarlane was seen running after Bynes after he told a reporter that his date was getting away.
Seth MacFarlane and Kat Foster (2007 – 2008) 
Kathryn Davidametja Foster, better known as Kat Foster, is a classically-trained dramatic actress famed for being Steph Woodcock in Fox's sitcom, 'Till Death.
The American actress studied acting at the New York University Tisch School of the Arts and presumably met Seth MacFarlane after she voiced Carolyn in the 2006 action-adventure video game based on Family Guy – Family Guy Video Game!. She has also voiced the character in two episodes of the adult animated series, first in 2008 and then in 2013.
According to various reports, Kat and Seth dated from 2007 to 2008. On the 12th of December 2007, they attended The Strike Show together in Hollywood, California. The event was held at the Steve Allen Theatre and was meant to benefit the Motion Picture and Television Fund. Nothing has ever been confirmed about why they parted ways but they are still friends.
Seth MacFarlane and Nicole Sullivan (1998 – 2000)
There were reports in the 2000s that insinuated that Seth MacFarlane had become somewhat of a playboy as he was beginning to attain success in his career. Regardless of this, his first relationship known to the public was with actress Nicole Sullivan who is known for her work with MADtv.
The pair were said to have begun dating in 1998 but ended their relationship two years later in 2000. Following the end of that relationship, Seth kept a low profile for a while until a flurry of women in Hollywood were linked to him. The first was actress Jessica Barth in 2006, the same year actress and producer Christa Campbell was also said to have dated him.
Actresses Camille Guaty and Kat Foster were then linked to him in the year that followed before he was said to have also dated Buffy the Vampire Slayer actress, Eliza Dushku. At best, the actor only had an encounter with most of these women and never really dated them.
FAQs 
Is Seth MacFarlane married?
As far as we know, Seth MacFarlane is not married and has never been married before. He also has no children.
Is Seth MacFarlane Gay?
It cannot be said that The Family Guy creator is gay owing to the fact that he has been in relationships with different women. That notwithstanding, he is a gay rights activist and and has spoken openly in support of the LGBT community.
Who Were Among Seth MacFarlane's Girlfriends?
Since he became a celebrity, Seth MacFarlane has been involved/rumored to be involved with quite a good number of women, including his fellow Hollywood stars. They include Nicole Sullivan, Kat Foster, Amanda Bynes, Kate Todd, Kaylee DeFer, Katie Sah, Trisha Cummings, Jessica Szohr, Halston Sage, Seth MacFarlane, and most recently, Anne Winters.