From the tender age of two, Seth MacFarlane had started scrambling drawings and painting many of his favorite cartoon characters. With the help of his parents who found him a book on how to create flipbooks, Seth was able to create his own flipbooks at the age of five. By the time he turned nine, he began publishing a weekly comic strip titled "Walter Crouton" for his local newspaper, The Kent Good Times Dispatch.
Years later, Seth bagged a Diploma from Kent School before earning a Bachelor of Fine Arts degree in film, video, and animation at the Rhode Island School of Design. The artist, who had also performed stand-up comedy during his time in college, went on to launch a career in animation and has become a household name thanks particularly to the success of the long-running multiple Emmy Award-winning TV series, Family Guy.
With him having achieved so much in his professional life, many have wondered why the celebrated animator and filmmaker has not been able to start a family of his own. This has given rise to speculation that he might be gay even though he has been with a few high profile ladies in Hollywood.
Why His Sexuality Has Been a Topic For Discussion
Many questions have been asked in regards to Seth MacFarlane being a possible member of the gay community due to the fact that he is outspoken about his support for gay rights. The Family Guy creator has been fearless in his calling out of those who like to make life difficult for gay and transgender people. His work in this regard has earned him a few recognitions, including the 2011 Harvard Humanist of the Year award.
Another possible reason why his sexuality has been a topic of discussion is that he has been rarely seen or captured showing affection to a member of the opposite sex in public unlike other good looking heavy hitters in the entertainment industry. This conversation has carried on even though he is known to have dated quite a good number of women.
List of Women Seth MacFarlane Has Dated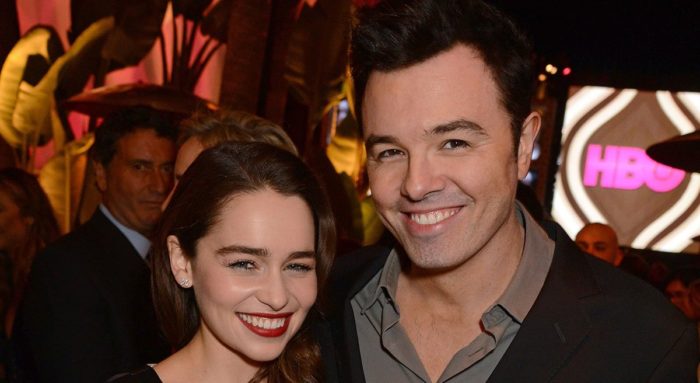 There were reports in the 2000s that insinuated that Seth MacFarlane had become somewhat of a playboy as he was beginning to attain success in his career. Regardless of this, his first known relationship to the public was with actress Nicole Sullivan who is known for her work with MADtv. The pair are said to have begun dating in 1998 but ended their relationship two years later in 2000.
Following the end of that relationship, Seth kept a low profile for a while until a flurry of women in Hollywood were linked to him. The first was actress Jessica Barth in 2006, the same year actress and producer Christa Campbell was also said to have dated him. Actresses Camille Guaty and Kat Foster were then linked to him in the year that followed before he was said to have also dated Buffy the Vampire Slayer actress, Eliza Dushku, and then actress, comedian, and fashion designer Amanda Bynes in 2008.
Other high profile women that he reportedly went on to date with include Gossip Girl actress Kaylee DeFer, Katie Sah who worked with him on Family Guy, actress and singer Katie Todd, television personality Audrina Patridge, and actress Trisha Cummings.
After a while in the early 2010s when nothing was reported about his relationships, news broke in late 2012 that Seth MacFarlane had begun a relationship with English actress Emilia Clark, who was famous for her role as Daenerys Targaryen in the HBO TV series, Game of Thrones. It is not clear how long exactly the pair were together as they ended up going their separate ways in the following year.
Is Seth MacFarlane Currently Married?
In the years that followed his break up with Emilia Clark, there was not any news or rumor about his involvement with any other woman until he fell in love with Halston Sage, his co-star on the sci-fi comedy-drama series, The Orville.
The duo, who have an age difference of 20 years between them, are said to have begun dating in September 2017 after having spent so much time together on set. In February of the following year, they were seen having a romantic dinner at the Sushi Park in West Hollywood. Halton's' grandmother, Helen Schrage, was met for comments and she gave her blessings to the new couple. She confirmed the rumors that they were an item and that she was okay with their age gap. Speculations have since then been rife of an impending wedding announcement, however, things did not play out as many imagined as the pair ended the relationship in 2018.