Rachel Maddow is in a long-term relationship with her partner Susan Mikula and presently does not have a daughter. Her Status as America's first openly lesbian news anchor to host a primetime news program has piqued the interest of many. 
Maddow is an American television host, political commentator, and author from the United States. She is well known for hosting "The Rachel Maddow Show", a weekly program that airs on MSNBC. Read on to find out more about her personal life.
Rachel Maddow Came Out as a Lesbian at Age 17 
While most people allow speculations to fester, Rachel took a totally different tack. After she came to the full realization of her sexuality, she kept the news to herself at first and did her best to fit in. She eventually came out as a lesbian at the age of 17.
This was not an easy decision to make at the time given what gay people faced before now. Her case was not any different given what she equally faced growing up in the Bay Area as a gay kid.
Her coming out was rather dramatic because it happened during an interview for her school student newspaper. She did the interview with a friend of hers who also came out and the paper went viral before she could tell her parents. This caused a rift between her and her parents as they could not bring themselves to accept the truth about their daughter's sexuality.
Years later, Rachel's parents were able to finally accept her sexuality for what it was. The TV host hinted that her sexuality might have been a hindrance to her career advancement as a journalist in the past.
Her Partner Susan Mikula Is an Artist And Photographer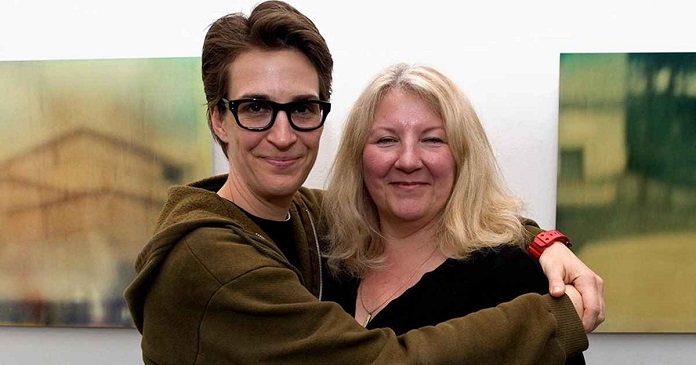 Rachel Maddow's partner Susan Mikula is an American artist and photographer. She was born on March 7th, 1958 in New Jersey, United States of America. As an artist, she had her first solo photography exhibition in 1998 and has worked in the art industry creating photographs using vintage technology.
Rachel and Susan Mikula have been dating since 1999 and are still together. The lovers had met each other for the first time while Rachel was working an odd job she took to make ends meet. For Rachel, it was love at first sight and as time went by, they started dating and have since then been together in a monogamous relationship.
Rachel Maddow Does Not Have a Daughter
There have been lots of speculations about the radio host having a child. The rumors began after a photo of her holding a baby showed up on the internet. Her many fans were eager to know more about the child and who had fathered it. Alas, it was just a picture and nothing more because Rachel Maddow does not have a child with her partner, Susan Mikula, or with any other person.
Even though their relationship has lasted a record 23 years, the Radio host and her partner are yet to decide if they want to have or adopt a child. Moreso, considering their ages, it is likely that children are not in the cards for them.
Rachel Maddow Is 50 Years Old
Rachel Anne Maddow as earlier mentioned was born on April 1st, 1973 in Castro Valley, California, to her father, Robert B. Maddow, and her mother, Elaine (nee Gosse). Her father was a former captain in the United States Air Force who had quit his job and started working as a lawyer for the East Bay Municipal Utility District while her mother coordinated several academic programs.
She has not revealed much about her childhood and early life, but one known fact is that Rachel was groomed by both her parents who were great disciplinarians. This was one of the major reasons her coming out as a lesbian at 17 did not go down so well with them. The TV personality is not the only child of her parents as she has an elder brother named David Maddow.
In terms of her educational background, Rachel is well–read and educated. She completed her primary and secondary education although the schools she attended are not known. She went further in her academics to study at Stanford University earning a degree in public policy. Upon graduation, she scored a Rhodes scholarship to pursue her postgraduate studies at Lincoln College. While in high school, Rachel was a very bright student and engaged in athletic activities like Volleyball, swimming competitions, basketball, and others.
Maddow Is America's First Openly Lesbian News Anchor to Host a Primetime News Program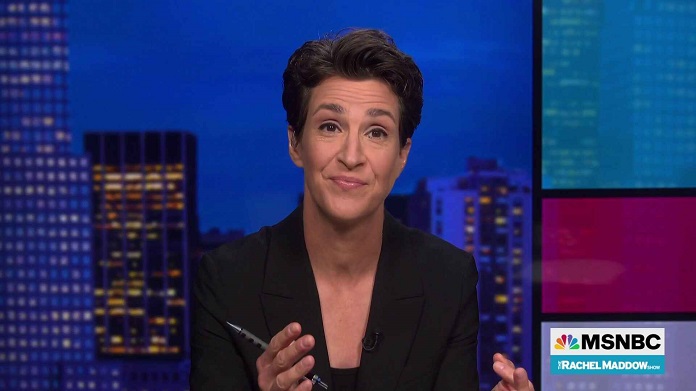 After she came out as a lesbian while in school, Maddow would later find that her sexuality affected her career to some degree. Even though she admitted to this, she has not bothered to give details of exactly how it affected her.
She began her career as a radio host in 1999 and then worked for WRNX(100.9 FM) in Holyoke, Massachusetts. Maddow served as the Station's on-air host for about a year after which she relocated to Northampton, Massachusetts, where she also got to host the breakfast show for WRSI radio.
Rachel was only with WRSI radio for two years. She then went on to work as a newsreader for the new Air America in 2004. She also co-hosted a show on the station called Unfiltered. However, the show was canceled in 2005 and Rachel was given her own two-hour weekday show on the radio.
She appeared on Tucker Carlson's conservative talk show on MSNBC while continuing to work on her self-titled show on Air America. She participated in numerous heated debates on MSNBC, solidifying her reputation as a polite, fact-oriented, and formidable debater.
Tucker Carlson's show was canceled by MSNBC in 2008. Rachel did, however, appear on other MSNBC shows as a guest host, political commentator, and analyst, including Countdown with Keith Olbermann. Rachel's show, The Rachel Maddow Show, debuted on MSNBC in August 2008 at 9:00 p.m. After one month of airing, The Rachel Maddow Show became the network's highest-rated show, more than doubling its audience.
Since its inception in 2008, The Rachel Maddow Show has continued to rise in popularity, attracting an increasing number of viewers, and has received numerous Emmy Awards and a Grammy Award for her broadcasting efforts, making her a distinguished journalist. Specifically, Rachel made history by becoming the first openly lesbian news anchor and host of a primetime news program in the US.
Her first book, Drift, was nominated for a Grammy Award for Best Spoken Word Album in 2013. Her second book, Blowout, won a Grammy Award for Best Spoken Word Album in 2021. Rachel Maddow is also a podcaster; in 2018, she launched the Bag Man podcast. MSNBC extended Rachel's contract to 2024 in August 2021.