Jeff Bridges met his wife, Susan Geston, in 1975. They got married in June 1977, just five days after Jeff popped the question, and have remained together for more than four decades. The couple is blessed with three daughters: Isabelle Bridges, Haley Roselouise Bridges, and Jessica Lily Bridges. 
Jeff Bridges is one of Hollywood's most respected and celebrated veteran stars. An ace actor, singer, and producer, his career in the entertainment industry began in the year 1951 and he has remained active since then.
The legend is known for his superlative roles in blockbuster films such as Starman, Against All Odds, Jagged Edge, Fearless, The Big Lebowski, Hell or High Water, and for his philanthropic deeds. Jeff has had a highly decorated career winning Academy Awards alongside other prestigious awards in the industry.
On the family front, the ace actor has been equally successful, he has been married to the same woman for over 40 years and counting – a no small feat by Hollywood standards, their love has blossomed over the years and they are proud parents to three daughters who are also very successful in their chosen career paths.
Jeff Bridges Met His Wife While Filming The 1975 Movie, Rancho Deluxe
The story of how Jeff Bridges fell in love with Susan Geston can make for an acclaimed romantic movie. It has it all, the love at first sight, initial rejection by the woman, the second meeting where she realizes she is in love too, the bumpy ride down the road, and the very perfect happily ever after ending.
On several occasions, the Academy Award winner has gushed about his wife, the most memorable was when he went up the Oscars stage to receive his well-deserved Oscar Award for Best Actor for his role as Bad Blake in Crazy Heart (2009). He called her "his main teacher," "My wife. My beautiful wife…" Get a shot of her," he told the cameramen and when they did, Sue, as she is fondly called, was looking on lovingly and with pride of her dear husband's achievement.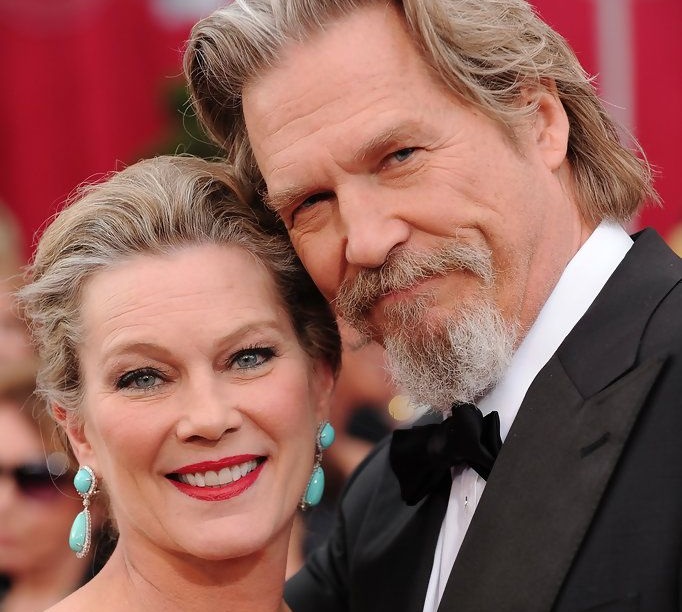 Bridges has been smitten by his wife from the very first day he laid eyes on her. He was on a ranch in Paradise Valley outside Livingston, Montana shooting a scene with Sam Waterston and Harry Dean Stanton for the movie "Rancho Deluxe" when he laid eyes on Geston for the first time. The director would have obviously noticed his distraction, an anomaly for Bridges who has been described by movie critic Pauline Kael as "the most natural and least self-conscious screen actor that has ever lived."
Susan was not even looking her best at the time, her friends called "black-eyes Sue" because of the two black eyes and broken nose she sustained after being involved in an accident. Regardless, the imperfection did not deter Bridges but instead amplified her beauty. No, Susan was not part of the acting crew, she was working on the ranch as a waitress in order to help pay her college tuition.
Not able to help how smitten he was, Jeff Bridges wondered who Sue could have been? a waitress or a maid?, he approached her and asked her out on a date but she turned him down. However, she left him with a little hope by telling him that their location was a small town and that maybe they would yet again run into each other. Luck was in Bridges' side as he ran into the love of his life again a few days later. This time, she did not turn him down. They danced away the night at the wrap party for the film and Geston was finally on the same page as Jeff – fallen head over heels in love.
To date, Bridges carries around a souvenir from the day they first met, one that was made possible thanks to the make-up artist on set. The make-up artist had noticed the immediate attraction between Bridges and Sue and took a photo of them. Ten years after they met and with no idea that Bridges had married Sue, the make-up artist mailed the photo to him and Bridges carries it in his wallet until this day.
The Actor Hesitated To Ask Susan To Be His Wife
Jeff Bridges left Montanna after filming left, but could not stop thinking about Susan Geston, so a while later, he returned to Montanna, this time with longtime friend David Greenwalt (the Hollywood producer with credits including Buffy the Vampire Slayer and Angel).
Greenwalt, who at the time, was living in a trailer parked on Bridges' property in Malibu, was going through heartbreak after being rejected by Bridges' sister whom he had fallen for. In a bid to help him forget his troubles, Bridges ask that he take a ride with him to Montanna but did not tell him why he was going there. Upon arriving at Montanna, Bridges was able to convince Susan to come with him to Malibu. On their way back to California, Greenwalt took the wheel but found himself in a bittersweet moment as he was going through heartbreak but had to watch his good friend frolic the woman he loved in the back seat.
Susan Geston moved into Bridges' modest Malibu home which had a hot tub and a sauna. They wrote songs and played music every night for fun and when Bridges showcased his painting skills, Sue, a gifted photographer would capture the moment.
While he rode the smitten love birds back home, Greenwalt could immediately tell that his friend would marry Sue, however, Bridges was terrified of the idea of marriage. He had first thought about marrying Sue on their first date; he had asked her to join him to see a real estate agent from whom he was inquiring about the ranch house and when they got to the house and were inspecting it, Bridges thought to himself that he was looking at his house and his future wife, however, he immediately let go of the thought as his lifelong fear of marriage gripped him. The actor later narrated to Reader Digest that he thought that the idea of marriage was a step towards death and that he had been terrified of it since his 20s.
As years passed, Susan who had always loved the idea of marriage and wanted a family of her own became weary from Bridges' hesitation and considered leaving him, that was when Bridges thought to himself that he just could not let Sue go. He told OWN that the fear of losing Sue had him thinking of how he would be a miserable old man wondering why he ever let her go.
He finally summoned the courage to ask Susan Geston to be his wife and on the 5th of June 1977, exactly five years after he had proposed the pair were married. As years progressed, so did Bridges' career with more Academy Award nominations, by 1994, they were able to purchase an 8,500-square-foot, 9-bedroom mansion in Santa Barbara that previously belonged to singer-songwriter and guitarist, Kenny Loggins. They paid about $7 million for the home.
The Secret To Their Marriage Is Not Considering Divorce As An Option
Jeff Bridges has on many occasions spoken of how his marriage with Geston got sweeter and sweeter as the years went by and in those moments he is usually asked about the secret to their long-lasting union. Bridges has explained that the reason for their longevity is that he does not give cheating and divorce a chance.
The actor told The Sun that changing partners all the time gets tough and makes one unable to enjoy the richness that comes with a long-term relationship. He added that his wife's support for him and his career makes him love her more. The actor has also said that for both of them, the most important thing to them is their relationship.
He added that when big challenges come, which they do have, they are real opportunities for them to get to know each other more and become more intimate, rather than hop on the idea of getting a divorce. On another occasion, he told People Magazine that he and Sue are quite different people, but instead of letting that be the reason why they would drift apart, they celebrate each other.
In the same interview, he said that he "respected Sue's wisdom." In order to improve their communication, the actor said that whenever they have conflicts, they chat about what is bothering them and let the other finish without interruption.
When Bridges in October 2020 announced that he had been diagnosed with lymphoma and had been undergoing chemotherapy he added that he was profoundly grateful for the support from his family and friends. At this point, only death can truly do them part.
Sue Is A Professional In Her Own Right
Bridges' wife Susan Geston was born in 1953, she is the daughter of Patricia Kennedy Hansen and Magnus C. Geston. She is originally from Fargo, North Dakota. She is a producer with credits including Forbidden Zone (1980), Cold Feet (1989), and Extra with Billy Bush (1994). Though acting is not a full-time career path for her, her husband credits her for all of his works as he says they would not have been possible without her.
These days, Geston focuses more on charity work and her passion for photography often traveling to places like Cuba to take photos.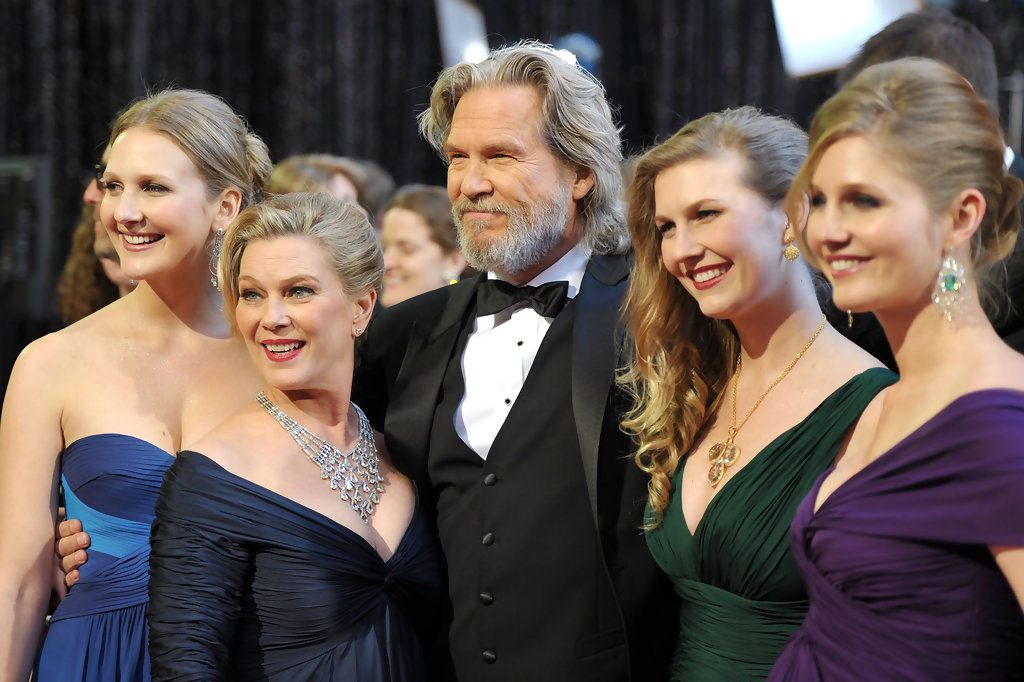 Bridges and Wife Have Three Daughters
Name: Isabelle Annie Bridges
Born: August 1981
Spouse: Brandon Boesch (m. 2007)
Occupation: Mother's Empowerment Coach
Isabelle is Jeff and Sue's first and oldest out of his three daughters. She attended Pepperdine University in Malibu. Like her father, she has got some acting skills, some of her credits include Termini Station. Jeff Bridges has revealed that because of the kind of childhood he had, he knew better than force any of his kids into acting.
He told The Guardian in 2009 that for any of his daughters, acting would be as easy as falling off a log, however, none of his daughters seemed to have considered acting as a full-time profession. Like her father, finding love for Isabelle was love at first sight. She met her husband, Brandon Boesch in college, and on 7/7/07, they got married at her father's home.
Isabelle told Insider Wedding that she knew from high school that she would always get married on the unique date of 7/7/07. On the 31st of March 2011, she made her father a grandfather for the first time after welcoming her first child, a daughter named Grace Louise Boesch. She also has a son named Ben. Isabelle and her father Jeff co-authored the children's book titled, "Daddy Daughter Day."
Name: Jessica Lily Bridges
Born: June 1983
Occupation: Songwriter
Spouse: Kevin Rodriguez (m. 2017)
Jessica inherited the singing and songwriting skills of both her parents. She developed an early passion for music which led her dad to buy her her first guitar when she was 13 years old. Some of her musical influences include Dr. Dog, Wilco, Neko Case, and Joe Cocker.
She has no particular genre of focus but has said that she uses her music to explore and express the human condition, according to her Facebook page. She performed some of her songs at her older sister Isabelle's 2007 wedding. Jessie, as she is fondly called is a resident of the San Francisco Bay Area and continues to chase passion for music. She has sung on stage alongside her famous father.
Name: Haley Roselouise Bridges 
Born: October 1985
Occupation: Interior Decorator
Spouse: Justin Shane
The youngest of the Bridges daughters has an interior decoration business as her chosen career path. Her passion for design developed at a young age after her family relocated to Santa Barbara in 1994. As the family toured around the city in search of their new home, Haley found herself become enthused about design and could not stop thinking about how she would design her own room.
She graduated Magna Cum Laude with a degree in English from Loyola Marymount University but her passion for design saw her return to school to study for a master's in Interior Architecture at the University of California, Los Angeles. She graduated in 2011. She is the founder of Haley Bridges Design which is based in Santa Barbara.
The thriving business has earned Haley a couple of prestigious design awards including Houzz.com's Best Service in 2017 and Best Design in 2018 and 2019 respectively. Her website has a perfect 5-star review.