NBA Jayson Tatum is currently unmarried and does not have a wife. However, that is not to say the Boston Celtics hunk is single and unattached. He has been reported to be in several relationships since his introduction to the spotlight, but the one person best known as Jayson Tatum's girlfriend to date is RnB singer Ella Mai.
Tatum and Mai have been in a very low-key relationship that is devoid of pictures and scandal-free. Here is where you'll get all the current details on Jayson's love life.
Is Jayson Tatum Married?
Jayson Tatum is not married at the moment. Even though he is presently one of the biggest players in the NBA, he is yet to take the giant leap into matrimony. Jayson plays as the small forward of the Bolton Celtics and already has multiple accolades under his belt.
As a three-time NBA All-Star and a 2020 Olympic gold medalist with a net worth of $25 million, Tatum makes for one of the most eligible sportsmen in the world right now. Thus, it is only natural that the world is obsessed with his marital status.
However, the Boston forward does not seem inclined to discuss marriage just yet. The Olympic medalist is currently unmarried and has been all his life. At no point has Tatum ever walked down the aisle with any woman (or man). Whether he intends to ever settle down is another matter entirely.
Some of the speculations regarding whether he is married or not stem from the fact that he has a son who he does not hesitate to show off on his social media pages as well as during his games. However, his son Deuce was born to Tatum from his previous relationship with his high school sweetheart.
Who is Jayson Tatum's Girlfriend?
British singer and Grammy-award-winner Ella Mai is Jayson Tatum's girlfriend, according to multiple reports on the internet. It is speculated that the couple began seeing each other in 2020 after she was spotted at the player's house by the paparazzi. Despite the speculations from their fans about whether they were truly a couple, both parties remained mute.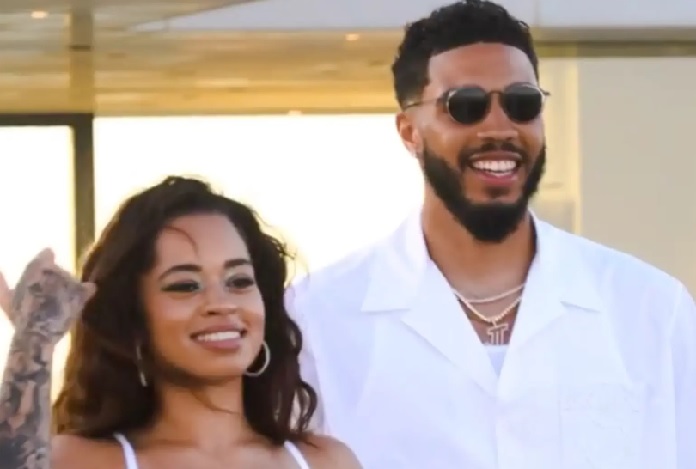 They have successfully kept a very low profile, hardly posting any pictures from their vacations together except for the few the media has managed to snag. In 2021, a new round of speculations had it that the couple broke up briefly. During this alleged break-up, Tatum went on to date American model Bella B, however, that romance was short-lived.
He got back with Ella Mai again in December of 2021, and it seems they have remained together since then.
Ella Mai is an Award-Winning Singer
You have likely heard the name Ella Mai outside of being linked with Jayson Tatum. This is because Ella is a very successful British singer and songwriter. With hits like 'Trip' and 'Boo'd Up,' Mai has taken the RnB world by storm over and over again, and it would be a little insulting to refer to her as just Jayson Tatum's girlfriend. So who is Ella Mai outside of her relationship with Jayson, and exactly what is she known for?
Ella Mai is a British singer, songwriter, and actress from England. She was born on November 3, 1994, to an Irish father and a Jamaican mother in London. When she was 12 years old, Ella moved to New York City with her family to begin a new life in America. She, however, went back to the UK after she finished her high school education, and she enrolled at the British and Irish Modern Music Institute.
Ella Mai famously contested on the 11th season of the X Factor talent show as part of a girl group called Arize.  Although the group didn't survive, Ella did, and in 2015, she launched her solo singing career. She released her debut project—a four-track EP called 'Troubled'. Not long after this, Ella Mai was discovered by a British disc jockey, DJ Mustard, and signed to 10 Summers Records and later, to Interscope Records.
Under these two heavyweight record labels, Ella Mai released another EP titled, 'Time'. Two EPs later, Mai scored her first breakout hit with the song 'Boo'd up' in 2017, arguably her biggest hit song till today. Following the massive commercial success of that EP, Ella Mai went on tour with artists like Chris Brown.
She was nominated for two Grammy Awards, namely Best R&B Song and Song of the Year for 'Boo'd Up', and ended up taking home the Grammy for Best R&B Song in 2019. She also won Best R&B Artist and Best Female R&B Artist at the Billboard Music Awards that same year. As it stands, Ella Mai is one of the biggest faces of RnB in the world presently. With a sizable net worth of about $6 million, Ella Mai can certainly hold her own in any relationship.
What Happened Between Ella Mai and Jayson Tatum?
Although there is enough evidence to suggest that Jayson and Ella are a solid pair, the lack of picture evidence has left fans confused over the authenticity of their relationship. The two have rarely been spotted together in public, and have sparked multiple break-up rumors since they allegedly got together in 2020.
However, at the moment, nothing is happening to their relationship. The two seem happy and content whenever either of them shows up in pictures online. Although the lack of pictures of the couple together is a bit disconcerting, the truth is that there are no pictures of them with anybody else either. Both Ella Mai and Jayson Tatum have steered clear of other potential dates, lending further credence to the rumors that they are together. 
Jayson Tatum's Girlfriend of Old
Apart from his current relationship with Ella Mai, Jayson Tatum has been linked to several other beautiful women, including American volleyball player Samie Amos. However, his most pronounced past relationship is with his ex and baby mama, Toriah Lachell. The two got together in high school long before he hit the spotlight.
Toriah was on the girls' soccer team, while Jayson was the star player of the basketball team. The timeline of their relationship has not been clarified, but a wild guess would be to suggest that Toriah and Jayson started dating sometime in 2015. The fact that they also had their son while still high school students in 2017, lends credence to the timeline of their relationship.
They broke up shortly after for reasons that they have not disclosed. Despite their breakup, the two seem to have a good working relationship, especially when it comes to co-parenting their son.