Canelo Alvarez has been married to Fernanda Gómez since 2021 but before then, he had dated other women including his high school sweetheart Karen Beltran, models Barbara Turbay and Shannon De Lima, beauty queen Marisol Gonzalez, Mexican-American actress Kate del Castillo, musician-actress Cynthia Rodriguez, and an entrepreneur named Nelda Sepulveda.
From light or super middleweight to light heavyweight, and other weight classes of note, Canelo Alvarez has written his name in gold through his exploits as a professional boxer. He has multiple world championships to his name and it is safe to say he earned them all.
This excellent counterpuncher was recently ranked as the world's best active boxer by several reputable outlets in the field. There is no doubt his career has been a productive one but even more prolific are his exploits with the ladies.
With four baby mamas and several other escapades, it is clear that the boxer has really been busy on the personal front as he is on his career. Thankfuly, he decided to settl for his longtime girlfriend Fernanda Gómez.
Canelo Álvarez Met His Mexican Wife Fernanda Gomez In 2016
In the typical Canelo Alvarez style, his relationship with Fernanda Gomez was not a steady one. Thus, a lot of people thought it won't last, just like the ones before it, but the couple proved them wrong. The pair met in October 2016 at an OMB Gala. Being a model, fashionista, and social media influencer, Gomez is also involved in the showbiz industry and this means she works in the same circle as her husband. This was what brought them together.
We can't say if it was love at first sight but they began dating shortly after their meeting. The picture-perfect couple earned thumbs up from fans but the union was a rocky one in the beginning. They dated off and on for a few years. They broke up in 2017 and still found their way back to each other's arms the next year. This went on for about 4 to 5 years before they sealed their love in holy matrimony.
Their Wedding Ceremony Took Place In 2021
Unlike the previous affairs he had, not much is known about Canelo Alvarez's relationship with Gomez. They didn't flaunt a lot of details for media scrutiny, perhaps this contributed to the ultimate success of the relationship. For this reason, their wedding plans were not made public but it eventually became public knowledge that the two tied the knot on May 15, 2021.
The World Boxing Organisation (WBO) made this known through an Instagram post with a picture of the couple in their wedding ensemble. The wedding ceremony took place at the Guadalajara Cathedral in Guadalajara, Mexico. From the pictures that made it to social media, friends and family graced the grand event, including the couple's kids.
They Have One Daughter Together But Canelo is A Father Of Four
Though he is a father of four, three from past relationships, Canelo shares one of his daughters with his wife Fernanda Gomez. In all, the internationally acclaimed boxer has three daughters and a son.
His daughter with Fernanda is named Maria Fernanda Alvarez, the fourth child in the boxer's family. We don't know the exact date Maria was born but they obviously welcomed her before they tied the nuptial knot. His other children are Emily Cinnamon, Mia Ener, and Adiel Alvazer. Born on October 12, 2005, Emily Cinnamon is his first child and she is now 18 years old.
Who Is Canelo Alvarez's Wife Fernanda Gomez?
Aside from being the wife of a famous boxer, Fernanda Gomez is a celebrity in her own right. She is successful in her endeavors as an entrepreneur, with a luxurious nail art salon to her name. The 27-year-old Mexican beauty was born on June 22, 1996. She was born into the family of Lorena Martínez Cuevas and Ernesto Gómez Morales and grew up with four siblings, namely Ernesto, María Lorena, Oscar Daniel and Ricardo Alberto. Gomez hails from the West-central Mexico city of Guadalajara, capital of Jalisco state.
Growing up in her hometown, Fernanda developed an interest in fashion and subsequently started a modeling career, as well as explored the world of fashion designing. This brought her closer to the spotlight before she met her husband.
In addition to her modeling career, Gomez is also a social media personality and though she had a strong presence across different platforms, her popularity went over the roof when she got married to Canelo Alvarez.
As an entrepreneur, Fernanda manages her own nail salon and boutique in Guadalajara, Mexico. She leverages her strong social media presence to advertise her brand. Fernanda is obviously not in the business of just basking in the glory of being married to a celebrity by not pursuing a career of her own.
Meet The Women Canelo Alvarez Dated Before He Married Fernanda Gomez
The Mexican boxer has been pretty busy on the dating field and he seems to have a thing for beautiful models and actresses. Here's a rundown of some of the notable relationships he was involved in before he settled for Fernanda Gomez.
Karen Beltran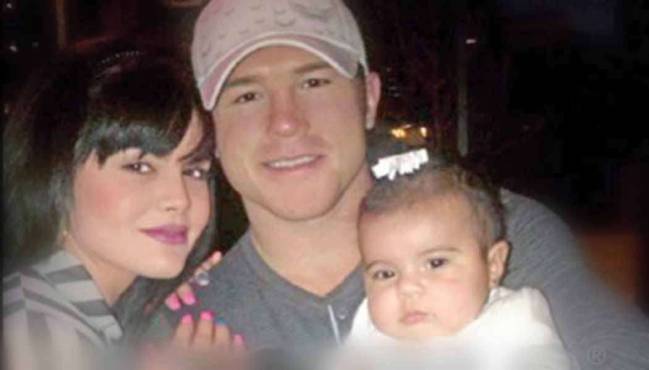 Canelo and Karen were high school sweethearts. They met as teenagers in high school and started dating but the young love did not last for long. The relationship didn't end without producing a child though. She is the mother of Canelo's first child Emily whom they welcomed on October 12, 2005.
In an interview, Canelo said he was 16 when his first child was conceived and he did the right thing by taking his girlfriend in to live with him in a house he rented for 1000 pesos. However, even the birth of a child could not sustain their love as they grew apart.
Marisol Gonzalez
Canelo dated the winner of Miss Mexico Universe 2003 for a while before they got engaged. The model is 8 years older than Canelo but this didn't stop them from falling into each other's arms. The boxer was 19 years old when they met while Marisol was 27. The lovers took off on a fast lane and were soon engaged to be married but this didn't last long enough to see them tie the knot. The reasons for their breakup remain a mystery.
Kate del Castillo
A Mexican-American movie star, Kate was rumored to be an item with the boxer but they never confirmed the relationship. The rumors apparently stemmed from the fact that she was always present to cheer for Canelo during his fights. However, a relationship was never confirmed between the two. Kate del Castillo, on the other hand, has been married and divorced twice to Aarón Díaz (2009–2012) and Luis García Postigo (2001–2004), thus, it seemed she was just playing it safe with Canelo.
Cynthia Rodriguez
It was work that brought her to Los Angeles where she met Canelo Alvarez for the first time. They exchanged contact and kept in touch, building a relationship that they tried to keep away from the public eye. They continued their romance on an off and on routine until there was nothing to keep them together. Cynthia Rodriguez is a musician and actress with a rich resume.
Shannon De Lima
A Venezuelan model, Shannon De Lima and Canelo Alvarez's relationship was first revealed by the paparazzi. She later took to social media with more information, confirming the affair. Things were moving pretty well between the two, or so it seemed. It appears his romance with Shannon De Lima started during one of his off days from Fernanda as he went back to the Mexican beauty when he called it quits with Lima.
Notable mentions of Women Canelo Alvarez Dated in the Past
Barbara Turbay – a model
Belinda – an actress, musician
Nelda Sepulveda – an entrepreneur