Andre Iguodala's wife is Christina Gutierrez whom he married in 2015. The couple had a son, Andre Tyler Iguodala II, before they got married and he also has a daughter named London Iguodala from his previous relationship with a lady named Clayanna Warthen.
Andre Iguodala is an accomplished American professional basketball player. He was among the Golden State Warriors team that won the 2015 NBA Championship where he was named NBA Finals Most Valuable Player. He won his second NBA Championship with the side in 2017.
The small forward/shooting guard began playing basketball in high school at Lanphier High School in Springfield, Illinois where he began breaking and setting records. He continued in that form to the professional league and because his illustrious career is filled with many accomplishments, his love life has been pushed to the background. Nevertheless, we have all the interesting details you need to know about the family life of the Memphis Grizzlies shooting guard/small forward.
Andre Iguodala Has Been Married To Christina Gutierrez Since 2015

Andre isn't one to document the details of his personal life to the public. It is, however, known that he had been in a long-term relationship with Christina Gutierrez (his childhood sweetheart) before they tied the knot in 2015 in an event that mirrored an All-Star weekend.
The wedding held at One&Only Palmilla in Los Cabo, Mexico in August 2015. Fellow NBA stars who turned up for the event included Rudy Gay, Klay Thompson, Festus Ezeli, Shaun Livingston and of course his fellow golf-lover, Steph Curry.
The wedding was planned by Marcy Blum and the bride's gowns were put together by Reem Acra and Zuhair Murad. Prior to their big day, Andre Iguodala and his bae had a child together, a son named Andre Tyler Iguodala II who was born around 2007. He played the role of the best man at his parent's wedding where he wore a matching blue tuxedo with his NBA star dad.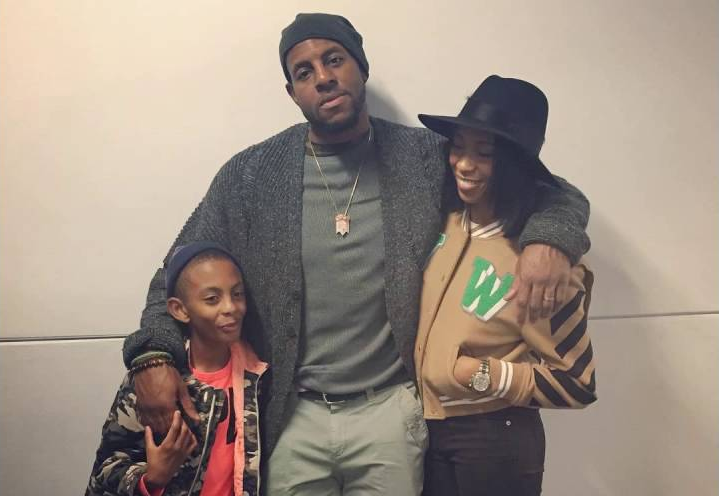 Andre Jr is already in love with basketball and often goes to the court to watch his dad play. Iguodala told NBA TV in July 2017 that his son almost cried after he learned that he might be leaving the Golden State Warriors.
The Controversies Surrounding His Baby Mama and Daughter
Andre's relationship with his childhood sweetheart, Christina Gutierrez wasn't always rosy. They've had their fair share of ups and downs which included Andre's involvement with another lady named Clayanna Warthen. According to TMZ, Andre and Warthen were together for about 6 years.
Clayanna Warthen is a native of Camden and graduated from Pennsauken, New Jersey. During her days as a student, she was very vocal about racism and it doesn't come as a surprise that she pursued a college degree in criminal justice. However, becoming an attorney is not top on her priority list as she put her pursuit for a law degree on hold to become a hip-hop video model. She appeared in Cassidy's I'm a Hustler and music videos by Young Jeezy, among other endeavors.
Andre Iguodala's relationship with Clayanna produced a daughter named London who by our estimations was born in 2009. Little was heard of them until early 2016 when Andre's baby mama filed a court case against him. She alleged that he had neglected London and wasn't doing enough to spend time with her.
At the time of the filing, Andre was shelling out $16,000 per month for child support, but Warthen said she wanted the figures upped to $58,000 per month as what she was receiving wasn't enough to pay for London's tuition. She went on to add that the then-6 years old London had shown an IQ of 151.
Warthen said part of the money would be used to pay for horseback riding, piano lessons, and a vocal coach. She alleged that Andre Iguodala didn't want London playing basketball so she doesn't turn out to be a lesbian. In response, Andre said that he knew a lot of WNBA players who are lesbians and that he didn't want his daughter to have the same struggles that they have.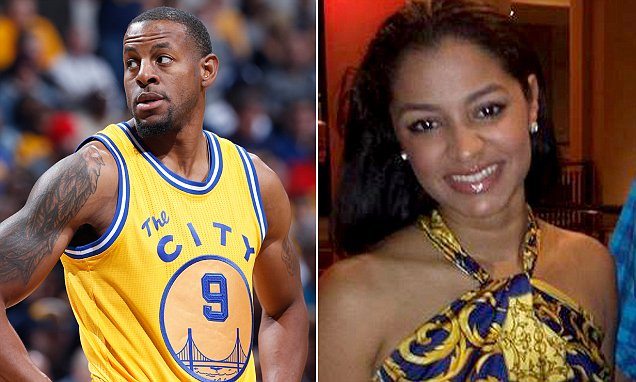 Countering Warthen's requests, Andre Iguodala's lawyers said what Warthen requested for the child was "a prescription for spoiled children." He also added that She wanted the money to pay for a personal chef and $7,000 for floor seats at NBA games.
Eventually, the details of their settlement were concealed from the media. It wasn't the first time Andre was getting sued by his baby mama though, back in 2009 when London was just born, Warthen demanded a raise in her child support and got $16,000.