Diego Rivera is a Mexican muralist and painter who is not only considered as one of the leading artists of the 20th century but also one of the founding fathers of the Mexican mural movement. Rivera painted murals in several cities around the world including, New York City. Chapingo, San Francisco, Detroit, and Cuernavaca. Here is all you need to know about the life and times of one 20th century's greatest artist of all times.
Diego Rivera – Biography
Rivera's full name is Diego María de la Concepción Juan Nepomuceno Estanislao de la Rivera y Barrientos Acosta y Rodríguez and he was born in Guanajuato, Mexico on the 8th of December 1886 to María del Pilar Barrientos and Diego Rivera Acosta. He had a twin named Carlos who died at the age of two.
His parents noticed his interest in drawing and painting a year after his twin brother passed away; they caught him drawing on the wall but rather than scold or discourage him, they encouraged him by installing canvas and chalkboards on the walls of the house. At age ten, Diego Rivera was enrolled at the San Carlos Academy of Fine Arts, Mexico City. One of his earliest influences was an artist named José Posada who ran a Print shop beside his school.
He would later travel to Europe to further his studies in art under the sponsorship of the then governor of Veracruz, Teodoro A. Dehesa Méndez. In Europe, Rivera's first stop was Madrid Spain where he studied under Eduardo Chicharro, he later moved over to Paris, France where he lived and worked among great artists like Ilya Ehrenburg, Amedeo Modigliani and his wife, Jeanne Hébuterne, Chaim Soutine, etc.
Diego Rivera started off as a Cubist painter but history and the course of events soon changed his work, he wanted Mexican's political ideology, as well as the lives of the native reflected in his paintings, thus, he began learning murals during one of his trips to Italy, as he found inspiration in the Renaissance frescos there.
Upon his return to Mexico, he kicked off his career as a muralist, with funding from the Mexican government, he created several murals about the country's history and people on walls of public buildings; in 1922, he completed his first  of the mural paintings on the walls of the Escuela Nacional Preparatoria in Mexico City.
His paintings traveled beyond Mexico city and found its way in other places like Chapingo, San Francisco, Detroit, Cuernavaca and even New York. One of his paintings Man at the Crossroads in New York City's RCA building which featured a portrait of Russian communist Vladimir Lenin sparked several controversies and would later be stopped and destroyed by the famous Rockefeller family. In the 1930s, he slowed down on his muralist paintings and focused on other paintings due to lack of major muralist jobs.
His Spouse and Children
Diego Rivera was married four times in his lifetime. His first marriage was to Russian born artist Angelina Beloff, who did most of her work in Mexico. The couple got married in 1911 and divorced in 1921 after ten years together. A year after his divorce from Beloff, he married for the second time, this time to model and novelist Guadalupe Marín, their marriage lasted till 1929; later that year, Rivera married to Mexican artist Frida Kahlo.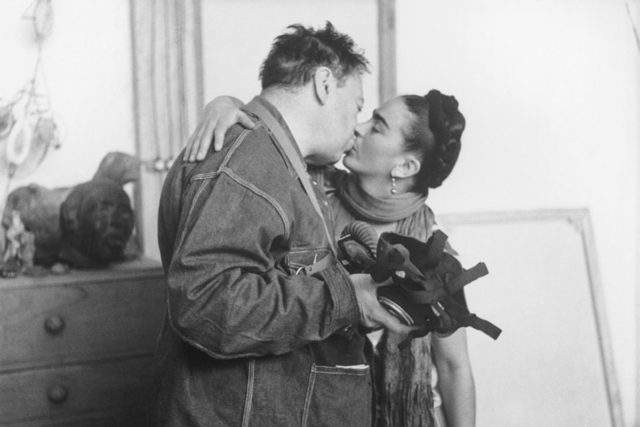 Kahlo and Diego got a divorce in 1939, ten years after their marriage but will reunite the following year and remarried. They remained married till Frida's death in 1954. A year after Frida's death, Rivera got married for the fourth time; this time to Emma Hurtado, they remained married until Diego's death in 1957.
Rivera had four children (three daughters and a son) from his four marriages. Two of his children he had with Guadalupe, one with Bellof and one with Russian-born painter Marie Vorobieff. The names of his children are Marika Rivera, Ruth Rivera Marín, Diego Rivera, and Guadalupe Rivera Marín.
Also Read About: Life And Death Of Pat Morita – His Net Worth, Spouse, And Cause Of Death
Death and Other Facts
By the time Frida died, Rivera's health had deteriorated greatly; he was diagnosed with cancer and had to be taken abroad for treatments but his health worsened still. On November 24, 1957, he died in Mexico City, of heart failure at the age of 71.
Although, Diego Rivera was said to have Converso roots; he was an atheist. One of his mural paintings: Dreams of a Sunday in the Alameda portrayed Ignacio Ramírez holding a sign with the inscription "God does not exist".
Rivera childhood home is now a museum in Mexico.