Diego Rivera was a Mexican muralist and painter who is not only considered as one of the leading artists of the 20th century but also one of the founding fathers of the Mexican mural movement. It's been many years since he breathed his last but Rivera is still being talked about today for many reasons.
His myriad of large murals scattered in big cities like places, Mexico City, Cuernavaca, San Francisco, Chapingo, Detroit, and Other parts of the United States will not fade away anytime soon as they have been embedded on the walls of history. One of his remarkable achievements is the retrospective exhibition which took place at the Museum of Modern Art, New York, in honor of his works. The feat was achieved before he put the final touches on his groundbreaking Detroit Industry Murals, a 27-mural series he accomplished between 1932 and 1933.
Not just his works, the legendary painter also had quite an interesting personal life with the women around him at the time. Here is all you need to know about the life and times of one of the greatest artists that walked the earth during the 20th century.
Diego Rivera's Early Life and His Initial Steps as a Painter Still Learning the Ropes
Diego María Rivera was born in Guanajuato, Mexico on the 8th of December, 1886 to María del Pilar Barrientos and Diego Rivera Acosta. Most people don't know this but the mural icon was one half of a twin; but when they clocked 2 years old, his twin, Carlos, died. A year after the death of Carlos, Diego took to painting on the walls around him which his parents noticed. Fortunately, his parents didn't miss the sign and did everything in their power to give him a good start a niche in the art industry. To encourage his artistry, they put up canvases and chalkboards on the walls of their house so that little Riveral could paint his heart out.
When he turned 10, the artist was enrolled in the San Carlos Academy of Fine Arts, Mexico City. To continue honing his skills with the painting brush, Rivera would later travel to Europe to further his studies in art under the sponsorship of the then Governor of Veracruz, Teodoro A. Dehesa Méndez. His efforts were already being noticed by people outside his family. During his time in Europe, Rivera made the most of the opportunity to explore new grounds. His first stop was Madrid, Spain, where he studied under Eduardo Chicharro. He later moved over to Paris, France, where he lived and worked with great artists such as Ilya Ehrenburg, Amedeo Modigliani and his wife, Jeanne Hébuterne.
This was not the only form of artistic education that Diego Rivera had in the course of his career. He learned from some of the best around the world and also took lessons from every city he visited at the time. One of his earliest influences was José Posada who is widely remembered for his relief paintings and illustrations. Also, upon the urging of the Mexican ambassador to France, Diego decided to go to Italy where he discovered the Renaissance frescoes and fell in love with the artistic style this trip defined a majority of the art Rivera produced.
Details About His Works and the Influence They Have In The Industry Today
Upon his return to Mexico in 1921, Rivera kicked off his career as a muralist, and with funding from the government, he painted several murals on public buildings. The murals featured stories about the country's history and people. But as he grew as an artist his work took on a political tone. In any case, his works as an artist saw the beginning of an era – the mural movement in his home country and several other places around the world. which has been transferred to many generations thus far.
Mexico is not the only country where he made murals. As previously mentioned, major cities around the world were graced by his presence and beautified by his murals. Some of these cities and his paintings in them include:
San Francisco
He painted a mural and a fresco after accepting a commission to work in San Francisco in 1930. The mural was done for the City Club of the San Francisco Stock Exchange for which he was paid $2,500 while the fresco was completed for the California School of Fine Art but was later moved to its current abode – the Diego Rivera Gallery at the San Francisco Art Institute.
'Allegory of California' at the Pacific Stock Exchange. Rivera showcased Califa (the sacred spirit of California) in this work and it can be found inside the stock trading building. The painting was completed in 1931.
'The Making of a Fresco, Showing The Building of a City'. This painting sits at the San Francisco Art Institue and was completed in 1931 by Rivera. The piece portrays the construction of San Francisco by its people.
the 'Pan American Unity' at City College of San Francisco which he painted in 1940. He made this 22 feet high by 74 feet wide painting for the Golden Gate International Exposition. The artwork captures the unity of North and South America.
Detroit
'Detroit Industry Murals' – Diego Rivera painted this work in 1933 and they consist of some 27 fresco murals on the north and south walls which depicts the Ford Motor Company. He started and completed this painting between 1932 and 1933.
New York City
'Man at the Crossroads Looking with Hope and High Vision to the Choosing of a New and Better Future'. Rivera painted a group of workers who are at crossroads of science, industry, socialism, and capitalism.
As Diego Rivera was influenced by artists before him, his myriad of works has also influenced a lot of artists who have come after him, as well as the way art is perceived in general. The popularity of frescoes had died down after the Renaissance period, however, Rivera piqued people's interest in this form of art once more and that interest has been sustained for decades after his death.
He is also responsible for pioneering the movement of painters adding politics to their paintings. To date, Rivera's style of painting is still practiced not only in Mexico but in America as well and there is no doubt that the rest of the world learned a few things from his rich heritage.
Controversies Surrounding Rivera's Works and Personal Life
During his life, Diego Rivera was no stranger to controversies. Of course, for an artist of his social status, some of the controversies that plagued him at the time were caused by his paintings, especially the political ones. The mural, Man at the Crossroads in the RCA building in New York featured a portrait of Vladimir Lenin, a communist leading a revolution. When the media found out and the news spread, there was a call for him to take out Lenin's likeness from the mural but Rivera refused. His refusal led to him being ordered out of the city by the authorities.
If you thought Rivera was only known for his murals and frescoes, you have to check out his personal life away from the canvas and paintbrushes. A major controversy that rocked his private life was how he got married to Frida Kahlo. He was a married man when the two started dating and she was significantly younger than him. Their relationship attracted major attention and criticism in the initial stages but this did nothing to keep the two away from each other's arms, at least while the going was still good.
A Look At Diego Rivera's Interesting Love Life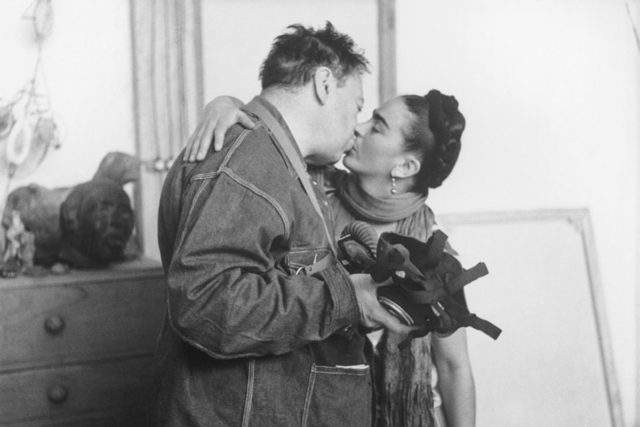 Just like his career as a painter, Rivera's love life is a historic one indeed. Diego Rivera was married five times in his lifetime. His first marriage was to an artist, Angelina Beloff. The couple got married in 1911 and ten years after, in 1921, they got ended up getting a divorce. By the following year, he was found love again and exchanged vows with another beautiful lady, this time it was model and novelist, Guadalupe Marín. Sadly, Marin wasn't his missing rib after all and he had to go through the rigorous process of divorce once again. Their marriage lasted until 1929 after which Rivera then married his fellow artist Frida Kahlo, following the conclusion of his divorce from Guadalupe Marin.
While many thought he has finally found the woman after his heart, Kahlo and Diego got a divorce in 1939. Nevertheless, they found a way to reunite the following year and with old flames burning bright between them, they married one more time. Thus, although Riveral was married five times, he married four women with Kahlo making the list twice. Their second time as man and wife, they remained together until 1954 when Kahlo passed away. Rivera's fourth and final marriage was to Emma Hurtado who had worked as his agent for eleven years, this marriage ended but not like the previous ones. It was his death in 1957 that marked the end of his interesting love life and a career that will forever be revered in the arts.
Did the Painter Have any Offspring?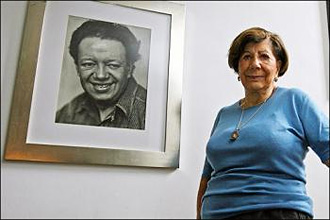 The five times he exchanged vows with different women didn't go without bringing forth the next generation of his bloodline into the world. In all, Rivera had 4 children, three daughters, and a son. With Bellof, his first wife, the renowned painter had Diego, who passed away at the age of 2. He then had 2 children – Ruth and Guadalupe – with his second wife, Guadalupe.
Guadalupe Rivera Marín was born on an unspecified day and month in 1924. She has published at least three books, including Diego Rivera the Red (1997), and Frida's Fiestas: Recipes and Reminiscences of Life with Frida Kahlo (1994), the latter which she co-authored with Marie-Pierre Colle. She has one James Beard Award for American Cooking nomination to her name.
Rivera's last child, Ruth Rivera Marín, was born on June 18, 1927, in Mexico City, Mexico. She was the only child of Rivera who came close to inheriting his talent as an artist but she was an architect and focused more on teaching. Marin was the first female student of the College of Engineering and Architecture during her days at the National Polytechnic Institute. At the peak of her life and career, she passed away on December 15, 1969, in Mexico City, Mexico
Outside the matrimonial front, with the Russian-born painter Marie Vorobieff, one of his mistresses, Diego Rivera had his daughter, Marika. Born on November 13, 1919, in Paris, France, Marika Passed away on January 14, 2010, at the age of 90. Before her death and in her heydays, she built a robust career as an actress on stage and in films. She was also a dancer. Her final film credit was in Vincent in 1987.
You May Not Know These Facts About Diego Rivera
He was not a religious man
The renowned artist lived and died an atheist. As expected, he included his beliefs in some of his paintings which raised many eyebrows and caused controversies to rise against him in the process. On his mural named 'Dreams of a Sunday in the Alameda', he painted popular poet cum writer Ignacio Ramirez holding a sign with the inscription 'God does not exist'. Though Ramirez was an unapologetic atheist, controversies plagued the painting, pressurizing Rivera to take it down but he refused. Nine years later, the painting was yet to be displayed, thus, he had a change of mind and agreed to alter the part with the inscription but not without coming out as an atheist himself. He referred to religions as a "form of neurosis", saying he didn't want to hide behind Ramirez anymore.
He was a member of the AMORC
The Ancient Mystical Order Rosae Crucis which is an occultic organization had Rivera as one of their esteemed members. He joined the organization in 1926 and the same year, he helped in establishing AMORC Mexico lodge named after an ancient indigenous god known as Quetzalcoatl. The local temple of the lodge has a painting of Quetzalcoatl which was done by Rivera. When he made a move to return to the Mexican Communist Party in 1954 which had partly expelled him in the past, his membership with AMORC stood in the way. The party didn't welcome any connection to Freemasonry at the time and considered AMORC as something similar, thus, they asked Rivera to convince them of the cause for which he joined the organization.
In Popular Culture
Not that we are surprised but the life and times of the Mexican legend have been depicted several times in films. In 1999, Rubén Blades gave life to his character in Cradle Will Rock. Alfred Molina portrayed him in the 2002 film Frida while José Montini briefly portrayed him in Eisenstein in Guanajuato (2015). Apart from the motion pictures, writers have also tapped into the rich history of Rivera by writing about him. American novelist Barbara Kingsolver's novel named The Lacuna has as major characters, the likes of Rivera, Kahlo, and Leon Trotsky. His large murals and frescoes are also being celebrated in recent times.
He often cheated on his wives
Staring from his first marriage, Rivera always had an affair. He was still married to Angelina Beloff by the time he met painter Maria Vorobief-Stebelska and they started having an affair. The relationship produced his first child Marika born in 1919. After his first marriage crashed in a divorce, Rivera settled down with Guadalupe Marín but his cheating habit surfaced again when he met Frida Kahlo. They started having an affair while he was still married and when his marriage with Guadalupe came to an end, he didn't waste time in marrying his mistress. Interestingly, Rivera was 42 by the time he started seeing Kahlo while she, on the other hand, was 22. The huge age gap between them caused an uproar but nothing could stop their love. Rivera's numerous cases of infidelity caused him to marry many times. Aside from his series of cheating scandals, Rivera's violent temper also contributed to the reasons his marital endeavors hardly lasted.
His full name is quite a wonder
At birth, the painter was named Diego María de la Concepción Juan Nepomuceno Estanislao de la Rivera y Barrientos Acosta y Rodríguez, a name you can't pronounce in one breath. However, he didn't use all the names but opted for a shorter version. Indeed, signing his paintings would have become an issue with such a long name.
What we know about his death
On November 24, 1957, in Mexico City, Mexico, the art world suffered an inevitable blow with the death of Diego Rivera. His death occurred after a heart failure ravaged his body and it succumbed to the pressure. Even though he is no more, Rivera is still celebrated around the world for the remarkable legacy he left behind. He is widely revered as one of the prominent figures in 20th-century art. To further cement his status as a legend, the house he lived in as a child has now become a museum in Mexico.