Helen Hunt is yet to confirm whether she has had multiple plastic surgeries or not. However, it is believed she got a botox injection to reduce her facial wrinkles, a facelift, neck lift, and other lifting procedures. In all, there is no reliable piece of evidence that has been provided to support the claims about the actress having cosmetic surgery apart from comparing her old and recent pictures.
From Mad About You to As Good as It Gets, The Sessions, Twister, What Women Want, Bobby, Soul Surfer, and The Miracle Season, Helen Hunt is famed for the various characters she has portrayed in popular movies and TV shows. Her roles have earned her some of the most coveted awards in acting, including four Golden Globes, four Primetime Emmy Awards, and an Academy Award for Best Actress. But of late, her numerous fans are less concerned about her accomplishments as they have been engulfed in a quest to get the actress into discussing why she went under the knife to improve her looks.
The Earliest Rumors About Her Going Under The Knife Began Circulating in December 2018
To the best of our knowledge, the rumors about Helen Hunt getting plastic surgery began circulating in late 2018. The actress, who has always performed in romantic comedies right from the beginning of her career, landed a gig to host the third season of Shakespeare Uncovered on PBS alongside Sir Antony Sher, F. Murray Abraham, Simon Russell Beale, Romola Garai, and Brian Cox. The season had the actress investigate Shakespeare's famous works, "Much Ado About Nothing". To promote the project, Helen featured as a guest on Good Morning America where she discussed a range of subjects, from her career to her daughter and relationship with Mad About You co-star, Paul Reiser.
Of all the things the actress discussed on the show, none resonated with the viewers other than the fact that she looked different. The common opinion was that she had plastic surgery to enhance her facial features and slow down aging but it left her with a mannequin look. Some went as far as describing her face as "disturbing", praying the actress hadn't deluded herself into thinking she looks better than she used to.
Almost everyone agreed that she looked different, with many suggesting that the actress might have had a facelift. But then, facelifts are known to make people look better. This led to the speculation that something else might have happened to her face. The sentiment behind this is a simple one: plastic surgery would've given her a better look and someone as exposed as she is wouldn't settle for a surgeon that doesn't know what s/he is doing.
Helen Hunt Was Involved In An Accident – Does It Have Anything To Do With The Changes On Her Facial Features?
The famous actress cum filmmaker was involved in a car crash sometime in October 2019. Reports had it that an SUV she was riding in got flipped as a result of the crash. The actress was rushed to a nearby hospital and a few hours later, she left the hospital. Her rep would later disclose that she only sustained minor injuries. About a week later, Helen took to Instagram to confirm that she was fine and had returned to work.
Over time, people have suggested that the accident caused her obvious facial changes. But based on the facts available, there is no way this could be true. First, the actress did not sustain any major injuries from the accident, which explains why she left the hospital she was taken to the same day the accident happened and returned to work a few days later. So it's totally impossible the accident had something to do with her new look.
Disregarding that, it was already being rumored that Helen Hunt went under the knife before the accident happened. As stated earlier, the plastic surgery rumors began in late 2018 when she appeared on Good Morning America.
The Rumors Intensified Following the Mad About You Reboot in 2019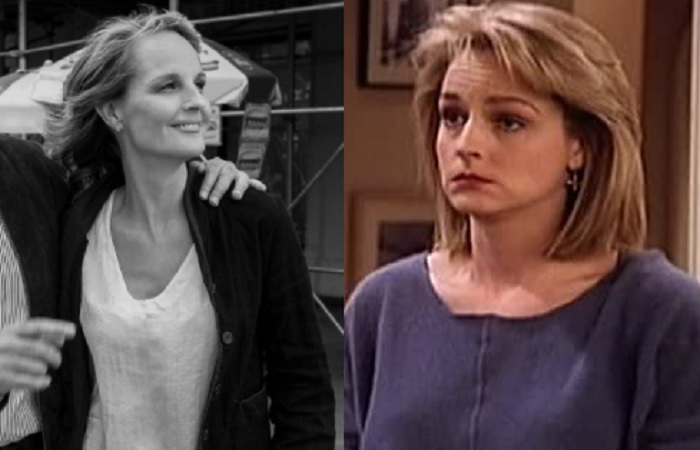 Mad About You is one of the most popular projects of the actress. The sitcom, which portrays Helen Hunt and Paul Reiser as a married couple, initially aired from September 1992 to May 1999. Years after its original run, Spectrum Originals decided to revive the sitcom for a limited series of 12 episodes. It was a thrilling development for fans of the show but they would soon be caught up in a discussion of how much the actress has changed.
Many of the viewers who reviewed and rated the reboot commented on that. One went as far as stating that the actress's plastic surgery is a distraction to the show, arguing that it made Helen "look disfigured". Praising the actors and writers of the reboot, another reviewer posited that Helen "went waaay (sic) overboard" with her plastic surgery, adding that "it detracts from her otherwise stellar performance".
With that, people started speculating on the type of surgery she might have gotten. It has prominently been argued that she got a botox injection to reduce her facial wrinkles; a facelift to eliminate the sagged folds of skin on her cheeks and jawline, and a neck lift to get rid of the wrinkling and excess skin on her neck caused by aging.
Pictures Are The Only Evidence Provided For The Plastic Surgery Claims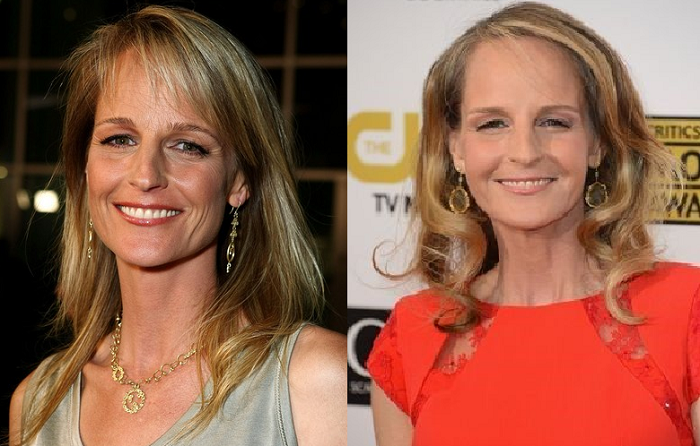 Despite all the rumors that have been circulated about the actress going under the knife, Helen Hunt has neither confirmed nor refuted the claims. She has completely refrained from commenting on the issue but it has only fueled the rumors with several old and recent pictures of hers being compared to prove that she has had several cosmetic procedures.
As far as anyone knows, these pictures are the only evidence people have put forward to support the belief that Helen Hunt has had plastic surgery. Apart from it, there is no authentic evidence, whatsoever to support the claims.
While the pictures show that there have been obvious changes in the looks of the actress, it's hard to conclude if Helen had plastic surgery just by comparing pictures as factors like camera angle, makeup, and lightning can manipulate a picture and change one's facial features.