After professional golfers Gerina Mendoza and Martin Piller tied the knot in 2011, Gerina did the customary name-changing, attaching her husband's last name to hers. However, after some years, she changed her name again and went back to her maiden name.
This sparked concern in the hearts of her fans who wondered if that was probably because they had divorced. Below, we have explored the reason for the famous golfer's name change, and also answers to the divorce rumors that sprouted from it.
Does Gerina Currently go by Mendoza or Piller?
The popular American golfer has legally adopted both names. After her marriage to Martin Piller, Gerina chose to adopt his last name as is mainly customary. However, instead of dropping her maiden name as some people do, she chose to retain both names and now goes by the name Gerina Mendoza Piller.
What is Gerina Piller's Maiden Name?
Gerina Piller's maiden name is Mendoza. Born originally as Gerina Michelle Mendoza, the celebrated golfer is very proud of her maiden name and was identified by it for the first 26 years of her life until she got married to her husband, Martin Piller. Even after her wedding, Gerina still retained her maiden name and simply attached her husband's last name to it.
Why Did Gerina Mendoza Piller Change Her Name?
Gerina Piller has not revealed the reason why she decided to change her name. However, some sources have opined that the controversial name change was simply to show that although she is now married, she is still very proud of her maiden name.
After over a decade of getting married to Martin Piller and bearing his last name, Gerina's fans suddenly noticed that she had reversed to displaying only her maiden name on her Instagram page. However, she did not legally enforce the name change, and it only reflected on her social media handles, Instagram and Twitter.
For her social media handles, Gerina features her husband's last name in her Instagram and Twitter usernames, @gerinampiller and @GerinaMendozaPiller, respectively. However, both platforms only give her maiden name in her bio, and she goes simply by Gerina Mendoza.
Who is Gerina Mendoza's Husband?
Gerina Mendoza's husband is Martin Piller, a famous American professional golfer. He was born on November 14, 1985, and is currently 37 years old. Although he was born in Dallas, Texas, Martin spent the bulk of his childhood and early adult years in Duncan, Texas, after his parents moved. He attended and graduated from Texas A&M University.
When it comes to his career, the celebrity golfer and husband turned pro in 2008, after which he won his first start as a pro in the Texas State Open. He has played on the Nations Tour since 2009 and even won his 2011 PGA Tour Card. Besides his golf career, Martin became a Personal Risk Advisor with Swingle Collins and Associates in March 2022, to help improve personal risk management for individuals and families.
Are Martin Piller and Gerina Mendoza Still Married?
Martin Piller and Gerina Mendoza are still married. After her name switch saga, Gerina's fans started speculating as to what her reasons might be, and soon, rumors start going around the internet that the couple may have gotten divorced. However, the rumor has remained unconfirmed, and neither one of the couple has given any official statement on the divorce rumors.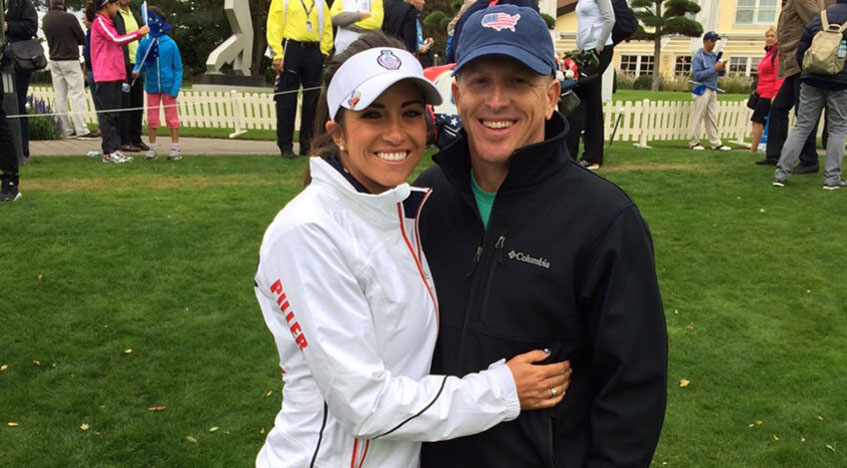 Martin and Gerina have been married for 12 years now. The couple has been happily married since they said their vows back in 2011, and have not been mixed up in any scandals or controversy.
Their beautiful marriage has been blessed with a son, Ajeo James "AJ" Piller who was born on April 26, 2018, and is currently 5 years old. The small family of three happily lives in their home located in Flower Mound, Texas.