American actress Dakota Johnson was born into a family of entertainers. She is the daughter of actors Don Johnson and Melanie Griffith.
When your mother is an Oscar nominee, and your father is an award-winning actor and musician, there are a few chances that you would not be enamored by the world of show business.
This is the true-life story of Dakota Johnson, the daughter of two Hollywood veterans Melanie Griffith and Don Johnson. In the course of her acting career, Johnson has featured in several blockbuster movies and TV shows, most famously The Fifty Shades of Grey trilogy.
She is also a model and has gone on to become one of the most popular faces in contemporary Hollywood. Dakota's family dynamics is a rather interesting one with multiple marriages on both her parent's sides. Regardless, her parents have managed to maintain a good relationship over the years, despite the complexities of their past.
Who Is Dakota Johnson's Dad?
Dakota Johnson's father, Don Johnson, is an actor, producer, director, singer, and songwriter who was born on the 15th of December 1949 in Missouri but was raised by his parents in a poor neighborhood in Wichita, Texas. While his father Wayne Fred Johnson who passed in 2017 worked as a farmer, his mother Nell (née Wilson), was a beautician.
He attended Wichita South High School where he was first exposed to acting through school plays, he then became an active part of the school's theater program. Don Johnson, for a year, studied theater major at the University of Kansas but dropped out after a year to actively pursue a career in acting, relocating to San Fransisco, California.
He made his major acting debut in the 1969 theatrical production, Fortune and Men's Eyes. He remained active in stage, film, and TV throughout the 70s but recorded only minimal success.
His big break would come in 1984 when he earned the starring role of undercover police detective Sonny Crockett in the NBC police procedural series, Miami Vice which ran from 1984 to 1990.
His performance fetched him the 1986 Golden Globe award for best actor in a TV series – drama. The role also earned him an Emmy Award nomination for Outstanding Lead Actor in a Drama Series in 1985.
Don Johnson's career has since soared. His other notable works include another police series, Nash Bridges. In recent years, he has featured in Django Unchained, The Other Woman, Knives Out, among others. He has been honored with a star on the Hollywood Walk of Fame.
Meet Dakota Johnson's Mom, Melanie Griffith
Dakota Johnson's mother Melanie Griffith, is an actress and film producer, who is an even bigger movie star than her father. Born on the 9th of August 1957 in New York to famous actress Tippi Hedren, Dakota's mom was heavily exposed to the world of Hollywood and unsurprisingly became an accomplished actress herself.
She dabbled into modeling as a child and subsequently made her acting debut at the age of 12, appearing in the 1969 movie, Smith!. Dakota's mom earned her big break in the 1984 erotic film, Body Double. Coincidentally, it was also the same year that her dad began gaining prominence with his undercover role in Miami Vice.
She then starred in Working Girl a 1988 romance drama that shot her fame over the roof. The movie featured the likes of Harrison Ford and Sigourney Weaver, while Griffith portrayed the role of Tess.
Her performance fetched her the Golden Globe award for best actress in a musical or comedy. She equally scored an Oscar nomination for best actress. Melanie Griffith has remained active ever since. Some of her recent works include Autómata (2014), The Disaster Artist (2017), and The High Note (2020).
Dakota's Parents Met On The Set of The Harrad Experiment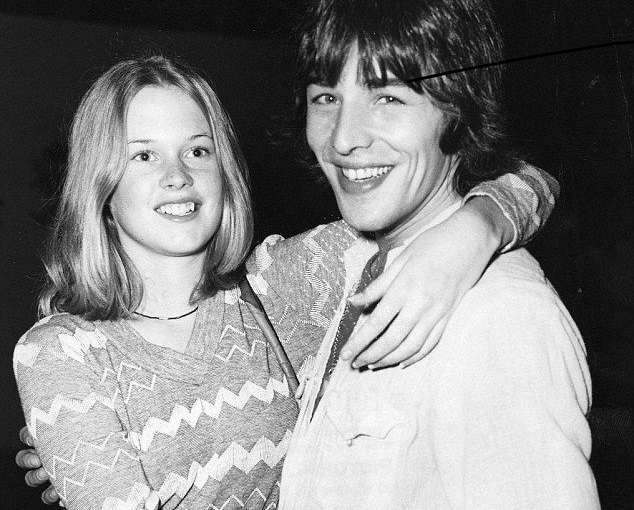 Unsurprisingly, it was their respective jobs in Hollywood that would bring Dakota Johnson's parents together. However, their romance was frowned upon by some because of the age difference between them and the fact that Griffith was still a minor at the time at 14 years of age, Don Johnson, on the other hand, was 22 and was already building a reputation for entering into ridiculously short marriages.
They met in 1972 on the set of the film, The Harrad Experiment which also starred Griffith's mother, Tippi Hedren. Griffith said of the time that she thought that Don was the most beautiful person that she had ever seen.
Understandably, Griffith's mom was immediately bothered that her teenage daughter had fallen in love with an older man who had been in two failed marriages. Don Johnson at the time had annulled his marriages with two different spouses, both lasting barely a few months ending in 1968 and 1973, respectively.
Though worried about her daughter's relationship, Hedren admitted that they both had a strong attachment between them. The pair carried on with the relationship and the following year, when Griffith had turned 15 years old, she moved in with a 23-year-old Don Johnson.
When she turned 18 years old, Johnson popped the question and the two were married in 1976. However, the marriage was set up to fail as Johnson was not done with his womanizing ways, according to People Magazine, he spent the eve of his wedding with Marjorie Wallace a former Miss World, however, he flew to Las Vegas the following morning to marry Griffith.
The marriage, like his former ones, did not last beyond the year, just 6 months, as they soon divorced and went separate ways. After their split, Dakota's parents both dated other people with her mother entering into one marriage.
Her father Don Johnson quickly established a persona as a Hollywood playboy as he dated renowned actresses of the time including, Sally Adams, Patti D'Arbanville with whom he lived for four years, and then the legendary Barbra Streisand, a rumored fling with 18-year-old, 18-year-old Uma Thurman as well as his Dead Bang co-star Penelope Ann Miller. Griffith also kept her love life very active.
She dated actor Ryan O'Neal and then Steven Baur, her co-star on She's in the Army Now whom she would marry in 1981 before divorcing in 1987.
Dakota Was Born After Her Parent's Second Marriage
After about 13 years apart, Don Johnson and Melanie Griffith found their way back to each other. At the time, Griffith said that she believed that their love was fated and described Johnson as her first love. She also confessed that though they were apart for so many years, there was always a connection between them and it felt much as if they were soulmates.
Their wedding, though an intimate one, was highly anticipated by the public, there were reports of fans crawling through an irrigation ditch around the Aspen ranch where the wedding was held to catch a glimpse of the couple.
It was also after their second marriage that Dakota Johnson would be born in Austin, Texas, on the 4th of October 1989 – the same year they got married. Don Johnson described to People Magazine at the time that he told Griffith's mother that her pregnancy was God's plan.
Despite what seemed like a happy ending for the two, their second marriage was not perfect as it had its fair share of troubles including their battles with alcohol addiction.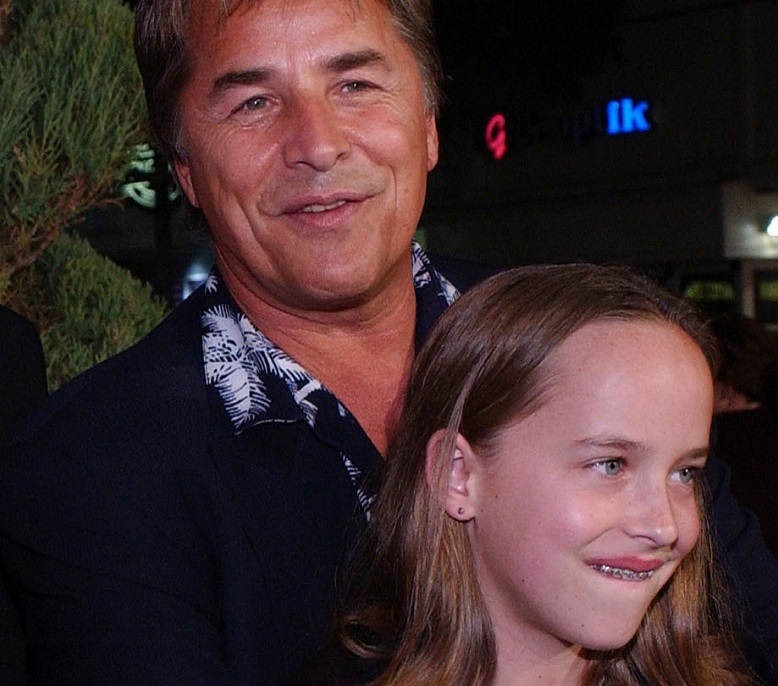 Are Dakota Johnson's Parents, Don Johnson and Melanie Griffith, still together?
Seven years after their second marriage, Johnson and Griffith divorced for the second time. Their divorce was finalized in 1996, and this time, it was for good as they never got back together.
They stated irreconcilable differences as the reason for their split. It seemed to have been an amicable decision as they both have remained friends and had only nice things to say about each other.
Griffith told People Magazine at the time that the divorce was hard on her as she found it hard to imagine life without him, but that the change they were both going through was so different they had to let each other go.
More recently, in a 2017 interview, Griffith admitted that there was still a strong bond between her and Don Johnson and that they have remained friends. Johnson told Stellar Magazine in 2019 that when you have a child with someone, it is foolish to have any animosity towards their mother.
Since their second divorce, both have entered into romantic relationships and even married other people. Don Johnson, for a year, dated his ash Bridges co-star, Jodi Lyn O'Keefe, an 18-year-old at the time who was 29 years younger than him.
The actor would later on April 29, 1999, marry Kelley Phleger, a San Francisco socialite and Montessori nursery school teacher. She is also known for previously dating Gavin Newsom who is now the Governor of California.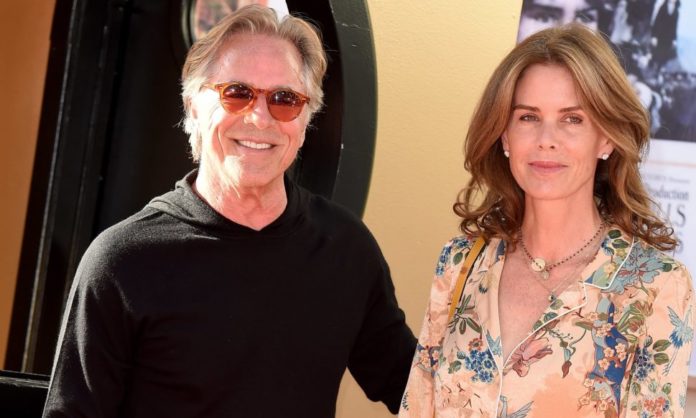 Griffith on the other hand, married actor Antonio Banderas in 1996, the same year she divorced Don Johnson. They had both met on the set of the romantic comedy, Two Much. Their marriage lasted for almost 20 years before their divorce in 2015.
Like her ex-husband, Griffith maintains a loving relationship with Banderas. In a recent interview with People, Banderas referred to Griffith as one of his best friends.
Melanie Griffith has had the opportunity to be married thrice in her lifetime and she revealed that she may not add to that number because she does not feel that marriage is relevant to a woman of her age anymore.
Her Step-father Antonio Banderas Played A Huge Role In Dakota's Early Years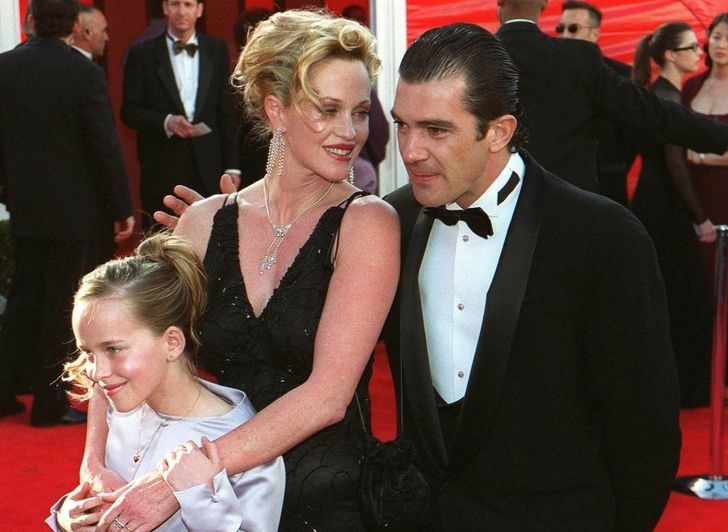 When Dakota's parents had finalized their divorce, she was 6 years old. Being the child of uber-popular Hollywood stars came with its fair share of consequences. Her parent's busy set schedules meant that Dakota Johnson spent a greater part of her early years on movie sets, although this would later influence her interest in the field, the lifestyle of her parents at the time did not make childhood too fun.
The fact that her parents lived apart from when they separated and she had to split her time between two states was not enjoyable for young Dakota.
However, her mother's marriage to Antonio Banderas restored stability in Dakota's life. She opened up about her relationship with Banderas whom she called her "bonus dad" at the 2019 Hollywood Film Awards when she was called to present Banderas with the Best Actor award.
In her speech, Dakota said that she was very lucky to have Banderas in her life as a young girl and that she has come to realize that he is one of the most influential people in her life. Dakota also revealed that Banderas's passion for the arts would also influence her career in the industry. She maintains a close relationship with Banderas.
Dakota Johnson's Dad Cut Her Off Financially When She Decided To Pursue Acting Full-time
While that heading may suggest that Dakota's parents did not want her to ever venture into Hollywood, that is not actually the case, they did support her dreams of chasing a career in the industry but wanted her to do it after earning a college degree.
Even her loving step-father Banderas did not buy the idea of her nor his own biological daughter jumping into Hollywood as a teenager, but Dakota had made up her mind damning the rule her father made to cut off from his payroll any of his children who did not want to go through college.
Don Johnson revealed in his appearance on Late Night with Seth Meyers that when he reminded Dakota that she would no longer be on his payroll should she choose not to go to college, her response was "Don't you worry about it," concerned, Don Johnson sought more details as to how she planned to cope but got none.
Three weeks after that conversation he was elated to hear that she had booked a part in the 2010 film, Social Network which became her first major role.
Her step-father Antonio Banderas had played a role in helping her land her debut appearance in the 1999 movie, Crazy in Alabama which he directed, the film also starred her mother Melaine Griffith. She had rejoined Hollywood in 2007 after completing her high school diploma.
Today, Don Johnson could not be prouder of his daughter who got her big break for playing the role of Anastasia Steele in the Fifty Shades film series (2015–2018) which earned her a BAFTA Rising Star Award nomination in 2016.
The film series grossed a combined $1.32 billion worldwide, however, despite the overwhelming success of the Fifty Shades series, Dakota Johnson's parents have never seen the film. This is as a result of the highly sexual content of the S&M film. Johnson has, however, disclosed that her parents do not judge her for the role but have rather been supportive.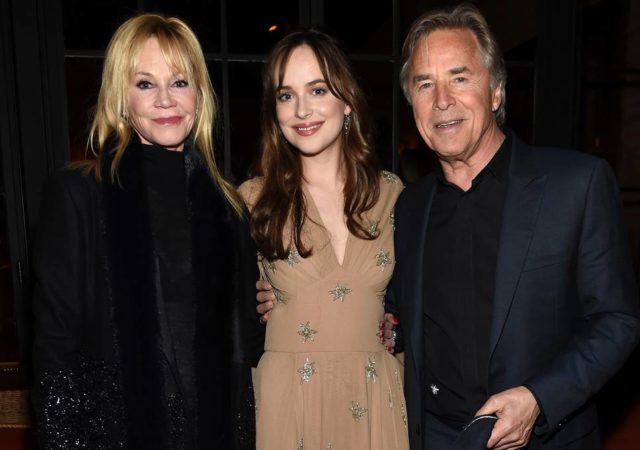 Does Melanie Griffith have other children apart from Dakota Johnson?
Name: Alexander Bauer 
Born: 22 August 1985
Father: Steven Bauer
Melanie Griffith has two other children excluding Dakota Johnson. Her first child is a son, Alexander Bauer who was born on 22 August 1985 from her marriage to Cuban-American actor, Steven Bauer.
Alexander, unlike his parents, did not pursue a career in Hollywood and largely lives his life away from the spotlight. He makes occasional appearances on his mother's Instagram page.
Name: Stella Banderas
Born: 24 September 1996
Birthplace: Marbella, Spain
Father: Antonio Banderas
Stella Banderas was born to Griffith after her marriage to Antonio Banderas in Spain and was raised off the public eye. Like her step-sister Dakota Johnson, she made her acting debut in Banderas' 1999 film Crazy Alabama, but it does not seem as though she is interested in pursuing acting full-time.
As her Instagram photos suggest, she appears to be more interested in modeling. She speaks both Spanish and English.
Who Are Don Johnson's other children besides Dakota Johnson?
Name: Jesse Johnson
Born: December 7, 1982
Known For: Actor
Mother: Patti D'Arbanville
Jesse Johnson was born from his father's relationship with Patti D'Arbanville which began after his first divorce from Griffith. He made his acting debut in his father's cop series, Nash Bridges, in the episode "Quack Fever". His acting career has progressed rather slowly as he only got his breakout in the 2013 TV film, Killing Lincoln.
Don Johnson Has Three Children With his Wife, Kelley Phleger
Johnson's marriage with his current wife Phleger has produced three children, the most popular being daughter Grace Johnson who was born on 28 December 1999. She is a model who is signed to IMG Models and made her debut at the 2019 Christian Cowan x The Powerpuff Girls fashion show.
Their sons named Jasper Breckinridge Johnson and Deacon Johnson were born in 2001 and 2006 respectively and both are yet to feature in the entertainment industry.