An American actor who has made a name for himself thanks to movies like Young Guns (1988), My Best Friend's Wedding (1997), and NBC's TV series Crisis (2014), Dermot Mulroney has been around for as long as many cannot even remember. He is also a musician, but it is thanks to his work on the screen that many have come to know him. Here are things to know about the actor.
Dermot Mulroney Bio And Age
The actor was born on October 31, 1963, in Alexandria, Virginia. Of Irish and German descent, he was brought up among four other siblings; a sister and three brothers in a family that is not completely alien to arts. This is as his mother, Ellen Mulroney, was an amateur actress.
As a young child growing up, one of the first things that the actor got interested in was music and that led him to learn cello since he was in elementary school. From there he moved to the T. C. Williams High School and then the Northwestern University where he studied film and television production. By this time, he had already made a way for himself to succeed as an actor.
Dermont's first appearance as an actor was in the TV series Fame, CBS Schoolbreak Special, and Sin of Innocence all in 1986. The next year he was in Daddy and Long Gone. Subsequently, he would get to appear in other TV shows including The Batman, The Memory Keeper's Daughter, Shameless, and American Horror Story: Cult.
Apart from the TV series, Dermot Mulroney has made even more appearances in movies like Sunset and Young Guns in 1988. 1989 saw him taking parts in Staying Together, Survival Quest, and Longtime Companion. He would go on to appear in many other movies including August: Osage County (2013) which has got him a lot of accolades and Careful What You Wish For, Truth, Insidious: Chapter 3, and Northpole: Open for Christmas.
Thus far, the actor has had what can simply be defined as a very successful career which has been capped with over 80 productions, many nominations, and a good number of awards. He took home the award for the best actor at the Seattle International Film Festival in 1992 for Where the Day Takes You, Best Kiss at the MTV Movie Awards with Winona Ryder in How to Make an American Quilt (1995), and the Ensemble of the Year during the Hollywood Film Festival which he won with Meryl Streep, Julia Roberts, Benedict Cumberbatch for August: Osage County (2013).
Wife And Children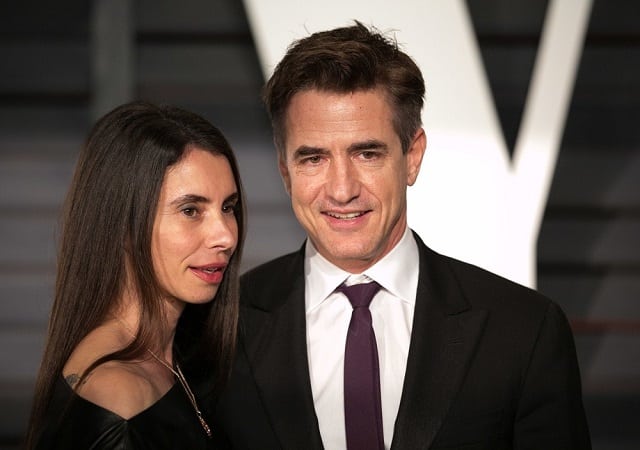 Dermot Mulroney has so far, been married twice in his life. The first woman that he got involved with and would become his first wife is American actress, Catherine Keener. The two got married 1990 having met three years earlier in the set for Survival Quest. By 2005, the couple had already separated, and in 2007 the actor citing irreconcilable differences, filed for a divorce. Before the end of the year, the divorce was fully settled.
While in the next year Catherine Keener would go on to date Benicio Del Toro, Mulroney got married to Tharita Cutulle in 2008. Born in 1973 in Italy, Milan, Tharita is a movie producer and cinematography agent.
See Also: Jeffrey Dean Morgan Wife, Son, Daughter, Height, Age, Net Worth
From his two marriages, the Irish-American actor has got three children. His first child Clyde Keener Mulroney was birthed to him by Catherine Keener on June 21, 1999. In addition, Tharita Cutulle gifted the actor two daughters Mabel who was born in the same year they got married, and Sally who was born in 2009.
Net Worth
Having spent many years as an actor, as well as his involvement in music and other things, there is hardly any reason why one should not expect that Mulroney has a very good net worth. The actor is said to have a net worth that is estimated at $11 million.
Height And Weight
There is hardly any argument regarding the fact that Dermot Mulroney is still a good-looking man, even after he has advanced in age. One of the things that have added to his nice looks is, of course, his good height and rather good build. In numbers, he stands at 5 feet 9 inches (1.75 m) and a body weight of 160 lbs or 72 kg.