Debra Lafave, also known as Debra Jean Williams is an American convicted sex offender and former middle school teacher who previously taught at Angelo L. Greco Middle School in Temple Terrace, Florida. She was charged with Lewd and lascivious battery in 2005 after her affair with a 14-year-old student saw the light of the day. At the time, she was 24 years old. Debra was sentenced to three years of house arrest and seven years probation.
Since her sex sandal, Debra has become a different person, a Christian, and a good mother. She now lives in a modest 3-bedroom home in a small Tampa suburb, with the twin boys she had with Shawn Haverfield in 2011. According to reports, she now works jobs that don't require her to be in contact with minors. As a registered first offender, she is also expected to check in with the state regularly to keep them abreast of her whereabouts.
Although sexual offenses weren't rampant in the United States at the time, America now has over 750,000 registered sex offenders in the country. The Debra Lafave sex scandal inspired Alissa Nutting's debut novel, Tampa, and continues to trail the former teacher as she relentlessly strives to leave her past behind her.
Who is Debra Lafave?
Birth Name: Debra Jean Beasley
Former Name: Debra Jean Lafave
Current Name: Debra Jean Williams
Place of Birth: Riverview, Florida, U.S.
Date of Birth: August 28, 1980
Age: 42 Years Old
First Husband: Kristian Owen Lafave (2003⁠ –⁠ 2005)
No. of Kids: Two Twin Boys (with Shawn Haverfield)
The Convicted Sex Offender Was Born In Riverview, Florida, and Is Currently 42 Years Old
As the sex scandal made headlines across the United States and the world at large, people mostly think of Debra Lafave as the newly married 23-year-old middle school teacher who landed herself in hot waters for sexual intimacy with her 14-year-old pupil. While it is what has defined life and popularized her name, there is more to the stunningly beautiful blonde.
The former teacher is also known as Debra Beasley and Debra Williams. It is said that she reverted to the former, her maiden name, following her divorce from her first husband, Owen Lafave. She later got married to James Williams and it has been suggested in some quarters that she now goes by his surname.
The convicted sex offender who has since regained her freedom was named Debra Jean Beasley at birth. As you would easily find, she was born in Riverview, Florida, on the 28th of August 1980. She was also raised in Florida and has spent almost all of her life in the state. Much is yet to be learned about her childhood but reports have it that she had quite a rough upbringing.
When she was being tried for the sexual crime, it was said that her mother was having a second battle with cancer. Debra lost her older sister in a car crash involving a drunk driver and claims she was also a victim of sexual violence. According to her, she was raped when she was 13 years old. More so, the former teacher disclosed that her mental health had been in a bad shape.
She claimed to have been battling depression and receiving treatment for bipolar disorder. Nevertheless, most of these have been dismissed as excuses she manufactured out of nowhere in a bid to gain public sympathy. What is certain is the fact that she was raised in Florida where she attended East Bay High School, a public high school located in Gibsonton, Florida.
For reasons that are not certain, she left East Bay sometime in 1996 and proceeded to Bloomingdale High School, another public high school located in Valrico, Florida. She completed her high school education at Bloomingdale in 1999 and decided to further her education at the University of South Florida. At the public research university in Tempa, Florida, Debra studied English and after she obtained her degree, she was hired as an English teacher at Greco Middle School.
A year into being a teacher, sometime in 2003, she got married to Owen Lafave and the following year, she got herself embroiled in the sex scandal that changed the course of her life. It is said that she studied English because she wanted to become a teacher. If this is true, then her crime ensured that the attainment of her life-long dream was short-lived. It is unlikely that Debra would ever get to teach again for the rest of her life.
How Debra Lafave Went From Being a Teacher to a Convicted Sex Offender
When it was reported in May 2004 that a beautiful and married female teacher was having sex with one of her students aged 14, people across the United State, for obvious reasons, ravenously followed the story with so many questions that revolved around why she did what she did and how she was caught.
While asking why a 23-year-old teacher would be cheating on her husband with a 14-year-old student is tantamount to wondering why people commit sex crimes, Debra Lafave has suggested that she wasn't in the right frame of mind when it all went down. As stated earlier, she has attributed what happened to bipolar disorder.
From her perspective, being raped by a classmate when she was 13 and losing her sister somehow complicated her bipolar disorder which came with hypersexuality, poor judgment, and mood swings during manic episodes. In an exclusive interview with NBC, she also suggested that the teenage boy started it all, that he was the aggressor. The Debra Lafave sex scandal was exposed majorly because she openly spent time with the lad outside school hours.
As the story goes, the 14-year-old boy's aunt was worried after he visited her home with an older woman who was scantly dressed. Debra apparently accompanied the boy to visit his cousin who was also a teenager, 15 years old. The cousin had been driving the two around and both boys were seen on video surveillance as they accompanied the teacher to buy a gift for her husband.
Bothered about what her nephew was doing with an older woman, the boy's aunt reached out to his mother and related what she witnessed. Every good mother would take such a report seriously and so did the mother of the 14 years old. She relentlessly questioned her son until he disclosed that the woman who accompanied him to Ocala to visit his cousin was his English teacher.
With that, the Temple Terrace police were involved and they laid a trap for the teacher. They recorded conversations between Debra Lafave and the boy as they urged him to invite her over to his home. Debra made the boy promise his mother wasn't at home before she came calling. The police were there waiting for her.
She Was Sentenced to Three Years of House Arrest and Seven Years of Sex Offender Probation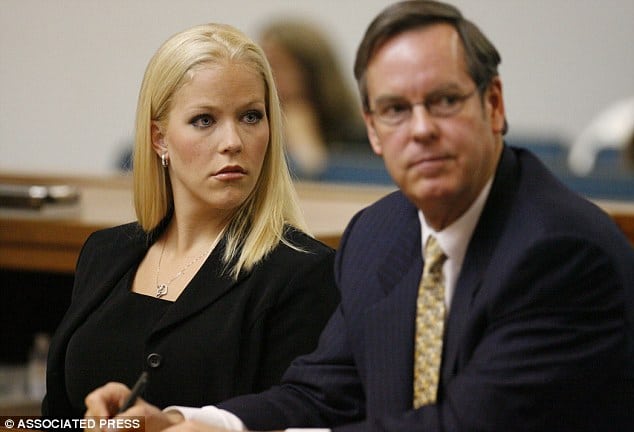 Following her arrest, Debra Lafave was charged with Lewd and lascivious battery. It was said that she had sex, including oral sex, with the 14-year-old student three times in four days: once in the backseat of a car driven by his 15-year-old cousin, once in the classroom, and once in her matrimonial home.
As these incidents happened in two jurisdictions, Riverview in Hillsborough Country and Ocala in Marion County, Debra was slapped with two separate charges. At the end of the day, she embraced a plea deal that ensured she didn't serve jail time. Debra Lafave pleaded guilty under a deal that provided she would be sentenced to three years of community control (house arrest) and seven years of sex offender probation.
She was also required to give up her teaching license with a life-long ban from ever teaching in the state of Florida. The provision for her probation specified that she must be at home by 10 p.m. every day. In addition to that, she must no be found around children, must not leave Hillsborough County without the permission of a judge, and must register as a sex offender.
The latter implies that she would most likely never get to teach again in the United States. None of the country's states grant teaching licenses to convicted sex offenders. It was expressed in several quarters that the punishment she was handed was tantamount to walking away with the crime.
People were clearly dissatisfied with the sentence she received, including Owen Lafave, the man to whom she was newly married: their marriage was just about a year old. It was widely held that she ought to have spent some time behind bars. It was particularly pointed out that a man or woman of color that committed the same crime would definitely get a harsher sentence.
She Regained Her Freedom In October 2014
In July 2008, Debra Lafave had the remainder of her house arrest converted to probation; she petitioned for this in line with her plea deal which required a satisfactory record of community service and sex offender therapy. Over a year later, in October 2009, she regained the freedom to have contact with children.
In September 2011, she petitioned to forsake the rest of her probation, citing the fact that she had met all the other obligations required of her and had become a mother. Her petition was granted to the displeasure of the family of her victim. They appealed the decision and the 2nd District Court of Appeals reversed the probation in August 2012.
Debra Lafave went to the Supreme Court but was asked to continue the probation pending a ruling from the Florida Supreme Court. When the court eventually heard the case, it ruled in Debra's favor and she regained her freedom in October 2014. From what we gathered, the plea bargain that ultimately kept Debra Lafave out of prison and got her what was perceived as a lenient sentence was partly orchestrated by the victim's family.
It is said that they didn't want the teacher to be jailed as they were worried about how it might affect their child. The publicity and media coverage of the case was already difficult for him and it promises to get worse when the trial begins. His mother was particularly worried that Court TV would cover the first trial and was not going to keep the boy's identity private. Because of this, they settled for a plea bargain which the offender embraced.
Debra Lafave Currently Lives In Tampa Suburb With James Williams and Her Twin Boys
The former teacher understands that what she did would follow her for the rest of her life but she has not given up on living a meaningful life. While serving her sentence, she lived with her parents whom she helped to run their business. At various points, it was reported that she was working as a restaurant and a receptionist.
She was arrested when she was working as a waitress in the aforementioned restaurant for speaking to a 17-years-old co-worker. This was in December 2007 but the court decided to not revoke her probation because of it. Her marriage to Kristian Owen Lafave did not survive the sex scandal. It came to an end in 2005 and Kristian was featured in several TV shows wherein he made statements that hinted at his dissatisfaction over the sentence Debra received.
Debra is the kind of woman who wouldn't have a hard time landing a partner, she dated the Backstreet Boys teen idol, Nick Carter, in high school. After the end of her marriage, she started dating a restaurant owner named Shawn Haverfield. They got engaged and became parents to a set of twin boys in 2011. But as fate would have it, they never got to walk down the aisle.
Following the end of the relationship with Haverfield and a mild custody battle, Debra focused on raising her twin boys. She found love again in the arms of James Williams to whom she is now married. They reportedly live in a 3-bedroom home in a Tampa suburb and she goes by the name Debra Jean Williams.
As culled from Debra Lafave: A Crown of Beauty for Ashes, a book about the former teacher written by Zuniga, Debra is now a devote Christian and great mother who focuses on building a good future for her kids and living a meaningful life. Zuniga is a Latin recording artist and long-time friend of Debra.