More often than not, comedy is used to pass serious messages with ease. Some comedians touch on sensitive issues while telling a joke – so also do a lot of comedy movies and television shows. The Dear White People cast is doing justice to that through the TV series. The show bothers on the challenges faced by African-Americans in the wake of a post-racial era. This TV show has received severe backlash, especially by white Americans for being racist, thus, it was voted to be canceled when the trailer dropped. However, this vote was denied as the writer and director believed that the vote further proved the point the show was trying to make.
The series is an adaptation and improvement of a 2014 movie with the same title. While the movie was majorly about a party involving the lead character Samantha White's fight against black skin stereotyping, the series used it as just the beginning of the point it wanted to make. It didn't just tell the story from Sam's perspective but from the perspective of other Winchester students. Through them, the producers were able to smartly expand its focus to follow the aftermath of the party and the events that led to it.
Despite its initial reception, this show has become critically acclaimed and production is still in progress. Learn more about this controversial but powerful series below.
What Exactly Happened in Dear White People?
Dear White People was written and co-directed by Justin Simien who is also the writer of the 2014 film with the same title. The series explores the racial issues that black Americans face in a predominantly white environment. The predominant setting is a fictional Ivy League institution – Winchester University and the story is told from the eyes of several black college students with each episode focusing on a particular student except for the season finale.
The racial war is led by a black college student named Samantha White. She has her own weekly campus radio show dubbed Dear White People which she uses to express her frustrations about the microaggressions shown to colored people in the school. Her radio show is so powerful that it led a group of white students working for the campus' satirical magazine, Pastiche, to organize a party with the same name as her show in response.
The story also involves racial politics, cultural clashes, and riots on the campus of this Ivy League college. All the characters have their own personal struggles just like Samantha White struggles with an identity crisis because she is biracial.
How Many Seasons Does The Show Have So Far?
The first season of Dear White People premiered on April 28, 2017, on Netflix. Each episode lasted for 30 minutes and the first season contained 10 episodes same as all the subsequent seasons. The first season introduces Samantha White, a biracial college student all out to fight racism. She has a black friend and has been sexually involved with a white student which created doubts in the hearts of her followers about her racial stance.
The second season began airing on May 4, 2018. Both the first and second seasons were critically acclaimed. On Rotten Tomatoes, they had approval ratings of 98% and 100% respectively. The show was renewed for a third season on June 21, 2018, and premiered on August 2, 2019. So far, the series has had three successful seasons consisting of a total of 30 episodes.
Season 3 was also loved by critics who gave it 89% and 78/100 on Rotten Tomatoes and Metacritic respectively.
Meet The Stars of Dear White People 
While some Dear White People characters from the original movie were retained, others were changed. Let's meet the cast of this inspiring comedy-drama.
Logan Browning as Samantha White
Logan Browning took over the role of Samantha White, formerly played by Tessa Thompson in the 2014 feature film. Samantha is a colored skin activist who anchors a radio show titled Dear White People which she uses as a platform to speak against racism. She is also biracial, but can easily be mistaken for a black woman. She attends the Winchester University, a fictional Ivy League school, which is predominantly white. The series exposes viewers to the changes and challenges that occur with this character.
The actress is also famous for playing Brianna Ortiz in Meet the Browns. She began her acting career in 2004 when she appeared in Nickelodeon's teen series, Summerland. Since then, she has starred in more television series and movies.
Brandon P. Bell as Troy Fairbanks
Brandon P. Bell plays the role of Troy Fairbanks and is one of the Dear White People cast who reprised his role from the original 2014 movie. Troy is a star pupil and president of a student body. He is also a hit with the ladies, hence, a player. He is politically ambitious and tries to be his own man even if it conflicts with the wishes of his father who is also the Dean of his school, Walter Fairbanks (Obba Babatundé).
Asides from Dear White People, Brandon P. Bell is also known for his role in the American drama Hollywood Height.
Antoinette Robertson as Coco Conners
Antoinette Robertson plays Colandrea "Coco" Conners, a student at Winchester and Samantha's close friend. She is also the leading treasurer for the Coalition of Racial Equality student union. This role was played by Teyonah Parris in the 2014 original film.
Antoinette is a budding actress who has obvious potentials. She has appeared in movies and TV series like Zero Hour (2013) and The Haves and the Have Nots (2013).
DeRon Horton as Lionel Higgins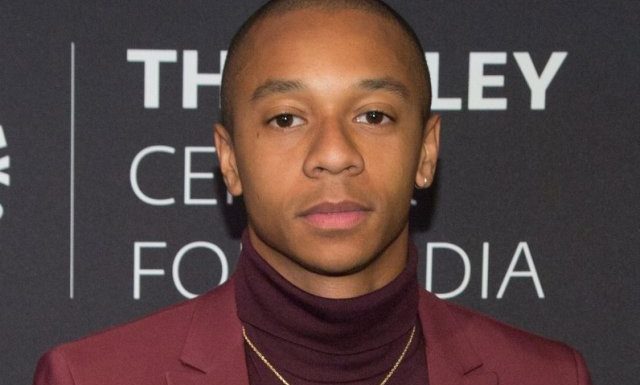 Another main cast member in this series is DeRon Horton. This young and upcoming actor has been seen in movies such as Burning Sands (2017) where he plays Square and American Vandals (2018) where he plays Lou. In Dear White People, he takes up the role of a black gay teenager, Lionel Higgins. He is also the comic-relief character of the show. In the feature film, his role was portrayed by Tyler James Williams.
Marque Richardson as Reggie Green
Marque Richardson plays Reginald "Reggie" Green who is an African American student at Winchester University. He is a member of the Black Student Union as well as an activist. He is also a poet who expresses himself through poetry.
The actor has been in the acting scene for over a decade. He hasn't had major screen breakthrough but is a promising act. He has featured in films like True Blood, Anger Management, Detention, The Middle, among others.
Some of the show's recurring cast include Obba Babatundé as Dean Fairbanks, Ally Maki as Ikumi, Brandon Black as Pastor Kordell, Caitlin Carver as Muffy Tuttle, Wyatt Nash as Kurt Fletcher, among others.
Is There Going To Be Dear White People Season 4?
On October 2, 2019, Dear White People TV series was renewed for a fourth season which will mark the end of the series. According to Netflix, it will contain 10 episodes like its predecessors but no premiere date has been set yet and it is believed that the fourth season will be released in 2020. All the favorite stars of the show such as Logan Browning, Brandon P. Bell, Antoinette Robertson, DeRon Horton, John Patrick Amedori, and Ashley Blaine Featherson will be returning to wrap things up.