Dean Cain is a household name in the entertainment industry. To date, his role as Superman in the television series Lois & Clark: The New Adventures of Superman, which ran from 1993 to 1997, is considered the biggest project he has ever embarked on in the course of his thriving career. Interestingly, it is the same show that skyrocketed the actor to an immense popularity and today, he is a regular face on the television.
Before delving into acting, Cain had wanted to become a footballer but his ambition got prematurely shattered due to a knee injury he sustained while training with the Buffalo Bills as a free agent. While he was hoping to return to the field, the actor began to write screenplays and later took to acting and shooting commercials. From then onwards, the 6 feet tall movie star began to announce his presence and skills in the showbiz circle. Stuffed to the brim, Dean is known to have participated in Stars Earn Stripes, an NBC celebrity reality competition show. He came in third at the finals and later took part in a dating game show called The Choice, in 2012. He has also starred in sixteen Christmas films as well as Harold Cronk's American Christian drama film God's Not Dead, wherein he portrayed an arrogant businessman.
Who Is Dean Cain?
He is a showbiz elite who makes his money from hosting shows on the television, directing, acting, and producing films. The names of his biological parents are Sharon Thomas, an actress, and Roger Tanaka. He was born in Mount Clemens, Michigan, on the 31st day of July 1966. The actor, who is of Welsh, French Canadian, Japanese, and Irish descent, was named Dean George Tanaka after his birth but he later decided to adopt the surname Cain, which is his stepfather's surname. According to sources, Dean's mother got married to a film director called Christopher Cain, who would adopt the actor and his brother, singer Roger Cain. It is not known if his mother actually got married to his biological father or not.
Shortly after Sharon and Christopher's marriage, the family relocated to Malibu, California, where they had a daughter named Krisinda Cain. She is today, a successful actress based in Los Angeles with her husband, Jeff Schafer.
Dean Cain received his high school education at Santa Monica High School, where he participated and excelled in sporting events such as baseball, along with notable personalities like Charlie Sheen, Rob Lowe, and Chad Lowe. Upon graduating in 1984, the actor proceeded to Princeton University, where he represented his school in football competitions. Cain rounded off his studies at the university in 1988, graduating with a Bachelor of Arts in History, after presenting a wonderful thesis in his senior year titled: "The History and Development of the Functions of the Academy of Motion Picture Arts and Sciences"
What Is His Net Worth?
Cain has been able to achieve fame and fortune in his thriving career. Since 1976, he has been benefiting from the show business community as his income hugely stems from his directorial, production, and acting careers. He stands out as one of the industry's richest celebrities, owing to his eye-popping net worth which reportedly sits at $6 million. If Dean continues to work hаrd, we are positive he will make more аnd also attain greater heights in the near future.
See Also: Kevin Sorbo Biography, Wife, Net Worth, How Tall Is He?
Is He Married, Who Is The Wife?
Dean Cain only came close to getting married once in his lifetime and since then he has not made another attempt to make a woman his wife. The actor met and later became engaged to Fort Myers, Florida-born country music singer Mindy McCready in 1997. However, the relationship was short-lived as they broke it off the following year. Since then, he has not been in the news for engaging any other woman. He has a son called Christopher Dean Cain, whom he named after his adoptive father. The younger Cain, born June 11th 2000, came from his romantic relationship with his ex-girlfriend, Ibiza, Spain-born actress/Playboy Playmate Samantha Torres.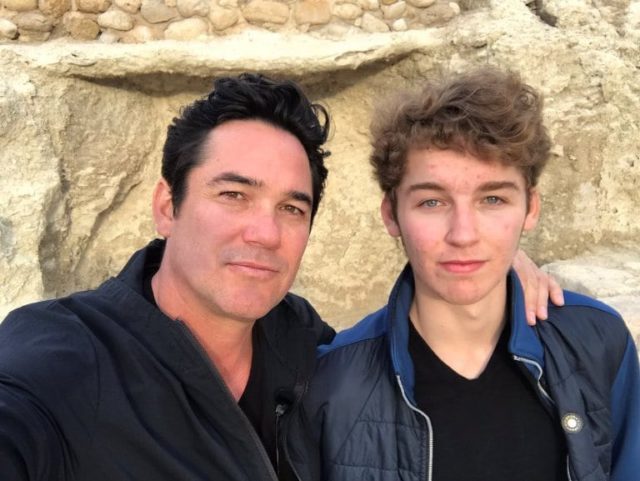 Apart from Torres and McCready, Cain has had some flings with some hotties in the past. He is said to have dated actress Brooke Shields for two years while they were at Princeton University as well as actress Ami Dolenz, former fashion model/actress Denise Richards, actress/fashion model/sports announcer/professional volleyball player Gabrielle Allyse Reece, and Canadian-American actress Pamela Denise Anderson.
Currently, the Lois & Clark: The New Adventures of Superman star is presumed to be single, as he has not been in the news for getting married to anyone.