David Paul Olsen is an actor and stunt performer from Moline, Illinois, United States, who is recognized as NCIS Daniela Ruah's Husband. He is known for his performance in the movies Swiss Army Man, The Nun, Transformer: Revenge of the Fallen, and Reminiscence, among others.
Stunt performers don't always get the credit they should and their names are never sung in the same vein as actors, but it is obvious some names still manage to stand out from their peers. David Paul Olsen is one of such stand-out performers who has a relatively strong name recognition in the industry.
David has appeared in so many top-tier movies. He pulled a double stunt for Grey Damon in an episode of the 2016 movie titled Aquarius as well as The Young and The Restless, and General Hospital.
Beyond his career as an actor and stuntman, he is also recognized as the husband of Daniela Ruah, a Portuguese-American actress and director best known for playing NCIS Special Agent Kensi Blye in NCIS: Los Angeles.
David Paul Olsen Biography and Profile Summary
Age/Date of Birth:

47 years old (January 2, 1976)
Height:

6 feet, 2 inches (1.88 m)
Ethnicity/Race:

Norwegian-American
Nationality:
American
Wife or Girlfriend:
Daniela Sofia Korn Ruah
(m. 2014)
Parents:
Father: Dr. Paul Olsen
Mother: Jeanne D. Olsen
Net Worth:
$7 million
David Paul Olsen Is The Brother Of His Wife's Co-star, Eric Christian Olsen
David Paul Olsen has that popular face you think you've seen on your screen, especially if you are a fan of NCIS: Los Angeles. No, your mind is not playing tricks on you; David actually has a very popular brother with whom he shares a striking resemblance. He is Eric Christian Olsen, and he plays the role of Detective Marty Deeks on the CBS television series NCIS: Los Angeles, of which David's wife is also a star, not only is she a star in the hit CBS drama but on the show, her character of Kensi Blye is married to Eric's character Marty Deeks.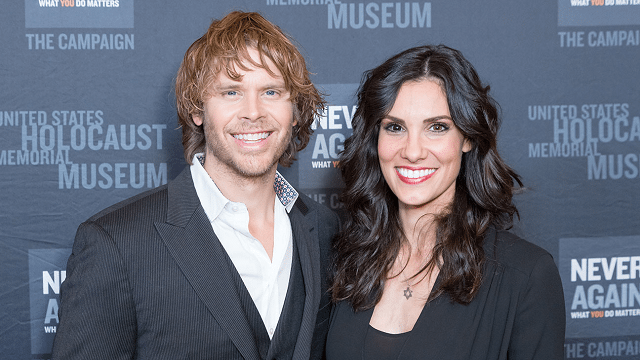 Being married to your brother-in-law on screen may seem like a very awkward experience, but this has in no way affected the relationship between the brothers. Instead, they appear to be even closer. Eric himself is also married; his wife, like his brother's, is also an actress. She is Sarah Wright and is best known for her recurring role as Millicent Gergichon Parks and Recreation.
The couple first met on the set of the TV show The Loop, where David was a stunt performer. They got married on June 23, 2012, near Jackson Hole, Wyoming, and have since expanded their family to include at least three children; son Wyatt Oliver Olsen (born on August 16, 2013), a daughter Esme Olivia Olsen (born on August 9, 2016) and daughter Winter Story Olsen, (born on September 15, 2020).
David's family with his wife Ruah and his brother's family with wife Sarah do not spare any opportunity to meet and have fun together as a family. David's wife Ruah, often takes to her Instagram page to share photos of herself with Eric's wife Sarah and her kids. There have also been photos of their kids playing together as well as many vacation trips.
Eric Christian Olsen Was The Match Maker That Brought His Brother David and Daniela Ruah Together
The photo above would have you think that there are another Olsen twins beyond the Olsen sisters; maybe it is a thing with Olsen's to look alike… but we digress. David is as close to his brother Eric as they look alike; that was why when he was tired of seeing him in miserable relationships, he decided to do something about it.
David's brother Eric was the first person to meet Daniela Ruah, and that was on the set of the CBS procedural detective series NCIS: LA, that was in 2010, when Eric joined the show after Ruah had already been in it from 2009.
Being that his character was Ruah's character's love interest on the show, the two quickly got close and became friends. Eric, knowing both his new friend Ruah and his brother David very well, realized that they were not able to be their real selves in their respective relationships at the time, which Eric called "awful," in his 2014 interview on The Queen Latifah Show… and so he thought, why not get his brother and his co-star to meet?
Eric succeeded in getting his brother David and Ruah to go on their first date, which happened on the 8th of February 2011, but Eric did not stop there; he ensured that the bond between them got strong real fast. After David began dating Ruah, he got on board the NCIS crew: LA and began stunts for the show. When he came on set, Eric would say something nice to him about Ruah and tell Ruah something nice about David. It worked, and the rest as they say is history.
David Became Daniela Ruah's Husband Following An Interfaith Wedding
Roughly three years into their relationship, David Paul Olsen and Daniela Ruah were ready to make together forever official. The couple got married on June 17, 2014, in Portugal. Their wedding was an interfaith wedding; while Ruah has Jewish roots, Olsen on the other hand is Lutheran; this however did not affect their union as both their fathers officiated their wedding. Olsen's father is an ordained minister and recited a beautiful homily at the event; however, Ruah's dad is not a rabbi.
Per 18doors, The couple exchanged their vows under a chuppah and Olsen did the traditional glass breaking. They also had a wine ceremony and drank out of the Kiddush cup. Ruah was not the first person in her family to have an interfaith union; she also had her relatives' experiences to learn from.
David Paul Olsen Has 2 Kids With His Wife, Daniela Ruah
As of this writing, David Paul Olsen and his wife Daniela Ruah are parents of two children. The couple welcomed their first child and son named River Isaac Ruah Olsen on December 30, 2013, this was prior to their wedding in Portugal, David had proposed before the child arrived and 6 months after he was born, they got married.
Two years after their wedding, the amazing couple welcomed their second child, a daughter named Sierra Esther Ruah Olsen on September 4, 2016. Sierra weighed in at 7 lbs. and measures 20.8 inches long. Daniela reportedly had a miscarriage in October 2015, her pregnancy was 9 weeks old. It was quite a terrifying moment for the amazing couple. However, the bond between them has continued to grow and the couple has been living together, sharing their wonderful family moments with their fans.
Daniela Ruah's Husband Has Been A Stuntman for Popular Movies and TV Shows
David Paul Olsen was born in Moline, Illinois, on January 2, 1976, and is of Norwegian descent. Though born in Illinois, Olsen and his siblings were raised in Bettendorf, Iowa by their parents. His mother, Jeanne D. Olsen is an actress, and his father, Paul Olsen is a medical doctor.
David Paul Olsen started performing stunts in 2006 and would simultaneously take up acting roles but his passion was in performing stunts and he would later focus more on stunts. His first on-screen stunt was performed in the 2006 TV movie, Deceit, while his first acting came in the 2009 blockbuster movie Transformers: Revenge of the Fallen.
He performed stunts on the TV shows; Twenty Good Years, The Loop, and The Young and The Restless. He would come to be known for performing stunts on NCIS: LA, where he served as the stunt double of his brother, Eric Christian Olsen, while also acting in a few episodes. Other movies where he has done stunts include Strike Force, G-Force: Guardians of Space, Star Trek: Picard, Big Little Lies, among others. In 2010, he appeared in the movie Back-Up Plan and made a guest appearance in the movie The Last Ship in 2014 and Swiss Army Man, among others.
List of David Paul Olsen's Movies and TV Shows
As a Stunt, Stunt Performer, and/or Stunt Doube
Reminiscence (2021)
NCIS: Los Angeles (Over 70 episodes)
Never Have I Ever (2020 TV Series 1 episode)
Star Trek: Picard (2020 TV Series)
Silicon Valley (2009 TV Series 1 episode)
Big Little Lies (2017 – 2019 TV Series 4 episodes)
American Princess (2019 TV Series 1 episode)
Too Old to Die Young (2019 TV Mini-Series 1 episode)
Deadwood: The Movie ( 2019 TV Movie) (stunt double: Timothy Olyphant)
Santa Clarita Diet (2017-2019 TV Series 7 episodes)
Lethal Weapon (2016 – 2017 TV Series 3 episodes)
Bixler High Private Eye (2019 TV Movie)
Kidding (2018 TV Series)
Get Shorty (2018 TV Series)
Mayans M.C. (2018 TV Series)
The Nun (2018 stunt double: Jonas Bloquet)
The Last Sharknado: It's About Time (2018 TV Movie)
Westworld (2016-2018 TV Series – 3 episodes)
Delirium 2018 (water safety)
Timeless (2016-2018 TV Series 1 episode)
Z Nation (2016 – 2017 TV Series  2 episodes)
American Horror Story (2017 – 2018 TV Series 2 episodes
Preacher (2017 TV Series 1 episode)
Ballers (2017 TV Series 1 episode)
Ray Donovan (2017 TV Series 2 episodes)
Ozark (2017 TV Series 1 episode)
I Love Dick (2017 TV Series)
Unit Zero (2017 TV Movie) (Stunt Double: Rob Huebel)
The Chaos Protocol: From the Adapt or Die Files (2017 Short)
The Librarians (2017 TV Series)
Shut Eye (2016 TV Series)
Good Girls Revolt (2016 TV Series)
The Last Man on Earth (2016 TV Series 1 episode)
Aquarius (2016 TV Seriesstunt double – Grey Damon)
The Last Ship (2014 – 2016 TV Series)
American Crime Story (2016 TV Series)
Swiss Army Man 2016
The Leftovers (2015 TV Series 2 episodes)
Extant (2015 TV Series)
Community (2015 TV Series, stunt double Joel McHale – 1 episode)
The Diabolical (2015)
Dark Summer 2015
State of Affairs (2014 TV Series stunt double Derek Ray- 1 episode)
True Blood (2012-2014 TV Series)
Wilfred (2013 – 2014 TV Series)
Bones (2013 TV Series 6 episodes)
General Hospital (2009 – 2013 TV Series)
The Bridge (2013 TV Series stunt double: Brian Van Holt)
Last Resort (2012 TV Series)
The Mentalist (2010 TV Series)
The Back-up Plan (2010 stunt double)
Double Duty (2009)
G-Force (2009 stunt double)
Fired Up! (2009)
Resistance 2 (2008 Video Game)
Protect and Serve (2007 TV Movie)
The Young and the Restless (2007 TV Series)
The Loop (2007 TV Series)
Twenty Good Years (2006 TV Series)
Deceit (2006 TV Movie)
As an Actor
NCIS: Los Angeles (TV Series 6 episodes)
Too Old to Die Young (2019 TV Mini-Series)
Lethal Weapon (2019 TV Series)
I Love Dick (2017 TV Series)
The Chaos Protocol: From the Adapt or Die Files (2017 Short)
Shut Eye (2016 TV Series)
The Last Ship (2014 TV Series)
Transformers: Revenge of the Fallen (2009)
Resistance 2 (2008 Video Game)
Profile Summary
First Name:
David
Last Name:
Olsen
Also Known As:

David
Sex/Gender:

Male
Profession:

Actor, Stunt Performer
Famous For:
The Nun (2018), Swiss Army Man (2016)
Colleges/Universities Attended:

London Metropolitan University
Educational Qualifications:

Bachelors' degree
Religion:

Christianity
Birthday & Zodiac

Age/Date of Birth:

47 years old (January 2, 1976)
Zodiac Sign:
Capricorn
Birth Place:

Moline, Illinois, USA
Nationality:
American
Ethnicity/Race:

Norwegian-American
Country of Residence:

United State of America (USA)
Physical Attributes

Height:

6 feet, 2 inches (1.88 m)
Weight:

86 kg (187 lbs)
Eye Colour:

Blue
Hair Color:

Blonde
Other Body Measurements:

Chest: 42 inches
Waist: 32 inches
Hips: 37 inchhesArm/Biceps: 16 Inches
Relationships

Marital Status:

Married
Spouse/Partner:

Daniela Sofia Korn Ruah
(m. 2014)
Family and Relatives

Father:

Dr. Paul Olsen

Mother:
Jeanne D. Olsen
Children:

River Isaac Ruah Olsen - Son
Sierra Esther Ruah Olsen - Daughter
Siblings:
Eric Christian
Other Relatives:

N/A
Net Worth
Estimated Net Worth:

$7 million
Salary:
Unknown
Source of Wealth:

Professional Acting career