David Ludden (born March 15, 1948) is a 75-year-old American history professor and author famously known for being the eldest stepchild of Betty White, the late legendary Hollywood actress.
David was the eldest and closest to Betty White out of the three stepchildren of the legendary actress. This is why many are kin to know more about the professor and what he has been up to lately. Read on to uncover interesting details about David Ludden.
Summary of David Ludden's Bio
Full Name: David Ludden
Gender: Male
Date of Birth: March 15, 1948
David Ludden's Age: 75 years old
Ethnicity: Mixed
Nationality: American
Zodiac Sign: Pisces
Sexual Orientation: Straight
Religion: Christian
Marital Status: Married
David Ludden's Wife: Dina Mahnaz Siddiqi
David Ludden's children: Mohona Sara Siddiqi Ludden (daughter)
David Ludden's Parents: Allen Ludden (father), Margaret McGloin (mother), Betty White (stepmother)
Siblings: Sarah Ludden and Martha Ludden
Famous for: Being Allen Ludden's son and Betty White's stepson
Who is David Ludden and Where Was He Born?
David Ludden was born on March 15, 1948, in Hartford, Connecticut, to his parents; Allen Ludden and Margaret McGloin. He is the eldest of the stepchildren of the legendary actress Betty White. David was thirteen years old when he and his siblings lost their mother to cancer in 1961. The Professor is not the only child born to his parents as he has other siblings with whom he shares the same parents named Sarah Ludden and Martha Ludden.
David Ludden, being a professor, is well read; he finished his elementary school at an early age and got his high school education from a school that is not disclosed to any source. He went further in his academic pursuit to attend Yale University from 1966 to 1970 and then enrolled at the University of Pennsylvania, which was where he received his B.A and M.A degrees in South Asia Regional Studies and finally a Ph.D. in history in 1978.
David Ludden is a History Professor and Author by Profession
David Ludden's very first work as a history graduate was as an assistant professor at the University of Virginia in 1979. He worked there as a visiting professor for a year, after which he got to work in different universities. David was later employed at the University of Pennsylvania, where he taught South Asian history from 1981 to 2007.
In 1987, he got promoted to associate professor, and by 1999, he was promoted to a full professor. David became chairman of the universities department of South Asian Regional Studies. He was able to comfortably serve as the director of South Asia academic programs at the University of Pennsylvania, the Social Science Research Council, Fullbright Senior Scholars programs, and many others.
The lecturer also became president of the Association for Asian Studies from 2002 – 2003. In 2005, he got a job at BRAC University in Dhaka as a visiting professor for developmental research. Presently, David teaches Political Economy and Globalization in the department of history at New York University.
David Ludden is also an author. He got to work as an editor for the Critical Histories book series at the University of Pennsylvania press from 1997 to 2000 and has written several books such as India and South Asia: A Short History and An Agrarian History of South Asia. He has also gone ahead to write monographs, long volumes, essays, and others.
He was Groomed by His Father and Stepmother Who Are Huge Entertainment Figures
David Ludden's father, Allen Ludden, was born on 5th October 1917 in Wisconsin, USA, to Elmer Ellsworth and Leila M. Allen. As earlier mentioned, Allen is an actor, TV personality, emcee, and host of Bob Stewart's television game show, Password, from 1961 to 1980.
Before he began his acting career, Allen worked for the United States Army and was also a recipient of various awards like the Bronze Star medal and Peabody award. He also went ahead to do some music as the actor launched a top classic album titled "Allen Ludden Sings His Favourite Songs" in 1964 on RCA Records.
Unfortunately, the life of the actor came to an end shortly after he was diagnosed with stomach cancer which he was sick of until his demise on June 9, 1981, in Los Angeles. He was later buried beside his father in the Ellsworth family plot.
David Ludden's Father was Once Married Before Getting Married to Betty White
Allen Ludden got married to David's biological mother, Magaret McGloin, on 11th October, 1943, but sadly their marriage came to an end due to the demise of Magaret on October 30, 1961, which was a result of cancer. Their union was blessed with three children (two daughters and a son).
Two years after the death of his wife, David's father, Allen, fell in love with Betty White, who had already been married twice. The pair had worked together on several shows, which is probably how they both fell in love. The love birds got married in 1963 in a private wedding which was attended by family and friends.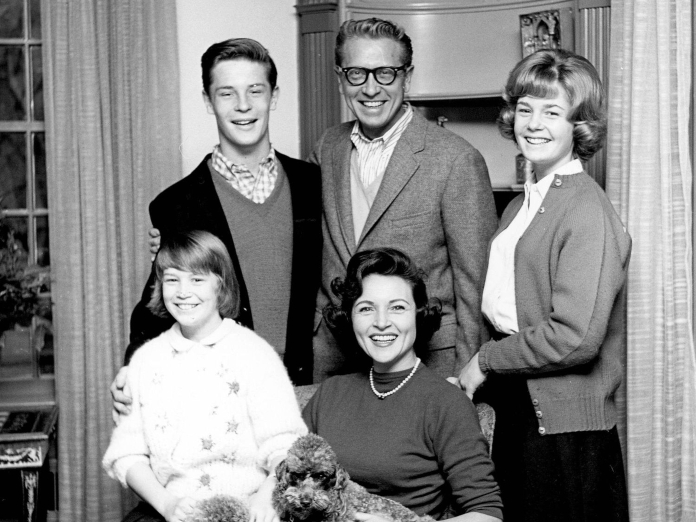 The couple stayed happily married for eighteen years and shared a very deep connection. They were very fond of each other and openly spoke about their love for each other. According to Betty White, she did not see the need to remarry after Allen passed on because, to her, he was simply the best husband she could ever ask of and want.
David Ludden's Stepmother was a Prominent American Actress
Betty White is the stepmother of David Ludden and was a very famous American actress and comedian. She is well known in the entertainment industry for her roles on television and is so far the oldest actress to have lived. Betty White was famous for her featuring in shows such as Golden Girls and Hot in Cleveland.
The legendary actress was born on January 17, 1922, in Oak Park, Illinois, and was the only child of her parents. Betty White had a successful career as an actor and was also an animal lover. Before developing an interest in acting, Betty was first interested in wildlife and wanted to become a forest ranger, but women at the time were not allowed to be Rangers which made her pursue acting as a career.
Betty White won many awards and nominations in her lifetime, having made appearances in shows such as The Mary Tyler Show, Password, The Betty White Show, The Carol Burnett Show, and many others. She has also featured in movies such as The Proposal alongside Sandra Bullock and Ryan Reynolds.
She died in her sleep at the age of 99 on December 31, 2021, at her home in the Brentwood neighborhood of West Los Angeles.
Betty White's Step-Son is Married to a Professor Like Himself
David Ludden has not disclosed any information about his love life to any source. The professor has been very private about his personal life and is making efforts to ensure he stays away from the spotlight as much as he can.
According to information gathered from Prabook, David is married to Professor Dina Mahnaz Siddiqi. Dina teaches at the Faculty of Liberal Studies at New York University. Her work focuses on feminist studies, anthropology of human rights, development studies, and others.
The pair are said to have been married since December 29th, 1994. They likely bonded over their similar career interest. The couple is said to be blessed with a daughter named Mohona Sara Siddiqi Ludden.
David Ludden Did Not Get An Inheritance From Betty White
Following the passing on of his stepmother, Betty White, who left behind a great deal of fortune worth $75 million, many would think that Betty must have left an inheritance for David Ludden, but on the contrary, her estate was sold, and her belongings are being auctioned in September 2022.
According to sources, the major part of whatever is left of her wealth goes for charitable purposes for non-profits that benefit animals which does not come as a surprise since she was an animal lover.