David Brooks is a popular Canadian-born American conservative political and cultural commentator, an author, and a columnist best known for his op-ed writings for the New York Times. 
Brooks' prowess in the field of journalism has definitely reached its peak, as such, it's no surprise that he is thriving in this field. His parents are both scholars as his father was a lecturer of English and Literature at New York University while his mother, a historian, studied British History at Columbia University.
David is popularly described as a moderate conservative writer and has a bestselling book to his credit. He was born on the 11th of August 1961 in Toronto Ontario, Canada; however, he had his early education at the Grace Church School located at Greenwich Village in Lower Manhattan, New York City.
His family then relocated to Philadelphia and this was where he started and completed his high school education at the Radnor High School before proceeding to study History at the University of Chicago, graduating in 1983. It is safe to say David has done well for himself since then.
Still curious about the political commentator. Find more interesting facts about him below.
David Brooks at a Glance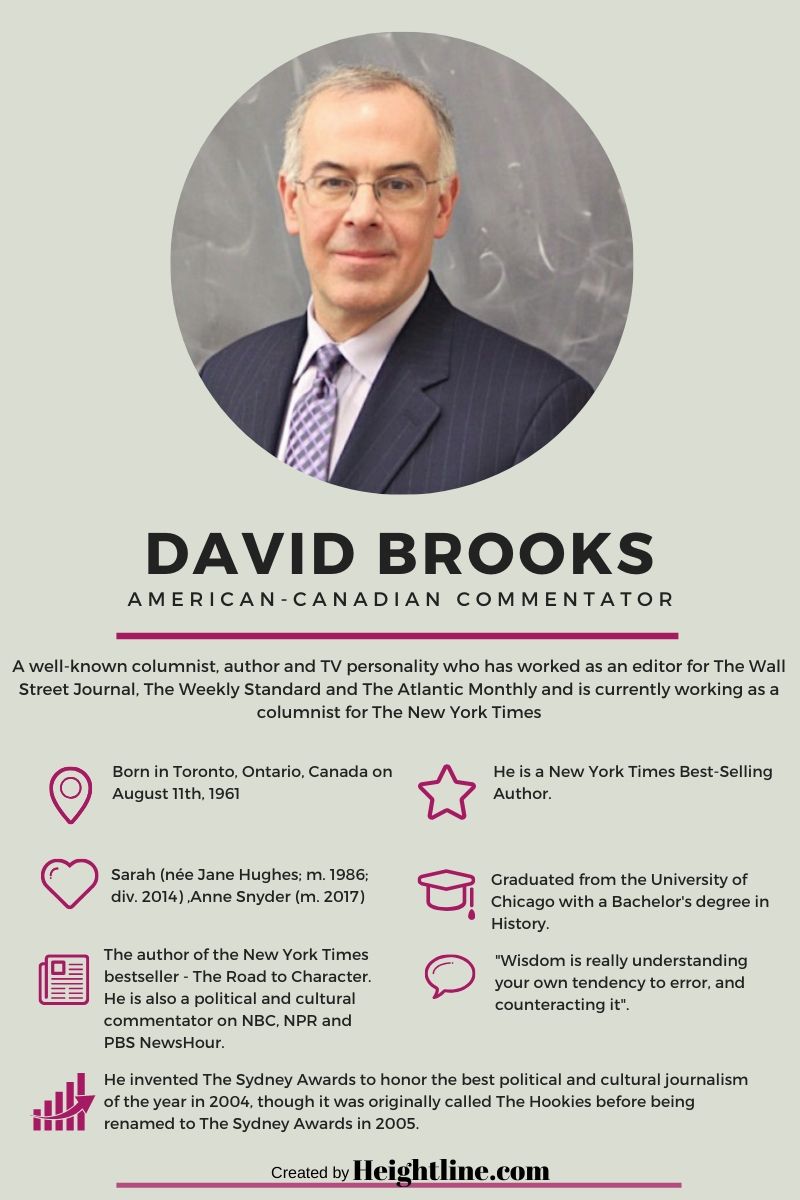 David Brooks' Career and Work History
Immediately after his graduation from the university, David Brooks started working for the City News Bureau of Chicago as a police reporter. After that, he sought a job at Buckley's National Review where he was employed as an Intern and gained some level of experience. After his internship ended, he worked for the Hoover Institution located at Stanford University and subsequently, The Washington Times employed him as a movie reviewer.
David Brooks rose to the peak of his career when he was employed by The Wall Street Journal in 1986. He is known to have started out as an editor in the book review department where he worked earnestly to make the book "The Closing of American Mind" to become nationally known.
As a writer, he is credited with the book titled "Bobos in Paradise: The New Upper Class and How They Got There". After four years, he published another book titled "On Paradise Drive: How We Live Now" which was a sequel to his first book. He is also the author of the book "The Social Animal: The Hidden Sources of Love, Character, and Achievement" and like his first book, it was internationally acclaimed and was ranked number three on the Publishers Weekly best-sellers list for non-fiction in 2011.
The pundit has served in several vital capacities which include being a member of the Board of Trustees at the University of Chicago as well as the Board of Advisors of the University of Chicago Institute of Politics. He has also lectured Philosophical Humility at Yale University.
Learn More About His Political Stance & Legacy
The American columnist has a very strong political view and he has made commentaries on several political issues and affairs. During the American presidential election in 2016, he strongly supported and believed the Democratic party presidential candidate Hilary Clinton was more competent than the Republican party's presidential candidate and eventual president — Donald Trump.
Aside from politics, David Brooks is also an active advocate for several social issues including abortion which he sees as legal during the first 5 months of pregnancy but advises underage girls to get parental approval before going through with the procedures. He speaks against teenage sex and the use of drugs like Marijuana but he strongly advocates for gay marriages.
David is the pioneer and brain behind The Sidney Award which he began in 2004 in the memory of the philosopher Sidney Hook, given in acknowledgment for the best Cultural and Political Journalism.
What To Know About His Married Life
David Brooks' first marriage was to Jane Hughes, whom he met while they were both undergraduates at the University of Chicago. Jane changed her name to Sarah after she converted to Judaism. The duo subsequently got married in 1986 but the marriage ended officially in 2014 after having three children together.
Four years after his first marriage ended, the political commentator got married to Anne Snyder, a prolific writer and a reporter who initially worked for him as his research assistant. David's marriage to Anne attracted significant attention as she is 23 years younger than he is. While their union drew attention, the couple has kept information about themselves and their relationship away from the media. Despite this, occasionally, information about the pair still makes it to the public space; for instance, Anne Snyder is credited to igniting David's interest in Christianity as Anne, herself, identifies as a Christian. Beyond this, not much is known about their life together.