Jennifer Ashley Harper is the wife of award-winning American musician and actor, Dave Matthews. It is not clear how they met but they are believed to have dated for over a decade before they tied the knot in 2000.
While not much might be known about what Jennifer does for a living, her two-time Grammy Award-winning husband is somewhat of a household name thanks to his role as the lead vocalist, songwriter, and guitarist for the Dave Matthews Band (DMB). Dave is undoubtedly his wife's claim to fame but there is a lot more to know about her.
Jennifer Ashley Harper's Profile Summary
Full Name: Jennifer Ashley Harper
Gender: Female
Date of Birth: November 30, 1967
Jennifer Ashley Harper's Age: 56 years old
Ethnicity: White American
Nationality: American
Zodiac Sign: Sagittarius
Sexual Orientation: Straight
Marital Status: Married
Jennifer Ashley Harper's Husband: Dave Matthews
Jennifer Ashley Harper's Children: Stella Busina, Grace Anne and August Oliver Matthews
Famous for: Dave Matthews wife
Jennifer Ashley Harper's Twitter: @ashleyharper810
Dave Matthews' Wife Jennifer Ashley Harper Was Born In The United States
One thing they have in common is their birth year. While Dave Matthews was born on January 9, 1967, Jennifer Ashley Harper was born on November 30, 1967. However, the singer was born in Johannesburg, South Africa as the third of four children while his wife's place of birth is in the United States of America.
Details about Jennifer's budding years have not been revealed to the public and considering how she became popular, it does not look like any of that is going to change soon. As a result, her birth family, parents, and siblings she may have shared her childhood with are not known. The educational background of Dave Matthews's wife also remains a mystery.
Contrary to the lack of information about Jennifer's early life, Dave Matthews is known to have spent most part of his formative years in South Africa. Though his family moved back to the States when he was two, settling in Yorktown Heights Westchester County, New York, due to his father's employment at IBM, the family returned to Johannesburg after Dave's dad died of lung cancer in 1977. Dave finished high school in South Africa and moved back to the United States to avoid South Africa's compulsory military service.
Ashley Harper's Career History is Tied To her Husband's Name
Mostly known as a celebrity wife, Ashley Harper is not linked to any career path, at least none that we know of. She is always linked to her husband's name and his philanthropic efforts towards humanity have her footsteps in them. Despite not having any personal career path she's known for, Jennifer often works with her husband and has been an active philanthropist since she came to the limelight.
She also works at the family's Blenheim Vineyards. They launched a new brand of wine called Dreaming Tree Wines in 2019, an idea Dave credits his wife for. She came up with the idea and they worked together to decide on the perfect taste.
Due to the lack of information about her career path and what she actually does for a living, it is difficult to put a figure on Ashley Harper's net worth. However, she still enjoys the luxuries of life, thanks to her husband's fortune that has been pegged at a whopping $300 million, according to celebrity net worth. The South African-born American singer, songwriter, and actor started honing his music skills as a child and thought himself the ropes from that early age.
Jennifer Ashley Harper's Husband is a Rock Star
Dave performed with Tim Reynolds for a while before he went on to record some of his own songs. His first professional gig as a musician was organized by the Miki Liszt Dance Company at a modern dance performance.
By 1991, Dave had written critically acclaimed songs like Recently, I'll Back You Up, and The Song That Jane Likes, and started his own band the same year – 1991. The Dave Matthews Band had Peter Griesar, Carter Beauford, Boyd Tinsley, Stefan Lessard, and LeRoi Moore as members. However, Griesar left the band in 1993.
The band's first album which was released in 1994 is titled Under The Table And Dreaming, taking the No. 11 spot on the Billboard 200. Their second album Crash was released in 1996 and took the No. 2 spot on the chart. The rock band has released two more albums – Everyday (2001) and Come Tomorrow (2018)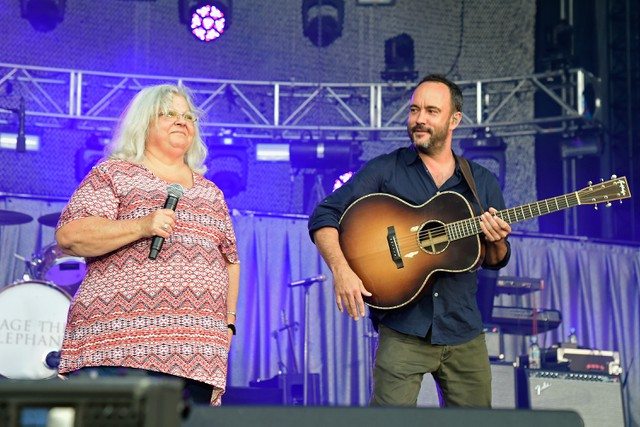 Dave has also ventured into acting, making his debut in 2003 as a star in the Disney film Where the Red Fern Grows. His other notable appearances can be felt in Because of Winn-Dixie, I Now Pronounce You Chuck & Larry, You Don't Mess with the Zohan, and Just Go with It among others.
For his musical offerings, Dave Matthews is a two-time Grammy winner. He has won in the category of Best Rock Vocal Performance by a Duo or Group – So Much to Say (1997) and for Best Male Rock Vocal Performance – Gravedigger (2004).
Dave Matthews Dated Jennifer Ashley Harper For Years Before They Got Married, Here's How They Met
In an interview with Rolling Stone, the musician revealed that he first met his future wife at a Halloween party in college.
She was just freaky. She was a pretty nutty girl in college. That's the first time she saw me. I never dress up for Halloween, but this night I shaved my head, painted it yellow, put on a lot of eye makeup and wore a leather jacket and blue jeans. My whole torso was painted white. I definitely looked very sick. My wife saw me then and told me she thought I was gay. She thought I was cute.
The duo started dating soon after and was in a relationship for a long time. Jennifer Ashley Harper was the rock star's girlfriend for close to a decade before they decided to make it official. The couple tied the nuptial knot on August 10, 2000, and true to their privacy policies, no details about their wedding have made it out to the public. A day before the wedding, they got their marriage license from Albemarle County Circuit Court.
Jennifer has been happily married to Dave Matthews for more than two decades and they seem to be living their best lives. She has been a supportive wife despite being married to a rock star who is always in the spotlight. Perhaps keeping their personal life private has helped the couple to stay bonded for so many years.
Jennifer Ashley Harper is a Mom of Three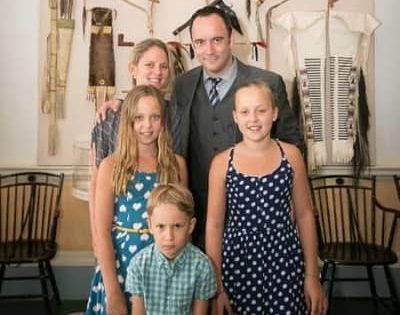 The marriage between Dave Matthews and Jennifer Ashley Harper has produced three kids – twin daughters and a son.
Stella Busina and Grace Anne
Date of birth: August 15, 2001
Age: 22
Place of birth: Seattle, Washington
The twins named Stella Busina and Grace Anne were the first to be born in the family. They were born on August 15, 2001. The girls were born in a Seattle hospital, a month ahead of the due date but they arrived in perfect condition. Dave credits his daughters for inspiring him to write the book If We Were Giants.
Right now, there has been no hint of what the twins are pursuing as a career. Their parents are doing a good job shielding them from media scrutiny.
August Oliver Matthews
Date of birth: June 2007
Age: 16
Place of birth: Seattle, Washington
Oliver is the only son born to Jennifer Ashley Harper and her husband. He joined the family six years after the twins but unlike the girls who were born in a Seattle hospital, Ashley Harper's son was born at home.
Like his sisters, his personal details are not available but from the little we have, he seems to be athletic. He plays football in school and has shown interest in music. His father has also taken him on tours in the past.
In addition to their three kids, the couple takes care of Dave Matthews's older sister, Anne's kids. Anne was murdered by her husband in 1994, he then killed himself after the murder, leaving their two children to fate. Dave and his younger sister Jane are now responsible for the orphaned kids. The family resides in Seattle, Washington.