Danny Amendola's current girlfriend is an American model, singer, and songwriter Jean Watts. Although recent news of a break-up has surfaced online, their romance appears to still be waxing strong as the singer referred to the 35-year-old Amendola as her "boyfriend" in a recent Instagram story.
Before Jean Watts, Danny Amendola has been in relationships with Emily Tanner (2019), Bianca Peters (2018), Olivia Culpo (2016 – 2019), Kay Adams (2015 – 2016) and Talor Reazin
Danny Amendola, like most celebrities, has been linked with a number of women. His most current relationship is with Jean Watts, a model, and makeup artist. The celebrity couple have been waxing strong since they started their relationship and they do not hold back when it comes to their public display of affection.
Here's a look at all Danny Amendola's girlfriends at various times and what his relationship with each of them was like.
Biography and Profile Summary of Jean Watts, Danny Amendola's Girlfriend
Full Name: Jean Watts
Date of Birth: 18th February 1993
Age: 30 years old
Place of Birth: Florida, United States
Nationality: American
Ethnicity: White
Religion: Christianity
Occupation: Model, Makeup Artist, Social Media Star
Marital Status: Single
Boyfriend: Danny Amendola
Jean Watts was Born in Florida But Raised in Illinois
On the 18th of February 1993, Jean Watts was born into a Christian American family in Florida, USA. They later moved to Chicago, Illinois where she was brought up, and she still lives there till now.
The identity of her parents and how many children they have are not publicly known. However, she has a brother known as Kalen, but one cannot tell whether or not he is the only sibling she has. Similarly, there is no information about the schools she attended or the course she studied, but she is known to be a college graduate nonetheless.
She Is Multi-talented
Jean is not only beautiful but has multiple talents to back it up. The 30 years old lady has always dreamed of being a social media star, and she worked hard to make her dream come true.
She started off posting hot and beautiful pictures of herself on her Instagram page. And of course, who doesn't love beauty? She started to attract fans and followers with her unique fashion style and hot poses. Most of her posts are centered around her and her lifestyle. She currently has thousands of followers edging close to 1 million followers on Instagram alone.
Since she is a model, her choice of posts is definitely expected. Aside from the stunning pictures on her Instagram, she has also posed for and collaborated with a number of beauty brands. Also, she has appeared on the cover pages of 'Modeliste Magazine' and 'Avante Magazine'. Aside from posting pictures on her page, and her modeling career, she also works as a makeup artist. In 2015, she launched her cosmetic line which is called Volt Cosmetic.
Also, she has an interest in music and she uses her YouTube channel to show this. Although she is not really known as a singer, she has done a few songs and covers on her YouTube channel including 'Evicted', 'Feel the Same', 'Breath On Me' (cover), 'Wicked Game (cover)'. Her YouTube channel has about 23k subscribers.
Jean Watts' Relationship with Danny Amendola
The makeup artist and her footballer boyfriend have been together since May 2020. However, there are no details as to where they met or how their relationship started. Since they started dating, the couple has been very open about their relationship and has had a few public displays of affection here and there.
Despite their closeness, in the early months of 2021, there were rumors about their breakup, and the news was carried by many media houses. Some shared evidence that Danny Amendola was no longer following Jean on Instagram, and even though the model was still following her boyfriend on the social media platform, they speculated that she did so just to save her face. The best guess would be that they probably were having a fight at the time which is not strange to any relationship. Nonetheless, the couple is still very much together as their recent photos shared on Jean's Instagram page reveals.
List of Danny Amendola's Past Girlfriends
Here are all the ladies which at various times were Danny Amendola's girlfriend and an insight into their background, career, and what transpired between them and Danny.
1. Emily Tanner
Full Name: Emily Tanner
Date of Birth: 6th December 1994
Age: 29 years old
Place of Birth: N/A
Nationality: American
Ethnicity: White
Education: Michigan State University
Occupation: Model, Social media influencer
Marital Status: Single
Before Danny started dating Jean, the footballer was dating Emily Tanner who is also a model and an influencer on Instagram. Emily is 29 years old model from Michigan. She was twenty-four when they began dating in 2019, Danny was thirty-three at the time.
The influencer is a graduate of Michigan State University and a very shy lady. She lives in Detroit where Danny plays for the local professional football team. More so, Emily likes outdoor adventure and when she shares pictures of herself on Instagram, she is often at beaches or somewhere outside her home. Aside from being a model, brand influencer, and dog mum, Emily Tanner is also the co-founder of 'Torridagency'.
Neither the twenty-six-year-old American nor her ex-boyfriend ever revealed how and when they met. Their relationship became the talk of social media after both of them were spotted at a beach. Beaches happen to be Amendola's favorite place to visit. The couple was seen together at the Miami beach after the footballer broke up with his former girlfriend.
For some time, people wondered who the new mystery girl was, and when she was finally revealed as Emily, she was met with both love and hate from social media. Unfortunately, the relationship did not survive beyond the same year they were seen together, which was in 2019.
2. Olivia Culpo
Full Name: Olivia Frances Culpo
Date of Birth: 8th May 1992
Age: 31 years old
Place of Birth: Rhode Island
Nationality: American
Ethnicity: White
Education: Boston University
Occupation: Model, Ex-beauty queen, Reality TV star, Social media influencer
Marital Status: Dating
Before his relationship with Emily, Amendola dated Olivia Culpo from 2016 to 2019. The athlete seems to have a thing for models. Born on the 8th of May 1992, Olivia is an American fashion influencer, social media personality, and reality TV star. She is also known as the former winner of Miss Universe, 2012. She represented America in the Miss USA and Miss Universe pageants after the country had not been represented in fifteen years. She is obviously a very successful model.
The couple met when Danny bumped into Olivia in the corner of Hollywood and Vine while she was walking down the street. She had just ended her relationship with her ex, Tim Tebow. After their first meeting in 2016, the couple got along pretty well and there was no online drama attached to their relationship. A lot of fans were hoping that their love would have a happy ending, but two years down, in 2018, the couple broke up.
Because both of them were literally miles apart, there were speculations that the long-distance may have affected the relationship. The distance happened after the player got signed to Miami Dolphins, but Olivia insisted she was not moving from Los Angeles because she was already established there. However, in June 2018, both of them attended a friend's wedding, and by September of the same year, they decided to come back together, and they made it a public announcement on social media.
After they got back together, there was a rumor about their breakup in October 2018 which was said to be due to the fact that Danny was having an affair with another woman in Miami where he was now settled. In December that year, the couple proved that it was nothing but a rumor. They appeared to love each other a lot and were ready to do their best to make the relationship work.
Sadly, their best was not good enough as they finally broke up four months later. In April 2019, the model was seen having fun with another guy, Zedd, at Coachella Valley Music and Arts Festival. Later, Danny made a video clip where he referred to Zedd as dead. He also made two more clips to take responsibility for his actions. With this, people knew they had broken up again, this time, for good. Currently, she is in a relationship with Christian McCaffrey.
3. Bianca Peters
Full Name: Bianca Peters
Date of Birth: 1st April 1991
Age: 32 years old
Place of Birth: Miami, Florida, USA
Nationality: Mexican and American
Ethnicity: Latino
Education: California State University
Occupation: Journalist, TV presenter
Marital Status: Single
Another lady who makes this list as one of Danny Amendola's girlfriends is Bianca Peters. While Amendola was dating Olivia, there were rumors about his fling with another lady. This lady that happened to be Bianca Peters is an American journalist. Bianca, who loved sports and football as a child, attended California State University were she bagged a degree in communications, which led to her current career.
The American lady is an experienced TV presenter, having worked as host and segment producer for JUCE TV in Tustin, California, and news anchor and reporter for KOBI-TV in Medford, Oregon. She also worked with WFOR-TV in Miami, Florida as a traffic anchor and sports reporter. In addition to these, she has worked with a number of other TV News.
Aside from being a TV presenter, Bianca is an ex-beauty queen, and winner of the Miss Malibu beauty pageant, 2010. She also took part in Miss California 2010 and she made it up to the top ten finalists.
Regarding her fling with Amendola, Bianca stated that they had only met a few nights before they were seen together at the beach. They were both part of a group that had decided to hang out for the weekend. Since the footballer was still new to Miami at the time, she said she didn't know that he was in a relationship. In the end, she decided to keep her distance.
4. Kay Adams
Full Name: Kay Adams
Date of Birth: 6th April 1986
Age: 37 years old
Place of Birth: Chicago, Illinois, USA
Nationality: American
Ethnicity: White
Education: Dartmouth College
Occupation: TV presenter, Sportscaster
Marital Status: Single
Another of Danny Amendola's alleged ex-girlfriends is Kay Adams, the anchor of the 'Good Morning Football' show. The TV presenter started her career working as a host for the St. Louis Cardinals, mainly during their home games. Later, she was on Sirius XM's 'Fantasy Drive' and 'Livin' the Fantasy'. She continued to appear on different shows to grow in her career. In 2017 and 2018, she appeared in a Superstar Slime Showdown at Super Bowl, and she has also reported in the DAZN Boxing series.
Once, she had insinuated that she would not want to be in a relationship with any NFL football player. According to her, the word 'player' said it all, and even if it may not be all of them, she was going to pass. This statement made her alleged relationship with Danny come as a surprise to most people.
The relationship rumor started after both of them were seen together at the 2015 ESPY Awards. Later at the red carpet, they made a public display of affection. Speculations got more intense after Kay shared pictures of herself and the player at the 2015 Super Bowl on Instagram. Until the suspected relationship reportedly ended in 2016, neither of them confirmed nor denied the news.
5. Talor Reazin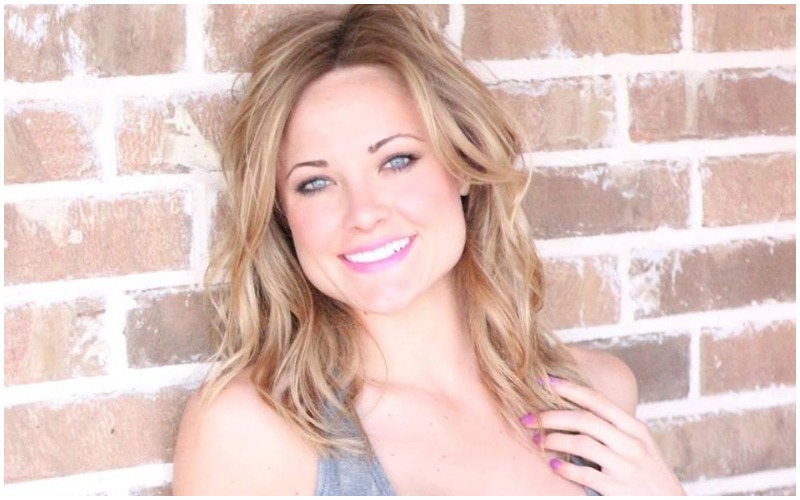 Full Name: Talor Reazin
Date of Birth: 3rd October 1986
Age: 37 years old
Place of Birth: Mooreland, Oklahoma
Nationality: American
Ethnicity: White
Occupation: Model, Sales Rep., Manager, Actress
Marital Status: Single
Talor is not only one of Danny Amendola's girlfriends turned ex, but the first girl he was known for dating. Their relationship was very low-key until September 2013 when she decided to reveal that she has been in a relationship with Danny. She did so to give him some credit as her post claimed. The revelation was not surprising as there were already speculations in the media regarding their relationship.
Although the thirty-three-year-old Oklahoma-born American was a model before she became known as a girlfriend to the footballer, she was not very popular until their relationship became known. After their relationship ended, she again went back into her shell. Back in college at the University of Central Oklahoma, she was a cheerleader. Now, she is a part-time model and sales representative for Always Greener OKC, and as a Manager at Barre3. Also, she has featured in a few movies like 'Bikin Vampire Babes' and 'Southern Tale'.
Her relationship with the footballer was the first of his relationships the media took notice of as that was the period he was beginning to gain popularity in his career. Talor was there for her ex when he had an injury that led to the end of his season. She was also by his side when he was having difficulties in his first year with the Patriots. However, their beautiful relationship ended in 2015 for reasons unknown to the public.