How tall is Daniel Radcliffe? Daniel Radcliffe's height is 5 feet 5 inches (1.65 meters). The British actor stated in 2005 that he was was 5ft 5.5 (that half inch being important!) and in 2007 he claimed to have measured himself at 5ft 5.
There are two things anyone should not be told about Daniel Radcliffe: that he is an English actor and best known for playing the titular protagonist in the British-American film series based on J.K Rowling's Harry Potter, a series of fantasy novels. More than bagging numerous awards for his fine performances in the series, portraying Harry from his adolescence through to his early years as an adult saw this English actor become one of the most paid in the world. He became a global star and has remained relevant ever since.
Born in London, England, on the 23rd of July 1989, Daniel Jacob Radcliffe has come a long way in the entertainment industry. He began acting as a child, making his debut when he was only 10 in David Copperfield, a BBC One television film. He turned 11 and started playing Harry, which lasted over a decade, from 2001 to 2011. Radcliffe has been a part of other productions from music videos to Theatre, Television, and the big screen, but that is a story for another day. Here, we explore how tall he is compared to other names often mentioned alongside his in the acting profession.
Profile Summary of Daniel Radcliffe
Full Name: Daniel Jacob Radcliffe
Date of Birth: July 23, 1989
Age: 34 Years Old
Place of Birth: Queen Charlotte's and Chelsea Hospital, London, United Kingdom
Nationality: British
Education: Redcliffe School, Sussex House School, City of London School
Occupation: Actor
Mother: Marcia Jeannine Gresha
Father: Alan George Radcliffe
Siblings: Nil
Partner:

 

Erin Darke (2012–present)

Net Worth: $110 Million
Daniel Radcliffe's Fact Card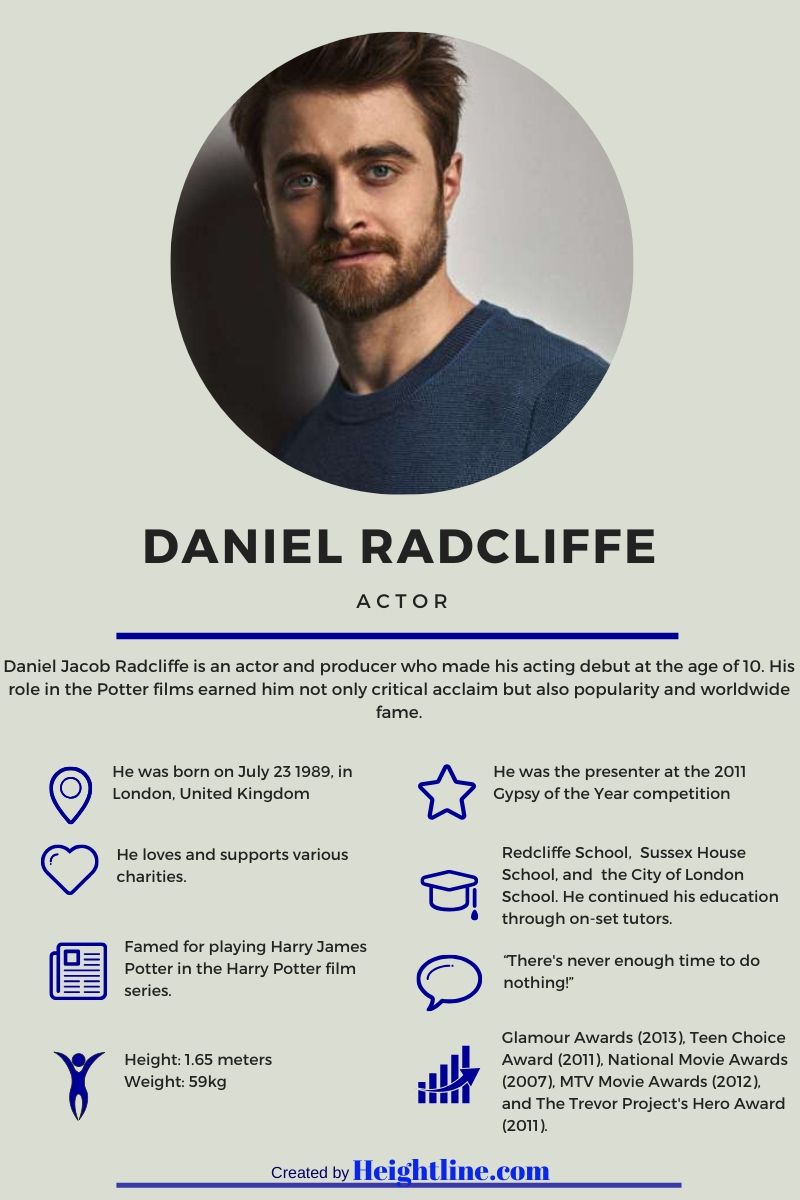 Is Daniel Radcliffe Taller Than Emma Watson?
Emma Watson has a lot of things in common with Daniel Radcliffe. They are both English actors and friends, and they played two of the three leading characters in the Harry Potter film series. Beyond being an actress, Emma has thrived as a model, and her activism has only broadened her influence far off the entertainment industry. Born on the 15th of April 1990 in Paris, France, this actress has been active since 1999. Her debut screen performance was in 2001's Harry Potter and the Philosopher's Stone.
Like Daniel, Emma was catapulted to global stardom via the film series. As a result of that and perhaps a handful of other reasons, many comparisons have been made between Daniel and his good friend Emma. Among other things, people have often wonder who is taller. If you are one of those, here is the fact: none of them is taller as they are both 1.65 meters tall. They have a lot of things in common, remember?
His Height Compared to Rupert Grint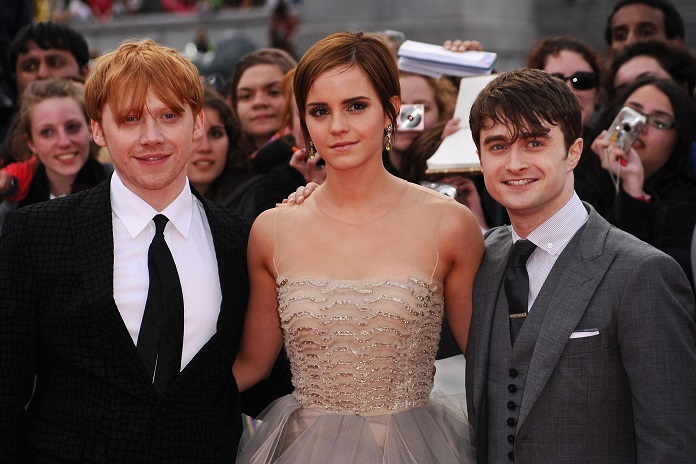 As it is with Daniel and Emma, Rupert Grint rose to fame for playing one of the three major characters in the Harry Potter film series. He is also an English actor, born in Harlow, Essex, England, on the 24th of August 1988. Rupert has had a busy career since he debuted in Harry Potter and the Philosopher's Stone. He has accomplished quite a lot in the entertainment industry, which is often compared with the attainment of his co-stars in the popular film series.
In terms of height, he is taller than Daniel and Emma as he stands at 1.73 m. At some point, while they were playing the leading characters of the series, Daniel was worried that Emma and Rupert would have a growth spurt and leave him as the least tall. He has admitted that he was eventually at ease because they didn't shoot up too quickly and were all relatively as tall as each other.
Elijah Wood Vs Daniel Radcliffe Heights and How To Tell Them Apart
For a very long time now, Elijah Wood and Daniel Radcliffe are often mistaken for the other, thanks to their uncanny resemblance and the fact that they are both actors. The former is an American born in Cedar Rapids, Iowa, on the 28th of January 1981, and he has been active in the industry since 1989. Daniel is almost as tall as Elijah, which has possibly made it more difficult to tell the two actors apart. However, they are not the same person, and below is how to know who's who.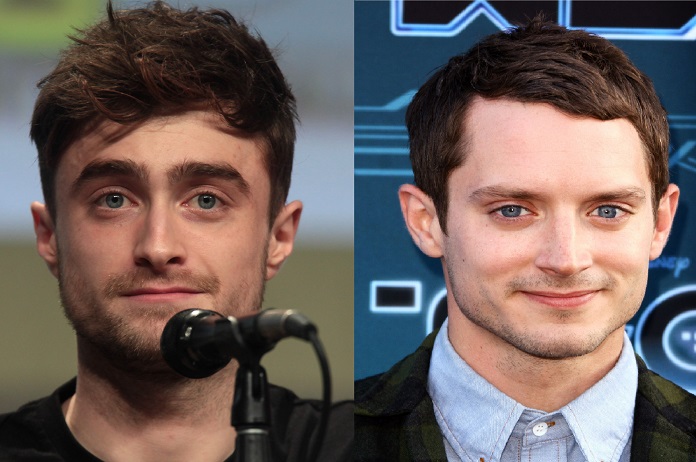 At 1.68 m, Elijah Wood is slightly taller than Daniel Radcliffe. As they are both blue-eyed and dark-haired, it is imperative to point out that Daniel is known for Harry Potter, whereas Elijah is famous for playing Frodo Baggins in The Lord of the Rings film series.
totally down for a duo flick!

— Elijah Wood (@elijahwood) October 6, 2018
Daniel Radcliffe's Height Compared to That of Other British Actors
Height doesn't really matter if one has a talent. Like Daniel Radcliffe, many other actors have achieved a great feat in the film industry, despite their height. More than that, when compared to other A-List British actors, Daniel Radcliffe won't be classified as a tall actor. Nevertheless, he is more successful than some of them. Below is a table showing Daniel Radcliffe's height compared to other British actors.
| | | |
| --- | --- | --- |
| S/N | Name of Actor | Height |
| 1 | Daniel Radcliffe | 5 feet 5 inches |
| 2 | Tom Hollander | 5 feet 5 inches |
| 3 | Toby James | 5 feet 5 inches |
| 4 | Gary Oldman | 5 feet 9 inches |
| 5 | Tom Hardy | 5 feet 9 inches |
| 6 | Orlando Bloom | 5 feet 10 inches |
| 7 | Daniel Craig | 5 feet 10 inches |
| 8 | Idris Elba | 6 feet 2 inches |
| 9 | Liam Neeson | 6 feet 4 inches |
| 10 |  Greg Davies | 6 feet 8 inches |
Other Body Measurements of Daniel Radcliffe
Although the English actor wouldn't mind being taller than he is, anyone with half an eye could see that his height is fine and quite proportionate to his weight and the rest of his body features. Ideally, the actor weighs anything from 52 to 60 kg, but he was really skinny at some point which was said to be intentional.
From what Heightline gathered, he ate only one boiled egg each day for about two months in other to play Yossi Ghinsberg in Jungle (2017). The survival drama film was based on the true story of an Israeli adventurer's journey into the Amazon rainforest. It is believed that the actor's chest, waist, and biceps respectively measures 38, 30, and 16 inches. He wears US size 10 shoes, 42 (EU), or 9 (UK).