When the National Press Foundation awarded Dana Bash with the 2019 Sol Taishoff Award for Excellence in Broadcast Journalism, it was a truly befitting recognition for one of CNN's most outstanding journalists. With a career spanning over two decades, Dana has been predominantly with CNN where she has risen to become the network's chief political correspondent based in Washington, D.C. In addition to this role, Dana has also served as an anchorwoman and moderator for CNN's political town hall and presidential primary debates.
Early Life and Education
Dana Bash was born Dana Ruth Schwartz on June 15, 1971, in Manhattan, New York City. She is the daughter of television producer Stuart Schwartz who is famous for having worked for ABC News where he produced its flagship early morning TV show, Good Morning America. Her mother Frances Weinman Schwartz, on the other hand, was initially a full-time mom but she later went back to school where she acquired a Masters's degree in Jewish studies. She would then go on to make a career as an educator in Jewish studies, authoring a book titled Jewish Moral Virtues.
Dana credits her dad with influencing her decision to become a journalist as her mom played a vital role in embedding in her the Reform Jewish faith. For her high school education, the young lady attended Pascack Hills High School in Montvale, New Jersey before enrolling at George Washington University where she graduated with a cum laude bachelor's degree in political communications.
While in college, Dana Bash got the chance to intern at some of the biggest broadcast television networks in the US. They include NBC, CBS, and CNN which she ended up working for after leaving school. In 2018, after spending a few years at Franklin Pierce University in Rindge, New Hampshire, Bash received an Honorary Doctorate of Humane Letters.
Dana Bash at a Glance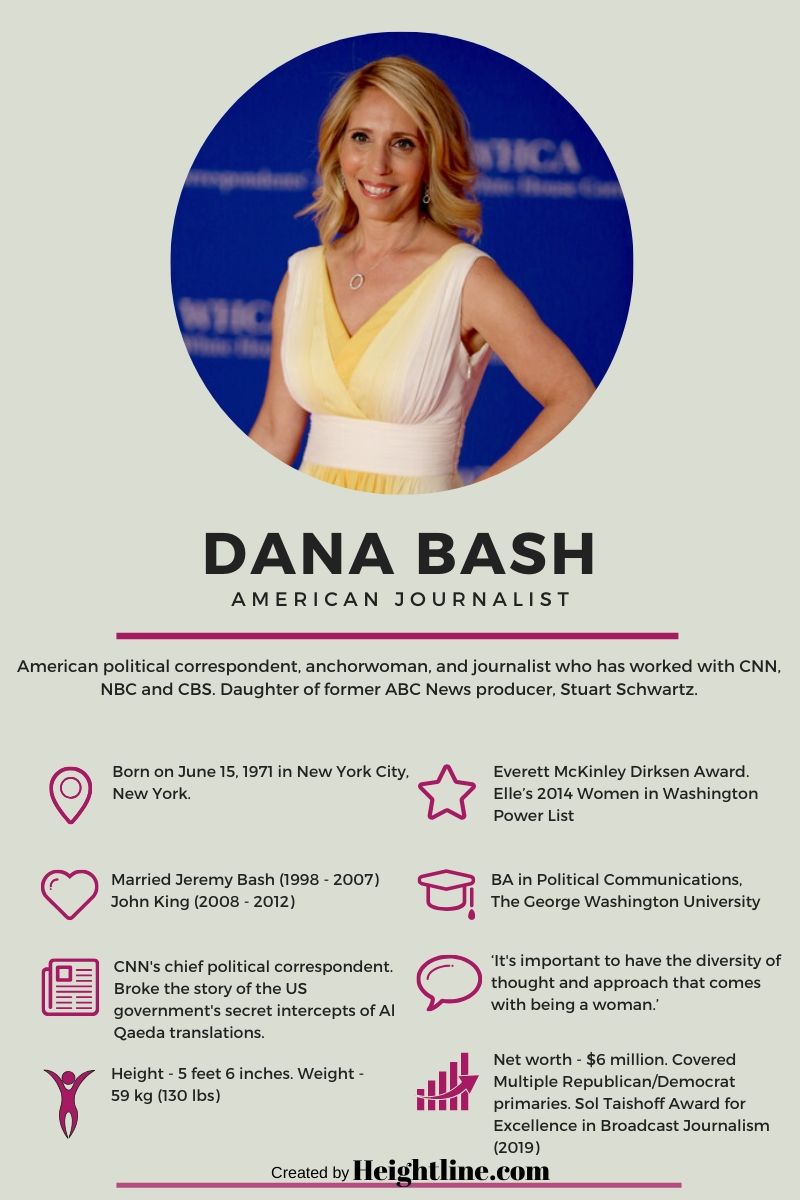 Details of Her Work as a CNN Journalist
Almost immediately after graduating from George Washington University, Dana Bash landed a full-time job in CNN's Washington bureau as a producer and then editor. She produced a number of the network's weekend and public affairs shows like Late Edition with Frank Sesno, Evans & Novak, and Inside Politics Weekend with Wolf Blitzer. As an editor, part of her job included helping to plan and coordinate the network's coverage of Capitol Hill, the State Department, and key issues such as Medicare and Social Security.
During the 2000 presidential primaries, Dana was part of the CNN team that traveled around the United States with candidates. She notably followed the campaigns of Sen. Bill Bradley and former Vice President Al Gore. Two years later, Dana rose to national prominence after she broke the news of the government's secret intercepts of Al Qaeda translations. This singular piece of insightful journalism earned her first Everett McKinley Dirksen for Distinguished Reporting of Congress Award from the National Press Foundation.
Dana Bash's next high profile appointment came during President George W. Bush's administration where she served as CNN's White House correspondent. In this position, she covered topical stories like the capture of Saddam Hussein, Hurricane Katrina, and the CIA leak investigation. In March 2006, she was made CNN's chief congressional correspondent and in this capacity received the Everett McKinley Dirksen for Distinguished Reporting of Congress Award from the National Press Foundation an unparalleled 3 times.
Alongside other members of the CNN team, Bash received the Peabody Award for the brilliant coverage of the historic 2008 U.S. Presidential Campaign that saw Barrack Obama get elected as President. During the campaign, she served as the network's primary reporter on Republican Sen. John McCain's campaign and was the one who broke the story of Mitt Romney's decision to suspend his campaign.
Dana Bash has since then become a key figure in her network's coverage of elections in the United States. In 2016, she interviewed the leading candidates in the presidential election, including eventual winner Donald Trump, Bernie Sanders, Ted Cruz, Marco Rubio, Jeb Bush, and John Kasich.
In recent times, Dana has become CNN's chief political correspondent based in Washington, D.C. In 2017, she started her own CNN series titled Badass Women of Washington. She conceived the show, which would feature women from a wide range of backgrounds that have shattered glass ceilings on their way up the ranks, in the wake of Hillary Clinton's election loss.
What We Know About Dana Bash's Love Life
Dana Bash has been married twice. She was first married to Jeremy Bash, a former CIA Chief of Staff, in 1998. In 2007, after 9 years of marriage, the couple divorced over what court documents described as "lack of understanding". Dana remains good friends with Jeremy and still retains her former husband's last name. Their union didn't produce any child.
After her first marriage officially ended, it did not take time for Dana to jump back into the deep end again as she married fellow CNN correspondent John King about a year later. The pair got married in 2008 as John, who was raised Roman Catholic, converted to Judaism in order to be able to marry Dana. They went on to welcome a son named Jonah Frank King on June 28, 2011, before parting ways in the following year.