Dana Bash is one of the most popular names/faces on international television. She is a journalist, news anchor, and TV host. She has served as White House correspondent and congressional correspondent of CNN. She equally plays the role of the chief political correspondent on the network.
Bio
She was born Dana Ruth Schwartz on June 15, 1971, in Manhattan. Her mother Francie Schwartz was a fulltime mom, however, after her children left home, she returned to college and earned a masters degree in Jewish studies. She later worked as an educator in Jewish studies.
Dana's father Stuart Schwartz served as a producer for ABC News prior to his retirement. Due to the nature of her father's job, the family relocated several times living in New Jersey, Washington, and New York. However, Dana Bash is a self-acclaimed New Jersey girl.
She had her high school education at Pascack Hills High School in Montvale, New Jersey. She graduated cum laude with a bachelor's degree in political communications from George Washington University.
Dana Bash CNN Career
Dana Bash currently serves as CNN's chief political correspondent. However, it took her several years of hard work and dedication to attain this height. She joined CNN way back in 1993 and she has worked her way through the ranks to get to where she is today.
Due to her father's job as a news producer, Dana Bash developed a keen interest in politics and media at an early age. Therefore, while still in college, she sought out internship opportunities at several TV networks. As an undergraduate, she interned at a number of news networks including NBC and CBS.
Upon graduation, Bash landed a spot as a paid intern in the tape's library of CNN's Washington bureau. She was eventually promoted to associate producer and later got the role of a news anchor. While at it, she volunteered extra hours on weekends in order to gain more expertise.
As a political correspondent, she covered the 2000 US presidential primaries and the 2002 midterm elections. She equally participated in the network's coverage of the 2004 US presidential campaign and the 2006 mid-term election coverage.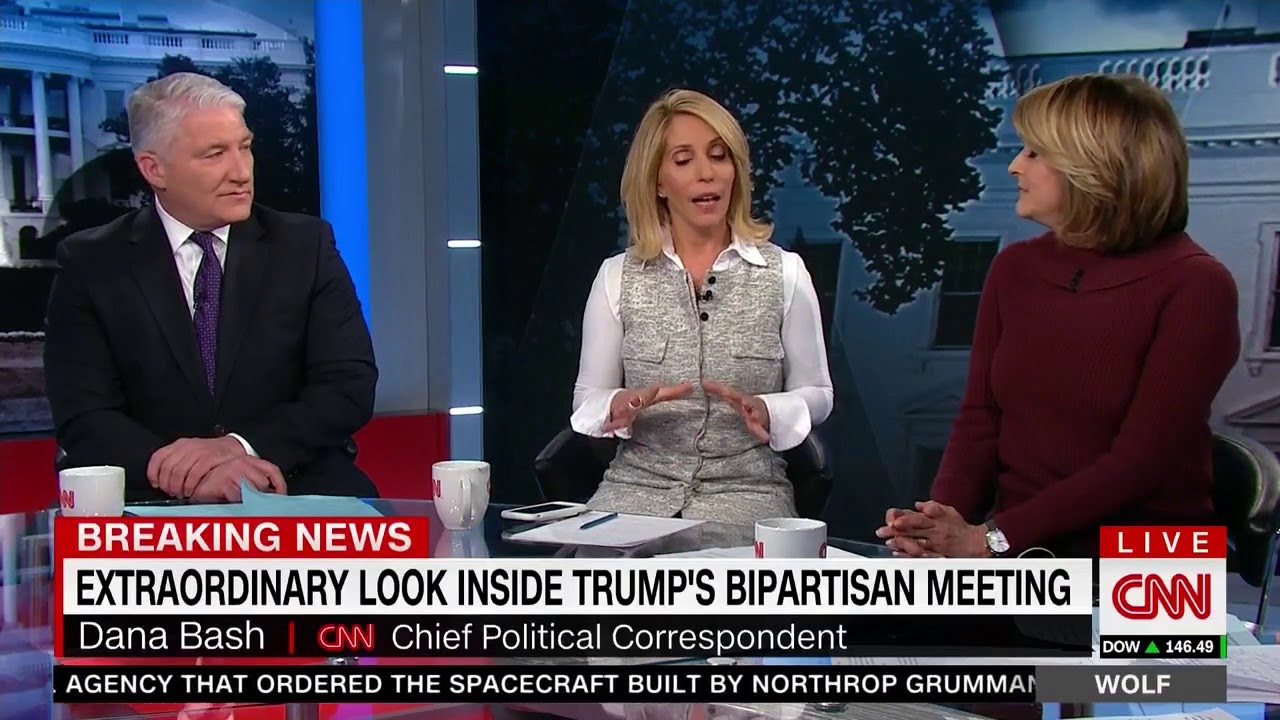 As CNN's congressional correspondent, Dana Bash has received the Everett McKinley Dirksen Award for Distinguished Reporting of Congress Award from the National Press Foundation an unparalleled 3 times. In March 2006, she was made CNN's chief congressional correspondent.
In 2008, she landed another career-changing role as a member of CNN's team of White House correspondents. Alongside other members of the CNN team, Bash received the Peabody Award for the brilliant coverage of the historic 2008 US Presidential Campaign. Bash also played a key role in CNN's coverage of the 2012 US elections. She equally served as the lead reporter and co-anchor of CNN's coverage of the 2016 US Presidential elections tagged America's Choice 2016.
See Also: Who is Brooke Baldwin (CNN) Husband, Salary, Net Worth, Age, Height 
Salary
The exact take-home pay of CNN's political correspondent is currently not in the domain of the public. However, we know that the annual salary of a CNN correspondent ranges from several thousand to several million dollars, depending on the individual's experience. Given the facts that Bash has several decades of experience to show for her CNN career, she should surely be on CNN's top hierarchy in terms of remunerations.
Husband, Divorce
Dana Bash was married to former CIA executive Jeremy Bash. They got married way back in 1998. However, after 9 years, the union fell apart. Their divorce was finalized in 2007 and they stated "lack of understanding" as the reason for the separation. However, Dana Bash has maintained her former husband's last name. They had no children together.
A year after the divorce, Bash found love again. In 2008, she got married to fellow CNN star John King. King was raised as a Roman Catholic, however, he changed to Judaism before they tied the knot. In 2011, the couple had a child together. Unfortunately, their union fell apart the following year. Their divorce was finalized in 2012.
Dana Bash has equally been linked with L.A.-based Hollywood actor Spencer Garrett. The relationship started way back in 2013 and the couple seems to be pretty serious. However, they are yet to take their romance to the next level.
Son
Dana Bash has one child, a son named Jonah Frank King. He was named "Jonah Frank" in honour of his father's mom Joan King and his mother's grandfather Frank Weinman. He was born on June 28, 2011. The child's father is John King, Bash's former husband. Even though his parents are divorced, they have continued to efficiently play their parenting roles in his life
Height And Other Body Measurements
Dana stands at a height of 5 feet 6 inches or 168cm. She weighs around 59kg or 130lbs which she maintains with regular workouts. This her regular workout has given her a somewhat ever-young look with a bust size of 34 inches, waist of 24 inches and a hip size 35. Despite her age, she still looks very much younger than most people will imagine.