Daisy Ridley is not gay and has dated only men to the best of our knowledge, including English actor, Tom Bateman. However, speculations about her sexuality have persisted due to her tomboy appearance sometimes and the fact that she is a supporter of the LGBT community.
Despite sudden global popularity, Daisy Ridley has remained humble and gracious. The actress became famous overnight when she was cast as Rey in 2015's Star Wars: The Force Awakens – the first installment in the Star Wars sequel trilogy. Before her sudden international fame, Daisy was an up-and-coming actress who bolstered her minor roles on television, short films, and independent films by working as a barmaid at two London pubs. She made her film debut in the horror film, Scrawl, which was directed by Peter Hearn.
Since landing her role in Star Wars: The Force Awakens, the actress has gone on to land prominent roles in Murder On The Orient Express, Peter Rabbit, Chaos Walking, Ophelia as well as reprising her role as Rey in the subsequent Star Wars films. In addition to her career, her fans have increasingly become curious about her personal life as well. We unveil details about her romantic life as well as facts to address the rumors of whether or not she could be gay.
Possible Reasons Behind Daisy Ridley's Gay Speculations
She Grew Up A Tomboy
With her breakthrough in 2015 with Star Wars, new details about Daisy Ridley surfaced as she began to give more and more interviews. In one of those interviews, she revealed that she grew up as a little Tomboy. About two years later, she threw more light on what she meant as "growing up as a tomboy" in her interview with GQ Magazine. In the interview, the actress used words like "loud" "sassy" and highly energetic to describe what she was like as a young kid.
However, she also expressed in the same interview that she has a problem with the word "tomboy." Ridley said that because a girl likes to be active does not make her boy. She thought of the word as sexist and said she struggles with seeing why there should be a "boy" in the word. She added that she has a high level of masculine as well as feminine energy.
Perhaps, Daisy Ridley's tomboy mannerisms are part of the reasons why some of her fans and admirers suspect that she could be gay. There is a discussion page titled "The L Chat" on the platform Taptalk where participants take clues from her physical appearance to discuss her "gayness." While some believe that she is a closeted lesbian, others are of the opinion that she is bisexual.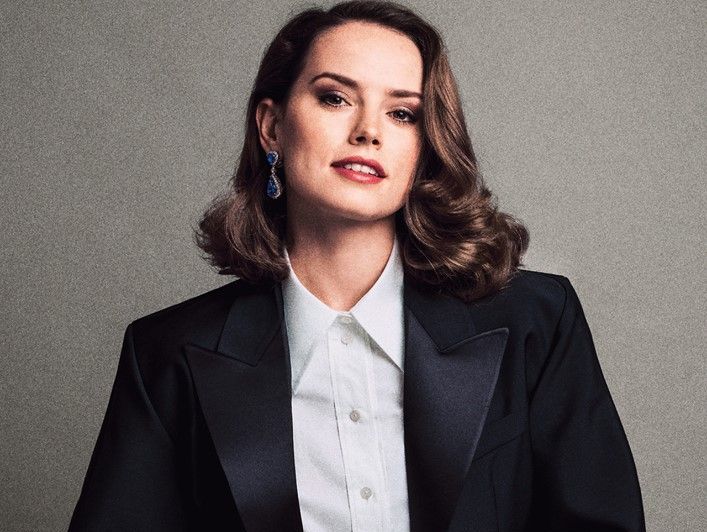 Daisy Ridley supported the inclusion of a gay romance in the new Star Wars Trilogy
Speculations surrounding the second installment of the new Star Wars trilogy – Star Wars: The Last Jedi (2017) was that it could feature the first gay romance in the film franchise. The creators of the franchise, with the growing influence of the LGBTQ community, have been on a quest for inclusivity.
A few gay characters have already been introduced in the franchise in the video games and in novels but never in film and The Last Jedi was suspected to include the first Star Wars on-screen gay romance. The couple to fulfill this was to be Resistance pilot Poe Dameron (Oscar Isaac) and stormtrooper Finn (John Boyega).
The close bond between the two characters had begun in the first installment and thoughts were that the chemistry between them would be taken up a notch but that never happened, Poe instead got to kiss Rose Tico (portrayed by Kelly Marie Tran), however, the chemistry between the two men remained obvious.
Stars of the film were asked about their thoughts about the two men being a couple and Daisy Ridley's response was that she'd go on a date with Poe and Finn, confirming that she ships them. Another Star Wars star who thought Poe and Finn would make a great couple was Kelly Marie Tran whose character has a thing for Poe.
She Supports The LGBT Community
We know there are many people in the entertainment industry who support gay rights and everything that makes the gay community look good but are not themselves gay. Daisy Ridley might just be one of those people but that hasn't stopped her fans. In fact, a reason like this one is what many who think of her as gay are looking out to hold onto to support their claim.
Who Has Daisy Ridley Dated?
Though the aforementioned reasons might be enough to put question marks on Daisy Ridley's sexuality, the fact that she has only dated men, at least to the best of the media's knowledge, screams that she is straight! Rumor has it that she dated British actor, Charlie Hamblett from 2014 to 2016 and that she was also in a relationship with her Star Wars co-star, John Boyega, and while Ridley hasn't said anything about the former, she and Boyega confirmed that they were only friends.
Daisy Ridley's first publicly confirmed relationship was with English actor, Tom Bateman. Both entertainers began dating in 2017 after meeting while working together on the set of Murder On The Orient Express. Tom Bateman is best known for his roles in Da Vinci's Demons, Jekyll and Hyde, Cold Feet, Vanity Fair, and Into The Dark.
In June 2019, Ridley sparked rumors that she was engaged to Bateman after she was spotted wearing a diamond ring. In her interview with Maire Claire, she declined to speak about her romance with the actor, only commenting that the ring that she wore on "that" finger was a nice ring. Daisy Ridley has never said anything about her sexuality, thus until there is a coming-out, it is safe to say that she is straight.