Cutter Dykstra is an American baseball player who is currently a free agent. Ever since he was released by Harrisburg Senators in 2016, he has not been able to find another team to pitch for. He was such a promising talent while he was much younger but these days, he finds it difficult to land a spot in the Major League Baseball. One of the things that have slowed down his baseball career is what hinders most athletes career, injuries.
Injuries have really been a big obstacle in Cutter's aim at achieving his dream of playing in the MLB. With injuries pulling his career down, he has also had so many inconsistent seasons. It has hindered him from fulfilling the initial potentials he showed back in his high school that made the Milwaukee Brewers draft him while he was just a teenager.
Cutter Dykstra – Biography
Cutter Dykstra was born on June 29, 1989, in Manhasset, New York. He was born as one of three kids of retired baseball player Lenny Dykstra and his wife, Terri Dykstra.
Growing up, Dykstra and his brothers loved watching and playing baseball together. This is not surprising, knowing that their father was a pitcher back in the days. This, no doubt largely influenced Cutter's passion for the game and made his dream of pitching in the big leagues like his father. Dykstra attended Westlake High School in Westlake Village, California. During his high school days, as expected, he played baseball and was one of the best in his school's team.
During his senior year at Westlake High School, Cutter Dykstra was given the opportunity to either advance to college after high school and get a scholarship program to continue playing baseball or to get drafted from high school and become a pro baseball player almost immediately. Dykstra chose the latter and was drafted in the 2nd round of the 2008 MLB June Amateur Draft by the Milwaukee Brewers.
So far, he has gone on to play for Potomac Nationals, Hagerstown Suns, Helena Brewers, AZL Brewers, Wisconsin Timber Rattlers, Syracuse Chiefs, Auburn Doubledays and Harrisburg Senators, all of which are Minor league teams. Cutter plays as an outfielder, second baseman and third baseman. In addition, Cutter bats and throws with his right hand.
Cutter Dykstra's Family
Cutter Dykstra's parents are Lenny Dykstra and Terri Dykstra. His parents stayed married from 1985 until Terri filed for a divorce in 2009. Lenny Dykstra was born as Leonard Kyle Dykstra on February 10, 1963, in Santa Ana, California. He was a professional baseball player. Unlike his son, Lenny bats and throws with his left and he made his MLB debut on May 3, 1985, playing for the New York Mets.
He played for only two MLB teams including New York Mets (1985-1989) and Philadelphia Phillies (1989-1996). His last MLB game was with the Phillies on May 18, 1996. During his active years, Lenny was named to the All-Star team for three times in 1990, 1994 and 1995. He also led the Mets to win the World Series Championship in 1986.
Cutter Dykstra has two brothers, Luke and Gavin Dykstra. His younger brother Luke Dykstra was born on November 7, 1995. Luke is also a baseball player, he followed in the footsteps of his father and older sister. Luke was drafted by the Atlanta Braves in the 7th round of the 2014 MLB draft. He presently plies his trade with minor league side Sugarland Skeeters.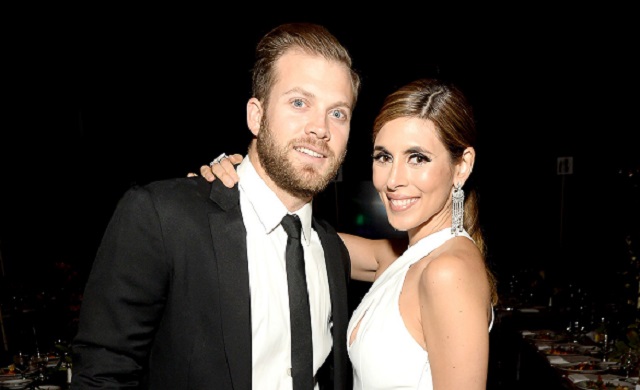 Cutter Dykstra is married to American actress Jamie-Lynn Sigler. The couple has been married since 2016. The actress is best recognized for her role in the HBO TV series The Soprano as Meadow Soprano. While it was Dykstra's first marriage, it was the second for Sigler.
Before she met Dykstra, she was previously married to A.J. Discala. Their marriage was however short-lived, they got divorced in 2006, after having only been married for three years. Sigler and Cutter now have two kids together; their first son, Beau Kyle Dykstra, was born on August 28, 2013, while the second, Jack Adam Dykstra, was born in January 2018.
See Also: Who Is Yangervis Solarte's Wife? His Bio, And Other Facts
 Other Facts About Jamie-Lynn Sigler's Husband
Cutter Dykstra is yet to make an MLB debut, having only played for minor league teams.
Dykstra and Jamie-Lynn Sigler got married in Palm Springs, California, on January 16, 2016, and their wedding saw over 150 guests in attendance.
His wife was diagnosed with multiple sclerosis when she was 20 years old.
The baseball star is said to have his net worth pegged at $1.5 million.
Currently, a free agent, Cutter is very tall, standing at a height of 1.83m