It seems Crystal Espinal's NFL boyfriend Tyreek Hill's life is headed in two different directions on the personal and professional front. Crystal has watched Tyreek tear up opposing players for the Kansas Chiefs while also suffering from domestic abuse at home.
The couple have a son together but in the last few years, Crystal has had to navigate some treacherous waters in her relationship with the running back. Here is everything we know about Crystal Espinal's personal life and experience with the NFL star.
Crystal Espinal's Biography
Crystal's date of birth is unknown, but she is believed to have been born in 1994. This is deduced from the report that she was 20 years old Tyreek Hill's domestic violence came to light in 2014.
Crystal's life before her relationship with the NFL player largely remains a mystery. It is known however that she has a brother whose name is Brandon Espinal and that her parents are Sergio Espinal and Dana Espinal. Beyond that, nothing else is known about them.
For her high school education, Crystal attended Tahlequah High School. She subsequently attended Oklahoma State University. According to her brother's Facebook profile, the Espinal family hails from Denton, Texas.
Crystal also has a son, Zev, with her NFL boyfriend who she gave birth to on July 10, 2015.
5 Interesting Facts You Need To Know About Crystal Espinal
1. Crystal Espinal Was Pregnant When She Was Assaulted By Tyreek Hill In 2014
Things seemed to be going really well in Crystal's romantic fairytale life. She was dating the man of her dreams whom she had met during their time as Oklahoma students. He played for the football team while she cheered him on.
All was well until the night of December 11, 2014, when Tyreek abused her physically. According to the police and media reports, Hill had come across some text messages on her phone that did not sit well with him. He barked at her to leave while flinging her phone and laptop out the door.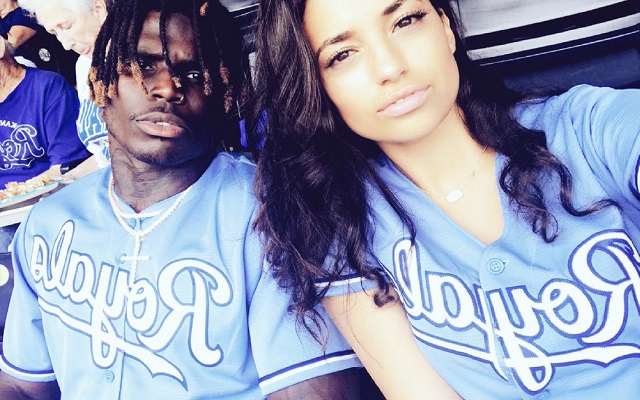 Tyreek would eventually let Crystal back into the house because she wasn't fully dressed. However, as soon as she stepped back into their home, Crystal Espinal reported that he punched her in the face, threw her against the wall, and put her in a choke-hold that lasted for more than a minute. What was even more alarming is that Espinal was pregnant with their son, Zev, at the time.
Tyreek was brought up on domestic violence charges, all of which he pleaded guilty to on August 21, 2015. The sentence was a 3-year probationary period, a one-year long Batterer's Intervention Program and also a mandatory anger management course.
He has since done the time and met all the conditions of his sentence which ended in August 2018. As a result, the court erased all the charges against him and they were expunged from his record.
2. Tyreek Proposed To Crystal in 2018
Since the completion of his sentence, Crystal and her beau have been in a good place. Tyreek even spoke in interviews about how he is a changed man and how he can't wait to go home to his son and girlfriend every day.
The family is back living under the same roof again. When Tyreek was drafted by the Kansas City Chiefs in the 2016 NFL Draft, Hill relocated to Kansas with Crystal and their son.

He also took it a step further when he unexpectedly popped the question on a quiet night in September 2018. An excited Crystal Espinal was quick to announce the good news on Instagram.
3. Crystal And Her family Have All Been Involved In Community Service
After the abuse issue blew over, things couldn't have been supposedly better between Crystal and Hill. In September 2018, the couple, along with their son, Zev, went to the Hope WRX Food Pantry for a charity event. While at the event, Crystal and her fiancé helped out at the event by bagging groceries for 125 families in Kansas City.
Tyreek was quick to mention how blessed he felt to be able to do that with his family. Crystal's fiancé had just earned the NFL Players Association's Community MVP weekly award at the time too.
4. Espinal Spoke Out Against Domestic Violence On Facebook in 2017
The football fiancée is a testament to resilience. Due to her experience with Domestic Violence, Crystal Espinal penned a post on Facebook to show her support for anybody going through any form of domestic abuse and suffering in silence. She ended the post by dropping the domestic abuse hotline.
See Also: Alice Klomp – Biography, Boyfriend, and Facts About The Instagram Model
5. There Was Another Domestic Violence Incident In 2019
Trouble reared its head again on March 14, 2019. This time, it involved their son, Zev. Crystal had recorded a conversation between her and Tyreek that was sent to a local TV station and was played live on air.
The tape revealed that Tyreek had reportedly broken the arm of his three-year-old son while trying to discipline him. Tyreek denied having done any such thing. As a result, the DA's office opened a child abuse and child negligence case against both Crystal Espinal and her boyfriend. The Kansas Chief's are also looking into the case.