Condoleezza Rice is not married and has never been married. Hence she has no children. Even more interesting is the fact that she has only one known relationship in her dating history. While many have often wondered if the American diplomat is gay, she has remained resolutely mute on the topic. 
Condoleezza Rice is best known for being the second black person and second female to be appointed as the US Secretary of State. She is also the first female Black American to be appointed to such a prestigious position. Beyond all of her awesome achievements, however, her personal life has been a subject of interest for many years.
Condoleezza Rice Is Pro Marriage
Opinions and theories have been very different regarding why Rice has remained single all these years even though she has been referred to in some circles as one of the most eligible women in Washington. In an interview with Piers Morgan on the subject, Rice said she had expected to grow up and get married like any nice Southern girl. However, she never found anyone she really wanted to be married to.
Now while she believes marriage is a beautiful idea and still holds out hopes of getting married someday, Rice also clarified that she is way past the fairy tale stage. This notwithstanding, she considers herself a romantic person who loves music, romantic movies, and can cook. She also enjoys watching football and would not consider anything that is not a marriage of equals. Rumors or not, Rice believes she would find her dream man one day soon.
The Political Scientist Has Only Been in One Known  Relationship
Condoleezza Rice and President George W. BushWhile the list of Condoleezza Rice's achievements is very long, the same can not be said about her dating history. At 68 the accomplished politician has only been in one known relationship. Back in the 1970s when Rice was in her early 20s she dated and got engaged to American former professional football player Rick Upchurch.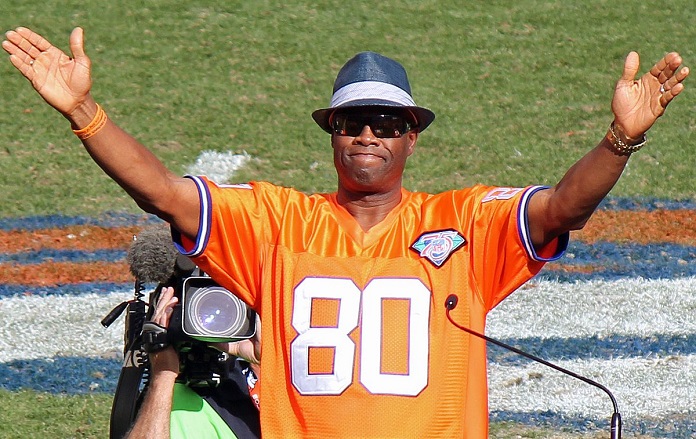 There are no specific details about what transpired between the two, but Rice called off the engagement and broke up with Rick before they could actually get married. Despite the speculations about it, the closest she ever came to an explanation was through her biographer Marcus Mabry. He explained that she knew the relationship wasn't going to work and chose to call it off before the wedding rather than after.
Besides her one known relationship with Rick Upchurch, Condoleezza Rice has been linked to a few other eligible men over the years. Let's look at why she was linked to said men.
Condoleezza Rice and Gene Washington
Apparently, Rick Upchurch was not the only footballer to have caught the attention of the powerful Rice. The former wide receiver and NFL director of football operations Gene Washington met Condoleezza Rice at Stanford where both of them worked at the time. Their friendship was kept well away from the media until they made a red carpet appearance together at the 2007 state dinner with Queen Elizabeth II.
After their appearance, the rumors ran rampant that they were a couple. To this, both parties insistently maintained that they were just friends and have never been in a relationship.
Other Rumored Relationships and Hook Ups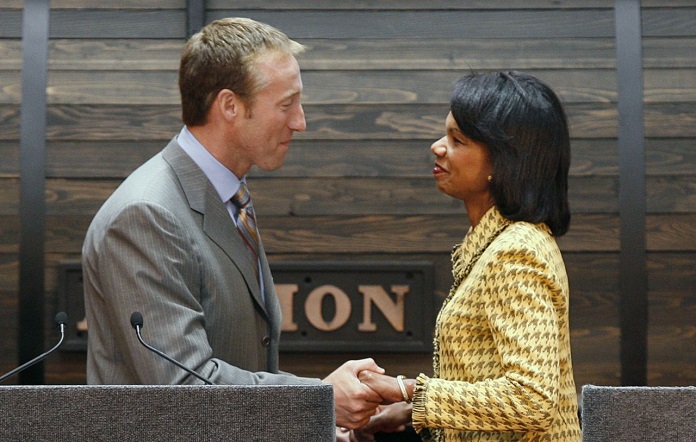 In 2006 it was speculated that Rice was in a relationship with Canadian politician Peter Mackay. The rumors began after a visit she made to his hometown of Nova Scotia where the politician made comments regarding how much Rice loves the cool breeze and how she slept with her window open.
The statement had many wondering if he had spent the night in her room to have known that her windows were open. With her history of having been single so long and him having been named Canada`s sexiest MP by The Hill Times in Ottawa, it seemed only natural that the tiniest hint at a relationship would be blown out of proportion. The situation was made worse by the fact that MacKay had just come out of a relationship and had Condoleezza Rice spending time with his family.
The speculations would eventually die off when it became obvious that there was really nothing going on between the two besides their brief work encounters. Moreso, Rice said that while she found Mackay to be the perfect gentleman, they were just friends and nothing more.
Why Do People Think Condoleezza Rice Is a Lesbian?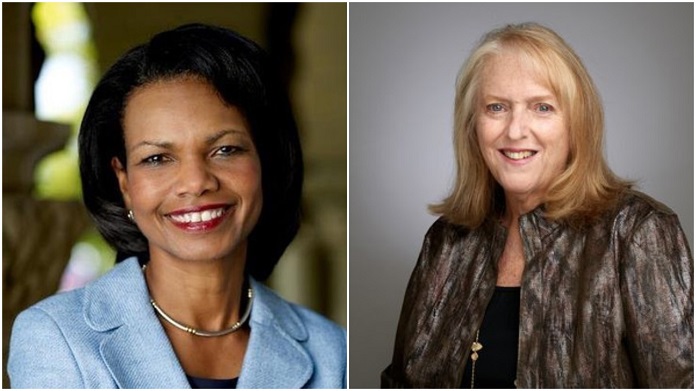 The fact that Condoleezza Rice has not been in any other relationships since she called off her engagement to Rick Upchurch, has raised some eyebrows. Years after, many are wondering whether she is gay.
While her close friendship with Gene Washington tried to quell the rumors about her sexuality, it all came into question once again when both parties insisted that they are just friends who enjoyed each other's company.
The questions about her sexuality were emboldened by the fact that she acquired a Palo-Alto home together with her very close longtime friend documentary filmmaker and writer Randy Bean and a third person. At first, it looked like an investment decision, however, when the two friends eventually bought out the third investor, this living arrangement began to raise eyebrows.
She was also rumored to have had a sexual relationship with Israeli politician Tzipi Livni but this was never confirmed. When her former fiance claimed he would be the first and last man to date her after their separation, he was allegedly referring to the fact that she was gay.
Does Condoleezza Rice Have Children?
Considering the fact that the diplomat has never been married, she has no children either. While the politician has said she is pro-marriage and still hopes to be married someday, she no longer holds out hope for having kids of her own. She explained that this is mostly because she understands that at 53 years old, she is way past the age of childbearing.
Condoleezza said she has never had any interest in having children of her own. Being that she grew up as an only child, she has never fancied the idea of having one herself. While she loves children, she prefers to associate with them at an older age.