Conan O'Brien is impressively tall with his height of 6 feet 4 inches.
When you are a media personality and a famous one at that, there is no end to the public interest in your life, especially when you have a huge fan base. The interest in Conan O'Brien's height comes primarily from his ability to stand out during his shows/performances and appear to dwarf most of his guests and audience. The debate in the early 90s that the American comedian's height was between 6-foot-5 and 6-foot-8 would have gone viral had it been the age of social media.
To put an end to the speculations regarding his height and calm the storm it had stirred in his fandom, Conan O'Brien revealed his actual height to reporters in 1993. He added that he was not radioactive and was not growing out of control. However, when a picture of him standing next to The Rock was posted on Reddit in 2018, interest in his height was rekindled. His fans and critics sought to know exactly how tall the American media sensation is as he appeared taller than the action movie star, who at that time was reportedly towering at 6 feet 5 inches.
What Is Conan O'Brien's True Height?
Although not the tallest man in the world, O'Brien at 6 feet 4 inches stands out among his contemporaries. Information available online estimates his height to be equal to 19 Cans of Campbell's Soup arranged on top of each other. As the height of an average American male is projected to be around 5 feet 9 inches, Conan O'Brien's height takes him out of the league of average American males. The former television personality is comfortable in his own skin when it comes to his height and has no problem being the giant in the room.
Conan O'Brien has been nominated for numerous awards and has won several of them, including one People's Choice Award, four Primetime Emmy Awards, and six Writers Guild of America Awards, among others. His very many career achievements are usually attributed to his late-night shows, but maybe his success might have much more to do with his 6 feet 4 inches height than his talent as a host. 
Statistics show that 70% of the highest-paid people in the entertainment industry are 6 feet tall and above. Also, research by Ohio State University reported by The Guardian in 2015 has it that a person's height is a major factor that determines whether they are a winner or loser in life. According to the research, men and women who are tall are more likely to become successful in their chosen careers than their shorter counterparts. This research aside, the truth is that how tall or short a person is, does not really have anything to do with their level of success in life. However, we cannot ignore the fact that a large percentage of successful entertainers who went on to become television personalities are mostly tall.
Considering what several other scientific sources hold on to as their basis for argument, it is not really about the height itself, rather it is all about other people's perception of the person's height and how they react to it. With several awards lined up on his shelf, and a huge fan base world over, Conan is a perfect example of a man with a towering height and towering success.
Heighlight Of Conan O'Brien's Body Measurements
Height: 6 feet 4 inches
Weight: 86 kg
Chest Size: 43 inches
Waist Size: 34 inches
Arms/Biceps: 15 inches
Shoe size: US 10, EU 43, UK 9.5
He Was A Late-Night Talk Show Host
59-year-old Conan Christopher O'Brien is an American writer, comedian, podcaster, producer, media personality, and former television host who has had an outstanding career so far. He was born in Brookline, Massachusetts.
O'Brien's passion for the media and creative industry dates back to his childhood days. While at Brookline High School, he was the managing editor of the school's newspaper, "The Sagamore". He won the National Council of Teachers of English writing award with his short story "To Bury the Living" in his senior year and later graduated as Valedictorian for the class of 1981 Brookline High School.
Following his graduation from high school, O'Brien proceeded to Harvard University. While at the institution, he was a writer for the school's entertainment magazine known as the "Harvard Lampoon" and became the magazine's president during his sophomore years.
Given O'Brien's successful primary journey into the world of showbiz, it does not come as a
surprise that he was able to achieve 28 groundbreaking years as a late-night talk show host. His late-night talk show hosting career began in 1993 with Late Night with Conan O'Brien which ran from 1993 to 2009. He later hosted The Tonight Show with Conan O'Brien (2009–2010) and Conan (2010-2021).
Conan was equally a writer for spectacular shows such as Saturday Night Live (1987–1991) and The Simpsons (1991–1993). As a host, he has put his skill to use at high-ranking award shows, including the 54th Primetime Emmy Awards (2002), 58th Primetime Emmy Awards (2002), and the MTV Movie Awards (2014).
Conan O'Brien's improvisational hosting style, which sets him apart from his peers, goes to show that beyond having a Bachelor of Arts degree in History and Literature, the skills required to excel in the entertainment industry are like talents for him. He made it to the list of Time's 100 Most Influential People in 2010. O'Brien retired as a late-night talk show host in June 2021.
Conan O'Brien's Height Compared To Other Popular Media Personalities
The entertainment and media industries are two industries that focus a lot on looks, especially when appearing on TV is involved. Even though people of different heights are usually featured on screen, the industries are mostly partial to tall guys and ladies. But while the average male entertainer (actor precisely) is said to be 5 feet 9 inches, there is currently no report on the average height of American media personalities. However, we strongly believe that Conan will be way taller than most of his colleagues if research is conducted to ascertain the average height of men in America's media industry.
Judging by the height of several American media personalities we discovered in the course of putting this comparison together, it is safe to say that Conan O'Brien is among the tallest, although we didn't come across anyone who is said to be taller than him.
He Is Three Inches Taller Than Steve Harvey
The old saying: "birds of a feather flock together", seems to be true for famous
American male media personalities. Another American comedian, Steve Harvey, is no doubt in the same league of fame and popularity as Conan O'Brien. Both media personalities have for many years served as TV hosts and comedians and also measure 6 feet and above. However, at 6 feet 4 inches, O'Brien stands taller than Steve Harvey who is 6 feet 1 inch.
Conan Towers Above Drew Carey
Let's compare O'Brien to America's magnificent comedian, actor, and game show host, Drew Carey. Both men have fame and fortune in common but unfortunately not height. Carey measures 5 feet 10 inches, meaning that Conan towers above him. We can, however, give him some credit for being taller than the average American male.
Conan O'Brien Is Taller Than Jimmy Kimmel, Neil Patrick Harris, and Jimmy Fallon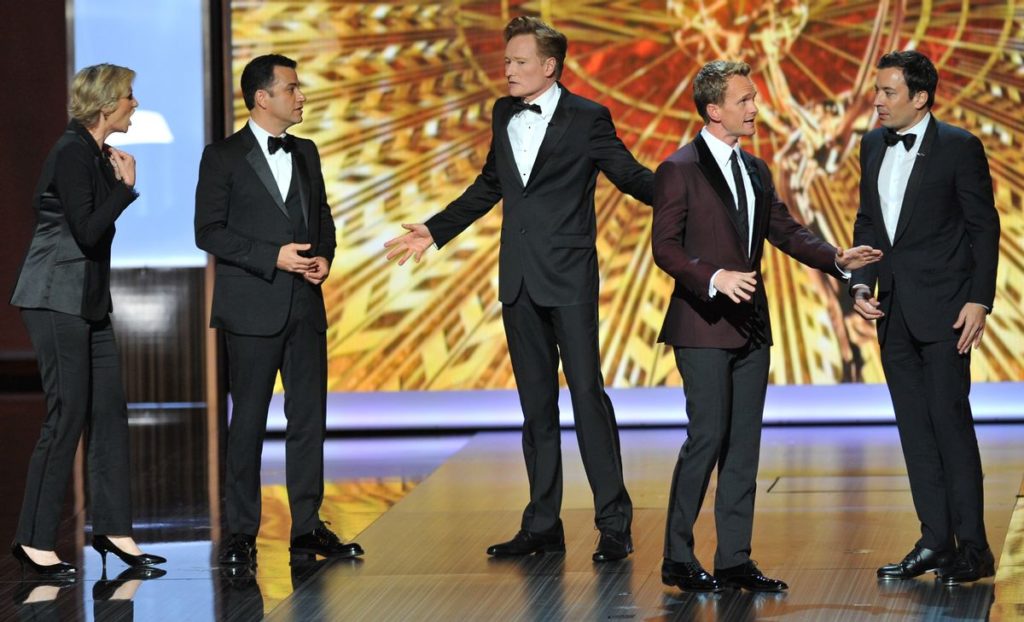 Similarly, a comparative look at Conan's height and that of some other successful television hosts and comedians such as Jimmy Fallon, Neil Patrick Harris, Stephen Colbert, Trevor Noah, and Jimmy Kimmel revealed that he is the tallest among them.
While Fallon and Harris stand at 6 feet, Stephen measures 5 feet 9 inches, which is the average height for American men. Kimmel, on the other hand, is 6 feet 1 inch tall while the Johannesburg-born Trevor Noah who hosts The Daily Show on Comedy Central is 5 feet 11 inches.
Conan Is Taller Than Alex Trebek By 8 Inches
For 37 seasons, Alex Trebek served as the host of the long-running syndicated general knowledge quiz game show, Jeopardy!. Although the Canadian-American was a notable media personality with a very successful career, he certainly did not level up when it came to height as the late-game show host measured 5 feet 8 inches.
Conan O'Brien Is A Few Inches Taller Than Dwayne Johnson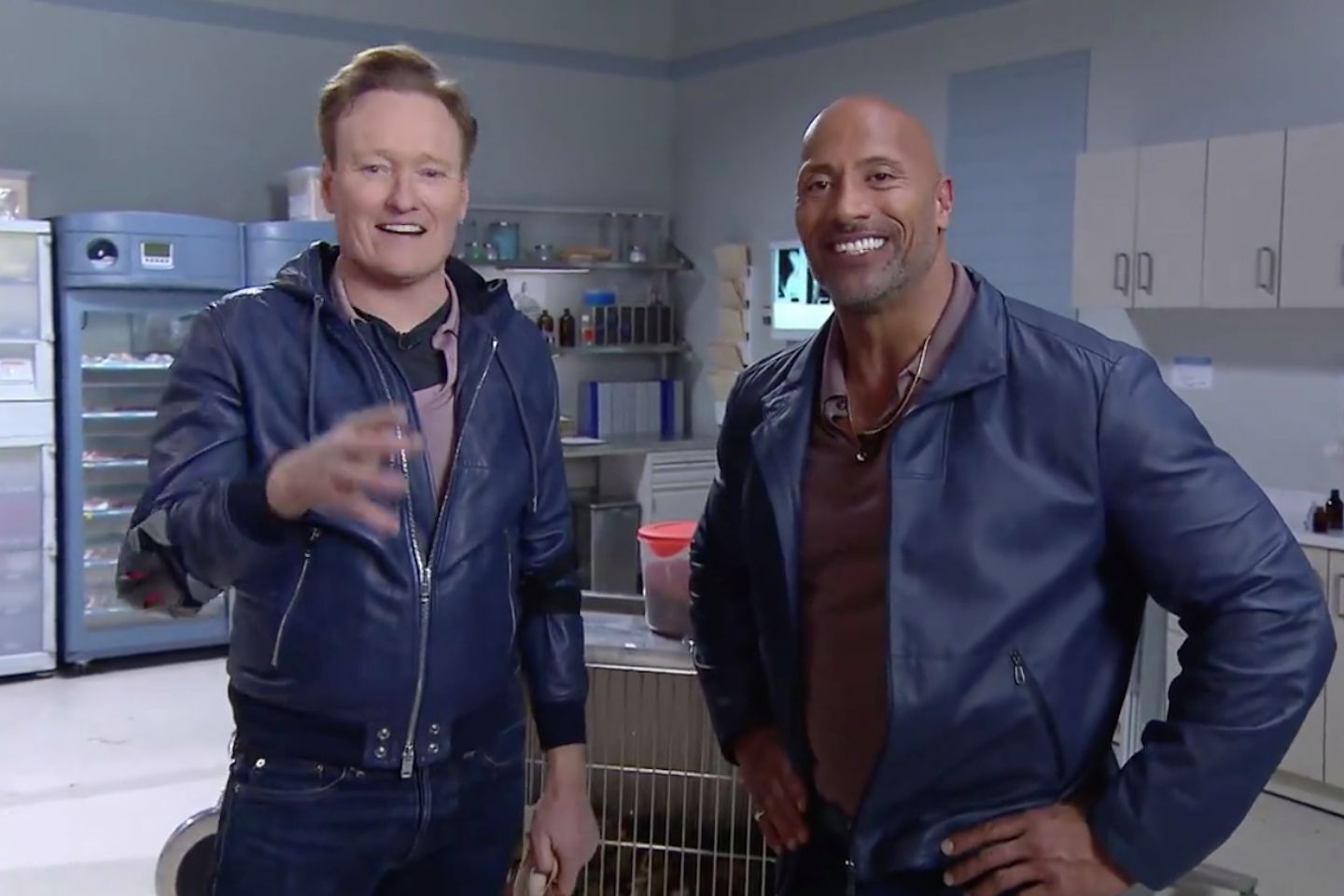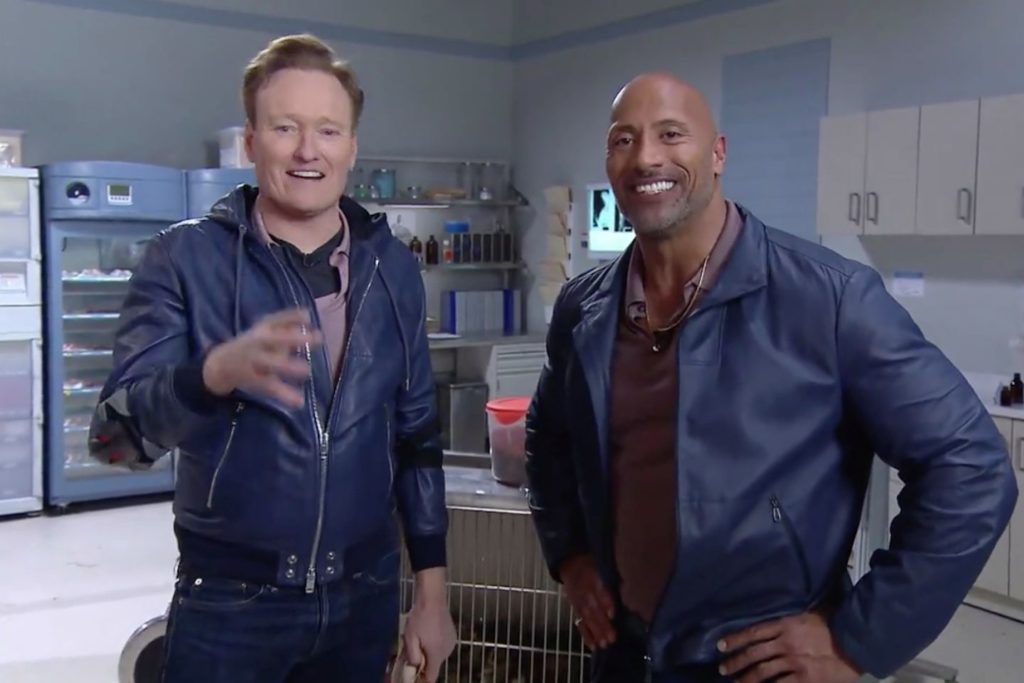 Dwayne Johnson, popularly known as The Rock, is one of those celebrities one would assume to be a real-life giant. He often takes on the role of a protagonist in most films he has appeared in and is almost always depicted as overtly tall or even a giant. But a photo of the revered Rock standing next to O'Brien proves he is no giant after all. The Rock is actually said to stand between 6 feet 2 inches and 6 feet 5 inches.
But judging by the picture above, he is not 6 feet 5 inches as some sources have reported. Conan looks a few inches taller than the actor. Many have said it was probably because of his hair, meaning that the duo might just be of the same height if both were pictured without hair.
O'Brien Is Taller Than Both Barack and Michelle Obama
Even though Barack Obama and his wife, Michelle Obama, were one of the tallest occupants of the White House, the former first couple does not measure up to O'Brien's towering height. The former president is 6 feet 2 inches tall while his wife towers above many women at 5 feet 11 inches.
The comedian is also an inch taller than former President Donald Trump and six inches taller than his successor, President Joe Biden. O'Brien is as tall as the tallest U.S. president ever, Abraham Lincoln.
Conan O'Brien vs His Wife
Another proof that Conan is a very tall man is when he stands next to his wife, Liza Ann Powel. At 5 feet 8 inches tall, Liza is many inches shorter than her husband and even with high-heeled shoes, she would still need an extra head on hers to measure up to her towering husband.
Conan Height Compared To Robert Caro
In 2018, Conan O'Brien revealed during an interview with New York Times that despite being a late-night host, he had still not been able to interview the man he wanted to interview the most – Pulitzer-winning author Robert Caro. Thankfully, by February 2019, it was announced that he'll finally have his biggest wish granted in April.
When Conan eventually had his white-whale interview, one thing that was so obvious was the height difference between him and his guest. Even though we do not know for sure what Caro measures in height, he is conspicuously quite short compared to Conan. He looks like he is around 5 feet 6 or 7 inches.
Conan vs The Cast Of The Hunger Games: Mockingjay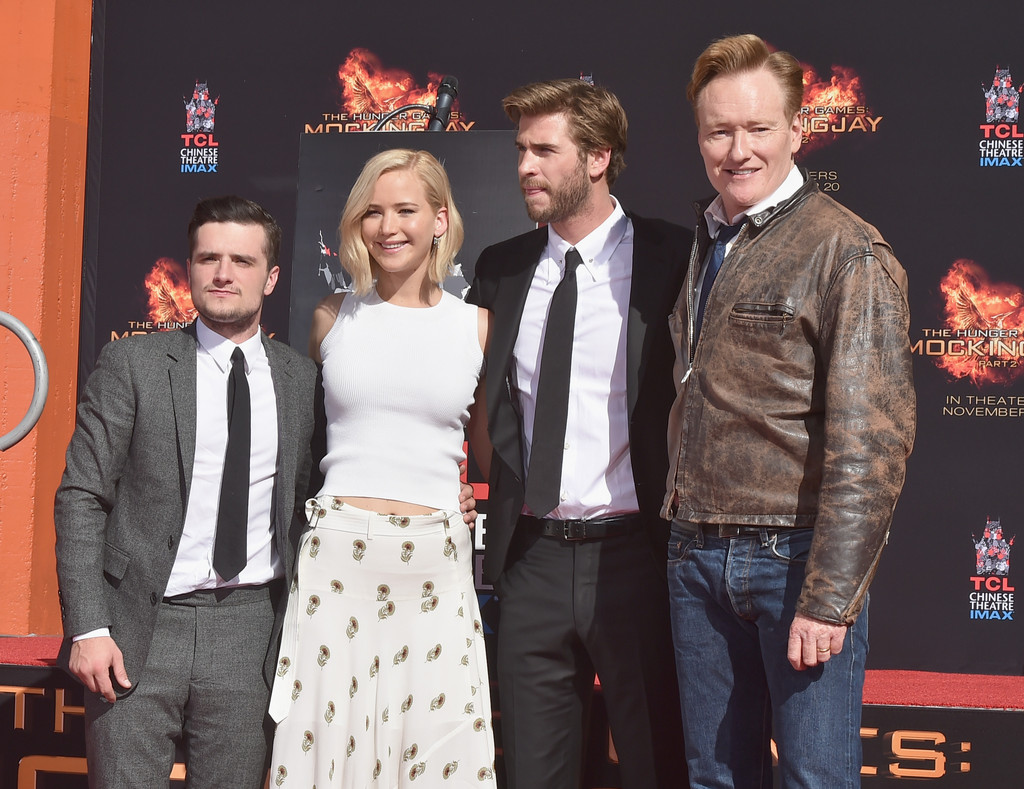 Another such occasion where Conan O'Brien made people standing next to him look very short was in 2015 when he attended The Hunger Games: Mockingjay – Part 2 Hand and Footprint Ceremony. At the event, which took place on October 31, 2015, at the TCL Chinese Theatre in Hollywood, California, the television host posed for a picture with stars of the movie, including Josh Hutcherson, Jennifer Lawrence, and Liam Hemsworth, and as usual, dwarfed them all.
At 5 feet 9 inches, Jennifer is tall for a woman but she'll need to stand on heels to meet up with Conan. The shortest of the bunch, Hutcherson, stands at 5 feet 4 inches while Liam Hemsworth is just two inches short of Conan's height at 6 feet 2 inches.
There is no gainsaying that Conan O'Brien has had an outstanding career so far and still stands tall in the assembly of his peers. While his admirable height and signature hair may have made him appealing to his audience, thereby increasing viewership for his shows, he is equally a natural talent and puts his all into what he does.