Claire Saffitz is an American professional chef, recipe developer, food critic and YouTube cooking show host. She is widely recognized as the brain and face behind the cooking series Gourmet Makes, where she whips up all kinds of classic snacks in her own kitchen. If you ever thought you couldn't make Pringles, M&M's, Oreos, and other delicious junk, Claire makes you think again with her fun and messy recipes.
She also works as a senior food editor for Bon-Appetit, a popular culinary and entertainment magazine that has been in publication since 1956. Her whole life is centered around getting people to savour and experience well-cooked food and she regularly inspires them to do so with her fantastic recipes. Claire also appears frequently on Bon Appetit's test kitchen, and she's a favourite of the viewers. Thanks to her charm and easy interactions with other hosts, the show receives massive ratings, as well as views and the audiences often leave comments about how connected they feel to the chefs. The renowned chef has published a few cookbooks full of her trademark wits and loads of mouthwatering recipes.
Claire Saffitz – Bio (Age)
The beloved chef was born on September 16, 1986. There are hardly sufficient information about Claire's personal history, family background, and details about her parents or siblings because she has chosen to keep this aspect of her life hidden away from the media.
Ever since she was a little girl, Claire Saffitz has been fascinated with cooking and this passion later spurred her to travel to Paris, where she completed a certification course in Classic French Cuisine at the prestigious Ecole Gregoire Ferandi. Afterwards, she attended Harvard University where she studied culinary history and graduated with honours. She also studied gastronomy and European food history at McGill University.
Upon graduation, she set out to pursue a career as a professional chef, refining her skills and growing into a top class cook. She has worked as a food critic, written editorials, featured and hosted cooking shows on several platforms, and has even published a few books of her own. What Claire has managed to accomplish in so short a time is by no means a small feat. Through hard work, brilliance, and creativity, she has made a name for herself in the culinary world and is currently regarded as one of the best in the business.
Claire Saffitz has a very busy schedule but she still finds time to create amazing sensory and visual experiences for her fans and followers to consume online. Her status as a celebrity chef sees her shuffling in and out of restaurants, coordinating all things food-related and she's very sought after by producers and editors looking to create quality gastronomic content that everyone can enjoy. She often holds private tasting and cooking sessions, competitions, and culinary classes for those looking to improve their abilities in the food department.
The young and accomplished chef is beloved not just for her creations, but the pragmatic and almost frantic way she goes about creating them. She doesn't try to pretend that she's perfect, her recipes don't always work out on the first try, but she keeps at it until she hits the perfect landing. She is fondly referred to as the dessert dilettante or confectionary queen and is constantly breaking grounds and exploring cuisines from across the world.
Husband And Family Life
Nearly everything that Claire does in the kitchen is readily seen by viewers from all over the world, however, very little is known about her life away from the kitchen. Her relationship timeline and status is one of those aspects of the chef's life that most people seem interested in. Recently, there have been rumours that Claire Saffitz might be going out with Brad Leone, the manager of Bon Appetit's Test Kitchen but neither of them has affirmed the veracity of this information.
Perhaps, they are just colleagues who collaborate often and there is no underlying romance to their relationship. If that is the case, then Claire is still very much available and unmarried.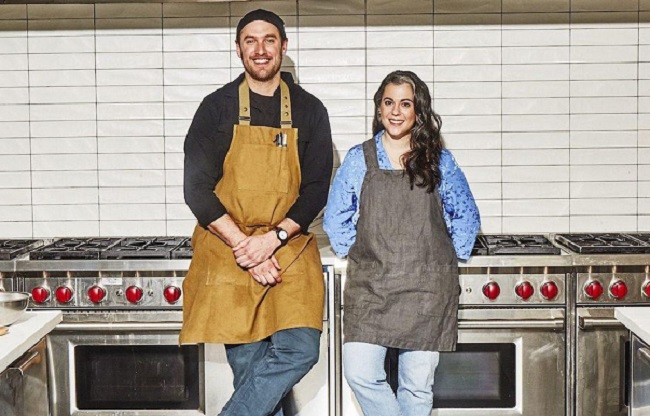 See Also: Janelle Brown – Biography, Net Worth, Children, Family, Facts
Celebrity Facts
1. Claire Saffitz has black hair, brown eyes and stands at 5 feet 4 inches in height.
2. She also appears in a couple of other shows asides Gourmet Makes and Test Kitchen, such as Back to Back Chef and she is set to host a new one called Bon Appetit's Baking School.
3. The famous chef makes about $20,000-$30,000 per video and charges $500-$1,000 per post on Instagram.
4. Claire Saffitz is estimated to have a net worth of about $1 million.