Claire Saffitz is an American professional chef, recipe developer, food critic, YouTube cooking show host, and former contributing editor at Bon Appétit magazine. She is widely recognized as the brain and face behind the cooking series Gourmet Makes where she whips up all kinds of classic snacks in her own kitchen.
If you ever thought you couldn't make Pringles, M&M's, Oreos, and other delicious junk, Claire Saffitz makes you think again with her fun and messy recipes. Her whole life is centered around getting people to savor and experience well-cooked food and she regularly inspires them to do so with her fantastic recipes.
Until 2020, Claire appeared frequently on Bon Appetit's test kitchen where she's a favorite of the viewers. Thanks to her charm and easy interactions with other hosts, the show receives massive ratings, as well as views and audiences often leave comments about how connected they feel to the chefs.
The renowned chef has published a few cookbooks full of her trademark wits and loads of mouthwatering recipes.
Summary of Claire Saffitz's Biography
Full name: Claire Saffitz
Gender: Female
Date of birth: September 16, 1986
Claire Saffitz's Age: 36 Years Old

Zodiac: Virgo
Ethnicity: Ashkenazi Jewish
Nationality: American
Sexual Orientation: Straight
Religion:  Jewish
Marital Status: Married
Claire Saffitz's Husband: Harris Mayer-Selinger (married in 2020)
Siblings: two older sisters
Education: Captain Elementary, Clayton High School, Harvard University, École Grégoire-Ferrandi in Paris, France, McGill University.
Claire Saffitz's Net worth: Estimated at $1 million
Famous for: the cooking series Gourmet Makes
Claire Saffitz's Instagram: csaffitz
YouTube: Claire Saffitz x Dessert Person
Claire Saffitz's Fact Sheet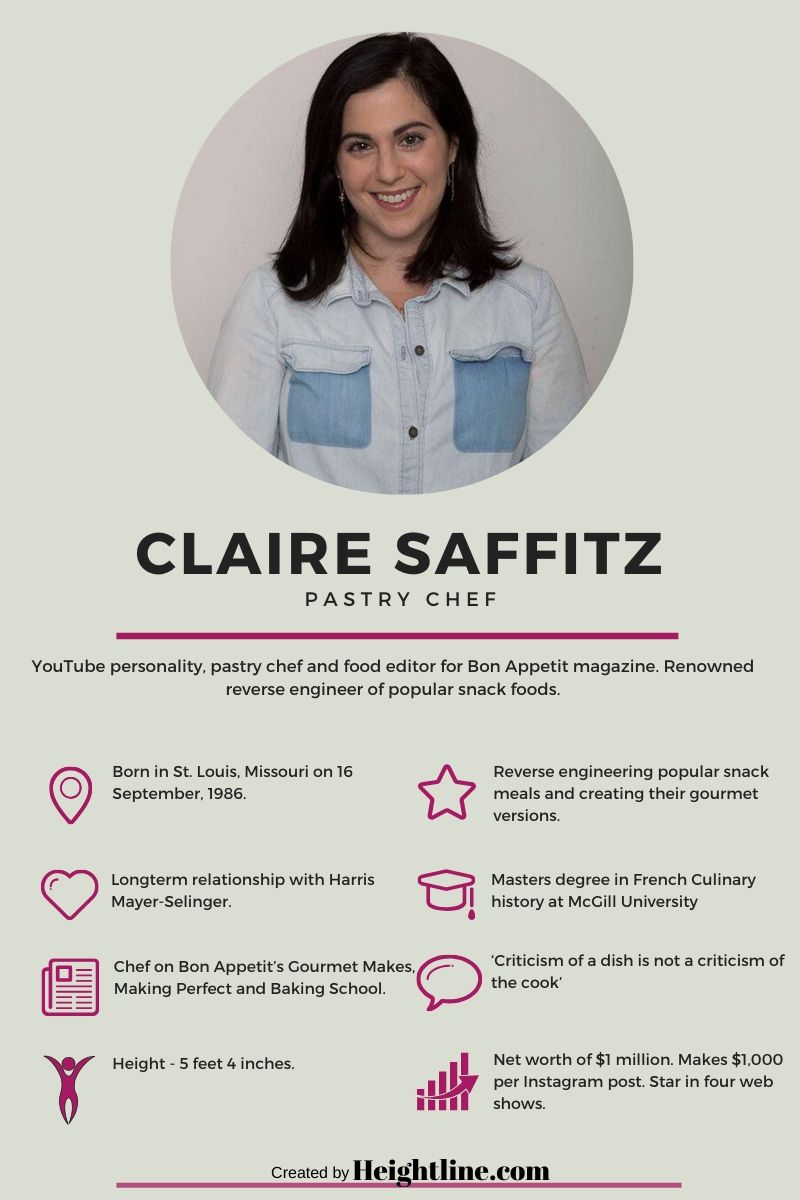 There are quite a lot of things known about the celebrity chef and her family. Nonetheless, here are pretty much the most interesting that you probably still don't know.
Quick Background Information
The beloved chef was born on September 16, 1986. She was birthed into an Ashkenazi Jewish heritage and got her knack for food and cooking from her mom. Her father is a grade school principal. She revealed that he is known for a second-grade essay he wrote about an Eskimo who left home to hunt for gefilte fish. Her family has always loved gefilte fish, Claire grew up seeing both her mother and grandmother make it at home.
She was educated in the culinary line
Ever since she was a little girl, Claire Saffitz has been fascinated with cooking and this passion later spurred her to travel to Paris, where she completed a certification course in Classic French Cuisine at the prestigious Ecole Gregoire Ferrandi. Afterward, she attended Harvard University where she studied culinary history and graduated with honors. She also studied gastronomy and European food history at McGill University.
Career Pursuits
Upon graduation, she set out to pursue a career as a professional chef, refining her skills and growing into a top-class cook. She has worked as a food critic, written editorials, featured and hosted cooking shows on several platforms, and has even published a few books of her own. What Claire has managed to accomplish in so short a time is by no means a small feat. Through hard work, brilliance, and creativity, she has made a name for herself in the culinary world and is currently regarded as one of the best in the business.
She also appears in a couple of other shows asides Gourmet Makes and Test Kitchen such as Back to Back Chef and she is set to host a new one called Bon Appetit's Baking School. Her YouTube channel was one of the best reality channels of 2019.
She is well-loved among her fans
The young and accomplished chef is beloved, not just for her creations, but the pragmatic and almost frantic way she goes about creating them. She doesn't try to pretend that she's perfect. In fact, her recipes don't always work out on the first try, but she keeps trying until she hits the perfect landing.
She is fondly referred to as the dessert dilettante or confectionary queen and is constantly breaking grounds and exploring cuisines from across the world.
She Enjoys A Closely Knit Family
While she is yet to start her own family, Claire Saffitz comes from a close-knit family with her parents, grandmother, and older sisters Emily Saffitz and Emily Saffitz. It is assumed that her parents who both went to Bethesda Chevy Chase High School in Bethesda, Maryland and graduated in 1967 were high school sweethearts, with Jeff older than Sauci with just a year.
Her Relationship Status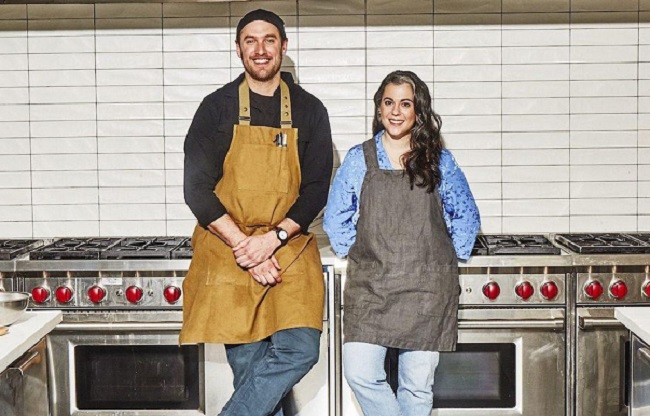 Nearly everything that Claire does in the kitchen is readily seen by viewers from all over the world. However, very little is known about her life away from the kitchen. Her relationship timeline and status is one of those aspects of the chef's life that most people seem interested in.
There was a rumor that Claire Saffitz was going out with Brad Leone, the manager of Bon Appetit's Test Kitchen but it was never confirmed. However, she has been in a relationship with Harris Mayer-Selinger for more than five years. An alumnus of The Culinary Institute, as well a Hospitality Management graduate from Cornell University, Harris is also a chef in New York. According to him, on their first date, he knew she was special. There are speculations that they are now engaged after a ring was sighted on her finger.
The two now live together in their home in New York City.
How Much She Is Worth 
The famous chef makes about $20,000-$30,000 per video and charges $500-$1,000 per post on Instagram. With that said, Claire Saffitz is estimated to have a net worth of about $1 million.