The striking blue-eyed Cillian Murphy is an Irish national who has made waves in the Hollywood Film Industry and is a strong believer that his nationality or ethnicity should not limit his creativity and career hence he may be Irish but is not just limited to being an Irish Actor.
Biography (Age)
The actor was born on25th May 1976 in Douglas, County Cork, Ireland and spent most of his childhood life and adult years in  Ballintemple, Cork, Ireland. He attended Presentation Brothers College and though he was a smart student he was also very troublesome in school as he got into trouble for bad conducts most of the time.
His interest in performing arts was also developed during his days in the college where he got his first acting role in a drama presentation and his brilliant performance made his English teacher a novelist named William Wall to encourage him to pursue acting however, Murphy was more inclined to the rock star kind of performance as at then. He started singing and learned how to play the guitar which he played for many bands and eventually created a band with his younger brother which they named "The Sons of Mr. Greengenes".
See Also: Pierce Brosnan Wife, Son, Daughter, Family, Height, Age, Net Worth
The actor was once a student of University College Cork where he was studying law but as he recalled, it was not his dream to be a law practitioner so he did not give it his best and ended up failing his final exams. He also revealed that his venture into acting was not out of keen interest but because he wanted to socialize and make more female acquaintances. His stage acting started with the Corcadorca Theatre Company and he landed a role on stage in September 1996 in Enda Walsh's play Disco Pigs. The success of the play spread like wildfire and he started appearing in diverse plays at Dublin and London theatre which later attracted film offers for him.
The actor is known for his volatile role and portrayal of villains in movies which include the films 28 Days Later, Sunshine, Red Eye, The Dark Knight, The Dark Knight Rises, Inception and Dunkirk. His other major films are the BBC sitcom Peaky Blinders which have been running since 2013 in which he played the lead role and voiced a character in the video game Batman Begins.
How Much is Cillian Murphy's Net Worth?
From his career as a rock musician to being a film star, Murphy has not done badly after all when it comes to his earnings over the years. From his endeavors, he is said to have a net worth that is ranked at $15 million.
Family
The talented actor is the son of Brendan Murphy who was a staff in the Irish Department of Education and his mother was said to be a French teacher. He is the first child of his parents and he has three younger siblings a brother and two sisters named Paidi, Sile and Orla.
See Also: Richard Jenkins Bio, Awards And Nominations, Net Worth, Wife  Family
Cillian Murphy's Wife And Children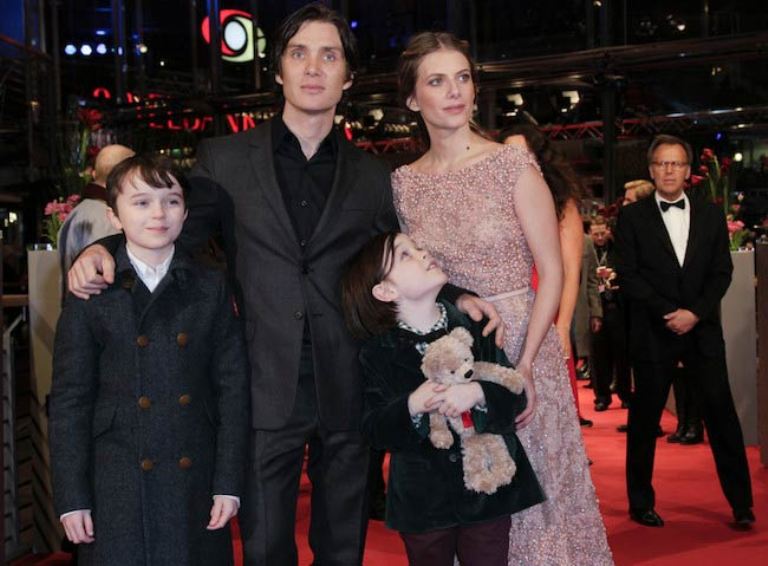 The rock star turned actor is married to Yvonne McGuinness whom he is said to have met in 1996 at a concert in Dublin where his band performed. The pair dated for almost 8 years before tying the knot on August 1st, 2004. They are also parents to two sons named Malachy and Aran born December 2005 and July 2007 respectively.
The actor is said to be based in Monkstown, County Cork, Ireland and in spite of the demands of his career, he made it known that he has no intentions to relocate to Hollywood. He prefers the solitary life the family enjoys there. He hardly attends film premiers except for the films he is featured in all in the bid to stay off the prying eyes of the public and press. However, he appeared in a television show in 2010 which was actually his first since he commenced his career.
What Is Cillian Murphy's Height And Distinctive Features
Murphy is known to have eyes that cannot be missed in a crowd as they are bright blue and always seem to hide some sort of mystery about the actor which his fans deeply admire. His other trademarks include his strongly defined jawline, his dark brown hair which he cuts in stylish ways to suit his characters in any film he is cast and he has a gallant height of about 5 ft 9 inches.