It may sound counter-productive, but besides his heritage, the biggest reasons the name Christopher Stokowski is known is that there is next to nothing known about him. Christopher who disappeared from the public eye and estranged himself from his family about 40 years ago was not heard of again from anyone until sometime in 2016 – when he reappeared on the scene.
Christopher Stokowski Biography, Age and Family Background

Stokowski's family tree is robust, to say the least. It is dotted with everything from celebrities and luxurious lifestyles to heartbreaks and public scandals. This tumultuous lifestyle ultimately led Christopher to want to get away from it all.
Stokowski's father is Leopold Stokowski. Born in 1882, Leopold was one of the most prominent orchestra conductors of the early and mid 20th century. He was the music director for a myriad of orchestras and notably appeared in Disney's 1940 film Fantasia among others. In the early 1900s, Leopold and Christopher's mother attended the same parish where Leopold was the choir director and organist.
Christopher Stokowski is a product of his father's third marriage. He has step-siblings from his father's previous marriages. His oldest step-sibling, a sister, Sonia Maria Noel, was an actress. Two other stepsisters came from his father's second marriage to Johnson & Johnson heiress, Evangeline Johnson. Their names were Gloria Luba Stokowski and Andrea Sadja Stokowski.
Christopher's mother, Gloria Laura Vanderbilt was Leopold's third wife. She was born in 1924 and was in the spotlight almost from birth. When Gloria was just 10 years old, she became the subject of one of the most documented and high-profile child custody trials of the twentieth century. In this legal battle, her mother, Gloria Morgan Vanderbilt and aunt Gertrude Vanderbilt Whitney fought to gain custody of her.
Christopher's mother grew up surrounded by affluence and wealth. By the age of 15, she was living unsupervised and carefree life in Hollywood. Her family name and the fact that she was young and beautiful obviously played a role in her various relationships with celebrities at the time. In all, she had a troubled romance as she got married to agent Pasquale Di Cicco who became physically abusive
After the marriage ended, she married Leopold who was 43 years her senior a few weeks after her divorce from Di Cicco. She was twenty at the time. She gave birth to their first child, Leopold Stanislaus Stokowski in 1950. Christopher Stokowski came two years later in 1952.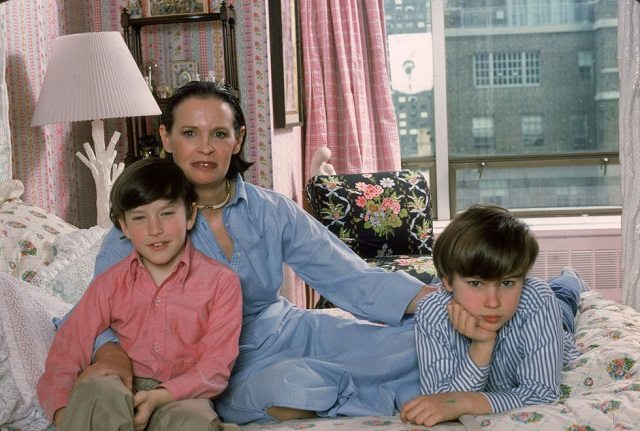 The union between Christopher's parents lasted for twelve years and ended in divorce. His mother kept searching for love and this led her to two more marriages that earned Christopher more step-siblings. After the failure of her third marriage to movie director Sidney Lumet, she married author Wyatt Cooper. Wyatt came from a close-knit family that further gave Christopher's mom the domestic comfort she had been searching for all her life. She had two children with Wyatt before his untimely death in 1978 due to a failed heart bypass surgery. Christopher got two stepbrothers from this union – Carter Vanderbilt Cooper who was born in 1965 and Anderson Hays Cooper, the popular CNN correspondent, followed in 1967.
Christopher Leaves His Family
Christopher was an extremely shy kid. His mother, Gloria had won custody of him and his younger brother after she and his father ended their marriage. However, his mother's increasing celebrity status did not sit well with young Christopher. When Gloria married Wyatt and gave birth to Carter and Anderson, Christopher felt even more removed from his mother's love and attention.
As a student at Bard College, Christopher led a solitary life and also distanced himself from the "Stokowski" name as he was trying to carve out his own niche as a musician. Christopher also lived with his mother at Wyatt's home, a situation his half-brother Anderson Cooper says helped to tighten the bond between them.
Christopher found love in 1974. Her name was April Sandmeyer, and the two were planning to tie the knot when Christopher's father became ill. This led to a series of events that unravelled Christopher's life. First his father, Leopold died in 1977, and his mother's husband Wyatt Cooper followed months after.
His mother shortly began to seek counsel from a handsome, young therapist, Dr Christ L. Zois. Gloria trusted Zois and often spent a lot of money on him. He also occasionally gave her advice concerning her children and their romantic involvements.
See Also: Skip Bayless Wife, Brother, Net Worth, Salary, Height, Wiki, Bio 
Sometime later, Christopher and April Sandmeyer found out that Dr Zois had been intruding into their relationship and making some very disparaging and heartbreaking remarks to Gloria Vanderbilt. His fiancee was so heartbroken she broke it up with Christopher. This, in turn, put the final nail in the coffin of Christopher's relationship with his mother.
Chris stopped talking to his Gloria and moved out of the house in a bid to try and win April back. When all his efforts proved futile, Christopher who was 26 at the time just wanted to get away from it all. He told this mother that he was leaving New York and that he was never coming back. Christopher cut himself off from the family completely and never returned, not even after his younger stepbrother, Carter committed suicide ten years later.
The Family Reunion
On 9 April 2016, HBO released a riveting and revealing feature-length documentary titled Nothing Left Unsaid: Gloria Vanderbilt & Anderson Cooper. The documentary was essentially a catalogue of candid conversations with Christopher's mother, Gloria Vanderbilt, and his half-brother, Anderson Cooper. The documentary gave viewers an in-depth look down memory lane of Gloria's equally disastrous and successful past.

Critics were quick to point out that the documentary revealed nothing about Christopher. A move that his mother revealed in an interview was more out of love than spite. She said that when Christopher had left, he had left for good because he wanted to stay out of the public eye. She concludes that her decision to leave Christopher's name out of the film was out of respect for his wishes to remain out of the public eye.
However, the movie proved to be a masterstroke, as Christopher Stokowski reconciled with his mother and entire family shortly after its release. He contacted April Sandmeyer who then reconnected him to his family. By November of that year, his uncle Harry Cooper revealed in an interview that he had already seen his family three times since the film came out.
See Also: Jimmy Kimmel Wife, Net Worth, Baby, Son, Weight Loss, Age, Height
Christopher Stokowski's Net Worth?
Christopher's 38-year absence certainly hasn't done his financial security any harm. This is because he comes from two renowned names – Stokowski and Vanderbilt.
His father, Leopold, was a world-renowned music director and composer that amassed a sizable fortune in his lifetime. When Leopold died in 1977, he left a large chunk of his enormous music recording fortune to Christopher.
Again, on the Vanderbilt side, Christopher had a brother, Leopold Stanislaus, and two half-brothers, Carter and Anderson. However, with Carter committing suicide in 1988, and Anderson openly admitting that he doesn't want any inheritance money from his mother's $200 million fortune, Christopher's portion got bigger.
There are no online sources or verifiable public records that state Christopher Stokowski's net worth. However, all his inheritance money from both sides of the family proves that money will be the least of his worries.