Plus size beauty Christine Sydelko rose to fame as a comedian and Internet Personality back in 2015. She has also landed movie roles and has been featured in music videos of popular singers like Katy Perry.
Christine Sydelko Bio, Age
Christine Sydelko was born Christine Lauren Sydelko on March 27, 1994, and she is said to be from Chicago, Illinois. The internet star is said to be of Iranian American ancestry and has two older brothers. She was a student at DePaul University where she studied Digital Media and Cinema before she turned into an internet sensation.
Everything To Know About Christine Sydelko
1. She is a University Drop Out
The YouTuber is said to have dropped out of school in 2015 and relocated to Los Angeles, California to pursue her internet career on YouTube.
2. She is a Successful Vlogger
Since she began to create content on YouTube in 2015 with her first two videos Introductory Q&A and Makeup Tutorial, Christine has turned into an internet sensation. She had more than 400,000 vine followers and she is known for her crazy antics in her videos.
Most fans have come to love her because she is seen as a girl who is real and appreciates the truthfulness she exhibits in her videos as a normal girl faced with many challenges before entering adulthood.
3. She is an Actress 
As her vines became popular, Christine landed roles in videos like Givit Wednesday, Bing Bong: Official Video, Closer by the Chainsmokers & Halsey Parody in 2017, Eat, Clay, Love released 2017 and the TV series Maury. The vlogger was also in the video Shane & Friends, Apologies in Advance with Andrea Russett, the 2017 Katy Perry music video Swish Swish and the TV sitcom Not Too Deep with Grace Helbig.
4. Christine Sydelko is a Proud Fat Girl
The YouTuber though a plus size is known to be a fat girl that is proud of her body, she never uses her weight as a punchline in her videos nor does she make silly jokes about her appearance.
5. She is Known for her Partnership with Elijah Daniel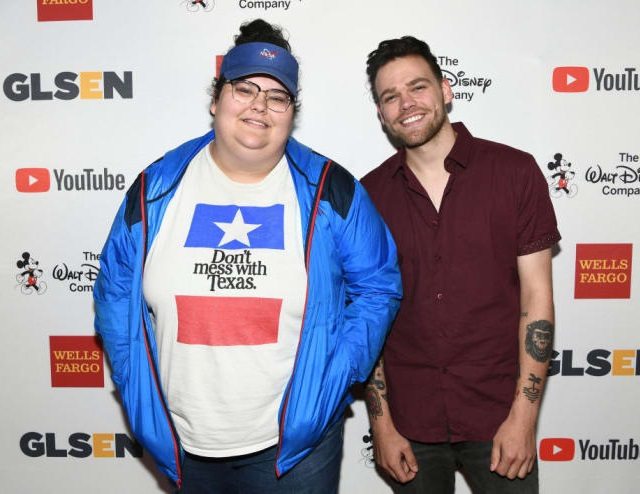 Christine and Daniel are said to have been making videos together since 2015 and have even appeared together in the Maury show. Their YouTube collaborative account has more than 227,000 subscribers and in 2017, the duo won Best Comedian from Shorty Awards which was followed by Daniel's work being recognized by The Washington Post and The Daily Dot.
However, the duo is said to have parted ways as they have announced their intentions to launch their own channels. Their collaborative channel known as Elijah and Christine will now be owned and managed by Christine. Daniel who is also a musician that performs using the name Lil Phag would concentrate on his music and along the line keep his vlogs streaming via a new channel. They revealed that the reason for this breakup was to help them practice what they preach which was originality and they were losing it as a team hence the decision to break up.
6. She Has a Signature Outfit
The vlogger is known for her trademark outfit that comprises a t-shirt that reads "Don't Mess With Texas", a jacket, coloured headbands and a Croc tattoo.
See Also: Candice Pool Bio, Net Worth, Age, Married, Husband, Parents, Family, Wiki
Christine Sydelko's Height And Weight Issues
The 6 feet 4 inches internet sensation who has a weight of about 110 kg is known to have faced a lot of fat-shaming incidences. She is said to have been fat-shamed on Spirit Airlines flight when she asked for an extension for her seat belt also there was an incident on twitter when people started making fun of her looks on a photo she shared. However, the fat-shaming incidence that drew much attention was the one in which she was nick-named 'Shaquille 'O Meals' in Katy Perry's music video named Swish Swish where she was portrayed as a plus size girl that could not get enough of food.
Christine Syeldelko has not been quiet about her body size but has always shown much zest to tell people badmouthing her looks to let her be. She also wrote a long tweet recently in which she shares the downside of being overweight in which she stated clearly that fat girls never win in any situation as people are always biased in judging them.
Presently, the YouTuber seems to be enjoying her size and has no intentions of losing weight or going on a diet cause according to her, being fat and accepting it is a way of showing confidence.