Christina Hendricks is an American actress and model best known for her role in the NBC drama series, Good Girls, which has been airing since 2018. Although she first began her career as a model when she was 18 in 1993, she later transitioned into acting in 1999. Following her exceptional looks and dashing figure, Christina was voted 'Sexiest Woman in the World' by Esquire magazine, as well as 'The Best Looking Woman in America' in 2010.
Not many know this, but there were times Hendricks was turned down for some movie roles on account of her figure. The actress leaves many in awe with her curvaceous body and admirable poise, which has taken her far in the industry. Since she began her acting career, it has been an interesting journey for her. You might be wondering how she did it, but for Hendricks, all she needed was the opportunity to prove herself in both worlds. Keep scrolling to learn interesting facts about her career and love life.
What We Know About Christina's Childhood
Christina Rene Hendricks, who has once been referred to as "the most ultimate woman since Eve," is an American actress born on May 3, 1975, in Knoxville, Tennessee, U.S.A. She is the daughter of an American psychologist, Jackie Sue, and her husband, Robert Hendricks. Following her father's English ancestry, she has dual citizenship, which she seems to be proud of as she has been quoted referring to herself as an "Anglophile."
Her father worked for the US Forest Service, and due to the nature of his job, her family moved around a lot. As a result, Christina always had to deal with the burden of being the new kid in school. She has one recorded sibling, a brother, who goes by the name of Aaron Hendricks. She spent most of her early life in Portland, Oregon, Idaho (Twin Falls).
During her teenage years, her family relocated to Fairfax, Virginia (her father was transferred to the Forest Service in Washington), where she attended Fairfax High School, and like most kids in high school, she was a victim of bullying. As some sort of defense mechanism, she became a social outcast, as well as a Goth. She would later find solace in the drama department of Fairfax High, where she began acting.
Highlights of Her Modeling Career
Christina Hendricks began her modeling career at age 18. At the time, she appeared on the cover of Seventeen Magazine. She had wanted to be an actress as she already got an admission to study at Virginia Commonwealth University's school of drama. However, she decided to forego her education to focus on her modeling career.
After seeing her photo at the cover of Seventeen Magazine, Christina was eventually signed by IMG Models. Thereafter, she moved to New York City. As a model, she was exceptional for her glamorous red hair (although she is naturally blonde, she has been dying her hair red since age 10), translucent skin, blue eyes, breathy voice, and predominantly, her voluptuous hourglass figure. Her body measurements, which are given as 42-30-39 inches for her bust, waist, and hips, respectively, clearly illustrate her curvy figure.
Some of her fans have questioned the realness of her breasts, but she has been quoted by the Daily Mail, saying her breasts are real. In New York, Hendricks got several modeling gigs that took her to other countries like Japan and London. At about 27 years, she started appearing in commercials for companies like Dr. Pepper, Carls Jr., and others and also appeared on some movie posters. However, she gradually fell in love with acting and started auditioning for film roles.
How Christina Successfully Switched From Modeling to Acting
Although she only gained prominence and became critically acclaimed in 2007 for her role as Joan Harris (a sassy '60s secretary, who rises to be a partner of an advertising firm) in the American TV series Mad Men, Christina Hendricks has been active in the movie industry since 1999. After she left her modeling career, she landed her first role in the 1999 film Sorority, where she played the role of Fawn.
She also appeared on her first TV show Undressed in the same year, playing the role of Rhiannon. Subsequently, she has appeared on TV series such as Beggars and Choosers (2000), ER (2002), Kevin Hill (2004), and Without a Trace (2006). In recent times, she has starred in blockbuster movies such as Drive, God's Pocket, and Lost River. Her successful career in the movie industry has been crowned with several awards and nominations.
So far, Christina Hendricks has won 13 awards and has been nominated 22 times (6 of these nominations has been for the Primetime Emmys). She has received several plaudits and accolades from a surprisingly equal measure of male and female fans, and for her interpretation of roles; most particularly for her role as Joan Harris in the TV series Mad Men.
Interestingly, a Tumblr account was devoted to answering the question "What Will Joan Do?" to further immortalize the Joan Harris character excellently portrayed by Christina. Additionally, the actress also provided a voice for the character of Sam Harper in the video game "Need for Speed: The Run" and has starred in music videos such as "The Ghost Inside" by Broken Bells, as well as Everclear's "One Hit Wonder."
Details of Her Marriage with Geoffrey Arend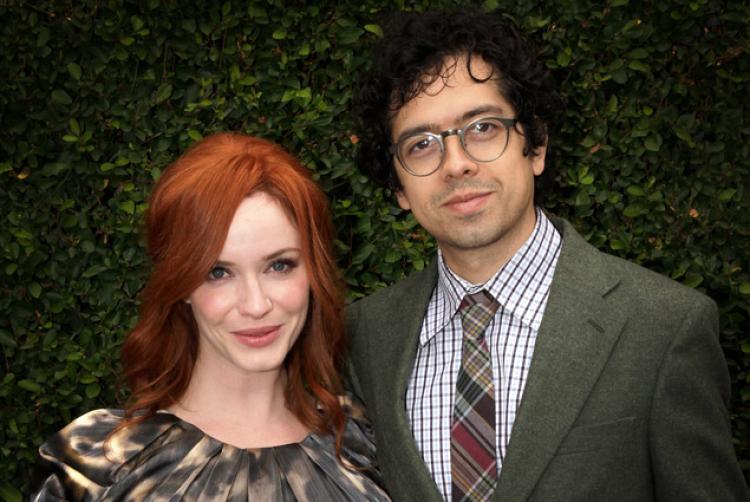 The talented actress got married in October 2009 to Geoffrey Arend, an American actor with Pakistani, German, and English ancestry. The couple first met each other in the year 2007, through a mutual friend and Mad Men star Vincent Kartheiser. Following the connection they shared, it didn't take long for the lovebirds to hit things off. Two years into their relationship, the duo announced their engagement, and by October 2009, they exchanged marriage vows.
Just like Christina, Arend is also a talented actor and voice actor. He was born on 28th February 1978 in Manhattan, New York City. A 1996 graduate of New York City's Fiorello H. LaGuardia High School of Music & Art and Performing Arts, Geoffrey is best remembered for his role as Ethan Gross on the ABC TV drama series Body of Proof, as well as Matt Mahoney in the CBS TV series, Madam Secretary.
Having been active in the American movie industry for over a decade and counting, Geoffrey has had relatively fewer acting roles compared to Hendricks. He has won just one award (award for outstanding achievement in acting at the Newport Beach Film Festival), while his wife has bagged over 13 awards in her career. Despite this, the couple never loved each other less; they made several headlines and were regarded as one of the cutest celebrity couples out there. Reports have it that the couple decided not to have kids to allow Christina to fully focus on her acting career.
Are They Still Married?
The couple, regarded as fashionistas, was voted best-dressed couple at the 67th Primetime Emmy Awards in 2015. However, things seemed to be perfect between them until when reports of their possible separation were rife. It all started in October 2019 when the couple publicly announced their separation. They made the revelation on Instagram, and it did not only get their fans perturbed but also got the media all up in their business.
View this post on Instagram
In the wake of the media buzzing, Christina Hendricks asked that they should be given space during the period of their separation, while they tried to work together during the process. Later in December 2019, the actress filed for divorce from her husband, citing irreconcilable differences. Their marriage of 10 years finally ended that year, and the couple went their separate ways. Though they had no kids, they trained two cute dogs together.
Since their divorce, there is no news of subsequent relationships from both parties. The former couple has been focused on their acting gigs, putting in their best to get to the peak of their respective careers. More so, they have decided to remain friends and also work together, even on the same film project if possible.