Christie Brinkley is an American model, actress, and entrepreneur. She has been active in show business since 1973 and rose to prominence when she attained an unprecedented feat of appearing on the covers of Sports Illustrated Swimsuit Issues, thrice and consecutively beginning in 1979. She is known to have appeared on over 500 magazine covers and has been named by several notable magazines as one of the most attractive women of all time.
For 25 years, Brinkley served as the face of the American cosmetics brand, CoverGirl. While she explored being an illustrator, writer, designer, and television personality. In addition to being a model and actress, the Monroe Michigan native has relentlessly utilized her popularity and influence to promote human and animal rights. In a nutshell, Brinkley is an accomplished and public-spirited American devoted to making a difference in the world.
Facts That Have Defined Who Christie Brinkley Is and What She Lives For
10. The 69 Years Old Supermodel Was Born In Monroe, Michigan to Marjorie Bowling and Herbert Hudson But Was Later Adopted By Donald Brinkley
The American model was born in the largest city of Monroe County in Michigan, Monroe. As you would easily find, the 69 years old was born on the 2nd of February 1954 and named Christine Lee Hudson. Her parents are Marjorie Bowling and Herbert Hudson. While much isn't known about her father, it is known that her mother fondly called Marge was born on the 23rd of September 1930.
Marge's marriage to Herbert Hudson ended in a divorce for reasons that are not known after they had had two kids together. Marge would later leave Michigan for California where she settled with her kids in Canoga Park, Los Angeles. As fate would have it, she met and fell in love with the late American television writer, director, and producer, Donald Alan Brinkley.
He soon became her second husband and the father of her kids as he legally adopted Christie and her brother named Gregory. With that, they took up his surname as theirs. Reports have it that Don loved Christie and Gregory as though they were his biological kids which made the two refer to him as their father and not step-father. Christie's brother is an actor known for his roles in productions like Trapper John, M.D., Broken Minds, and The Return of Desperado.
He is also a father of at least two children named Ian Brinkley and Elliott Marie Brinkley. Don passed on the 14th of July 2012 at the age of 91. Christie's mother was so heartbroken about his passing that she suffered a heart attack and stroke the following day and eventually passed seven weeks later, precisely on the 9th of September 2012.
9. Christie Brinkley's Career Journey Began In 1973 After She Was Discovered By Errol Sawyer In Paris
As the daughter of Don and Marge Brinkley, Christie and her brother spent most of their early years in Los Angeles where they lived in the beach city, Malibu and Brentwood. She was a student of Paul Revere Junior High School and would later attend Le Lycee Francais de Los Angeles from 9th to 12th grade.
When she graduated in 1972, she moved to Paris to study art and it was here that she met who introduced her to the world of modeling, the late American photographer, Errol Stanley Sawyer. As the story goes, Sawyer met Christie in a post office in Paris, took her first modeling pictures, and went out of his way to convince John Casablancas, the late founder of Elite Model Management to accept her at its agency in Paris.
It was only natural that John obliged as Christie has the looks and appeal. Working with Elite in Paris, Christie Brinkley met prominent fashion photographers like Mike Reinhardt. Through Reinhardt, she was introduced to the co-founder of Ford Models, Eileen Ford, and was booked for national ad campaigns upon her return to the United States.
8. She Has Appeared On Over 500 Magazine Covers Worldwide
Brinkley wasted no time in becoming a supermodel. The national ad campaigns she got through Ford Models earned her more exposure and she soon started making appearances on Glamour. Around the same time, she landed a contract with CoverGirl which remains a significant milestone in her career. It was a record 25-year pact to be the face of the cosmetics brand.
Another significant moment in her career as a model began in 1979 when she appeared on the cover of the Sports Illustrated Swimsuit Issue. This happened again in 1980 and 1981, making her the first model to achieve that. More so, she was exclusively featured in the first Sports Illustrated Calendar. She is one of the most revered models in the history of the American sports magazine.
As such, it wasn't a surprise to many that she was featured in the magazine's honorary 50th Anniversary The Legends issue in 2014. A decade earlier, she was also featured in its 40th Anniversary Issue's Hall of Fame. From Vogue to US Weekly, Cosmopolitan, Esquire, and their likes, it is hard to name any prominent magazine that Christie Brinkley hasn't appeared on. As an editorial model, she has appeared on more than 500 magazine covers across the globe.
7. Christie Brinkley Made Her Acting Debut In 1983 With a Minor Role In National Lampoon's Vacation
National Lampoon's Vacation is a road comedy film starring Chevy Chase, Beverly D'Angelo, Imogene Coca, Randy Quaid, and John Candy. One peculiar fact about the movie directed by Harold Ramis is that it introduced Christie Brinkley to the movie industry. She appeared in music videos of Billy Joel before she had her next acting role in the "Guest Day" episode of the TV series, The All New Mickey Mouse Club; this was in 1989.
In 1994, she was seen in the TV series Mad About You, and her next feature film role was in Vegas Vacation, a 1997 comedy film directed by Stephen Kessler and the fourth installment of the National Lampoon's Vacation film series. Over a decade later, in 2009, the model portrayed Penelope Graybridge in "The Bahamas Triangle" episode of the TV series, Ugly Betty. 2011 saw her pull off a cameo appearance in Jack and Jill, a comedy film that Dennis Dugan directed starring Adam Sandler, Katie Holmes, and Al Pacino.
In the years that followed, the model was seen as Gayle Gergich in several episodes of Parks and Recreation. She has also been a part of other television productions like Donny!, Nightcap, and The Goldbergs. Brinkley's exploits as an actress extend to the stage, she made her Broadway debut in 2010 as Roxie Hart in Chicago, a critically acclaimed Tony Award-winning musical. She has reprised the role multiple times in theatres across the United States and abroad.
6. The Model-Actress Has Been Married Four Times and a French Artist Named Jean-François Allaux Was Her First Husband
It would be hard to find anyone who wouldn't agree that Christie Brinkley is good-looking. Many people would give an arm and a leg to become the romantic partner of the beautiful model named one of the 100 Sexiest Women of the 20th century.
For a famous and accomplished woman often listed as one of the most beautiful women of all time by renowned magazines, it is only natural that she has had numerous admirers and suitors, culminating in four marriages. Her first husband is a French artist called Jean-Francois Allaux. From what we gathered, Allaux was born and raised in Morocco but subsequently moved to France and studied at La Sorbonne and the Ecole Nationale Superieure des Beaux-Arts.
He would later relocate to the United States in 1975 and settle in New York where he worked as a freelance editorial illustrator for prominent publications including The Wall Street Journal, The Washington Post, The New York Times, and their likes. He lectured for at least 20 years in the Department of Art and Design at the College of Visual & Performing Arts of the University of Massachusetts Dartmouth (UMass Dartmouth) where he was an Associate Professor.
Much isn't known about when and how Brinkley and Allaux met just as details about their marriage and what brought about its demise are hard to come by. Nonetheless, records have it that they got married in 1973 and divorced in 1981: the union didn't produce any child.
5. She Dated Late Olivier Chandon de Brailles Before She Got Married to Her Second Husband Billy Joel
In 1982, the year following the one her marriage to Allaux came to an end, the supermodel began dating Olivier Chandon de Brailles, a French race car driver and heir to the Moet et Chandon champagne. Their relationship was highly publicized for reasons that are not far-fetched. It is said that they met at a party held in Studio 54 in New York City; that the party was organized to promote a calendar the model appeared in.
If anything serious was to come out of the Christie-Olivier relationship, the unexpected death of the Frenchman effectively ensured it didn't come to pass. Olivier died in a crash on the 2nd of March 1983 during a private practice session for the upcoming Formula Atlantic season. He had called Brinkley to arrange a meeting with her less than an hour before the accident that claimed his life.
The same year Olivier died, the model met the Piano Man on the Island of St Barts. That same year, she was featured in the music video of his song Uptown Girl and then Keeping the Faith the following year. Their relationship blossomed and they decided to become life partners.
On the 23rd of March 1985, the two had a romantic exchange of marriage vows on a yacht on the Hudson River in New York. It was the second marriage for both of them but was not meant to be as they fell apart and ultimately divorced in August 1994. Their marriage produced a daughter named Alexa Ray Joel; she was born on the 29th of December 1985.
4. Brinkley Survived a Helicopter Crash In Telluride, Colorado Alongside Richard Taubman Who Became Her Third Husband
The end of Billy Joel's marriage to Christie Brinkley was hard for him and happened quickly. It wasn't something that people saw coming and as far as many know, it all began on the 1st of April 1994 when it emerged that the model was involved in a helicopter crash while on a ski trip in Telluride, Colorado. Being a supportive husband, Joel canceled a world tour to be with his wife.
Upon her recovery from the injuries she sustained from the crash, she divulged that she had fallen in love with Richard Taubman to the dismay of the Just the Way You Are singer. Now, Taubman is a real estate developer whom she met through a friend earlier that year and it happened that he was also involved in the helicopter accident. Things happened quickly and Taubman proposed to Christie while she was still married to Billy; this was in May 1994.
She accepted his proposal, divorced Billy Joel in August, and towards the end of the year, precisely on the 22nd of December, Christie Brinkley got married to Richard Taubman. They exchanged vows in Telluride, near the site they survived the helicopter crash. They disclosed at their wedding that they were expecting a male child and on the 2nd of June 1995, they welcome Jack Paris Brinkley.
The marriage ended as quickly as it started as they divorced in 1995. The model would later suggest that post-traumatic stress misguided her towards believing she had found someone special. According to her, "he presented a totally false person" for her to fall in love with.
3. Her Fourth Husband Was an Architect Named Peter Halsey Cook and They Had a Nasty Breakup After Cook's Affair With His Teenage Assistant Was Exposed
Reports have it that Christie Brinkley met Peter Cook back in 1979 when he was a model. However, it is believed that they had nothing to do with each other until they were reintroduced to each other by a mutual friend. Barely a few months after her divorce from her third husband Richard Taubman, it emerged that the model was not only having something serious with Cook but that they were engaged, this was in August 1996.
They got married on the 21st of the following month and nearly two years into their marriage, they welcomed a daughter named Sailor Lee Brinkley. She was born on the 2nd of July 1998 and Cook also adopted Christie's son with Taubman who gave up his visitation rights. Things seem to be great for the couple as the model proclaimed Cook the man of her dreams. It all came crashing in June 2006 when Brian Platt informed Christie that her husband is having an affair with his teenage daughter, Diana Bianchi.
A devastated Christie would soon uncover that her husband was not only cheating on her with Diana. Among other things, she claimed to have found that Cook used their son's name to create a profile on porn sites where he spends as much as £1,800 per month. She found naked pictures of him online and that he was advertising himself for swinging partners. While they signed a prenuptial agreement before they got married, they battled over some properties and of course, custody of their kids.
It was a nasty trial that had them gunning for each other's throats. Christie contended that Cook's addiction to pornography makes him an unfit father while he argued that she knows nothing about being a parent and completely delegates her motherly duties to staff. As unexpectedly as the end of their union came, they settled while the public anticipated more drama from them. From what we gathered, they agreed for Christie Brinkley to have sole custody of their two children with parenting time awarded to Cook whom the model also agreed to pay $2.1 million.
2. Christie Brinkley Is a Proud Mother of Three: Two Daughters and a Son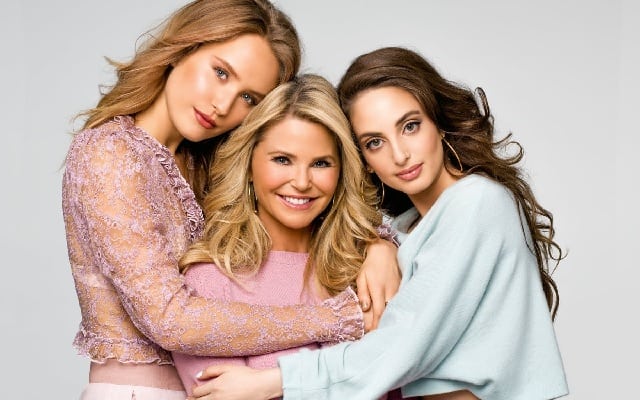 Based on the foregoing, one should be able to tell that Christie Brinkley had one child each with her second, third, and fourth husbands. So she has a total of three children and her oldest is Alexa Ray Joel. The 37 years old followed the footsteps of her father Billy Joel to become a singer-songwriter and pianist.
While she has a long way to go if she must attain the status of her father in the industry, she has recorded some success that indicates she has a promising future in the field. Apart from singing, she is a bit of a model and a popular face in fashion. She appeared on the cover of BELLA magazine's Beauty Issue in 2018 and the previous year, she posed alongside her mother and half-sister Sailor Brinkley Cook for the Sports Illustrated swimsuit issue.
Christie's middle child Jack Paris Brinkley is 27 years old and Richard Taubman is his biological father. A good-looking fellow, it was anticipated that he would become a model but Jack said he has no interest in that. He attended Emerson College, a private college in Boston, Massachusetts, and graduated from New York's Lee Strasberg Theater and Film Institute. In recent times, he is focused on building a new company he founded called Rove.
From what we gathered, Rove offers luxury nonstop transportation between Manhattan, Brooklyn, and the Hamptons. Jack is aspiring to become an actor and has been dating the Danish model Nina Agdal since 2017. The last child of the supermodel is also a model; the 24 years old has become a popular figure in her own right in Hollywood as she is known for her work on shows like Access Hollywood, Extra with Billy Bush, and Entertainment Tonight.
Even though her parent's marriage ended on an angry and bitter note with her mother getting her custody, she has a good relationship with her father Peter Cook. She has celebrated him several times on her social media pages. To the best of our knowledge, Sailor Lee Brinkley began her modeling career with IMG Models on a part-time basis but has now fully embraced the profession. She is now a Sports Illustrated Swimsuit model.
1. Her Net Worth Is Estimated at a Massive $100 Million
No one should be told that the supermodel is super-wealthy. Various credible platforms have estimated that she is worth as much as $100 million. Again, no one should be told that income from modeling is a major source of her wealth; in fact, it was what laid the foundation for Christie Brinkley to become a multi-millionaire.
Although details of her career earnings from her modeling endeavors have never been disclosed to the public, anyone with half an eye could see that the sum would run into multiple million USD. She dominated the industry in her prime and has remained relevant thereof even though she is a few years shy of becoming a septuagenarian.
Leveraging on the fame that came with being a model, Brinkley penetrated the movie industry and has involved herself in so many lucrative endeavors over the years. For instance, she wrote and illustrated a book titled Christie Brinkley's Outdoor Beauty and Fitness Book which became a New York Times bestseller. She has a skincare line called Christie Brinkley Authentic Skincare and a line of wigs and hairpieces as part of her Hair2Wear Christie Brinkley Collection.
More so, the model has a line of eyewear, all of which ensures she earns millions of dollars every year. Christie is also known to invest in real estate and it is probably what constitutes a major chunk of her wealth. She owns several properties across the United States, especially in the Hamptons. Her wealth has afforded her the privilege to donate and support various charities and causes dear to her heart.
It is said that she has donated as much as $1 million to political candidates of the Democratic Party. She has received many humanitarian awards for her philanthropic gestures and charity works which range from striving for all kids to get an education to her support for the American Heart Association and advocacy for animals and the environment.
What is Christie Brinkley's Net Worth?
According to Celebrity Net Worth, Christie Brinkley has a net worth of $100 million. She made her wealth largely from her modeling career and other business endeavors.
Who is Christie Brinkley's Husband?
The supermodel is currently single. However, Christie Brinkley has been married four times and divorced four times, with her latest being Peter Cook, which lasted from 1996 to 2008. Before Cook, she was married to Richard Taubman from 1994 to 1995. Brinkley's second marriage was to Billy Joel, which lasted from 1985 to 1994. Her first husband was Jean-François Allaux and their union lasted from 1973 to 1981.
How Many Kids Does Christie Brinkley Have?
Brinkley has three children, two daughters, and a son, namely Alexa Ray Joel, Sailor Lee Brinkley-Cook, and Jack Paris Brinkley Cook.
What is Christie Brinkley's Age?
Christie Brinkley is 69 years old. She was born on February 2, 1954, in Monroe, Michigan, United States.